AFC West:

2014 NFL Combine
February, 25, 2014
2/25/14
4:45
PM ET
The final groups finished working out at the NFL scouting combine in Indianapolis, with the defensive backs wrapping things up at Lucas Oil Field on Tuesday. Several players helped themselves by posting strong numbers in front of NFL scouts.
Chargers secondary coach Ron Milus was among a handful of NFL coaches on the field helping to run the defensive back drills, so he got an up-close look at some of the secondary prospects available in this year's draft.
Michigan State's
Darqueze Dennard
and Oklahoma State's
Justin Gilbert
solidified spots in the first round by running fast in the 40-yard dash. Dennard ran an official time of 4.51 seconds, while Gilbert clocked the fastest time among defensive backs at 4.37 seconds.
I do not believe either of those players will be around when San Diego selects at No. 25. However, defensive back remains a need position for the Chargers, so here are a handful of players who had good days and might make sense for the Chargers on draft day.
Ha Ha Clinton-Dix, Alabama
: At 6-foot-1 and 208 pounds, Clinton-Dix is a rangy center fielder who can cover a tight end or a slot receiver, but also come down and be physical as a run defender. Clinton-Dix proved he's fast enough, running a 4.58-second 40-yard time. And he was productive at Alabama (five interceptions in 2012).
Phillip Gaines, Rice
: Projected as a late-round prospect, Gaines raised a few eyebrows with his impressive performance, including a 4.38-second 40-yard time, a 10-foot, 2-inch broad jump, and a 36-inch vertical jump. At 6-foot and 193 pounds, Gaines also looked fluid in defensive back drills and could rise up the draft board with the success the
Seattle Seahawks
had with bigger cornerbacks the past two seasons.
Bennett Jackson, Notre Dame
: A former receiver and team caption for the Fighting Irish, Jackson looked fluid in positional drills and showed good ball skills. At 6-foot and 195 pounds, Jackson is fast enough (4.51-second 40-yard dash). Jackson also jumped well (38-inch vertical; 10-foot, 8-inch broad jump). Bennett played special teams at Notre Dame and could be a developmental prospect.
Calvin Pryor, Louisville
: At 5-11 and 207 pounds, he's a thumper. Pryor gets to the football quickly and can deliver a blow. With teams playing five defensive back nearly 60 percent of the time to match up with passing offenses, the fifth defensive back is essentially a starter. So Pryor could see the field a lot in San Diego's system. He can play close to the line of scrimmage or back as a deep safety, so Pryor would give the Chargers some scheme versatility. Pryor ran a 4.58-second 40-yard dash.
Bradley Roby, Ohio State
: According to NFL talent evaluators, Roby had an uneven performance in his final season for the Buckeyes. But at 5-11 and 194 pounds, there's no denying Roby's athletic prowess. He ran an official 40-yard time of 4.39 seconds and looked athletic and fluid during defensive back drills.
Jason Verrett, TCU
: Verrett told reporters in Indianapolis that the Chargers are one of the teams he was scheduled to meet with at the scouting combine. At 5-9 and 189 pounds, he's smaller than the ideal size an NFL team looks for in a corner, but Verrett handled his business during the workout. He ran an official 4.38-second 40-yard dash, catching the eye of Deion Sanders, one of the best corners to ever play the game. What's more impressive about Verrett is that his production matches his athleticism. Since the start of the 2012 season, Verrett is tops in the Big 12 with 38 passes defensed, including eight interceptions. He's a playmaker and he's versatile. Verrett can play inside on the slot or outside on the perimeter, and is effective as a blitz guy on passing downs.
February, 25, 2014
2/25/14
2:10
PM ET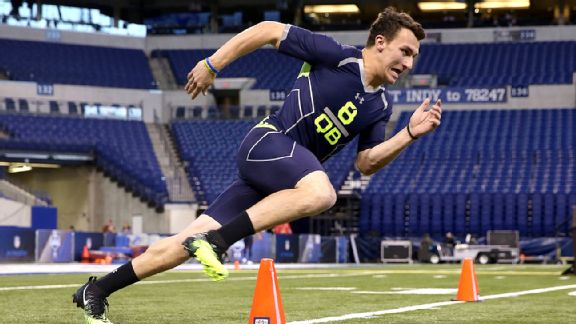 AP Photo/Ben LiebenbergWhile the combine has evolved into a big event, it remains just a piece of the puzzle for NFL teams.
INDIANAPOLIS -- Back before there were signs at an airport that is no longer used, before it was broadcast live and before it was one of the most publicly dissected parts of an NFL offseason, the scouting combine was simply a no-frills piece of the draft puzzle, conducted in the peace and quiet of relative anonymity.
"The first one I was at was the second one at Arizona State -- obviously held outdoors,"
New England Patriots
coach Bill Belichick recalled this week. "One of the days ended, not in total darkness, but certainly past dusk. I still have the image of Refrigerator [William] Perry doing the vertical jump out there ... in the middle of the Arizona State field, in almost total darkness."
And now that the combine has exploded into a live broadcast where runs and jumps are on-the-scroll news in a 24/7 cycle, the combine is still a piece of the draft puzzle for those who make the decisions around the league. Just a piece of the puzzle, likely no bigger than it used to be, even though so much of the results are now a big part of the public discourse on the draft.
"It is a tool," Broncos executive vice president of football operations/general manager John Elway said. "It's useful to have all of these players in one place to see them, meet them, talk to them. But overall, it's just part of the big picture. Decisions are made by the work the scouts have done all year getting to know these guys, on the road and by what they've done on the field. ... The combine is one of the things you consider."
So, as
Jadeveon Clowney
,
Michael Sam
and
Johnny Manziel
had their workouts beamed coast to coast, there is a perception that a prospect's draft status can undergo a substantial improvement or decline after what happens in Lucas Oil Stadium. Especially as combine ratings soar and apparel companies such as Under Armour work to outfit the prospects and Adidas drops $100,000 on Oregon State wide receiver
Brandin Cooks
for his 40-yard dash time posted in its shoes.
But the swing after the combine is far less drastic inside most NFL teams' draft meetings.
"It's up to us to rely on all of the information that we've gotten over the last 12, 13, 14 months,''
Atlanta Falcons
general manager Thomas Dimitroff said. "If you trust your system and if you trust your scouting staff and you trust basically your budget and everything that you've put into your scouting process, then you shouldn't be swayed by all of the other noise out there or the projections or the prognostications."
The irony in all of the interest in the combine? For the teams, the most important parts of the annual event are still the ones that remain unseen to the outside world: the medical exam and the face-to-face interviews prospects have with team officials.
Of all the things that happen at the combine, the medical exam is likely the most important. Medical staffs from every team get the opportunity to examine all of the prospects invited to the combine, and every prospect is put through a full battery of X-rays.
Any players with previous injuries or injuries/issues discovered during their medical exam at the combine are sent to a local hospital for more tests, including MRIs. Several scouts at the combine over the last week said Alabama tackle
Cyrus Kouandjio
may have had his draft status affected the most of any prospect at this year's combine, for example, when knee troubles were revealed.
Kouandjio acknowledged being sent for additional tests this past weekend, but said he had "no issues" with his knee.
"But the medical, that's probably where you get the most information you don't have about a guy," Broncos coach John Fox said. "You check their backgrounds and you can see what they've done on the field, that's on the film, but the medical is something you haven't seen until that point."
The face-to-face interviews, both in the form of formal, scheduled 15-minute blocks each night of the combine, or informal as coaches and prospects pass in the stadium concourses before and after the workouts, are also a chance for personnel executives, as well as coaches, to zero in on a few specific topics. They are able to ask prospects, face to face, about everything from an off-the-field arrest to explain specific plays from their seasons.
Some teams ask prospects, especially quarterbacks, to break down a play or explain what should happen in various situations. Teams record the interviews, as well, and review them later with some teams going as far as to have behavioral experts evaluate the video.
In the end, however, no matter how often 40-yard dash times are thrown into the public domain or vertical jumps mulled over, the games still mean the most. What happened on the field and the rest becomes added on to formally set the player's draft value. And even though their quiet, little gathering is anything but, the combine remains what it once was to those who will make the picks in May's draft.
"You have to take the best player,"
Philadelphia Eagles
general manager Howie Roseman said. "And you have to build your team for the long term and look at the draft as long-term decisions for your football team. That's how we want to build. Have a core group of players going forward that are together and in this together. That the names on the back of the jerseys will mean something, because obviously the name on the front of the jersey means something to all of us.''
February, 25, 2014
2/25/14
8:00
AM ET
A brief look at five more intriguing players who worked out at the NFL combine Monday in Indianapolis, and who could draw interest from the
Oakland Raiders
, who hold the No. 5 overall pick in the draft ...
DE Jadeveon Clowney (South Carolina)
The 6-foot-5, 266-pounder put on a show with an unofficial 40-yard dash time of 4.47 seconds that was later changed to an official 4.53 seconds. He also had a vertical jump or 37.5 inches and a broad jump of 10 feet, 4 inches. Clowney "only" 21 reps in the 225-pound bench press on Sunday. Athletically, he seems to be the top pick in the draft.
OLB Khalil Mack (Buffalo)
While the Raiders seem set at linebacker, Mack would only improve the unit as a pass rusher. At 6-2, 251 pounds, he is sleek and fast. He ran the 40 in 4.65 seconds, had a 40-inch vertical jump, a 10-8 broad jump and ran the 20-yard shuttle in 4.18 seconds.
OLB Anthony Barr (UCLA)
Did not blow anyone's doors off at the combine with a 4.66-seconds 40-time or his 34.5-inch vertical jump, but his 6.82 seconds in the three-cone drill was third best among linebackers. Like Mack, the 6-5, 255-pound Barr, who began his college career as a running back, would add a sorely-needed pass-rushing element from the outside.
DT Aaron Donald (Pittsburgh)
Not really considered an early first-round prospect, the 6-1, 285-pounder may have changed a few minds with his combine measurables. Donald had the best numbers for a defensive tackle in the 40-yard dash (4.68 seconds), bench press (35 reps) and three-cone drill (7.11 seconds).
DE Michael Sam (Missouri)
Sam did not flop, necesarrily, but his relatively slow 40 time (4.91 seconds), combined with a 25.5-inch vertical jump and a 9-6 broad jump just might cause the co-SEC defensive player of the year's stock to drop. The Raiders do like getting undervalued players, though, and he showed he can rush the passer in college football's most NFL-like conference.
February, 24, 2014
2/24/14
1:35
PM ET
The more macabre faction of Raider Nation tried to get a campaign going for the
Oakland Raiders
last year as the season began to unravel.
Clownin' for Clowney
would have had the Raiders tank, thus giving them the top pick in the NFL draft and the chance to select South Carolina defensive end
Jadeveon Clowney
.
But by finishing 4-12 and getting the No. 5 overall selection, the Raiders likely will search elsewhere, as Clowney's freakish athletic skills probably have him going in the top four especially after his blazing 40-yard dash Monday morning at the combine.
Clowney's unofficial time of 4.47 seconds was faster than every quarterback to have run at the combine since 2006 save for Robert Griffin III. The fact that Clowney's time was later elevated to an official 4.53 may have taken some shine off, but it is still impressive for a 6-foot-5, 266-pounder whose job in the NFL will be to chase down slower and smaller quarterbacks.
"It means he's 266 pounds and he runs like a wide receiver," ESPN draft specialist Todd McShay said. "The average for wide receivers over the last five years (is) a 4.54, and he's 64 pounds bigger than the average wide receiver. It's a remarkable time."
Still, Clowney disappointed by withdrawing from the rest of the day's events, reportedly citing a tight hip flexor a day after getting "only" 21 reps in the 225-pound bench press.
Clowney, who followed up his 13-sack, 23½-tackles-for-loss 2012 season with three sacks and 11½ tackles for a loss in 2013, will have his pro day April 2 at South Carolina.
February, 24, 2014
2/24/14
8:00
AM ET
The
Oakland Raiders
have needs all over the roster, and with the No. 5 overall pick in May's NFL draft, it would seem likely they can address at least one of them with their first selection.
Of course, general manager Reggie McKenzie more than intimated he wants a playmaker. And more than a few prospects have already acquitted themselves quite well at the combine, thank you very much.
A brief look, then, at five who have impressed thus far in Indianapolis, but will they still be there at No. 5 come the draft?
WR Sammy Watkins (Clemson)
Sure, he seems to be
Denarius Moore
2.0, but if he's more consistent, that would be an upgrade, no? The 6-foot-1, 211-pound Watkins put on a show Sunday, running a 4.43-second 40-yard dash and showing body control and quick-twitch shiftiness in a 6.95-second three-cone drill and a 4.34-second 20-yard shuttle run. He also had a 34-inch vertical leap and a 126-inch broad jump. Perhaps more importantly, though, Watkins displayed his soft-yet-strong hands in catching passes.
QB Blake Bortles (Central Florida)
A seeming clone of
Ben Roethlisberger
, the statuesque Bortles (6-5, 232) surprised with athleticism. He ran a 4.93 40, while leaping 32.5 inches in the vertical jump and 115 inches in the broad jump, better than
Teddy Bridgewater
or
Johnny Manziel
, both of whom had 113-inch broad jumps. Where Bortles may have given himself an edge was in the fact that he actually threw to receivers, unlike Bridgewater and Manziel. Bortles showed an above-average arm as well as some touch on deep balls.
WR Mike Evans (Texas A&M)
Many are starting to wonder if the big (6-5, 231) pass-catcher is more what the Raiders need. He's not a burner (4.53 40) but he had a 37-inch vertical leap and timed a 4.26-second 20-yard shuttle run, faster than Watkins. Not necessarily playmaker numbers, but he is a football player, as McKenzie is fond of saying, and many see Evans as having the skill set to become a No. 1 receiver, rather than just a possession receiver.
OT Greg Robinson (Auburn)
The Raiders will have an issue on the offensive line if they are unable to re-sign left tackle
Jared Veldheer
. Robinson could be an option in that scenario. He blew minds on Saturday. The 6-5, 332-pounder ran a 4.92-second 40-yard dash and he also had a 113-inch broad jump with 32 reps in the bench press. His showing in positional drills has many wondering if he could turn into the draft's top overall prospect.
OT Jake Matthews (Texas A&M)
The 6-5, 308-pounder turned in the second-most impressive workout of an offensive tackle and, as noted earlier, if Veldheer is gone, the Raiders could do worse than to take a look at Matthews. He ran a 5.07-second 40 and added a 30.5-inch vertical leap and a 7.34-second three-cone drill. His blocking technique was considered flawless, which showcased his agility.
Keep an eye on:
South Carolina defensive end
Jadeveon Clowney
and UCLA linebacker
Anthony Barr
work out on Monday.
February, 24, 2014
2/24/14
7:00
AM ET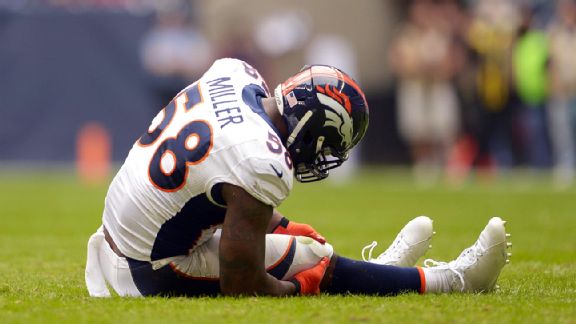 Thomas Campbell/USA TODAY SportsIn Denver, all eyes are on linebacker Von Miller to see if he can return to his 2012 form.
INDIANAPOLIS — In the moment, John Elway was talking about quarterbacks and about some of the football lessons his father, Jack, had taught him through the years.
"There's a difference between arrogance and confidence too,'' Elway said when recalling what his late father said about how the game's Alpha dogs should go about their business in the huddle. "Every guy handles that a little different. A lot of times you can make your job a lot easier with a little humility.''
And while
Von Miller
is in no way a quarterback, there is no question one of the biggest offseason questions, one of the biggest offseason needs, for the
Denver Broncos
is for Miller to find some vocational humility.
Talk to those in and around the Broncos and ask a question with Miller's name in it and the same words keep popping up.
Maturity. Grown up. Settle down. Be a professional. Talent. And, yes, humility.
Because as Miller rehabs a torn ACL he suffered in the Broncos' Week 16 win in Houston, the Broncos are hoping there is at least some makeover to other parts of Miller's résumé as well. Because in the world both inside and outside of professional athletics there is often no more wasted commodity than talent.
And Miller's 2012 season was one where people saw immense, remember-when talent and in 2013 some wondered exactly what Miller intended to do with that talent.
There was the six-game suspension to open the season for violating the league's substance abuse policy. There was the eyebrow-raising "I know I did nothing wrong,'' statement from Miller on Twitter in July despite having progressed several steps into the league's drug program. There was the arrest for a missed court appearance to go with a traffic stop just days after that arrest, when he was cited for multiple traffic violations.
There was Miller's return to the field when many personnel executives around the league believed he simply came back too heavy. The weight gain was intentional Miller said, to add to his game.
But there was some feeling that a player who was routinely special before his suspension, elite in so many ways, only flashed that ability on his return. Then there was the knee surgery and the coming recovery that will keep him out of the Broncos' offseason work.
"I think he's grown up a lot, I think it affected him during the year, it had to, everything that went on with him,'' Elway said at the league's scouting combine. "He's done a tremendous job of doing the right things, and everything he's supposed to be doing. Hopefully he can continue doing that and Von can be back to the Von we know he can be.''
Broncos head coach John Fox has spent a quarter century in the NFL as a long-time defensive assistant, defensive coordinator and head coach. He has seen what an elite edge player can do for a defense up close when Miller's 18.5 sacks in 2012 powered the Broncos to a top five finish in almost every major defensive category. He has seen it in Hall of Famer
Michael Strahan
as well as in
Julius Peppers
along the way.
The Broncos want Miller to be that guy, need Miller to be that guy. But the Broncos also need Miller to want to be that guy.
To this point Miller has always said he wants to be "a guy his teammates can rely on, a guy people can look to, to do the right thing.'' He has said that numerous times and as his employer with a lot already invested and the potential for more to come, the Broncos need him to live it.
"Your hope is there is a maturation, an improvement,'' Fox said this past week. "That's what you hope with any player year to year. We have a lot of resources, a lot of people working very hard, whether it's medically, spiritually, whatever, in that building … You're looking for growth, that's what you do. You find the best human talent and motivate them to get better. That's really what we do.
Fox then added, "He's a good kid, but sometimes, at least in the past, some things have popped up … I'm not going to sit here and guarantee anything.''
There is no question 2014 is, and will be in each of its 52 weeks, an important year in the Broncos-Miller relationship. Because in '14 the team will have to decide what the future will hold.
Miller's contract, the one he signed in the swirl of high hopes that come with being the second pick of the draft, expires following the 2014 season. He is, because of his six-game suspension, in Stage 3 of the league's drug program and will remain there, according to the policy, for the remainder of his career and subject to increased testing because of it.
Eight months ago Miller was viewed as a potential foundation player, the first guy selected in the Elway regime, a player even long-time Broncos defensive coordinator from the hallowed Orange Crush days, Joe Collier said had the potential to the franchise's best-ever defender.
A player who now is viewed to have more than a few question marks following behind him.
And there is this: Since Roger Goodell became the league's commissioner in 2006, 132 players suspended for at least one game under either the substance-abuse policy or the policy on performance-enhancing drugs started just one-quarter of their career games after serving the suspensions, according to ESPN Stats and Information. The players, as a group, started 74.4 percent of their career games before their suspensions and just 25.6 percent of their career games following.
"He needs to put last year behind him, hopefully he's learned his lesson,'' Elway said this past week. "He needs to get back to being the Von that he can be.''
Especially if there is to be any sort of future for the Broncos and Miller together beyond the season that's to come.
February, 23, 2014
2/23/14
2:50
PM ET
If you were up early this morning and checking out the NFL Network's coverage of the NFL scouting combine, watching the draft prospects at receiver perform on the field at Lucas Oil Stadium was impressive.
Clemson's
Sammy Watkins
, Oregon State's
Brandin Cooks
and Texas A&M's
Mike Evans
likely cemented spots in the first round with blazing-fast times in the 40-yard dash. Watkins ran the 40-yard dash in 4.34 seconds, while Cooks clocked a receiver-best 4.33 and Mike Evans -- at 6-5 and 231 pounds, ran a 4.53-second, 40-yard time.
The trio's production in college, coupled with the fast times at the NFL scouting combine, makes it hard to believe that either one of those players will be available when San Diego selects at No. 25 overall.
However, several other receivers turned in fast times that could be available in the later rounds for the Chargers, as they look to add another explosive playmaker on offense. Three players to keep an eye on are Pittsburg State's
John Brown
, LSU's
Odell Beckham
and Vanderbilt's
Jordan Matthews
.
Brown is a Miami native, and at 5-10 and 179 pounds he finished his senior season with 63 receptions for 973 yards and eight touchdowns, earning AP Little All-American honors at Division II Pittsburg State. Brown has explosive ability as a return man, but also catches the ball well and runs polished routes.
Beckham could move up to first-round consideration after running an official 4.43, 40-yard time. At 5-11 and 198 pounds, Beckham was a first-team, All-SEC selection as an all-purpose player. Beckham broke the LSU single-season all-purpose yardage record with 2,315 yards in 2013.
At 6-3 and 212 pounds, Matthews ended his career at Vanderbilt as SEC's all-time leader in career receptions (262) and receiving yards (3,759). Some questioned his top-end speed heading into the combine. But Mathews answered those critics by running a respectable 4.46-second, 40-yard time. Matthews is a big target and smooth route runner who could help San Diego move the chains as a reliable third-down and red-zone target.
February, 23, 2014
2/23/14
2:15
PM ET
INDIANAPOLIS – In roughly the time it takes to say "free agency'' four times, an already uphill climb for
Eric Decker
to remain a
Denver Broncos
wide receiver got a little more steep Sunday.
In addition to running back
Knowshon Moreno
, Decker is the Broncos' most prominent unrestricted free agent to be when league-wide bidding begins March 11. He's had back-to-back 1,000-yard, double-digit touchdown seasons.
He is a proven football commodity, homegrown and groomed as a pro in Denver. And now the decision comes for draft-built teams: what to do when their own picks come to the end of their original deals?
"We go through each position and each player and evaluate every player,'' Elway said at the combine when asked about Decker. " … I think it's a matter of we look at them and the season that they've had. Eric had a slow start, but really came on and obviously was very productive last year."
Still, Elway said, Decker and the rest of the Broncos' pending free agents will "have to hit the market; the market sets those.'' So, just as the Broncos were already leaning toward letting Decker hit the open market that inclination got a little stronger with each passing sprint Sunday inside Lucas Oil Stadium.
It's an unofficial total, but a group of wide receiver prospects believed to be the fastest overall before any of them arrived here, were even a little more fleet than expected. At least 12 of this year's draft hopefuls at the position uncorked 40-yard dash times hand-clocked in the 4.3s.
While just two of those sub-4.4 times held up against the electronic clock, it's still a blindingly fast group that will influence plenty of roster decisions in the coming weeks, including the Broncos.
In that total were the oft-seen undersized burners such as 179-pound
John Brown
of Pittsburg State (4.30 hand-timed) or the 5-foot-9¾, 189-pound
Brandin Cooks
(4.30). But there were also the kind of players who fit the size profile the Broncos will be looking for in that spot in the formation.
There was Saginaw Valley State's
Jeff Janis
, a 6-2 7/8, 219-pounder who ran in the 4.3s in his first 40 Sunday to go with an unofficial 4.44 on his second pass. By way of comparison, Decker measured at 6-3[, 217 pounds at the 2010 combine.
Janis has been a popular topic of conversation for the Broncos and was one of many players the team met with at the Senior Bowl.
There was also Clemson's
Martavis Bryant
(6-3¾, 211) timed at 4.34 and Alabama's
Kevin Norwood
(6-2, 198) with a 4.39.
History has not always been kind to wide receivers drafted in the first round, at least in their rookie seasons in the NFL. Despite that, the Broncos have a Pro Bowl selection as their No. 1 in
Demaryius Thomas
, have a Pro Bowl selection at tight end in
Julius Thomas
and they have a receiver with five 100-catch seasons on his résumé in the slot in
Wes Welker
.
They can put a rookie, the right rookie, at the other spot and make it work if Decker chooses to chase the biggest contract he can get on the market.
The Broncos will want a receiver with some size, they'll want that speed, and they'll want a player who can snag the ball in a crowd. But in an offense where quarterback
Peyton Manning
makes most of the calls at the line of scrimmage, they'll need the biggest, fastest quick thinker they can find.
They'd like Decker back, at their price, and Decker has said he would like to come back, at his price. But with Thomas, Thomas and Welker all slated to be unrestricted free agents after the 2014 season, the Broncos need someone on the depth chart to be in a position to contribute next season and the ones that follow since its unlikely the Broncos and Decker will find economic common ground.
And, if they didn't blink Sunday, the Broncos might have seen the guy they're looking for.
February, 22, 2014
2/22/14
4:35
PM ET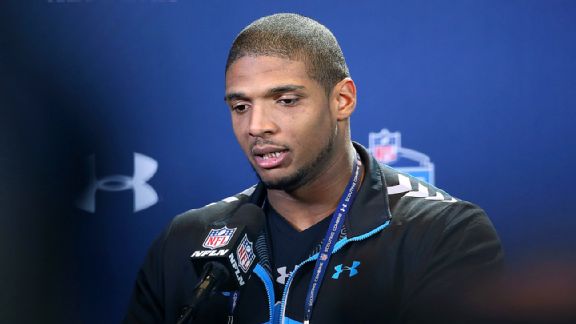 AP Photo/Ben LiebenbergDefensive end Michael Sam has told NFL executives he can be the pass-rusher every team covets.
INDIANAPOLIS -- It was a 12-minute, 30-second glance into the future.
But when
Michael Sam
, the NFL's first openly gay draft hopeful stood before a huge array of cameras, digital recorders and smartphones sending his image to Twitter on Saturday at the NFL's scouting combine, he simply owned the moment.
He was composed, witty, engaging. He handled himself the way he's going to have to handle himself in the days, weeks and months ahead in whatever becomes of his professional football career. Sam looked ready, sounded ready, oozed ready for what's to come.
He is at the front of the line, a player who will have to wrestle, control and handle all of the attention that will be along for the ride.
Sam understands all of it, at least he says he understands. He received a standing ovation when the Missouri football team was honored at halftime of a recent Missouri-Tennessee basketball game in one of his few public appearances since his Feb. 9 announcement that he is gay.
Saturday, he repeatedly lauded those in and around the Missouri campus for "all of the support," including a "Stand with Sam" button he wore at the combine, given to him, he said, by a "very kind lady." And Sam's announcement, as well as his appearance at the combine, has brought all of the is-the-NFL-ready-for-a-gay-player storylines. For the past two weeks, players have been quoted, both anonymously and on the record, about Sam's football future.
There have been gay players in NFL locker rooms before, some who have acknowledged it to teammates and some who have not. But Sam will be the first to have publicly announced it before arriving.
Baltimore Ravens
general manager Ozzie Newsome constructed two Super Bowl teams as a team executive, and he was a Hall of Famer as a player. Newsome said Saturday that Sam already has dealt with teammates who knew Sam was gay. The challenge, at this point, Newsome said, is how Sam deals with the public and the media in a wired world.
"He's been a good player, he's been in the locker room, it's what you, the media, what are y'all going to do with him," Newsome said. "Once he gets in, and he can rush the quarterback, get the quarterback on the ground and make tackles, he's going to be a good teammate. The biggest thing is how the media is going to deal with it."
Newsome was then asked -- as an executive who makes roster decisions, who builds depth charts -- if the attention given to Sam would be a deterrent for those trying to figure out where Sam should be drafted.
"This is something that is new to the league and we all will have to adapt to it," Newsome said. "What I was talking about, I think our locker room has had the tendency to adapt to things a lot smoother than maybe the media does."
The Broncos' top decision-maker, John Elway, also a Hall of Famer as a player, has said Sam's announcement would have no impact on how he will be evaluated as a player. That "having spent 16 years in an NFL locker room [as a player], the bottom line is that it's about treating others with respect and earning that respect. By all indications, it appears Michael has done just that throughout his football career."
That was the message Sam delivered for all those gathered in front of him Saturday. His "whole focus" has been preparing for the combine, preparing for his pro day next month.
"Heck, yeah, I wish you guys would ask me, 'Michael Sam, how's football going?'" he said. "I would love for you to ask me that question, but it is what it is. And I just wish you guys would see me as Michael Sam the football player instead of Michael Sam the gay football player."
In his interviews with NFL team executives at the combine, Sam's message has been he can be the pass-rusher every team covets, that concerns he's too small to be a defensive end and did not perform well in linebacker drills at the combine are things he can alleviate with the benefit of opportunity.
"I'm a pass-rusher. If you put me in a situation to get the quarterback, I'm going to get the quarterback," Sam said. "Whoever the coaches, the GMs, this league is a passing league, and I like to believe in myself as a good pass-rusher."
While the attention Sam has in tow will come in large part because of his off-the-field life, Sam said his concentration is on football, and that football should determine his professional future.
Those who know Sam believe he can handle the attention, or as Missouri defensive end
Kony Ealy
said Saturday, "I expect him to go in there and just do his job. … He motivates. … He's just that type of player, that type of person, off the field, all around."
Sam was asked Saturday if he felt like a trailblazer in all of this, and his answer showed his mindset, showed what he has presented to the league's decision-makers.
"I feel like I'm Michael Sam."
Michael Sam, the football player.
February, 20, 2014
2/20/14
7:00
PM ET
INDIANAPOLIS -- First,
Ronnie Hillman
was awarded the
Denver Broncos
starting running back job.
Then Hillman had some trouble hanging on to the ball -- including a late fumble in Indianapolis that effectively stifled a comebacker attempt -- as well as the job. The Broncos' third-round pick in the 2012 draft moved down the depth chart and, from the team's perspective, didn't exactly respond to the demotion as they had hoped, or maybe even expected.
Hillman
So much so Hillman was a game day inactive five times during the regular season as well as all three of the Broncos' playoff games, including Super Bowl XLVIII. He has just two games with more than 10 carries -- 11 carries for 36 yards in the team's win over Philadelphia to go with 12 in the regular-season finale in Oakland -- and after Oct. 20 Hillman had a seven-game stretch when he did not have a carry.
That run included four games when he was an inactive, a game he played in without a carry and a game in which he was in uniform but did not get on the field.
Thursday at the NFL's scouting combine, Broncos head coach John Fox expressed at least some optimism Hillman could rebound in the manner
Knowshon Moreno
did from both injuries and a demotion. Moreno had his first 1,000-yard rushing season in 2013.
"He's had no issues running the ball, he put it on the ground a couple times, like they all do, early in the season and really was in the mix," Fox said. "And we had some other guys --
C.J. Anderson
,
Montee Ball
and Knowshon -- and the way it kind of works out sometimes, there's only so many can get a uniform on game day. He's in that mix, I think he's a tremendous talent, he does give us great explosion as a runner, particularly to the perimeter."
With Moreno an unrestricted free agent who will likely see bigger offers elsewhere, Hillman will get an opportunity through the offseason program to show how he will rebound from his bumpy ride in 2013. Ball is expected to be elevated into the No. 1 role if Moreno moves on and would push for more carries than the 120 he got this past season even if Moreno re-signed with the team.
That leaves Hillman, Anderson and any other future editions to the depth chart to carve up the carries that remain. Hillman and Anderson are the only other backs, other than Ball, currently under contract for next season.
"I know (Hillman) will work really hard this offseason and try to develop and get ready for next year," Fox said.
February, 20, 2014
2/20/14
4:05
PM ET
INDIANAPOLIS -- There is plenty that didn't go right in the
Denver Broncos
' dismal Super Bowl effort that was the 43-8 loss to the
Seattle Seahawks
.
But in all of the plays head coach John Fox has since re-wound in his head over the past few weeks, things like the botched snap to open the game, and the interception returned for a touchdown after
Peyton Manning
's arm was hit, there is one that sticks out.
Harvin
That would be
Percy Harvin
's 87-yard kickoff return for a touchdown to open the second half.
Trailing 22-0 at halftime, after a collection of unexpected stumbles and turnovers, there was still a feeling in the Broncos' locker room, according to several players and coaches, that the team still had time to kickstart its record-setting offense and make it a game.
And because a stiff wind was in kicker
Matt Prater
's face -- "he ain't kicking it out of the endzone," Fox said -- the Broncos elected to try to pooch kick between the last line of Seahawks' blockers and Harvin, who was on the goal-line.
"We kick a pooch kick, it's an aggressive call, but it was a great call and a great kick," Fox said Thursday at the NFL scouting combine.
Prater kicked it high, to his right and the ball hit at about the Seahawks' 13-yard line, and instead of getting the unpredictable bounce the Broncos had hoped, the ball simply bounced straight up. Harvin easily snagged it at the 13.
"It was just a (expletive) bounce," Fox said. "Ball bounces anywhere other than where it did, we got like a 90 percent chance of getting it. So that would be a nice way to start the third quarter to recover a muffed pooch kick. But the ball bounced straight up to him. So it was really the bounce, it was a great kick, exactly what we planned on doing, it didn't bounce right."
After Harvin escaped for the score, much of the remainder of the game was ceremonial.
Fox was also asked Thursday how much time he has spent reflecting on how the team's season that was fueled by Super Bowl aspirations, ended in such a difficult manner.
"I think, first of all, I give Seattle trememdous credit for playing very well, playing better than we did," Fox said. "I think as you look back ... as you look back, get a chance to look at the tape and expound on that, I think we're capable of playing better. Not taking anything away from them, they had a lot to do with it. It was disappointing that we didn't play better. We had a great season, and unfortunately we did not have our best effort in the last game."
February, 20, 2014
2/20/14
10:15
AM ET
Like most other NFL organizations, the
San Diego Chargers
are a team that builds and maintains its roster through the draft. General manager Tom Telesco doesn't necessarily put any more value on securing impact players through the draft, versus trade or free agency.
But annually selecting rookies that can make an impact on a team's roster is important, particularly when you consider the player will be under the team's control for at least four years, likely at an inexpensive salary.

So getting detailed medical evaluations and vetting players through the intense interviewing process are the most important things for teams this week at the NFL scouting combine in Indianapolis. Of the 53 players that finished the season on San Diego's roster, 23 were secured through the draft, compared to 27 free agents, two through trades, and one claimed off waivers.
The Chargers have seven original picks in this year's draft, one in each round beginning with the No. 25 overall pick. So they will be paying close attention to the more than 330 players invited to this year's combine.
Along with evaluating draft prospects, Telesco will have an opportunity to meet with middle linebacker
Donald Butler
's representation as the Chargers try to get him signed to a multi-year deal before he hits free agency next month.
Here are five things to keep an eye on regarding the Chargers.
1. Physical cornerbacks who can turn and run:
A major area of need for San Diego is improving the overall talent and depth at cornerback. Last year's top free agent signee
Derek Cox
likely will not be back after being supplanted in the starting lineup by
Richard Marshall
. San Diego's 2013 fifth-round selection
Steve Williams
could work into the conversation at corner in 2014. The Cal product sat out his rookie year after suffering a torn pectoral muscle during preseason play. But the Chargers need to add a couple physical corners who can cover -- through the draft, free agency or trade. Some names to keep an eye on include Oklahoma State's
Justin Gilbert
, Ohio State's
Bradley Roby
and Florida's
Loucheiz Purifoy
. Those players stand out to me because of their length, athleticism and playmaking ability.
2. Edge rushers needed:
The Chargers have several veterans at this position, but you can never have enough athletes who can rush the passer. And San Diego struggled at creating consistent pressure, particularly on third down. Three guys potentially available on Day 1 of the draft who could make an impact include Missouri's
Kony Ealy
, BYU's
Kyle Van Noy
, and Auburn's
Dee Ford
.
3. A run-stuffing defensive tackle:
San Diego gave up an average of 4.59 yards per carry on defense in 2013, No. 29 in the NFL.
Cam Thomas
started the most games at defensive tackle, but will be a free agent in March.
Sean Lissemore
finished as the team's starter at the end of the season, but needs to add some bulk to effectively fill this position. San Diego could certainly use a two-gap defensive tackle to control the middle of the defense, similar to
Dontari Poe
in Kansas City. Potential candidates in the draft include Notre Dame's
Louis Nix III
, Minnesota's
Ra'Shede Hageman
, and Penn State's
Daquan Jones
.
4. Improved interior offensive line depth:
With center
Nick Hardwick
contemplating retirement and veteran guard
Jeromey Clary
a potential salary-cap causality, the Chargers need to add some depth to the interior of the offensive line. Mississippi State's
Gabe Jackson
and Stanford's
David Yankey
are the top rated guards in this year's draft. And USC's
Marcus Martin
could be the long-term answer for a team at center.
5. Add a couple explosive playmakers:
San Diego could use some help in the return game.
Keenan Allen
should not be the team's main punt returner. He's too valuable on offense. And the Chargers could use someone with some juice in the kick return game. Washington's
Bishop Sankey
, Oregon State's
Brandin Cooks
, and Oregon's
De'Anthony Thomas
makes some sense because of their ability to create explosive plays on offense and in the return game. Chargers quarterback
Philip Rivers
needs a few more weapons on offense to make his job easier, and all three of these players would fit the bill.