AFC West:

2014 NFL Week 1 Double Coverage
September, 5, 2014
9/05/14
12:00
PM ET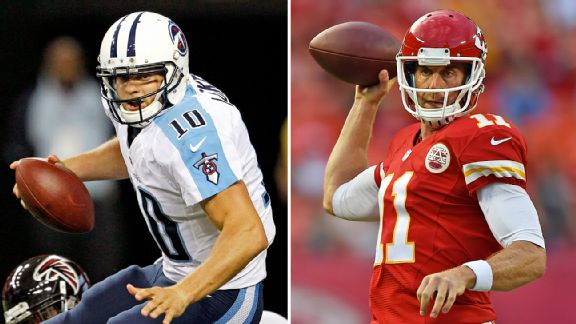 Icon SMI, Getty ImagesJake Locker and Alex Smith hope to get their respective teams off on the right track.
The
Kansas City Chiefs
and
Tennessee Titans
open the regular season on Sunday at Arrowhead Stadium. The Chiefs are coming off an 11-5 season and a 45-44 loss to the
Indianapolis Colts
in the wild-card round of the playoffs. The Titans finished last season at 7-9.
Here, ESPN NFL Nation Chiefs reporter Adam Teicher and Titans reporter Paul Kuharsky discuss Sunday's game.
Teicher:
The Chiefs had a ragged preseason. They have a few unresolved issues and don't look appear ready for the regular season. How about the Titans? Do they look like a team ready to start well in the regular season?
Kuharsky:
I think the Titans' offense is ready. QB
Jake Locker
has taken to Ken Whisenhunt's new system and looks good in it. The Titans have invested a lot in a line that still needs to jell but should be much better and should rank as one of the league's best. Their running back by committee should be better than
Chris Johnson
was as the bell cow. And the pass-game weapons -- receivers
Kendall Wright
,
Nate Washington
and
Justin Hunter
; running backs
Bishop Sankey
and
Dexter McCluster
; and tight ends
Delanie Walker
and
Taylor Thompson
-- should be quite good. Defense is another story. The defense that started gave up a long touchdown drive to open each of the four preseason games. There was little edge pass rush and bad coverage, plus too many penalties, third-down gaffes and missed tackles.
What are the biggest lingering issues for the Chiefs?
Teicher:
Their offensive line is probably the biggest issue.
Eric Fisher
, the first pick in the draft last year, is now playing left tackle but didn't have a good preseason. Their left guard,
Mike McGlynn
, was signed only last week after being released by Washington. Their right guard,
Zach Fulton
, is a rookie sixth-round draft pick. Their right tackle,
Jeff Allen
, has been their left guard but had to switch positions two weeks ago to cover for the suspension of the normal starter. The result has been some ugly play. Quarterback
Alex Smith
took a pounding in the last two games in which he played, and it's reasonable to think he won't last the season if it continues. The starting offense didn't score a touchdown in 16 preseason possessions. Smith threw two red zone interceptions two weeks ago against the
Minnesota Vikings
. RB
Jamaal Charles
didn't play except for the preseason opener, so things could get better with him in the lineup. On defense, the Chiefs still allow a lot of big pass plays. They gave up two of more than 30 yards each on one drive in the last game the starters played. That was a problem for the Chiefs last year.
How is McCluster being utilized? Do you see him being more effective for the Titans offensively than he was for the Chiefs?
Kuharsky:
The Titans envision him as Whisenhunt's new
Danny Woodhead
. As the Chargers' coordinator last year, Whisenhunt did well utilizing Woodhead. Now McCluster is part of a three-man backfield committee that will replace Johnson.
Shonn Greene
is the lead guy for now, and a power back at his best in short yardage. Bishop Sankey is a well-rounded rookie. McCluster will be used mostly as a pass-catcher out of the backfield and is also the punt returner. We'll see if they are able to do more with him.
How much will the Chiefs miss
Dwayne Bowe
in this game?
Teicher:
He's their best receiver, so they will miss him. The Chiefs' offense works a lot better when he's in the lineup and playing well. But they should be able to survive for one game without him.
Frankie Hammond
Jr., will take Bowe's place. Hammond, 24, is faster and has more big-play ability than Bowe. Kansas City also bases its passing game more around the running back, Charles, and tight ends
Anthony Fasano
,
Travis Kelce
and
Demetrius Harris
, than most other teams. Chiefs tight ends caught 53 passes last year. The Chiefs would like to see that number double.
What about Locker? How committed is Whisenhunt to him? He wasn't drafted by Whisenhunt.
Kuharsky:
Locker has responded to all they've asked of him and Whisenhunt has grown to like him. The coach certainly isn't committed to Locker the way a coach would be if he encouraged a team to draft a QB, but I don't think Whisenhunt will be quick to cut to cord.
Zach Mettenberger
looks like a great get in the sixth round and could be a long-range answer. But his route into the lineup this year would be via another Locker injury or a terrible level of personal and team performance that the Titans can't envision at this stage.
You've said the Chiefs don't really look ready. It seems that Year 2 of Andy Reid probably won't match up to the magical first season. You agree? How have things moved in the wrong direction?
Teicher:
Given their ragged play in the preseason and a much more difficult schedule, it's tough to picture the Chiefs being a strong contender for a playoff spot. I wouldn't say the Chiefs are necessarily taking a step backward. It's more that they're being confronted this year by a different reality. Last season's schedule over the first nine games was laughably easy. They played against an incredible run of subpar NFL quarterbacks. Remember, counting the playoff game, the Chiefs lost six of their last eight games last season. This year's team will fit somewhere into the wide margin between last year's 9-0 start and 2-6 finish.
September, 5, 2014
9/05/14
12:00
PM ET
The last time the
Indianapolis Colts
and
Denver Broncos
faced each other, the Broncos were rolling along with a 6-0 record, having scored at least 41 points in four of those games and 50 in two. But on Oct. 20, they couldn't block Indianapolis'
Robert Mathis
(two sacks and a forced fumble), quarterback
Peyton Manning
aggravated his ankle injuries, and the Broncos limped away from a 39-33 loss.
This time, the Colts will see a newly minted defense -- just five players remain from the Super Bowl XLVIII roster -- and the Broncos will see a Colts team that has battled injuries throughout the preseason and is without Mathis, who is suspended for the first four games for violating the league's policy on performance-enhancing drugs.
ESPN.com Colts reporter Mike Wells and Broncos reporter Jeff Legwold discuss Sunday night's game.
Wells:
Not that Manning needs any motivation to get better year to year, but how much did the embarrassing Super Bowl loss fuel him during the offseason and in training camp, especially because the clock is ticking on his career?
Legwold:
Mike, as folks in Indianapolis saw for quite some time, Manning is a study in focus, and he simply attacked the offseason. He said once he decided he was all-in for the coming season, and his annual exam on his neck came back with a medical thumbs-up, he went about the business of taking last season apart -- league-record 606 points, Super Bowl blowout and all -- pass by pass. He looked at his incompletions, interceptions, touchdowns, plays that should have been touchdowns and plays that should have been interceptions. He essentially took his game back to the foundation. Coach John Fox says Manning looks stronger physically than in his previous two seasons in Denver, and wide receiver
Demaryius Thomas
says Manning has shown more arm strength in workouts. Put it all together and it's pretty clear Manning is locked in on getting another shot at the trophy.
Keeping with the quarterbacks, where do the Colts believe quarterback
Andrew Luck
is on his developmental curve? This is decidedly his team, correct?
Wells:
I'd say it became Luck's team once they selected him No. 1 overall in 2012. That is not a bad thing when you take into account Luck has led the Colts to 22 wins, two playoff appearances and an AFC South title in his first two seasons. Did I mention that he is only 24? Not that Luck needs any pats on the back, but you could tell how he is perceived by others when our ESPN.com colleague Mike Sando talked to executives around the league and they said he is a top-five NFL quarterback. There is nothing wrong with being voted behind Manning,
Aaron Rodgers
,
Drew Brees
and
Tom Brady
. Those are four future Hall of Fame quarterbacks. The Colts have a chance to beat any team, including the Broncos, as long as No. 12 is taking the snaps for them.
The Colts' issue is whether the defense can play on the same level as Luck and the offense. The Broncos went out and added some substantial pieces to their defense. Can the defense be as good as Manning and the offense?
Legwold:
If it isn't, it won't be because the Broncos didn't make the effort. They made an almost unprecedented dive into free agency for a team coming off a Super Bowl appearance, adding defensive end
DeMarcus Ware
, safety
T.J. Ward
and cornerback
Aqib Talib
. They also used their first-round pick in the May draft on cornerback
Bradley Roby
. All four players will get significant snaps against the Colts on Sunday night. Executive vice president of football operations/general manager John Elway wanted more speed on defense and more attitude. The Broncos, who had five defensive starters on injured reserve by the time they got to the Super Bowl, also have a healthy
Von Miller
back at linebacker and
Chris Harris
at cornerback. They have not shown much in the preseason, so the Colts will get the first real look at this unit. But Miller and Ware give Denver the kind of one-two pairing in the pass rush it had with Miller and
Elvis Dumervil
in 2012, when this was a top-five defense.
Defensively, Mathis is suspended for the first four games of the season. The previous time these teams played, Mathis was the most disruptive defensive player on the field. What is the Colts' plan to get to Manning this time around?
Wells:
How about we say: What do the Colts hope to do without Mathis? As you pointed out, Mathis was the difference-maker in the game last year. His strip-sack of Manning was a momentum changer because it led to a safety and started a string of 23 straight points for Indy.
Bjoern Werner
is starting at outside linebacker in place of Mathis. But let's be real, there is no replacing Mathis' 19.5 sacks from last season. The Colts will attempt to do it by committee. The starting defense accounted for only two sacks in the preseason. That is pretty scary to think about. Manning is the master of picking apart defenses.
I was going to ask you about
Wes Welker
and his concussion issues. Now the Colts don't have worry about facing him because he has been suspended for the first four games of the season. How do the Broncos go about replacing Welker in the lineup?
Legwold:
Welker's suspension is the reason the Broncos will have to adjust their rotation at wide receiver Sunday night, but they had put plans in motion long before because of Welker's concussions. He had two last season and suffered a third in an Aug. 23 preseason game. The Broncos made
Emmanuel Sanders
a primary target in free agency and used a second-round draft pick on
Cody Latimer
in May. Sanders, who has shown in the preseason just how big a year he could have in this offense, will get plenty of work in the slot; he played there during most of his tenure with the Steelers. Tight end
Jacob Tamme
, who played in the slot a great deal in Manning's first year in Denver (2012), will also get plenty of snaps. The Broncos will move the pass-catchers all over in search of the matchups they like. They have a versatile group of receivers and tight ends that should allow them to overcome four games without Welker.
A different kind of injury issue to be sure, and you have written about it plenty, but how will the Colts adjust things on the offensive line to line up against a revamped Broncos defense?
Wells:
The offensive line has been an issue for the Colts going back to when Manning was there. Luck has his best group of offensive weapons to work with since entering the league, but none of that matters if the line can't do its job. Luck has been sacked 73 times in his first two seasons. The Colts have a rookie --
Jack Mewhort
-- starting at one guard, a second-year player --
Hugh Thornton
-- at the other guard, and center is up the air.
Khaled Holmes
, the projected starter, missed four weeks with a sprained ankle, and A.Q. Shipley was claimed off waivers from Baltimore last weekend. Ware and the rest of the Denver defense should be excited about the opportunity to get after Luck.
September, 5, 2014
9/05/14
12:00
PM ET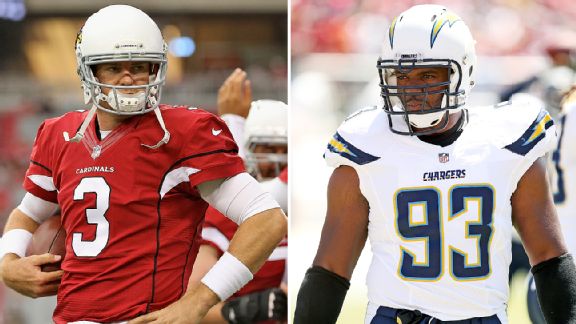 Getty Images, Daniel Gluskoter/ICON SMIA healthy Dwight Freeney will hope to disrupt Carson Palmer and the Arizona offense.
If this seems like déjà vu, don't turn the channel.
The
Arizona Cardinals
and
San Diego Chargers
played each other in the final preseason game a week ago, but that was meaningless and vanilla. This game, the nightcap of a "Monday Night Football" doubleheader, is for real.
In the past 10 years, only seven teams have played more Monday night games than San Diego's 14, so this has become old hat. But awaiting the Cardinals will be a few familiar faces, including San Diego's offensive coordinator, Frank Reich, formerly of the Cards.
Cardinals reporter Josh Weinfuss and Chargers reporter Eric Williams discussed Monday night's game.
Weinfuss:
How do you think playing the Cardinals in the preseason finale will help or hurt the Chargers on Monday night?
Williams:
San Diego gleaned very little from hosting Arizona in the final preseason game. Neither team played its starters. And both the Chargers and Cardinals ran vanilla schemes on both sides of the ball in order to better evaluate fringe prospects trying to make the back end of the roster. So the game did not necessarily work in favor or against San Diego. More important, the Chargers got through exhibition play healthy, which did not happen in 2013. Last year, the Chargers lost receiver Danario Alexander, cornerback
Steve Williams
and inside linebacker
Manti Te'o
to injuries during preseason play. Alexander and Williams did not play in 2013, while Te'o came back in Week 4. Add to that the fact that pass-rusher
Melvin Ingram
suffered an ACL knee injury in May 2013, making it back for the last four regular-season games, and you can understand why San Diego was 5-7 through the first 12 games in 2013. This year, the Chargers are healthy with much more depth at the start of the regular season.
After a rough first half of the season,
Carson Palmer
threw 14 touchdowns and just eight interceptions the last eight games of 2013, leading the Cardinals to a 6-2 record. What changed for Palmer during the second half and can he continue that level of success in 2014?
Weinfuss:
It sounds cliché but that proverbial light bulb clicked on for him and the rest of the offense. The Cardinals finally began to understand the complex offensive scheme that Bruce Arians installed when he arrived in January 2013. Instead of wide receivers asking each other if they were lining up properly, they'd be setting up in the correct areas. The running back was established earlier in games, which led to more passing options. But, and this may be among the most important reasons the offense started to click, the Cardinals realized what their limits were offensively and they pulled back when needed. According to every offensive player who has talked about it, this year's offense is "light years" ahead of where it was last year at this time. As long as Palmer can limit his mistakes and reduce the interceptions, he should be able to build off of 2013.
Like the Cardinals, the Chargers are entering the second year under their head coach. Where have the Chargers improved most heading into Year 2 under Mike McCoy? Where are their most glaring holes?
Williams:
The Chargers addressed the team's two most glaring needs heading into the offseason by upgrading the talent at cornerback and edge rusher. San Diego selected TCU product
Jason Verrett
in the first round and signed Pro Bowl corner
Brandon Flowers
in free agency. The Chargers also drafted Georgia Tech pass-rusher
Jeremiah Attaochu
in the second round and got back a healthy
Dwight Freeney
, who finished 2013 on the injured reserve list after suffering a torn quad in Week 4 against Dallas. Those four players will help the Chargers play fast and physical and should improve San Diego's effectiveness on third down. San Diego finished No. 29 in the NFL in pass defense last season, and totaled just 10 sacks on third down, which was second worst in the league. San Diego still needs to add more depth at the interior of the defensive line. The Chargers gave up 4.6 yards per carry, which was second worst during exhibition play.
Arizona allowed only 20.2 points a contest last year, No. 7 in the NFL. However, the Cardinals will be without the team's best defensive player in
Daryl Washington
(suspension), along with defensive tackle
Darnell Dockett
(ACL injury) and perhaps
Tyrann Mathieu
. How will Arizona make up for the lost production?
Weinfuss:
Depth and a lot of it. Losing Washington and Dockett -- and
Karlos Dansby
to free agency -- took away three of the Cardinals' top six defensive players from a year ago. That's hard to replace. But in Washington's absence, veteran
Larry Foote
will be charged with helping second-year linebacker
Kevin Minter
. Inside linebacker is undoubtedly the Cardinals' major issue on defense. Arizona will turn to veteran
Frostee Rucker
to replace Dockett in the starting lineup and behind him will be
Tommy Kelly
and rookie
Ed Stinson
. The more waves of fresh legs Arizona can throw at opponents, the better off it will be.
Could adding quarterback
Ryan Lindley
give the Chargers an advantage against Arizona? If so, how much of an advantage would it be?
Williams:
Although McCoy and
Philip Rivers
downplayed the move, any bit of new information helps on game day and can be the difference between winning and losing. So having Lindley at Chargers Park is certainly helpful in providing tendencies in terms of play calls or information on how to attack certain Arizona personnel. Is it a huge advantage? No, but Lindley's knowledge could have a small effect on the outcome of the game.
Andre Ellington
averaged an impressive 5.5 yards per carry his rookie season. Does he have a chance to be a 1,000-yard running back in Year 2?
Weinfuss:
I've seen some "experts' predict he'll have 2,000 all-purpose yards. And I think it's possible. As for 1,000 rushing yards, if he can stay healthy and isn't used as much in the passing game as Arians has hinted he'll be used, I think 1,000 yards is possible. He's quick enough to evade tacklers and fast enough to break away from the pack, but he's also smart enough to get down before contact so he'll be saving himself a lot of pain and risk. With Arizona going to more two-back sets this season, especially with the use of a fullback, Ellington will have more options to break free.
September, 4, 2014
9/04/14
12:00
PM ET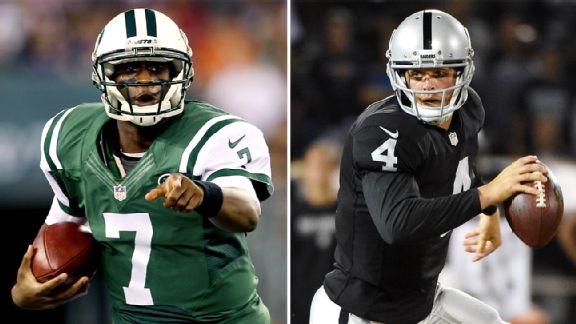 USA TODAY SportsAll eyes will be on Geno Smith and Derek Carr on Sunday at MetLife Stadium.
This is one of those love it/hate it matchups on opening day.
The
New York Jets
love it because they're at home, facing a rookie quarterback and a suspect passing attack -- the ideal situation for their depleted secondary. The
Oakland Raiders
hate it because of the location (13 consecutive losses in the Eastern time zone) and because Jets coach Rex Ryan's confusing defensive scheme can be a nightmare for neophyte quarterbacks.
That said, you never know what might happen. Remember, we're not talking about two juggernauts here. The Raiders have 11 straight non-winning seasons, the Jets three. This is a vital game for two teams that need to catch a few breaks along the way if they want to be in the playoff conversation come December.
Jets reporter Rich Cimini and Raiders reporter Bill Williamson discuss the matchup:
Cimini:
One of the Jets' goals this season is to cause more turnovers on defense. In that respect, they wouldn't have minded facing Raiders backup
Matt Schaub
, who was a pick-six machine last season for the
Houston Texans
. On the other hand, nothing waters the mouth of an aggressive defense more than playing against a rookie. The Jets respect
Derek Carr
's physical skills, but they also believe he can be rattled. So, Bill, what can you tell us about the young man?
Williamson:
Rich, the fact that Carr will start certainly gives this game an extra sense of intrigue. I am no believer in the preseason being any indication of anything to come. With that said, Carr was tremendous last week against Seattle. He had three touchdown passes (two on one-play drives) and just two incompletions. He raised the energy level of the offense and looked like a five-year starter. Carr has a cool, collected edge about him. That is a wonderful trait for a quarterback to have. Still, his task is tall this week. The preseason is over. If Carr has a big debut, there will be legitimate excitement in Oakland at the position for the first time in ages. If he struggles, it could deflate a fan base starving for something to cheer about.
So what's up with
Geno Smith
?
Cimini:
If anyone can relate to Carr, it's Smith, who started every game last season as a rookie. Smith got lucky; he won his first game, thanks to
Lavonte David
's "Greatest Shove of All." (Jets fans don't need an explanation.) This is a huge game for Smith because he's still trying to win over a cautiously optimistic fan base. He closed last season on the upswing (in fact, his turnaround began against the Raiders) and he did some nice things in the preseason, so the expectation level is higher. It has to be. With
Michael Vick
lurking, Smith could be benched if he hits a prolonged rough patch. The fans will turn on him quickly if he starts flinging interceptions at last year's rate. The players are confident in Smith, so we'll see.
Aside from breaking in a rookie quarterback, what's the Raiders' biggest worry?
Williamson:
It's the passing offense in general. When the offense was struggling in camp with Schaub, Raiders coach Dennis Allen said the entire offense wasn't doing its job in the passing game. He blamed route-running and dropped passes by receivers and lack of protection by the offensive line. Again, I think one of the reasons Carr got the job is because the coaching staff thinks he can raise the level of the players around him. But we have to see it. This offense has some flaws. We have to see if it's up to the task when the lights come on. So what's keeping Jets' fans awake at night these days?
Cimini:
I think the hot dog vendor on the corner of 34th Street and Eighth Avenue could tell you the Jets' biggest concern. Everybody knows it's the cornerback situation. It was suspect at the start of training camp and it turned ugly with a spate of injuries and the departure of
Dimitri Patterson
, who was suspended and later released. Their No. 1 corner,
Dee Milliner
, probably won't play because of a high ankle sprain, so they're looking at
Darrin Walls
(four career starts) and converted safety
Antonio Allen
as the starters, with
Kyle Wilson
in the slot. Allen has been playing corner for about three weeks, so he doesn't know what he doesn't know. The Raiders will be tempted to attack through the air, but do they really want to put the game on the shoulders of a rookie quarterback? Speaking of first-year players, catch me up on the Raiders'
other
rookie.
Williamson
: All eyes are on Carr and I get that. He is the first rookie quarterback of this class to start. It's a big deal. But everyone has seemed to forget about the No. 5 overall pick, linebacker
Khalil Mack
. The Raiders think he can be an instant difference-maker as a pass-rusher. The Raiders will unleash him and hope he makes Smith's day miserable. This defense needs a jolt, and it will be interesting to see what Mack can do in his first game.
Cimini:
I can tell you the Jets are very happy with their No. 1 pick,
Calvin Pryor
, who will start at safety. He missed some time in training camp with a concussion, but he seems comfortable in the defense. He's a big hitter -- Ryan compared him to former Raiders great Jack Tatum -- but I think you may see Pryor in the deep-middle position more than in the box. He has better range than
Dawan Landry
, but he obviously doesn't have Landry's savvy -- not yet, anyway.