AFC West:

Aaron Hernandez
June, 26, 2013
6/26/13
8:40
PM ET
A couple of week ago, both the
Oakland Raiders
and the
San Diego Chargers
could have been criticized for not taking
Aaron Hernandez
.
Both teams passed on the Florida product in the fourth round of the 2010 draft. The talented Hernandez was considered a first-or-second round talent, but he had some red flags that allowed him to fall to the 113th pick. Hernandez became a strong performer for the Patriots and a draft steal.
Of course, that perception changed Wednesday when Hernandez was arrested and charged with murder and cut by the Patriots. Let's a take a look at the AFC West selections that were made shortly before Hernandez was taken.
Oakland:
Guard
Bruce Campbell
, 106: He was a combine star and the late Al Davis loved combine stars. But Campbell never made many strides and he was traded from the new regime to Carolina last year for running back
Mike Goodson
. Goodson left through free agency this year.
Oakland:
Receiver/returner
Jacoby Ford
, 108: Another combine star, the fastest player in the draft, Ford has been a dynamic returner and he made a lot of big plays as a receiver. But he had had trouble staying healthy the past two years.
San Diego:
Safety
Darrell Stuckey
, 110: He has become a tremendous special teams player. Stuckey hasn't made much of an impact at safety. He will get more of a chance to play this season.
None of these players have come close to making the impact on the field that Hernandez did in the past three seasons. And both teams went into this offseason with the need at tight end, so bypassing Hernandez looked like a mistake.
That can no longer be said.
October, 7, 2012
10/07/12
3:27
PM ET
FOXBOROUGH, Mass. --
Chris Kuper
will make his season debut Sunday.
Kuper is active and is expected to start at guard for Denver at New England. Kuper is one of the better interior offensive lineman in the NFL. He broke his left forearm during training camp in August.
Kuper practiced fully this week and he was listed as probable to play.
Manny Ramirez
took Kuper's place in the first quarter of the season. Ramirez often struggled, so
Peyton Manning
will surely appreciate the return of Kuper.
Also, Denver running back
Knowshon Moreno
is inactive for the third straight game. Rookie
Ronnie Hillman
will continue to take his place. As expected, New England tight end
Aaron Hernandez
(ankle) is not active.
There has been light rain here Sunday, but it doesn't seem to be enough to impact the playing field at this point.
January, 16, 2012
1/16/12
2:00
PM ET
A theme developed in the divisional playoff round: the dominance of the young, athletic tight end. Whether it was New England's
Rob Gronkowski
and
Aaron Hernandez
, or San Francisco's
Vernon Davis
or New Orleans'
Jimmy Graham
, the tight end took over.
It is clear a way to offensive success in the NFL is having one of these types of players. Let's take a look at each AFC West's teams situation at tight end:
Denver:
The Broncos have an interesting crew of tight ends. It has veterans
Daniel Fells
and
Dante Rosario
and youngsters
Julius Thomas
and
Virgil Green
. Fells is a good blocker and receiver and the team would like to re-sign him. But they are excited about Thomas (who like Graham was a college basketball player) and Green. Thomas was a fourth-round pick and Green was a seventh-round pick. Green is further along than Thomas right now, but the team believes Thomas -- who was bothered by an ankle injury all season -- has Graham-like potential.
Kansas City:
The Chiefs have a young stud in
Tony Moeaki
. They just need him to get healthy and to stay healthy. Moeki set some Kansas City rookie tight end records in 2010 (yes, the great
Tony Gonzalez
was a Chief rookie at one time), but missed all of the 2011 season with a knee injury. He is improving and the team is excited about his future.
Oakland:
The Raiders signed
Kevin Boss
after
Zach Miller
shocked the team by signing with Seattle last summer. Boss has big-play ability, but he has some limitations. The Raiders could like to see more plays and better health from Boss in 2012.
San Diego
:
Antonio Gates
is one of the best tight ends the NFL has ever seen. He has been dealing with injuries the past few seasons and he is likely on the back nine of his career. Still, he will be an impact player in the immediate future. Watch for San Diego to look for an eventual replacement fairly soon.
January, 14, 2012
1/14/12
9:52
PM ET
FOXBOROUGH, Mass. – Random
halftime
thoughts:
The Broncos are being Brady'd and Gronk'd.


New England quarterback
Tom Brady
– perhaps a tad upset about being the second-most-talked-about quarterback in this game – is beating down the Denver defense. Brady has thrown five touchdown passes. The Patriots went up 28-7 with a 61-yard touchdown pass to
Deion Branch
— then scored again on a Brady-to-
Rob Gronkowski
strike.
As they did in Denver four weeks ago, the New England tight ends are slicing up the Broncos defense. Gronkowski has eight catches for 97 yards and two touchdowns.
Aaron Hernandez
has two catches for 29 yards but he has three runs for 58 yards.
Denver's defense is just not giving the Broncos a chance to stay in this game in a game the Patriots are dominating in the field-position battle.
Denver quarterback
Tim Tebow
is having a decent game. He lost one fumble, but he hasn't been a major disappointment. Still, Denver just can't keep drives going.
The Broncos are running the ball well, at least — 100 yards on 21 carries.
January, 13, 2012
1/13/12
12:00
PM ET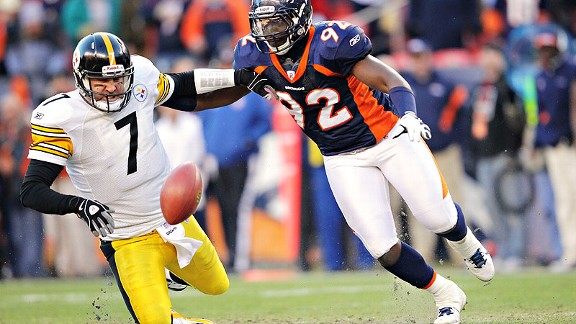 Doug Pensinger/Getty ImagesDenver's defense sacked Ben Roethlisberger five times in the Broncos' wild-card win.
The 2011
Denver Broncos
will not be remembered for their defense.
Let's face it, the lasting memory, regardless of how this unexpected Rocky Mountain joy ride ends, will be of quarterback
Tim Tebow
. The six-game winning streak, the four overtime wins, the incredible and the abrupt ending to the wild-card win over Pittsburgh on Sunday will all turn back to Tebow. He is the cover boy for these Broncos.
Yet, there is no way this upstart franchise would still be playing if it wasn't for an improved, tough-minded defense. Tebow may be the face of the 2011 Denver Broncos, but the defense is the heart.
If the Broncos have any chance of beating the
New England Patriots
in the AFC divisional playoff round Saturday, their defense will have to continue to show its growth. New England coach Bill Belichick knows a thing about defense and he knows Denver's unit is capable of being a factor against his high-powered offense.
"Defensively, they're fast. They have an excellent pass rush," Belichick said this week. "They're athletic inside, their linebackers blitz … They cover well. They have a good defensive team."
Four months ago, just as it was unexpected that Denver would be one of the final eight teams alive in the playoffs, it was as unexpected that the Denver defense would inspire such words from one of the most renowned defensive minds in the game.
In 2010, Denver was ranked last in nearly every statistical defensive category and it was a major reason why the Broncos went 4-12 and earned the No. 2 pick in the draft. Since he took over as Denver's football leader, Broncos' legendary quarterback
John Elway
immediately focused on the other side of the ball to begin his reclamation project.
Ending a 16-year streak, Elway hired a defensive-minded head coach in highly-respected John Fox after the Broncos were led by offensive minds Mike Shanahan and Josh McDaniels. Piggybacking on the Fox hire, Elway's first draft pick was outside linebacker
Von Miller
, a player Elway hoped would become similar to Miller's idol,
Derrick Thomas
, the man who sacked Elway more than any other defensive player ever.
The immense commitment to defense has worked out for Elway. Seventeen games into Fox's tenure, the Broncos' defense is considered above average. There is no doubt Fox and first-year defensive coordinator Dennis Allen have influenced this unit, and it's being recognized around the league.
The Denver defense was on display in a big way in the 29-23 upset win over Pittsburgh in the wild-card round. The Broncos dominated the game and harassed Steelers' quarterback
Ben Roethlisberger
with five sacks. According to ESPN Stats & Information, Roethlisberger completed just 6 of 13 passes for 74 yards and was intercepted when Denver blitzed five or more defenders. Led by the dynamic pass-rushing combination of Miller and veteran
Elvis Dumervil
, the Broncos had 41 sacks in the regular season, the most it has had since 2000.
"We saw some things we felt like we could do well," said Denver defensive end
Robert Ayers
, who was extremely active against the Steelers. "It's the playoffs. There is no time for holding back."
Denver's defense has been consistent throughout the season. When the Broncos entered the playoffs on a three-game losing streak, it was Denver's offense that was most culpable. In a 40-14 loss at Buffalo in Week 16, the Bills had two defensive touchdowns and a special teams score. The Denver defense allowed one touchdown in the game. In a 7-3 Week 17 loss to Kansas City, the Denver defense allowed just one big play.
In a 41-23 loss to visiting New England in Week 15, Denver's defense had some moments. But the Broncos didn't lose the game on defense. It lost because the offense blew a 16-7 lead with three fumbles in its territory in the second quarter that resulted in 13 direct points for New England. The defense simply couldn't overcome the turnovers.
Still, according to ESPN Stats & Information, Denver may not have the same success blitzing against
Tom Brady
as it did against Roethlisberger if last month's game is any indication. Brady was 10-of-12, gaining with an average of 14.3 yards per play, against a five or more-man blitz. Against four or fewer pass-rushers, Brady was just 13 of 22 with an average of 6.8 yards per play.
Regardless of the pass-rush packages, Ayers said the key is containing tight ends
Rob Gronkowski
and
Aaron Hernandez
. The pair has torched defenses all season, and Hernandez was particularly dangerous against Denver last month. Hernandez had nine catches for 129 yards and a touchdown against Denver, while Gronkowski added four catches for 53 yards. That's massive production from tight end.
"Up front, we have to be able to get some pass rush and not let [our secondary] sit back there for long," Ayers said. "I think Brady... he got a little bit comfortable a couple of times. We don't want to let that happen. We don't want to leave those guys on an island too long. … It's going to take a complete team effort -- offense, defense, special teams -- and we know that."
If the defense's effort all season has been any indication, the Broncos should feel comfortable their unit will come to play and continue to show it is no longer the weak link.
January, 12, 2012
1/12/12
12:00
PM ET
Four Broncos to watch Saturday night in a divisional playoff game at New England. Kickoff is 8 p.m. ET:
Brodrick Bunkley, defensive tackle:
Bunkley had a terrific game against Pittsburgh in the wild-card round and he quietly had a solid season. He is going to have to disrupt the middle of the New England offensive line as the Broncos try to slow
Tom Brady
.
Quinton Carter, safety:
Carter had a strong game against Pittsburgh. The rookie is really coming around. With New England focusing on tight ends
Rob Gronkowski
and
Aaron Hernandez
(who had a huge game against Denver last month) so often, Carter is going to have to come up big again.
Willis McGahee, running back:
McGahee shredded the Patriots in Week 15 before he was injured. McGahee has been a star for Denver this year as he had 1,199 yards on the ground. He fumbled twice and lost one that allowed the Steelers to tie the game and send it to overtime on Sunday. McGahee is going to have to play a strong, clean game Saturday night.
Eddie Royal, receiver/returner:
With
Eric Decker
dealing with a knee injury, Royal is going to have to play a big role in this game. He caught a touchdown pass against Pittsburgh. With
Demaryius Thomas
-- who had four catches for 204 yards, including an 80-yard catch to win the game in overtime --likely getting extra attention from New England, Royal is going to have to make some plays.
December, 18, 2011
12/18/11
7:34
PM ET
DENVER -- A look at
a game Denver fumbled away
.


What it means:
The Denver Broncos' six game winning streak is over. The Broncos are now 8-6. However, Denver is still alone in first place in the AFC West because Oakland lost to Detroit in the final minute. Denver is still in great shape in the AFC West race.
Defense not elite:
Denver's defense is surely improved, but they were no match for
Tom Brady
. He made plays when he needed to make plays. Brady and tight ends
Aaron Hernandez
and
Rob Gronkowski
wore down this defense. The two tight ends combined for 13 catches for 182 yards and a touchdown. Of course, the Denver defense wasn't helped by three fumbles in Denver territory.
Not Tebow's fault:
There will be a lot of talk that TebowMania has been solved. Don't buy it. He is improving and he wasn't the reason for this loss. His fumble didn't help, but this was a team loss.
Game changed in the second quarter:
Denver had the Patriots where it wanted them after the first quarter. The Broncos had a 13-7 lead and had the ball for 10:45 of the first. Then, after Denver made it 16-7 early in the second, New England exploded for 20 unanswered points in the quarter and Denver hardly touched the ball. The Broncos couldn't overcome the second quarter.
Huge first quarter on the ground:
Denver had 167 yards on the ground in the first quarter. But because of New England's points explosion, it had to throw the ball more. Denver, the No. 1 ground team in the NFL, finished the game with 252 yards on the ground.
What's next:
Denver travels to Buffalo on Saturday where the long-term forecast calls for weather to be in the 30s and a mostly sunny day.
October, 2, 2011
10/02/11
3:26
PM ET
OAKLAND –- The Raiders will be without three key players Sunday against New England.

Safety
Michael Huff
(concussion), defensive end
Matt Shaughnessy
(shoulder) and fullback
Marcel Reece
(ankle) are all inactive. They were all listed as questionable on the injury report Friday.
Trevor Scott
and
Jarvis Moss
will likely help spell Shaughnessy.
Mike Mitchell
could play for Huff as the Raiders try to slow down New England quarterback
Tom Brady
.
As expected, receiver/returner
Jacoby Ford
is active. He ha missed the past two games with a hamstring injury.
New England is also dealing with injuries. Tight end Araron Hernandez (knee), defensive lineman
Albert Haynesworth
(back) and offensive tackle
Sebastian Vollmer
(back) are all out.
January, 19, 2011
1/19/11
12:23
PM ET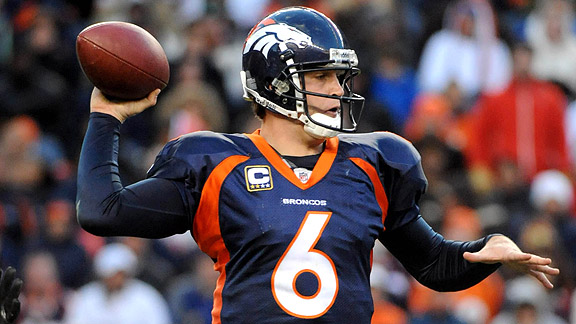 Kirby Lee/Image of Sport/US PresswireDenver has won just 12 games since trading quarterback Jay Cutler to Chicago in 2009.
Jay Cutler
became a Denver Bronco months after the team advanced to the AFC Championship Game.
When the Broncos traded up to take Cutler with the No. 11 pick of the 2006 draft, they probably would have been thrilled to know the quarterback would lead his team to a home championship game appearance in his fifth NFL season.
Unfortunately for Denver, Cutler is now a member of the
Chicago Bears
. The Broncos
traded Cutler in April 2009
, and they are still looking for their first playoff berth since they drafted him.
"This is the type of move that can adversely affect a franchise for five years," Scouts Inc.'s Gary Horton said. "There is no question. The Broncos are in much worse shape today than they were the day before they made this trade."
This week gives Denver a painful reminder of how far the organization has fallen in the two years since Josh McDaniels replaced Mike Shanahan as head coach. Shanahan left a good offense, but Denver's defense needed to be retooled. The job appeared to be an attractive one. The 8-8 Broncos were headlined by a 25-year-old quarterback who was coming off a Pro Bowl berth is in his second full season as a starter.
One of the primary reasons McDaniels was hired at age 32 to replace Shanahan was his ability to work with Cutler. Instead, the entire franchise was changed after McDaniels tried to acquire former Patriots quarterback
Matt Cassel
, who was instead traded to Kansas City. McDaniels and Cutler then feuded. Cutler was shipped out.
While Cutler is preparing to face Green Bay in the NFC Championship Game on Sunday, McDaniels is
beginning a stint as the offensive coordinator in St. Louis
. He is trying to rehabilitate his once seemingly boundless coaching career after a disastrous 28-game run in Denver. Among McDaniels' biggest missteps in Denver were poor personnel decisions, beginning with the Cutler trade.
[+] Enlarge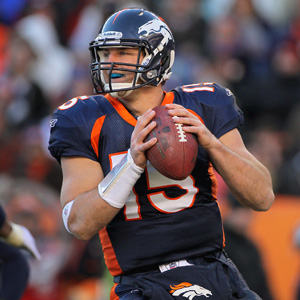 Doug Pensinger/Getty ImagesThe Broncos hope Tim Tebow develops into their quarterback of the future.
While the Bears are exactly where they hoped they'd be after the trade, Denver is trying to erase the McDaniels mistake. The team is now beginning the John Fox era with another young quarterback,
Tim Tebow
.
"Chicago got the big prize here," Matt Williamson of Scouts Inc. said. "The way this trade worked out for both Chicago and Denver is proof why teams don't trade young, franchise quarterbacks. It's just not something you do."
What bothers Williamson and Horton most about the trade is what Denver did with the picks it got in the Cutler deal.
"The Broncos got value," Williamson said, "but they squandered the picks."
Because Denver made so many draft picks, it's difficult to break down exactly what it received for Cutler. Denver originally sent Cutler and a fifth-round pick in 2009 (which turned out to be productive Bears receiver
Johnny Knox
) for quarterback
Kyle Orton
, first-round picks in 2009 and 2010 and a third-round pick in 2009.
Denver took defensive end/linebacker
Robert Ayers
with the 2009 first-round pick (No. 18). Ayers has shown some ability, but not as much as Denver hoped. It packaged the Bears' 2009 third-round pick and its own third-round pick in a deal with Pittsburgh for the final pick of the second round and a fourth-round pick. Denver took tight end
Richard Quinn
in the second round and guard
Seth Olsen
with the fourth-round pick. Neither has made an impact. Pittsburgh took standout receiver
Mike Wallace
with the pick from Chicago.
Denver had the No. 11 pick in 2010 from the Bears. The pick was flipped several times and Denver packaged the compensation with other picks that resulted in the selections of receiver
Demaryius Thomas
, Tebow and receiver
Eric Decker
. All could have promising futures. The players selected by other teams as part of the 2010 trade were San Francisco first-round pick
Anthony Davis
, Philadelphia first-round pick
Brandon Graham
and New England fourth-round pick
Aaron Hernandez
.
Tangibly, it is safe to say Denver received Orton, Ayers, Quinn, Olsen and some of the trading power to help fuel the early 2010 selections.
Orton played well for Denver, but he could be traded if Denver gives Tebow the opportunity to start in 2011, which is expected. Ayers will have a chance to play defensive end with Fox's defense likely going to a 4-3 scheme, but he still doesn't look like a foundation player. It has to eat at Denver fans that the Broncos passed on linebacker
Clay Matthews
in favor of Ayers. Matthews is a star for Green Bay.
"Denver could have gotten so much more," Horton said. "You saw Chicago get Knox and Pittsburgh get Wallace in this deal, and you just have to think the Broncos wasted a great opportunity here.
"The Broncos have to hope Tebow is a hit or this franchise will [be] set back for years. You look at Cutler,
Brandon Marshall
[traded to Miami],
Peyton Hillis
[traded to Cleveland], Mike Wallace and look at all the missed chances. This could be a very good team. But it's starting over all because of this [Cutler] trade."
Chicago is one game away from the Super Bowl.
"It's not difficult to argue who won this trade," Williamson said. "It wasn't the Broncos."