May, 25, 2014
May 25
5:45
PM ET
KANSAS CITY, Mo. -- Some observations from the second day of the
Kansas City Chiefs
' rookie camp:
-- The Chiefs continued to utilize
De'Anthony Thomas
in a variety of spots but he received more work as a wide receiver than he did on Saturday. Thomas, a fourth-round draft pick, still lined up plenty of times as a running back. Though he could get some work there when the regular season begins, I still don't see how the Chiefs will get much out of him as a running back. First, the Chiefs are loaded there with
Jamaal Charles
and
Knile Davis
. Life is also not just difficult for 5-9, 175-pound running backs, but also the teams that utilize them. Until such a time comes that the Chiefs move Thomas to receiver full-time, running backs coach
Eric Bieniemy
will work Thomas hard. Bieniemy yelled at Thomas to finish on several plays Thomas thought were over. Bieniemy did the same thing with other backs, but not as often as with Thomas.
-- Similarly, the Chiefs are trying to figure out where offensive lineman
Laurent Duvernay-Tardif
best fits. He worked at left guard in this practice after spending his time at right tackle on Saturday. Duvernay-Tardif, a sixth-round draft pick who played in college at Canada's McGill University, has the athletic skills to play either position.
-- One of the developmental veterans participating in camp is wide receiver
Frankie Hammond
Jr., who has made several nice catches. Hammond is fast and would challenge for a roster spot with a strong training camp. Hammond joined the Chiefs last year as an undrafted rookie and spent all season on the practice squad.
-- The numbers are in on the contract signed by fifth-round quarterback
Aaron Murray
. Murray's four-year contract is worth $2,402,424. He received a signing bonus of $182,424.
May, 24, 2014
May 24
5:35
PM ET
KANSAS CITY, Mo. -- Some quick observations from the opening practice of the
Kansas City Chiefs
' three-day rookie camp on Saturday:
Murray

Quarterback Aaron Murray, a fifth-round pick from Georgia, was a full participant. Murray wore a brace on his left knee but moved around well. He is only six months removed from surgery after tearing knee ligaments last fall. Murray's first pass was deflected and intercepted by linebacker Dee Ford, the first-round draft pick. Murray made some nice throws, none better than a fade pass that was caught down the left sideline by former Missouri receiver Jerrell Jackson. But heMurray also threw a number of interceptions.
Ford, of Auburn, signed his contract moments before the start of practice. All six draft picks are now signed and the Chiefs still have two months before the start of training camp.
Fourth-round pick De'Anthony Thomas of Oregon lined up in a variety of spots, mostly as a running back. These three days of practices will be all Thomas can participate in until the mandatory minicamp in the middle of June. School is still in session at Oregon.
Sixth-round offensive lineman Zach Fulton of Tennessee and Laurent Duvernay-Tardif were on the first-team offensive line -- Fulton at right guard and Duvernay-Tardif at right tackle. Duvernay-Tardif jumped the snap count twice.
A handful of veterans are participating in rookie camp. That list includes wide receivers Weston Dressler and Frankie Hammond Jr. and tight end Demetrius Harris.
May, 23, 2014
May 23
10:00
AM ET
»
NFC Wrap:
East
|
West
|
North
|
South
»
AFC:
East
|
West
|
North
|
South
»
Grades

With free agency and the draft in the rearview mirror and training camp just a couple of months away, we assess the
Kansas City Chiefs
' offseason moves.
Best move:
It wasn't a popular move for the Chiefs to allow five of last season's regulars to depart in the opening moments of free agency and another a few days later, but the Chiefs did the right thing in each case. The players are more valuable to their new teams, and Kansas City would have had to overpay to keep them. The Chiefs had also built enough depth to withstand the losses.
[+] Enlarge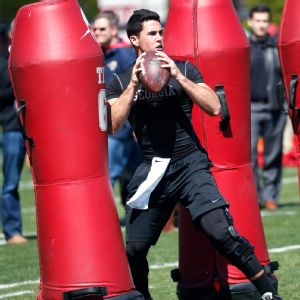 AP Photo/John BazemoreAaron Murray's selection by the Chiefs is surprising, but Andy Reid has been known to develop QBs.
Riskiest move:
The Chiefs failed to add a proven wide receiver, a decision they could easily come to regret later. They had one of the NFL's least productive groups of wide receivers last season and then lost slot receiver
Dexter McCluster
to free agency. They have hopes for improvement from young
A.J. Jenkins
and acquired CFL veteran
Weston Dressler
and speedy rookie
De'Anthony Thomas
, but their needs would have been better served by adding a player with proven production.
Most surprising move:
The drafting of Georgia quarterback
Aaron Murray
was a reasonable gamble because it happened in the fifth round, but the Chiefs looked to be set at the position without him. They have their starter in
Alex Smith
, a veteran backup in
Chase Daniel
and a developmental prospect in
Tyler Bray
. But Murray appears to have the skills to succeed in the offense of coach Andy Reid, who has shown a nice touch in developing quarterbacks. The addition of Murray sets up an interesting training camp battle at the position.
Progress from young players:
It's clear the Chiefs are counting on improvement from a group that includes three of last season's draft picks. Foremost is tackle
Eric Fisher
, who moves to the left side after a rocky rookie season on the right. Tight end
Travis Kelce
missed all of last season with a knee ailment after showing impressive receiving skills in the offseason and training camp.
Sanders Commings
also missed most of his rookie season with an injury but could wind up starting at free safety.
May, 12, 2014
May 12
7:30
AM ET
The
Kansas City Chiefs
didn't select quarterback
Aaron Murray
of Georgia in the fifth round of the NFL draft because they fear losing starter
Alex Smith
to free agency next year. The sides still have 10 months left to reach a deal and if Smith winds up hitting the free-agent market his successor is probably going to be someone else and not Murray.
That doesn't make the drafting of Murray, the first of a quarterback by the Chiefs with John Dorsey as their general manager and Andy Reid as their coach, any less intriguing. That Murray doesn't have classic size (the Chiefs list him at 6-foot-1 and 210 pounds) and a huge arm suggests Dorsey and Reid believe Murray can succeed in the NFL without those qualities.
[+] Enlarge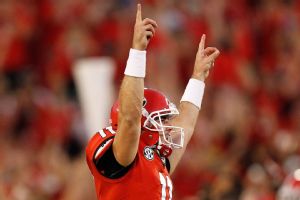 AP Photo/Mike StewartFor Chiefs GM John Dorsey, there's one trait about former Georgia QB Aaron Murray that stands out. "He's a winner," Dorsey said.
Dorsey and Reid have a history of drafting and developing quarterbacks in previous jobs, Dorsey with the
Green Bay Packers
and Reid with the
Philadelphia Eagles
. When they like a quarterback, it's probably wise to listen. That alone makes Murray worth a fifth-round draft pick.
"He's a winner," Dorsey said. "He's been a winner at every stage that he's played between high school and college. [He's] ultracompetitive and smart. What I like about him is when there are big drives to be made late in the game, this guy made those drives. He didn't always win them, but he made those big drives at the end when it really counted. If you want to put some statistics in there, he's got multiple records in the SEC, which is as good a conference as there is in today's football. He performed at a very high level."
If winning was all the Chiefs wanted from their quarterback, they would have drafted Alabama's
AJ McCarron
instead. McCarron was drafted by the
Cincinnati Bengals
the pick after Murray.
Murray has a little more to him.
"His accuracy is the No. 1 thing,'' Chiefs assistant scouting director Dom Green said. "I want to say he's [completed] 67 percent on all of his throws throughout his whole career.''
Murray actually completed slightly better than 62 percent of his passes at Georgia. But Murray's ball finds its target far more frequently than it does for a lot of quarterbacks of his size.
"Most of the shorter quarterbacks have a lot of batted balls and that type of thing but I didn't see that with Aaron," Green said. "He did a nice job hitting the lanes and getting the ball to receivers."
In explaining the reasons for that, Murray already sounded like an NFL veteran.
"All quarterbacks, you have to be able to move around the pocket, you have to be able to find those throwing lanes," Murray said. "It's just working drills, working footwork, being able to stay active in the pocket. It's also knowing where you need to go [with the ball]. When you know where you need to go as a quarterback based on the coverage and what the defense is giving you, you will put your body in position to make an accurate throw and find those open receivers."
Murray tore his ACL late last season and is still in the rehab stage of his recovery. He said he's been cleared for full participation in two weeks when the Chiefs start offseason practice with a three-day rookie camp. Dorsey is more cautious and said it may not be until training camp until Murray is fully unleashed.
Either way, this is a player worth watching. The Chiefs and Murray could be the right mix, something even the rookie quarterback already understands.
"It's a great fit," Murray said. "I'm not complaining one bit. It's an incredible fit. They do a heck of a job preparing quarterbacks."
May, 10, 2014
May 10
6:20
PM ET
»
NFC wrap-ups
:
East
|
West
|
North
|
South
»
AFC
:
East
|
West
|
North
|
South
KANSAS CITY, Mo. -- A wrap-up of the
Kansas City Chiefs
' draft.
Click here
for a full list of Chiefs draftees.
[+] Enlarge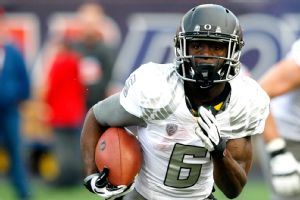 AP Photo/Rick ScuteriThe addition of De'Anthony Thomas should help out the Chiefs offense, as well as special teams.
Best move:
Though they had only six picks, the Chiefs covered a lot of ground. They selected a pass-rusher, a cornerback, a combination slot receiver/running back/kick returner, a quarterback and two developmental offensive linemen. Not all were immediate needs, but the potential is there for the Chiefs to get a lot from this class. Oregon's
De'Anthony Thomas
, a fourth-round pick, might represent the best value. The Chiefs will plug him into the spots on offense and special teams vacated by the free-agent departure of
Dexter McCluster
. Thomas has world-class speed and will be given opportunities to play as a slot receiver and kick-return specialist.
Riskiest move:
Despite having one of the least productive groups of wide receivers in the NFL last season, the Chiefs added nobody at the position, Thomas excepted. The Chiefs will search for help in free agency before they get to training camp in late July, but they might not be able to find a receiver who gives them more than what they already have on the roster. The Chiefs might come to regret passing on the chance to get USC receiver
Marqise Lee
in the first round or Mississippi's
Donte Moncrief
in the third. Thomas could help as a slot receiver, but on the outside, the Chiefs need improvement from a group that includes
Dwayne Bowe
,
Donnie Avery
and
A.J. Jenkins
.
Most surprising move:
The selection of Georgia quarterback
Aaron Murray
in the fifth round qualifies, given the Chiefs already gave up their second-round choice for a quarterback, starter
Alex Smith
, in last year's trade with the
San Francisco 49ers
. The Chiefs also appeared set at quarterback with Smith, veteran backup
Chase Daniel
and developmental prospect
Tyler Bray
. But the Chiefs couldn't resist Murray, whose senior season was ended early by a torn ACL. At about 6-foot and 200 pounds, Murray doesn't have classic size for an NFL quarterback or a huge arm, but the Chiefs think he has the necessary skills to thrive in coach Andy Reid's offense. Murray does a nice job of finding available passing lanes despite his size. He has also been an accurate passer.
Murray says he has been cleared to practice
when the Chiefs get on the field later this month. That sets up an interesting battle for available roster spots at quarterback. Bray is the most likely candidate to be crowded off the roster, but if the Chiefs believe he or Murray is advanced enough to be their backup, a trade market could develop for Daniel.
File it away:
First-round outside linebacker
Dee Ford
of Auburn will become the second-best pass-rusher to emerge from this year's draft behind only
Jadeveon Clowney
, the top overall pick. The Chiefs have Pro Bowlers
Tamba Hali
and
Justin Houston
to start at Ford's position, so he has time to develop his skills in pass coverage and against the run. He can focus immediately on his pass-rush skills, and the Chiefs need to find ways to get all three players on the field at the same time. Kansas City's pass rush was on pace at midseason to set an NFL record for sacks. It tailed off badly the second half of the season, but Ford's presence should help revive their pass rush.
May, 10, 2014
May 10
4:25
PM ET

Murray
KANSAS CITY, Mo. -- Quarterback
Aaron Murray
tore his ACL in a game last November in his final season at the University of Georgia. But Murray, drafted by the
Kansas City Chiefs
in the fifth round Saturday, said he has already been cleared to practice.
"I'm ready to go right now," Murray said. "I'm fully doing everything when it comes to running, jumping, all my dropbacks, all my rollouts right and left. So there's really absolutely no restrictions right now. The doctors have given me the green light to go out there and do everything. I'm excited to get out there and practice next week.
"I feel healthy. I feel great. There's no hesitation or second thought when I'm running or cutting. It's full speed ahead."
Draft picks can start participation in the Chiefs' offseason program on Monday. Formal practice begins May 24 with opening of a three-day rookie camp.
May, 10, 2014
May 10
3:45
PM ET
KANSAS CITY, Mo. -- The
Kansas City Chiefs
drafted Georgia's
Aaron Murray
in the fifth round today, giving them a most interesting mix at quarterback. Behind starter
Alex Smith
, the Chiefs have veteran backup
Chase Daniel
, developmental prospect
Tyler Bray
and now Murray.
Murray tore his ACL last year in November, but said he is ready for full participation in practice.
Eventually the Chiefs have to make a decision on which quarterbacks to keep and which one to part with. But they didn't draft Murray to immediately release him. Though at 6-foot and 200 pounds he doesn't have the classic size for a quarterback, they obviously like his skills and the way he fits into Andy Reid's offense.