September, 1, 2012
9/01/12
7:25
PM ET
Three in and three out for the
Oakland Raiders
.

The Raiders claimed three players and cut three players, including cornerback
Chimdi Chekwa
, who was a fourth-round pick last year and who was expected to be in the playing mix this year. I expect Chekwa to get interest elsewhere.
Oakland claimed defensive back
Phillip Adams
from Seattle, linebacker
Keenan Clayton
(a fourth-round pick of the Eagles in 2010) and former Washington tackle
Willie Smith
. Going with Chekwa out the door in Oakland are cornerback
Bryan McCann
and the team waived injured defensive tackle
Jamie Cumbie
. He will likely be put on inured reserve if he clears waivers.
McCann was a candidate to return punts for the Raiders.
In other AFC West news:
ESPN's Adam Schefter reported Seattle has cut tight end
Kellen Winslow
. The Raiders could use a tight end. Still, there is baggage that comes with Winslow. I'm not sure the Raiders would bite. I think they could take a chance on oft-injured
Chris Cooley
, recently cut by the Redskins, before Winslow, but that's just a guess.
Kansas City coach Romeo Crennel told reporters Saturday linebacker
Derrick Johnson
(ankle) should be ready to play and he is hopeful cornerback
Brandon Flowers
(foot) can possibly play in Week 1 against Atlanta. However, safety
Kendrick Lewis
(shoulder) is likely not going to be able to play.
The Denver Post reports former Denver quarterback
Adam Weber
will join the Tampa Bay practice squad. The Broncos cut Weber on Friday. The Denver staff liked Weber, but there wasn't much room for him.
Also, Denver safety
Rafael Bush
was claimed by New Orleans and released tackle
Ryan Harris
signed with Houston.
If the Chiefs are looking for a temporary pass-rushing burst with
Tamba Hali
out for Week 1 with an NFL suspension, they could turn to former Chief
Wallace Gilberry
. He was cut by Tampa Bay.
August, 31, 2012
8/31/12
8:40
PM ET
Click
here
for the complete list of
Denver Broncos
' roster moves.

Most significant move:
The Broncos kept newly signed veterans, linebacker
Keith Brooking
and safety
Jim Leonhard
. They have both been dealing with injuries. Both should fill rotational roles as well as offer leadership. It is a bit surprising Denver cut veteran cornerback
Drayton Florence
. The Broncos beat several teams to sign Florence this year. In the end, the Broncos liked their young cornerbacks such as
Chris Harris
,
Tony Carter
and rookie
Omar Bolden
. Watch for San Diego to make a full-court press to sign Florence. The team tried to sign the former Charger before Denver signed him and it needs a cornerback.
Onward and upward:
Two interesting players who were kept in Denver were running back
Knowshon Moreno
and tight end
Julius Thomas
. Moreno, a first-round pick in 2009, had a decent preseason after coming back from an ACL. There was speculation he could be traded. But Moreno will be given a chance to help Denver off the bench. Thomas, a fourth-round pick last year, was considered on the bubble. But the former college basketball player turned NFL player will get more time to develop. The Broncos will likely try to sign
Ben Garland
to the practice squad. The defensive tackle from Air Force has a lot of promise and the team loves his spirit. I could potentially see quarterback
Adam Weber
being put on the practice squad again. Denver likes him. He is not going to leapfrog backup
Caleb Hanie
or No. 3 quarterback, second-round pick
Brock Osweiler
, but Denver may want him to stick around.
What's next:
The Broncos will likely look for linebackers. They are young and thin there, especially on the outside with
D.J. Williams
facing, at least, a six-game NFL suspension. Denver will likely look for experienced veterans, who could, at least, log some situational time on defense. Denver did keep undrafted rookie
Steven Johnson
. He was a preseason star and he should help on special teams, so the need for more linebacker help is still necessary. I could see Denver being interested in defensive players regardless of the position if they are the right fit and I think it can look for help on the offensive line as well. Expect Denver to make, at least, a couple of moves in the next couple of days.
July, 29, 2012
7/29/12
12:00
PM ET
ENGLEWOOD, Colo. -- A veteran Denver Bronco was relaxing after the first training camp practice of a monumental season for the franchise.
He shook his head.
"When was the last time we had something like
this
here?" he asked. "This is something."

This
is No. 18.
This
is
Peyton Manning
.
Everything has changed for the Broncos.
With one phone call from Manning to Denver leader John Elway in March, the landscape of the organization changed. The Broncos are no longer a league curiosity caused by
Tim Tebow
-mania. They are now relevant because Manning, who missed last season with a neck injury, is
the
story in the NFL.
The Broncos, though, aren't consumed by being a popular story. They are focused on the impact Manning, at age 36, will have on the team. In public and in private, the Broncos are not worried about Manning's health. They are simply in awe that he is on their side.
The organization feels it's time to make a major push because of Manning.
"It's very similar to the Super Bowl year we had in New Orleans," said new Denver cornerback
Tracy Porter
, a former Saint. "We have extremely high expectations on this team, starting with Peyton, all the way down to the last guy on the roster. Our expectations are not just to hopefully get to the playoffs. Our expectations are to get back to New Orleans to play for the Super Bowl and win the Super Bowl."
THREE HOT ISSUES:
1. Manning's health:
The Broncos operate as if Manning will be ready for the Sept. 9 opener against visiting Pittsburgh, but they won't know if he will be fully healthy until he takes a few hits. Again, all indications are that Manning should be fine. He is throwing well, he hasn't suffered a setback and he is practicing at a strong tempo. He is on pace to be ready for the season.
[+] Enlarge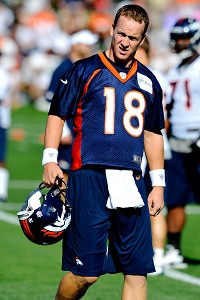 Ron Chenoy/US PRESSWIREThe Broncos won't know exactly what they have with Peyton Manning until he starts taking some hits.
2. Defensive readiness:
The Broncos' defense is still a work in progress. It went from No. 32 to No. 20 in the NFL last season under the guidance of head coach John Fox and defensive coordinator Dennis Allen. Allen parlayed the success into the Raiders' head-coaching job. Former Jacksonville head coach Jack Del Rio, Fox's defensive coordinator in Carolina in 2002, stepped in to replace Allen. The Fox-Del Rio pairing is strong, but this unit must continue to improve. It will have to play the first six games of the season without weakside linebacker
D.J. Williams
because of an NFL suspension, and pass-rusher
Elvis Dumervil
could face a short suspension for a recent gun arrest. So, the team will have to get a lot of players ready during camp as the Broncos try to continue the upward defensive swing.
3. Young receivers:
Third-year receivers
Demaryius Thomas
and
Eric Decker
will be in the spotlight throughout camp. Both are talented players who have a lot of promise. Playing with Manning should hasten their learning curve. But there is not a quarterback in the NFL who is as particular about his receivers as Manning, and both must adjust to Manning's game. The early word is that both players are earning Manning's trust.
REASON FOR OPTIMISM
The Broncos have a terrific head coach in Fox, whose presence and impact should not be discounted. He is an upper-echelon coach who has a firm grip on this program. His players love him and the overall spirit of the franchise is probably as high as it has been since the back-to-back Super Bowl-winning years in the late 1990s. Fox did a wonderful job last season turning a 4-12 weakling into an 8-8 team that won a playoff game. In Fox's second season in Carolina, he led the team to the Super Bowl. Will it happen again in Denver? We'll see, but his players fully believe in him, and that's a huge head start.
REASON FOR PESSIMISM
We do not yet know if the Broncos are loaded enough with talent to make a long playoff run. There are a lot of questions.
Will the team be able to run the ball enough to help Manning now that the Broncos aren't using the Tebow-led option? Are the youngsters on the offensive line ready to protect Manning? Will they be good enough at defensive tackle and safety?
This team is far from a finished product and it faces a brutal schedule. Still, expectations are high because of Manning. But the truth is, Denver must build itself around Manning very quickly -- the chief challenge of training camp.
OBSERVATION DECK:
Players rave about Del Rio. They love his toughness and the fact he is a former NFL player. Many players said Del Rio understands what they are going through and they feel they are on the same page with him already. The word around Denver's camp is that the Fox-Del Rio relationship has taken up where it left off in Carolina.

[+] Enlarge

AP Photo/Eric BakkeNew Broncos defensive coordinator Jack Del Rio held the same position for John Fox in Carolina.

Watch for rookie running back Ronnie Hillman, a third-round pick, to get plenty of chances to prove himself. Denver sees him as an explosive threat as a runner and as a receiver out of the backfield.
Former Chicago quarterback Caleb Hanie has the inside track to be Manning's backup. Still, Adam Weber or rookie Brock Osweiler could pull off the surprise and beat him out.
The Broncos are high on undrafted rookie linebacker Steven Johnson. The Kansas product could get some looks at middle linebacker in the preseason.
The Broncos will look at a lot of punt return options. Having Decker do it may be risky. I think it is an area Denver will look to upgrade on the waiver wire.
While guard Chris Kuper is slowly coming back from a severe ankle injury suffered in Week 17 in 2011, the Broncos expect him to continue to make progress.
Running back Knowshon Moreno, the No. 12 overall pick in 2009, is back after suffering a torn ACL last season. Still, he has an uphill battle to impress this staff.
Keep an eye on fourth-round pick Omar Bolden, a cornerback. He was highly rated out of Arizona State, but he missed all of last season with a knee injury. He looks like a keeper.
The Broncos rave about linebacker Von Miller, the 2011 NFL Rookie of the Year. The pass-rusher is working diligently to improve his overall game. Coaches and teammates laud Miller for his desire to improve.
The Broncos would like to see middle linebacker Joe Mays shore up his tackling in camp. He is a solid player, but he whiffed too many times last season.
The Broncos love what they see in Porter. Because of his talent, experience and confidence, Porter should be able to handle the pressure of playing opposite Champ Bailey, according to the Broncos. Second-year safety Rahim Moore opened with the first-team defense. He will compete with fellow second-year safety Quinton Carter.
Veteran defensive tackle Ty Warren was working with the first-team defense. Before Warren re-committed to the team in June, Sealver Siliga worked with the first team. Mitch Unrein got some work with the first-team defensive line early in camp as Denver looked for the right rotation.
Defensive lineman Ben Garland is making an impression. He is athletic and has great feet and could make the team.
June, 18, 2012
6/18/12
1:25
PM ET
In an Insider piece,
Matt Williamson projects the top 15 offensive linemen for the 2015 season. None of them play in the AFC West. Williamson does give Denver left tackle Ryan Clady and Oakland center Stefen Wisniewski honorable mentions. I think Oakland left tackle Jared Veldheer also deserves consideration.
In other AFC West notes:
I don't make a whole lot about
practice squad player Adam Weber running as the No. 2 quarterback in Denver's minicamp. It's early and the Broncos are just checking things out. If Weber is the No. 2 in the regular season, that means Caleb Hanie (who is expected to be the backup) won't make the team. There is no way second-round pick Brock Osweiler is not making the team, and there is little chance four quarterbacks will be carried on the 53-man roster.
So should the Broncos
be considered a potential destination for Colt McCoy?
The Kansas City Star
has a stellar read on Dontari Poe's personal struggles.
May, 9, 2012
5/09/12
12:00
PM ET
Midweek mail call:
Eric from San Diego wants to know
if Chargers rookie tight end
Ladarius Green
can fill a role this season.
Bill Williamson:
I don't think the Chargers are counting on the fourth-rounder for much more than being a special teamer this season and learning the system. If Green -- who could be the eventual replacement for star
Antonio Gates
-- can come in and catch 20-30 passes, it would be a bonus. Green has strong receiving skills and the Chargers have an eye on him for the future. But he doesn't have to make a huge impact as a rookie.
---
Adam from Sacramento wants to know
if Oakland rookie free-agent Derek Carrier could take on a tight end/fullback role as well.
BW:
Carrier is 6-foot-3, 240 pounds and he is supremely athletic. He has the ability to play anywhere the Raiders want him to play. I think he can potentially become a tight end or an H-back. This is a developmental player who is likely headed to the practice squad. I could see the Raiders getting creative with him and developing him at different spots. He's a prospect to watch.
---
Michael from Denver wants to know
if I think Denver practice squad quarterback
Adam Weber
has a future with the team.
BW:
I don't think Weber has much of a future in Denver. He might stick around as a practice squader for another year. But with
Caleb Hanie
and second-round pick
Brock Osweiler
backing up
Peyton Manning
, there isn't much room for Weber on Denver's 53-man roster.
September, 4, 2011
9/04/11
6:55
PM ET
August, 24, 2011
8/24/11
6:00
PM ET
Blame it on the cook.
Denver coach John Fox was asked by media members Wednesday to respond to a Yahoo! Sports report that quoted an unnamed team source as saying Denver quarterback
Tim Tebow
has not been as impressive as undrafted rookie
Adam Weber
, who is the fourth-string quarterback in Denver.
Here is a passage from that story:
As one highly knowledgeable member of the organization told me Monday: "If everything was totally equal, and this were a competition based only on performance at this camp, Tebow would probably be the fourth-string guy. Kyle [Orton] is far and away the best, and Tebow's way behind [Brady] Quinn too. And I'm telling you, Adam Weber is flat-out better right now."
Fox disputed that characterization in quotes distributed by the team:
"First of all, I would like to say that nobody in this building that is in the decision-making process -- coach, official, or I don't know, maybe they heard it from the cook … I'm not sure, but we hold Tim in high regard," Fox said. "I think he's got a bright future in this game. He's playing maybe the hardest position I know in the NFL there is to play, and maybe in all of sports. He's progressing fine."
Tebow fell to No. 3 on the depth chart behind
Brady Quinn
last week. Quinn threw 16 passes against Buffalo while Tebow threw two passes in the game. Fox said he hopes to get Tebow more passes in either of the final two preseason games. He wouldn't say who is going to backup
Kyle Orton
this weekend. I'd be surprised if it wasn't Quinn.
Meanwhile, add
Boomer Esiason
to the list of those who don't think
Tebow will make it as an NFL quarterback. Among his colorful criticism was this dandy: "What [former Broncos coach] Josh McDaniel saw in him God only knows. Maybe God does know -- because the rest of us don't."
Tebow is a polarizing figure. Everyone has an opinion. Yet, these days it seems the anti-Tebow push is taking over.
Fox said the immense coverage of the quarterback situation is part of the business.
"I understand that that's what we sign up for," Fox said. "These guys are all big boys; they understand that whether it's right or fair, that's not for me to judge. It's part of the deal. There's a lot of stuff about this game that's a little crazy."
August, 23, 2011
8/23/11
6:10
PM ET
Former Kansas City quarterback
Brodie Croyle
is
reportedly expected
to sign with Arizona.
The Chiefs had no plans to re-sign Croyle in the offseason. They are currently going with
Tyler Palko
and fifth-round pick
Ricky Stanzi
as
Matt Cassel
's backups.
Coyle was a third-round pick of the Chiefs in 2006. They looked at him as a potential starter, but he never could stay healthy nor could he win. He was 0-10 as the Chiefs' starter. His fate was sealed late last season when he started a game in San Diego and he was awful in a 31-0 loss. The Chiefs realized then that they could not rely on Croyle to help them win.
In other AFC West nuggets Tuesday afternoon:
Here's more talk
that
Tim Tebow
is struggling in Denver and one team source is quoted as saying undrafted rookie
Adam Weber
is further along than Tebow. My thoughts? I think what we have to pay attention to is the fact that he is currently the No. 3 quarterback. That tells you all you need to know at this point.
Denver rookie linebacker
Von Miller
, the No. 2 overall pick in the draft,
appeared on the Scott Van Pelt radio show
Tuesday.
Here's more evidence
of just how bad the Josh McDaniels' era was in Denver. If Broncos' fans wonder how the team's roster got depleted; wonder no more, McDaniels did a number on your franchise in less than two years.
Terrelle Pryor said he is determined to
stay at quarterback
in Oakland. Oakland head coach Hue Jackson said Monday the Raiders will start the former Ohio State quarterback at the position and then take it from there.
Kansas City coach Todd Haley shows his players
another side of himself.