March, 11, 2014
3/11/14
8:00
AM ET
The free-agent signing period begins Tuesday, and as of now the Chiefs have yet to re-sign any of their significant free agents. The parade appears to be lining up at the exit door. Left tackle
Branden Albert
is at the front, as he reportedly has already agreed on a contract with the
Miami Dolphins
. Receiver/punt returner
Dexter McCluster
, offensive linemen
Jon Asamoah
and
Geoff Schwartz
and linebacker
Akeem Jordan
could be right behind him.
The Chiefs have attempted to re-sign defensive end
Tyson Jackson
, and that could still happen. But the Chiefs didn't appear confident in that happening. They had arranged a free-agent meeting with defensive end
Red Bryant
before he signed last week with the
Jacksonville Jaguars
.
Free safety
Kendrick Lewis
has been a longtime starter and is also a potential unrestricted free agent. But the Chiefs may be ready to move on from him.
The Chiefs have some money to spend in free agency and draft picks to use on potential replacements. In some cases they've already prepared for the eventuality of losing some of these free agents. They drafted tackle
Eric Fisher
in the first round last year knowing this day with Albert would probably come this year. They signed
Weston Dressler
of the Canadian Football League hoping he could be the next McCluster. Last year they drafted linebacker
Nico Johnson
and defensive back
Sanders Commings
, and they are possible replacements for Jordan and Lewis.
That doesn't mean this isn't an meaningful day for the Chiefs. With the exception of Jordan and Schwartz, who were signed to one-year, free-agent contracts last year, these players didn't join the Chiefs as stopgap players but as those they could build around. Albert and Jackson are former first-round draft picks. McCluster was drafted in the second round, Asamoah in the third, Lewis in the fifth.
More importantly, many should be heading into their prime seasons. Albert will turn 30 in November but plays a position where he could retain his skills for the life of the new contract he will sign. Jackson is 27; McCluster, Asamoah and Lewis are 25.
If they're all out the door at a single time, that's a hefty blow to the Chiefs. They made plenty of progress in the past year, going from two wins in 2012 to 11 victories and the playoffs in 2013. Continuing on that track will be difficult enough but perhaps impossible if they lose this entire group of players.
If the Chiefs fall back to the pack in 2014, they may look back on this day as a big reason why.
March, 7, 2014
3/07/14
11:00
AM ET
»
AFC Free-Agency Primer
:
East
|
West
|
North
|
South
»
NFC
:
East
|
West
|
North
|
South
Key free agents:
T
Branden Albert
, G
Jon Asamoah
, DE
Tyson Jackson
, LB
Akeem Jordan
, FS
Kendrick Lewis
, WR/PR
Dexter McCluster
, G
Geoff Schwartz

Where they stand:
The Chiefs need help at wide receiver but may prefer to do their shopping at this position through the draft after having made a sizable financial commitment to
Dwayne Bowe
last year. The Chiefs have the depth at tackle to withstand the likely loss of Albert, but they'll need to do some shopping if Asamoah and Schwartz, who split time as the starter at right guard last season, depart. On defense, the Chiefs could use another big body for their defensive line, particularly if Jackson leaves as a free agent. A replacement who can be an upgrade over Lewis is another priority.
Sanders Commings
, a rookie last season, could potentially fill that spot. Whether the Chiefs actively pursue a veteran there could depend on how they feel about Commings' ability to handle the position.
What to expect:
The Chiefs should have about $9.6 million in salary-cap space, which is one of the lowest totals in the league and probably won't allow them to win many bidding wars. Even if the Chiefs had the cap room and were so inclined, this isn't a great crop of free-agent wide receivers. Seattle's
Golden Tate
might make sense for the Chiefs, but only if the price doesn't get out of hand. The Chiefs could look to division rival Denver for guard
Zane Beadles
if they need a starter to replace Asamoah and Schwartz. Seattle's
Red Bryant
could be a fit at defensive end if the Chiefs don't re-sign Jackson. Buffalo's
Jairus Byrd
is exactly what Kansas City is looking for at free safety, but he will likely be out of its price range. If the Chiefs go safety shopping, they might go for a lower-priced option, like Miami's
Chris Clemons
.
August, 28, 2013
8/28/13
11:37
AM ET
Earlier I posted my predictions for the final 53 for the
Kansas City Chiefs
on offense and special teams. Here's how I see the breakdown on defense:

Defensive line (7):
Tyson Jackson
,
Dontari Poe
,
Mike DeVito
,
Anthony Toribio
,
Jerrell Powe
,
Allen Bailey
,
Marcus Dixon
. Depth behind starters Jackson, Poe and DeVito could be a problem. Toribio and Powe are big bodies, but inexperienced. Bailey comes in to help rush the quarterback on obvious passing downs.
Linebacker (8):
Tamba Hali
,
Justin Houston
,
Derrick Johnson
,
Akeem Jordan
,
Edgar Jones
,
Frank Zombo
,
Zac Diles
,
Nico Johnson
. From top to bottom the strongest position on the Chiefs. Hali, Houston and Derrick Johnson are Pro Bowlers. The other starter, Jordan, as well as Jones, Zombo and Nico Johnson, played well in the preseason.
Defensive back (10):
Brandon Flowers
,
Sean Smith
,
Dunta Robinson
,
Jalil Brown
,
Sanders Commings
,
Eric Berry
,
Kendrick Lewis
,
Quintin Demps
,
Husain Abdullah
,
Tysyn Hartman
. Maybe the toughest position on the team to call. The situation is complicated by Commings' broken collarbone. He was injured on the first day of training camp and hasn't practiced since. In his absence, the Chiefs have been sorting through candidates to be a fourth cornerback behind Flowers, Smith and Robinson without much success. They even turned to Abdullah, a safety, as their nickel back in last week's game in Pittsburgh.
Kennard Cox
had a nice game against the Steelers. I don't have him making the team, but if he plays well against Green Bay in the final exhibition game, he could stick.
August, 15, 2013
8/15/13
12:00
PM ET
ST. JOSEPH, Mo. -- The
Kansas City Chiefs
and Andy Reid needed each other.

A year ago, as the Chiefs were toiling through their summer preparations, this pairing seemed more than unlikely. It appeared implausible.
The Chiefs were embarking on the Romeo Crennel era. The franchise was focused on salvaging the Scott Pioli leadership by having one of his former New England colleagues take over the coach's headset on a full-time basis after he had guided the team following Todd Haley's dismissal in December 2011. There were no thoughts of Crennel being a temporary caretaker for one of the biggest coaching names in the game. Reid was entering his 14th season in Philadelphia.
But 2012 ended up being an awful year for the Chiefs and for Reid. Change was necessary for both.
When Reid was let go by the Eagles, Kansas City owner Clark Hunt acted swiftly, turning from Pioli and Crennel to Reid. It was a bold move from the Heartland, where the Chiefs usually stay out of the national spotlight.
Hiring Reid was bold. And while technically neither Reid nor his new team has accomplished anything just yet, the fit seems right. Reid is resplendent in red. The Chiefs' players are energized by the top-notch coaching and energy Reid has brought.
"I don't look to the past and we can't look to the future yet; all we got is right now," Reid said. "And the 'right now' is pretty good. … I really like where we are and what these guys are doing."
While it is just August, the Chiefs look nothing like the 2-14 team they were in 2012. Most teams that earn the No. 1 overall draft pick look like it the following training camp. Instead, the Chiefs look like a complete team with few holes, one that is ready to make a big move.
"We don't even talk about 2-14 anymore," said safety
Eric Berry
, one of six Pro Bowl players from what was, despite the record, a talented 2012 outfit. "We are all focused on getting better and getting coached by Coach Reid and his staff. … We can't wait to get out here every day to see how we can get better. Everybody feels that way. We're all so happy right now."
THREE HOT TOPICS
[+] Enlarge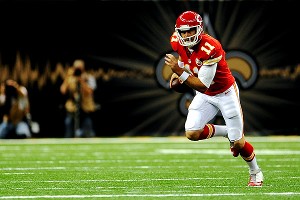 Stacy Revere/Getty ImagesAlex Smith's smooth transition at quarterback is just one reason behind the Chiefs' bright outlook.
1. The quarterback:
Thus far, the transition to
Alex Smith
has been a success in Kansas City. Of course, we won't find out anything tangible until we see if he can make a difference in the regular season. But so far, Smith has taken to Reid's coaching and shown he is the leader of this team. He has been good in training camp, and he was excellent in the first preseason game. If Smith can be the smart, mistake-free player he was in his best San Francisco days, the Chiefs can be a real contender. This team has been screaming for solid quarterback play, and it may be about to get it.
"He's a smart guy," Reid said of his quarterback. "He gets it. He makes it easy. He doesn't run out of gigabytes."
2. Finding a No. 2 receiver:
There aren't a lot of issues with this roster, but finding a solid No. 2 receiver behind star
Dwayne Bowe
is a focal point of this camp. Free-agent pickup
Donnie Avery
will likely be the guy, and he has shown he can be a capable NFL player. He can get open. The team would like to see 2011 first-round pick
Jon Baldwin
finally develop. He has big ability but has failed to show the consistency to be a top-of-the rotation player. The Chiefs have a varied offense, so this will not be a huge problem, but it would be beneficial if Bowe had some legitimate help opposite of him.
3. Dontari Poe:
If training camp is any indication, Poe has a chance to be among the breakout players in the NFL this season. The No. 11 overall pick of the 2012 draft has been terrific. He has taken to the new coaching. The light has come on. The super-athletic Poe is getting the playbook and has been dominant at times. Nose tackle sets the tone for the defense, and it seems Poe is up to the task. To his credit, Poe made strides late in his rookie season and seems to have carried it over to his second training camp.
REASON FOR OPTIMISM
The Chiefs' roster is loaded. There are not a lot of holes. Sure, the Chiefs could use a deeper group of receivers, a deeper defensive line and a few odds and ends here and there. But in today's NFL, that is not a deep list of concerns. Add a top coach like Reid, a capable quarterback like Smith and several fine free-agent additions to a roster that featured six Pro Bowl players, and there is a lot to like about this team. This is not your average club trying to rebound from 2-14.
REASON FOR PESSIMISM
There isn't much not to like here. The worst thing Kansas City has going for it is simply rebuilding from a 2-14 season. Just how many wins can a 2-14 team expect in the first year of a new regime? The Chiefs will be much better. But what does that mean? A 7-9 season in Kansas City would signify great progress. But if the Chiefs want to make a run at the playoffs, they likely will have to go 9-7 or better. A seven-win improvement is never an easy task in the NFL.
OBSERVATION DECK
[+] Enlarge

AP Photo/Gerald HerbertJamaal Charles' role in the offense does not figure to be diminished considering he touched the ball eight times and scored a TD on the Chiefs' first drive of the preseason.

The Chiefs like their offensive line. They think they have a lot of depth. Jeff Allen, Geoff Schwartz and Donald Stephenson give the team a lot of options.

The Chiefs have no remorse over using the No. 1 overall pick in this year's draft on right tackle Eric Fisher. He is a natural talent who works hard and fits in with his teammates. He is a hard-hat player who just happened to be the top pick in the draft.

The coaching staff is pleased with the way star running back Jamaal Charles has adapted to the offense. He has embraced the chance to catch more balls out of the backfield. For anyone who thought Charles' role would be diminished because of Reid's arrival, just look at the New Orleans game last week. Charles touched the ball on eight of the 14 plays the Chiefs' first-team offense was on the field.

Players love the scheme of new defensive coordinator Bob Sutton. It is aggressive and player-friendly.

One of the strengths of this team going into camp was the defensive backfield. It continues to be. This is a deep, talented unit.

One young player to keep an eye is undrafted rookie receiver Rico Richardson. He is catching everything that comes his way. He's a long shot, but there could be room for him.

Reid is pleased with the addition of spread game analyst Brad Childress and consultant Chris Ault. They are focusing on the pistol offense and working with both the offense and defense in installing it.

The Chiefs' special teams look good. The return game was fantastic against New Orleans.

Berry came on strong at the end of last season after missing virtually all of the 2011 season with a torn ACL, and he looks to be in top form this camp. Expect a brilliant season from this young star.

The team likes the work of fullback Anthony Sherman, who was acquired in a deal with Arizona for cornerback Javier Arenas. Sherman will be a part of the offense.

Fourth-round pick Nico Johnson continues to push Akeem Jordan at inside linebacker. The instinctive, bright Johnson has been a camp standout.
August, 14, 2013
8/14/13
8:00
AM ET
ST. JOSEPH, Mo. --
Nico Johnson
knows the opportunity that is in front of him.

He also knows no one is going to hand him a starting job in the NFL. That's why he has adopted this mantra: "I have to earn my keep."
The Kansas City rookie inside linebacker used the phrase four times in a 10-minute interview this week.
"That's what I'm here for, to show the team how I can help them," Johnson said. "I'm not going to get anything for free … I know the opportunity I have. I know a lot of guys in my position don't get that opportunity."
Johnson is currently running behind
Akeem Jordan
for a starting job. But the Alabama rookie has impressed the Chiefs' coaching staff as soon as the offseason session began. It wouldn't be a shock at all if Johnson becomes a starter early in his career.
Johnson said he has been taking advantage of being around players like Pro Bowl linebacker
Tamba Hali
and
Derrick Johnson
. The rookie said he literally learns something new from the veterans every day. Tuesday's lesson was a hand-work session with Hali.
"I watch every move those guys make," Johnson said. "Before the preseason game last week, I watched how they stretched and how they warmed up. Any detail I can get from them, I can."
Johnson was known as a selfless leader at Alabama and his instincts and intelligence have impressed coaches and teammates. The game is clearly not too big for the back-to-back national champion.
Johnson isn't looking just to contribute as a rookie. He wants to become a complete player.
"At Alabama, I was known just as a run-stopper," Johnson said. "I want to show I can play in pass coverage as well. I'm learning that from [Derrick Johnson]. … I'm just doing everything I can to earn my keep."
June, 24, 2013
6/24/13
3:45
PM ET
Desmond Bishop
will not be a Kansas City Chief. That is not crippling news for the Chiefs.
The fact that Bishop chose the
Minnesota Vikings
(on a one-year deal) over Kansas City is basically a no harm, no foul result in Kansas City. He visited the Chiefs late last week.
Kansas City's interest in the former Packers inside linebacker made sense. New Kansas City general manager John Dorsey was in Green Bay with Bishop. One of the few spots where the Chiefs don't have a reliable veteran starter is at an inside linebacker spot. So, Bishop was worth considering.
But the Chiefs should be fine. The team took Alabama's
Nico Johnson
in the fourth round and he had a strong offseason. He is expected to beat out veteran
Akeem Jordan
. Johnson is a natural leader, who is instinctive and who has a chance to quickly become a productive NFL starter.
Again, the Chiefs had to consider Bishop, but the fact that he will not come to Kansas City is not a major blow, either.
June, 24, 2013
6/24/13
8:00
AM ET
Our AFC West positional rankings continue with a look at a strong group of linebackers:
1. Von Miller, Denver:
A complete player. One of the top defensive players in the NFL.
2. Tamba Hali, Kansas City:
Still a strong pass-rush presence.
3. Justin Houston, Kansas City:
A dynamic player. His star is rising.
4. Derrick Johnson, Kansas City:
Steady, underrated tackles machine.
5. Donald Butler, San Diego:
He is flashing big-time skills. The Chargers need to re-sign him.
6. Dwight Freeney, San Diego:
The Chargers hope he can still be a sack master.
7. Wesley Woodyard, Denver:
He had a tremendous 2012 season. Good overall player.
8. Jarret Johnson, San Diego:
Hard-nosed player who fits the defense well.
9. Nick Roach, Oakland:
Raiders are thrilled about this free-agent acquisition. Defense could begin with him.
10. Manti Te'o, San Diego:
Chargers expect instant production from this instinctive rookie.
11. Shaun Phillips, Denver:
The Broncos think he can still help as a pass-rusher.
12. Kevin Burnett, Oakland:
Smart player who helps the Raiders.
13. Kaluka Maiava, Oakland:
He might not start, but will help.
14. D.J. Smith, San Diego:
Former Green Bay player could be a steal for the Chargers.
15. Miles Burris, Oakland:
Even if he doesn't start, he will find a way to help.
16. Danny Trevathan, Denver:
This kid looks like he could be a starter for years to come.
17. Sio Moore, Oakland:
I could see the 2013 third-round pick in the top 10 next year.
18. Nate Irving, Denver:
He gets first crack in the middle for the Broncos.
19. Nico Johnson, Kansas City:
The Chiefs like the fourth-rounder -- and he could start.
20. Stewart Bradley, Denver:
He's there if Irving fails.
21. Larry English, San Diego:
Clock is ticking for the 2009 first-round pick.
22. Akeem Jordan, Kansas City:
Could be insurance if Nico Johnson isn't ready.
23. Steve Johnson, Denver:
At the very least, he's a solid special-teamer.
Second-year San Diego outside linebacker
Melvin Ingram
would have been ranked in the top eight to 10 had he not suffered a torn anterior cruciate ligament in May.
April, 27, 2013
4/27/13
9:00
PM ET
Here are some random draft thoughts:
The Chargers added another interesting young cornerback -- Cal's Steve Williams in the fifth round. He has a chance to quickly climb the depth chart.
Denver added yet another interesting receiving weapon when they took Georgia's Tavarres King in the fifth round. He averaged more than 19 yards per catch for his career.
I like the two tight ends Oakland took in the sixth round, Colorado's Nick Kasa and Tennessee's Mychal Rivera. This is a two tight end league, so it makes sense. These picks put some pressure on David Ausberry. He has yet to develop. He better do it now or the youngsters will take his job.
The Raiders took a promising Division II pass-rusher in David Bass of Missouri Western in the seventh round. He has natural pass-rush skills. Yet, he is a long-term project.
Oakland general manager Reggie McKenzie did a nice job wheeling and dealing. He turned seven picks into 10. That is important for a team that is totally rebuilding. All 10 players have a legitimate chance to make Oakland's roster.
For what it's worth, Kansas City coach Andy Reid said the Chiefs were not going to take USC quarterback with the second pick of the fourth round. The Eagles moved up ahead of the Chiefs and took Matt Barkley with the first pick of the day. Barkley said he heard the Chiefs were interested in him. Kansas City did not take a quarterback.
Reid said fourth-round pick Nico Johnson will compete with free-agent newcomer Akeem Jordan for an starting inside linebacker spot. My money is on Johnson. Big-league player.
The Packers are reportedly interested in trading running back James Starks. Oakland could use another running back. It did take Central Florida's Latavius Murray in the sixth round.
With the Vikings drafting a punter, perhaps Chris Kluwe will become free at some point and perhaps Oakland could show interest. It only has unproven Marquette King in the aftermath of longtime star Shane Lechler signing with Houston.
Reid said fifth-round pick Sanders Commings will play free safety and seventh-rounder Mike Catapano will play outside linebacker. The Princeton product has strong pass-rush skills.
New Denver pass-rusher Shaun Phillips -- the former Charger who signed Saturday -- said he is fine playing defensive end in a 4-3. He was a linebacker in the Chargers' 3-4. Regardless of the spot, Philips' position will be as a pass-rusher and he will be moved around.
April, 18, 2013
4/18/13
4:10
PM ET
The
Kansas City Chiefs
have signed another inside linebacker. They inked former Dallas linebacker
Orie Lemon
. He played sparingly last season. He will have to earn a spot on the roster. The Chiefs recently signed inside linebackers
Akeem Jordan
and
Zac Diles
. The team has an opening at a starting inside linebacker spot. There is no guarantee any of these players will fill that spot.
In other AFC West notes:
New San Diego cornerback Derek Cox told reporters he will wear No. 22 in San Diego. He wore No. 21 in Jacksonville. Cox said he won't wear No. 21 because the Chargers will retire the number in honor of former running back LaDainian Tomlinson. The team has not announced any plans. Tomlinson left San Diego on bad terms, but he and the team have since mended fences.
The Raiders will host Chicago on Aug. 23 in their third preseason game.
The Lions said they will not trade up to the No. 1 overall pick. Wednesday, ESPN's Mel Kiper had a mock draft in which the Chiefs, who own the top pick, traded with the Lions, who have the No. 5 pick. Kiper didn't report the trade would happen; it was only a projection as part of his exercise.
April, 15, 2013
4/15/13
7:00
PM ET
The
Kansas City Chiefs
continue to give themselves options at inside linebacker.
The team reportedly finalized a deal
for linebacker
Akeem Jordan
on Monday. He played six years in Philadelphia for new Kansas City coach Andy Reid. He was a part-time starter the past two years.
Along with
Zac Diles
, who signed last week, Jordan will compete for a starting spot at an inside linebacker spot. At worst, both players will be backups and special-teamers. The Chiefs could also potentially seek help at the position in the draft and later in the offseason.