October, 9, 2011
10/09/11
11:50
AM ET
The
Oakland Raiders
will honor owner Al Davis -- who died Saturday at the age of 82 -- with a
helmet sticker
for their game at Houston on Sunday.
The sticker will be on the back of the helmet. It is a black shield with "AL" written in silver letters inside. It's a stunning addition to an already sharp helmet. Kudos to the Raiders for quickly putting together this tribute as they scrambled to deal with Davis' death while they were on the road.
Knowing how tight-knit the Raiders are and how much Davis valued loyalty and tradition in the organization, I wouldn't be shocked of this stickers remain on the helmet for a long, long time.
October, 8, 2011
10/08/11
8:40
PM ET
Here are some more notes on the death of
Oakland Raiders
owner Al Davis, who died Saturday at age 82:
There will be a moment of silence
before every NFL game Sunday in Davis' honor. It should be an emotional scene in Houston, where the Raiders play the Texans.
Here is a string of emotional tweets
from Oakland players and others who are reacting to the loss of Davis.
The Oakland Tribune has a nice collection
of statements about Davis from around the NFL.
The Raiders made a personnel move
on the day Davis died. Linebacker
Ricky Brown
was put on injured reserve with a concussion. Fullback Manase Tonga was promoted from the practice squad. He could play Sunday with fullback
Marcel Reece
questionable thanks to an ankle injury.
Davis' death has
SportsNation remembering
what he did for the NFL, Raider Nation and some great AFC West rivalries. Read those memories and share yours.
Patriots owner Robert Kraft -- whose team was the last to play Davis' team -- issued this statement Saturday night:
"I was deeply saddened to learn of Al Davis' death this morning. Al was an American Football League pioneer and a legendary Hall of Fame contributor to the National Football League. He was one of the first owners to welcome me into the NFL in 1994, which was a great thrill for me personally and an introduction that I will never forget. I always admired his passion for the game and enjoyed listening to his historical account of some of the game's most memorable moments. He had a unique style and a certain aura about him that would be hard to ever replicate. When engaged in any discussion, he always spoke with great conviction and could be very persuasive.

"We shared a bond as two Massachusetts natives in the NFL, something that he pointed out to me in that initial introduction. I feel fortunate to have spent time with him just last Sunday before our game against the Raiders. Not knowing when I would see him again, I told him how much I appreciated all he had done for the game of football and thanked him for all that he had done for me. He informed me of the Raiders' plans to honor my sweetheart with a moment of silence before our game, which was a touching and heartfelt gesture. Little did I know that just one week later, we would be doing the same in his honor. It's very sad.

"On behalf of the entire Kraft family, I want to extend our heartfelt condolences to the Davis family, the Oakland Raiders organization and all of the Raiders fans who are mourning his loss. His presence will be missed, but his legacy will live forever."
October, 8, 2011
10/08/11
6:45
PM ET
Let's look at some of the biggest moves Al Davis -- who died Saturday at the age of 82 -- made since he joined the Raiders in 1963. We'll go in chronological order:
Hiring John Madden
: This set the program in motion. Davis and Madden were a great team. Both men had an eye for talent, an ability to handle renegade players, and a thirst for winning. The Raiders were an elite team in the 1970s and their Super Bowl XI victory over Minnesota in January 1977 is probably the greatest moment in team history.
Acquiring Jim Plunkett:
The quarterback was one of the poster boys for Davis' factory of recycled talent. Plunkett enjoyed career resurgence in Oakland and his presence helped pave the wait for the Raiders' second and third Super Bowl titles.
Drafting Marcus Allen:
Davis selected the running back with the No. 10 overall pick in the 1982 draft. He quickly became a catalyst for the team and he was a key to the Raiders' third Super Bowl title. He became a face of the franchise. It's stunning that Minnesota took Stanford running back Darrin Nelson three picks ahead of Allen.
Moving back to Oakland:
After a 13-year field trip to Los Angeles, the Raiders moved back to their Northern California home in 1995. This is where the Raiders belong and it was the right move by Davis to bring them back.
Hiring Jon Gruden:
Davis hired the young offensive guru in 1998 and Gruden breathed life to the Raiders' organization. They later added quarterback
Rich Gannon
and the three men helped lead the Raiders to prominence again. It all culminated in Davis' final Super Bowl appearance in January 2003, where the
Tampa Bay Buccaneers
trounced the Raiders, the team he had traded Gruden to in 2002. As much life as Gruden's hiring brought Oakland, his trade brought despair to the team for much of the last decade.
Hiring Hue Jackson:
Davis' last coaching hire (he had 11 coaches since 1978, when Madden retired) has the look of a good one. Times have been tough in Oakland for the past nine years, but Jackson is a talented, energized coach who is proud to be connected to Davis. Watch for Jackson to dedicate his time in Oakland to restoring the glory of Davis' era. If Jackson is successful, it will be a tremendous final act by Davis.
I'm sure you have memories. Fill up the comment section below with your thoughts.
October, 8, 2011
10/08/11
5:30
PM ET
The most frequent question I have gotten in my role as an AFC West reporter is this:

Have you ever met Al Davis?

When I say, yes, I have, the next question is always this: What was he like?

Al Davis was one of a kind.

Davis was much warmer in person than you'd probably think. He was engaging, charming and funny.

The first time I met him was at the NFL owners meetings in Hawaii in 2005. I was a Denver Broncos beat writer at the time. I thought it was important to introduce myself because of the divisional tension between the two teams.

Davis was both taken aback and amused to speak to a reporter from Denver. I quickly let him know I am from the Bay Area and several friends and family members have been longtime Raiders' season-ticket holders. He lit up.

He instantly started to ask about my family history and asked where I went to college. When I told him I attended Chico State in Northern California, he beamed. His son, Mark, also attended the school. Davis told me he nearly purchased an Italian restaurant in Chico several years ago.

Our conversation ended with him telling me to keep in touch and that the two of us should "shake it up in Denver."

My last two dealings with him were when I worked at ESPN.com.

He was funny and chatty in both meetings. He let me know that he was aware of pretty much everything I wrote. I got the feeling he didn't have too big of a problem with me, calling me "Billy."

Those meetings with Davis will always be remembered and covering him in this role for the past three-and-half years has been a career highlight.
October, 8, 2011
10/08/11
4:55
PM ET
It's fitting
that CEO Amy Trask and head coach Hue Jackson are likely to play key roles for the
Oakland Raiders
as they adjust to working in the wake of Al Davis' death on Saturday.
Davis would surely be proud to see them take his beloved organization to the next level. Davis was always a champion of diversity.
Trask is the first and only woman CEO in the NFL. Jackson is one of seven African-American head coaches currently in the NFL.
Davis, the Jewish kid from Brooklyn, was truly color blind. He made Tom Flores the first Hispanic head coach in the NFL and he made Art Shell the first African-American head coach of the modern era of the NFL.
He had African-American quarterbacks when it was uncommon in the league. Countless African-American players from the Raiders' glory days of the 1970s said they had a comfort level with Davis that they sometimes didn't feel with other people.
Davis let people be people. "Just Win, Baby" and let's do it together.
The Raiders are at the forefront of embracing diversity. Numerous people of color hold important positions with the Raiders and the organization often celebrates several ethnic cultures at games each year. They even broadcast radio games in Native American languages.
The Raider Nation is a melting pot which will always be part of Davis' incredible legacy.
October, 8, 2011
10/08/11
3:05
PM ET
Al Davis knew in recent years that he would not be around forever. Rebuilding his beloved
Oakland Raiders
was his lone mission.
[+] Enlarge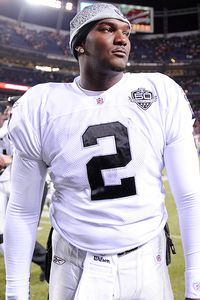 Kirby Lee/Image of Sport/US PresswireJaMarcus Russell won seven games in three seasons with Oakland.
With his health declining steadily, Davis worked diligently at reconstructing his franchise. That was a primary reason why he cut JaMarcus Russell –- the No. 1 overall pick in 2007 –- in May 2010. In a meeting to tell Russell he was being cut, Davis told the quarterback he wished he could devote several years to Russell's development, but he simply didn't have time.
Davis wanted to build a Super Bowl winner right away.
The Raiders aren't quite there. In the final game he witnessed his team play, this past Sunday, the Raiders were outclassed by a better New England team. However, the Raiders are going in the right direction.
In his final couple of years, Davis showed he could still be a top evaluator.
Yes, he had some major draft, free-agent and trade whiffs in the past decade. Davis's decision-making was the reason the Raiders were bottom feeders for the past decade. That's undeniable.
However, his decision-making of recent years is the reason the Raiders are considered a team on the rise. Also, undeniable.
Davis' last great call of his life may be
Denarius Moore
. He could forever be known as Davis' last gift to the Raiders.
Davis drafted Moore in the fifth round this year out of Tennessee. He has quickly developed into a top receiver for the Raiders and draft gurus are admitting Moore was one who got lost in the shuffle. Davis also scored in the fourth round last year with explosive receiver
Jacoby Ford
. Other mid- or late-round finds include tackle
Jared Veldheer
, defensive ends
Matt Shaughnessy
and
Trevor Scott
, safety
Tyvon Branch
and receiver
Louis Murphy
.
Davis also deserves credit for making Hue Jackson a head coach. Jackson is changing the culture in Oakland and he is intent on seeing through Davis' last wishes of making the Raiders a winner again.
If the Raiders do win their fourth Super Bowl title in the foreseeable future, Davis' fingerprints will be on the Lombardi Trophy. Just like the first three.
October, 8, 2011
10/08/11
2:10
PM ET
The shock of losing Al Davis is just settling in. Saturday will be about tributes and remembrances of a true one-of-a-kind sports icon who died Saturday morning at 82 years old.
However, there is a looming question that has to be addressed immediately: What's next?
For the first time since Davis moved over from the old American Football League rival San Diego Chargers in 1963 to join the Raiders, Oakland must move on without him.
Someone else will be in charge of the Raiders. Stunning to read, isn't it?
Davis, who attended this past Sunday's loss to New England, ran the Raiders until his death. He made every major decision involving the team. It's safe to write that no other owner in professional sports history was as closely involved in his team's operations as Davis. He was the Raiders.
[+] Enlarge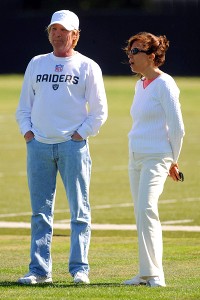 Kirby Lee/Image of Sport-US PresswireAl Davis' son, Mark, and Raiders CEO Amy Trask may figure heavily in deciding the future of the team.
The first order of business for the organization is to play Sunday at Houston. Then, the real questions begin. There has been speculation for years about who would run the team after Davis' death. Now that it's occurred, there are no clear answers.
Expect the future of the Raiders to be a prime topic in the NFL for the next several months.
There are minority owners of the team, but the majority of the team is owned by the Davis family. Davis has said in past interviews that his wife, Carol, and son, Mark, would inherit the team. However, it is doubtful either Carol or Mark would assume the hands-on role that Davis had on the organization.
I'd expect CEO Amy Trask, the first and only woman to be a CEO of an NFL team, to take on much of Davis's non-football duties.
There is a lot to do.
The Raiders are trying to get a new stadium in Oakland. They have been mentioned as a possible candidate to relocate to Los Angeles, although the Chargers appear to be the favorites. Davis moved the Raiders to and from Los Angeles before. If Los Angeles posed the best option for the team in the future, I'm sure the new regime would consider it, though staying in Oakland is the team's preference.
Expect sales rumors to persist. While I'm sure everything will be on the table, I have a difficult time seeing the Davis family parting ways with the team. Everyone knows what owning the Raiders meant to Davis, and I'm sure he would never want the control of the team to fall outside of his family.
The impact of Davis' death also greatly affects the team on the field. The Raiders' roster was controlled by Davis. He made the decisions.
He picked this year's draft class and he made the decision to keep or not keep every free agent during the post-lockout frenzy. He talked to agents recently.
Someone will have to assume the decision-making role moving forward. NFL decisions are made every day. Again, we're in guessing mode here, but I'd think first-year coach Hue Jackson will have a major role in decision-making. In recent years, Davis has allowed his head coaches more of a personnel role, although every move was his call.
The Raiders have an unusually small scouting department because Davis had such a big role.
Down the road, I could see the team changing its personnel department and perhaps even hiring a general manager to make decisions.
Like he did in life, Davis' death affects everything about the Raiders.
We'll just have to sit and see how the Raiders evolve post-Davis, but change in Oakland will be immediate and could eventually be dramatic.
October, 8, 2011
10/08/11
2:09
PM ET
Classy moves out of Denver and Kansas City.
Broncos owner Pat Bowlen has released a statement honoring Oakland owner Al Davis, who died Saturday at 82 years old. Make no mistake, Davis and Bowlen were rivals and, frankly, they didn't like each other for much of their time as fellow AFC West owners.
However, it's clear there was respect. Here's Bowlen's statement:
During my 28 years with the Broncos, I came to know Al Davis as one of the most influential and innovative people in the history of the National Football League. His competitive spirit and intensity grew our rivalry with the Raiders into one of the fiercest in all of sports.

I respected Al for what he meant to the NFL. He was a visionary who defined the Raiders and had an enormous responsibility for the prosperity of this league.

I join Al's family, the Oakland Raiders and the rest of the NFL in mourning the loss of a man who gave so much to the game we love.
Chiefs owner Clark Hunt also put out a release on Davis' death:
From the earliest days of the AFL, Al's love for the game and fierce loyalty to his franchise contributed to the success and popularity of pro football. His competitive spirit helped develop the great rivalry our team and fans enjoy today with the Oakland Raiders. His contributions to the game played an important role in building the strong foundation the NFL enjoys today.

UPDATE: San Diego chairman Dean Spanos released this statement:

"Al Davis is one of the main reasons our family is in the NFL today. Al approached my dad (Alex Spanos) about getting involved in the NFL and was very helpful to us through the process. He had great insight into the league, both the product on the field and the business off the field. He saw the potential for growth. He was very much a visionary. Our family will always be grateful to Al for his friendship.

"Al is also a big reason for the strong rivalry between the Raiders and the Chargers and its popularity among both teams' fans. He personified the image and mystique of the Raiders, and that image has helped build the strength of our rivalries and the popularity of our game. There has been no one in the NFL like Al Davis.
October, 8, 2011
10/08/11
11:47
AM ET
The NFL stopped for a moment Saturday.
Oakland Raiders
owner
Al Davis has died
. He was 82 years old.
There is going to be a lot said and even more written about the Raiders' owner as we prepare to kick off another NFL weekend.
Soak it all in. Use any word you want to describe Davis: legend, pioneer, outlaw, renegade. Each applies. He will never be duplicated or forgotten.
[+] Enlarge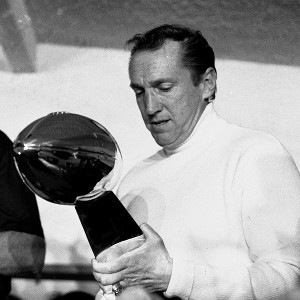 AP PhotoThe Raiders won three Super Bowl titles under the ownership of Al Davis.
Davis did it all his way. He didn't always make friends in the NFL over the years, but he earned a lot of respect. Expect the tributes to fly in faster than a classic Raiders wide receiver.
He fought wars with the league, other owners and even some of his coaches and players. He was a difficult man to deal with for a lot of people over the years.
But he was also a caring man who bled Silver and Black.
Sadly, this news isn't a shock. Davis had been in poor health for some time. He had been using a walker for years. He did not travel to Buffalo for the Raiders' Week 2 game against the Bills.
But make no mistake -- Al Davis will be in Houston with his team Sunday as the Raiders try to boost their record to 3-2. The Raiders were Davis' life. They're what he lived for.
The man famous for coining the phrase "Just win, baby" lived his life that way. I'm truly convinced Al Davis cared about nothing other than seeing his team win. It is bittersweet that his death comes at a time when his team is finally showing signs of resurgence. If the Raiders push their way into the playoffs for the first time in nine years, it will be because of Davis' work. There's a lot of talent in Oakland and every player on that roster is there because Davis picked him.
Despite his declining health and advanced age, Davis ran this team nearly up until the time of his death. He picked the players in the last draft and he even negotiated most of the contracts himself. Many agents have told me of their intense conversations with Davis as recently as last month. He worked every day trying to make the team a winner.
The Raiders were always and will forever be Al Davis' team.
There will be questions about what will happen with the Raiders. Everything will be sorted out. What is important now is that we take time to reflect on a man who changed football.
The Raiders flew to Houston late Friday and awoke to the news of Davis' death Saturday morning. A team spokesman said it's a very "difficult" time for the team.
First-year Raiders coach Hue Jackson loved Davis. He called him "Coach Davis." Jackson relished the chance Davis gave him to coach an NFL team and he relished the opportunity to pick Davis' brain.
Raiders players also loved Davis. He had his players' backs and he often paid them handsomely. Several Raiders have been the highest paid at their positions in recent years because Davis valued them so much.
This is not just a sad day in Oakland. It's a sad day for the entire sports world. We lost a legend, a pioneer, an outlaw and a renegade.