December, 6, 2013
12/06/13
10:00
AM ET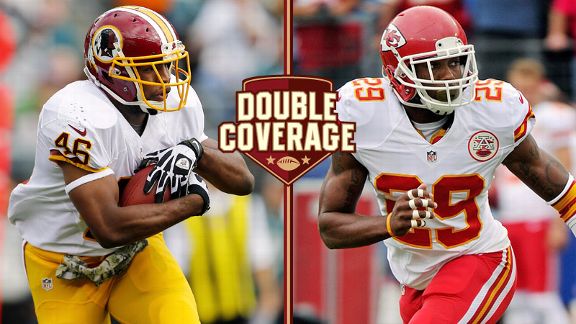 Getty ImagesWashington's Alfred Morris, left, and KC's Eric Berry lead teams trying to end losing streaks.
Fortunes have turned this season for the
Washington Redskins
and
Kansas City Chiefs
. The Redskins, who won the NFC East championship last season, are 3-9. After winning just two games last season, the Chiefs are 9-3 and can clinch a playoff spot Sunday if they beat the Redskins and either the
Baltimore Ravens
or the
Miami Dolphins
lose. But the Chiefs have lost three straight, and their chances for winning the AFC West are virtually gone after being swept in their two games against the
Denver Broncos
.
ESPN.com's Chiefs reporter Adam Teicher and Redskins reporter John Keim discuss Sunday's game:
Teicher:
This is a complicated question, but what's happened this season with
Robert Griffin III
? Still bothered by the knee? Feeling the effects of missing offseason practice?
Keim:
Yeah, it's complicated because there are a lot of issues that have added up to him having an inconsistent sophomore season. The knee played a factor early in that he wasn't going to run a lot and wanted to be more of a dropback passer (partly because he was fooled by last season's success). The knee brace restricts him a little, but he just hasn't regained his explosiveness. He's still fast, but that first-step burst isn't the same, and that hurts on some of the read-option or escaping trouble. Defenses are playing them different -- teams with good fronts can sit back and take away their play-action. They've seen coverages they didn't see a lot of last season, and a greater variety of stunts and blitzes (knowing Griffin might not hurt them as badly). Missing the offseason really hurt Griffin's ability to develop as a passer, and that has been a big issue. There are games when he looks solid, like against the Giants, but he also has had a couple of games that are as bad as any since he entered the NFL. Because he came from a much less complex passing system at Baylor, he needs a full offseason of work.
Adam, who would have thought
Alex Smith
would be the quarterback with the better team in this game? What sort of difference has he made for the Chiefs?
Teicher:
His stats haven't been great until the past couple of games, but he's actually had a pretty good season. He's been burned to some extent by dropped passes or his statistics would actually look a lot better. Through the nine-game winning streak to start the season, Smith played well enough not to mess up a good thing. He wasn't committing turnovers, and, although he wasn't making many big plays in the passing game, he was bailing the Chiefs out of some tough situations, whether scrambling or on the option or on a called play. Lately, they have needed more points and big plays, and he has delivered.
Kansas City has given up some yards via the running game this season. Give us a little scouting report on how Washington uses
Alfred Morris
and
Roy Helu
, and what there is to choose from between those guys. Also, do most of RG III's rushing yards come on the option, called runs or scrambles?
Keim:
The Redskins love to use a lot of stretch-zone and outside zone runs with Morris and Helu. Both can run inside. They will use some boot action off the stretch-zone, as well. Morris does a much better job than Helu of setting up defenders by pressing the hole and cutting. He gets linebackers to overflow, then cuts back. Morris is more patient than Helu, who hits holes as fast as he can run, and that often means he doesn't set up defenders and therefore doesn't create lanes for himself. He's a bigger threat in the open field as a receiver. Helu is used more as a third-down back, but he is capable of running and does have the speed to break a long run. But, again, just not patient enough, and therefore gets a lot of 2-yard runs. As for Griffin, he's averaging 5.46 yards per carry off zone-read runs (compared with 8.0 last season). His longer runs have come off scrambles -- but that also depends on whether a team plays a lot of man coverage. He's just not as explosive off the zone-read runs, but teams have adjusted to it -- they are more disciplined against it, and safeties are more aggressive coming up to defend.
Looking at the Chiefs' defense, how would you assess them at this point after such a dominant start?
Teicher:
Not very good. The Chiefs have allowed more than 400 yards in each of their past four games. They are going to give up some yards, given the style they play (pressure on the quarterback, cornerbacks frequently in one-on-one coverage). Kansas City gave up some yards and big plays early in the season. But now, the Chiefs are not getting to the quarterback often, are rarely forcing him into mistakes, and are not getting the turnovers and favorable field position that made them so successful early in the season. That is why I think Washington could move the ball and score some points against Kansas City. The Chiefs played against a series of journeymen, backups or inexperienced players at quarterback over several weeks and feasted against those guys. The past three weeks, though, they have faced
Peyton Manning
twice and
Philip Rivers
and haven't fared very well. Given Griffin's dual-threat abilities and Washington's running game, Kansas City has some things to worry about.
The Redskins have given up a ton of points. The run defense looks as if it has been decent, but Washington has been horrible against the pass. Pinpoint the problems areas in that regard for the Redskins.
Keim:
The Redskins have not generated enough pressure from their four-man rushes, although there are times when they get what they would consider good rushes but it's not making enough of an impact. I don't sense that quarterbacks are uncomfortable in the pocket. Sometimes it is because the coverage behind them is too soft, especially when they play zone. Washington has a lot of holes in its zone coverages, and quarterbacks can quickly find them. Makes it tough to then pressure. Cornerback
DeAngelo Hall
has been solid and made some big plays; he's much better now in tight man coverage. But the safeties as a group have struggled, sometimes because of injury, and other times because of performance. The Redskins have to upgrade here.
Brandon Meriweather
is OK, but he's one bad hit from a longer suspension. They have had to mix and match a lot at safety to try to make it work. But it's not just here; the inside linebackers have not had a strong season. Cornerback
Josh Wilson
plays the run well out of the slot but can be picked on. He's up and down. Rookie cornerback
David Amerson
can make big plays but also can surrender them (although some of that has subsided). It is an inconsistent group, and it is why defensive coordinator Jim Haslett is under fire. It is not all his fault, as there are times the calls aren't his, but that is life in the NFL.
How big a difference has coach Andy Reid made --- and are the Chiefs a legitimate contender?
Teicher:
He has made a huge difference. He has given direction to an organization that before had a lot of guys pulling in a lot of different directions. Reid came through the door for the first time with an impressive résumé, and players -- tired of the losing and the way things had been -- were more than willing to listen. He has been able to get a lot of guys to put aside personal goals for the greater good. But I don't see the Chiefs as being legitimate contenders, not this season. Even during their nine-game winning streak, there were some red flags everyone knew were going to be problems down the road. The two games against the Broncos, particularly last week's, showed a wide gap between the Chiefs and one of the league's premier teams.
.
October, 31, 2013
10/31/13
1:00
PM ET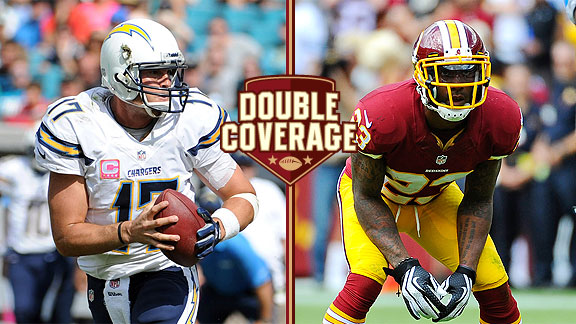 USA Today SportsDeAngelo Hall, right, and the Redskins' secondary will try to slow down Philip Rivers, who has completed a league-best 73.9 percent of his passes.
This isn't a compelling game when it comes to storylines. No big-name player is facing his former team. There's no grudge match. And, in fact, San Diego and Washington have played each other only three times in the past 14 years, and not since 2010.
Still, there is a lot going on in this game. If the 2-5
Washington Redskins
are intent on turning their season around, they need to win. Even in a bad division, a 2-6 record would be tough to overcome. At some point, teams just have to play well, and the Redskins must prove that can happen.
For San Diego, the Chargers' 4-3 start is a good one. However, if they want to stay in the AFC playoff race or remain a threat in the AFC West, they can't afford to lose to a sub-.500 team.
ESPN.com Chargers reporter Eric Williams and Redskins reporter John Keim break down this week's game:
Robert Griffin III
threw 20 touchdowns and just five interceptions in winning rookie of the year honors in 2012. This season, he's thrown nine touchdowns and eight interceptions through seven games. What has changed with his decision-making?
Keim
: Griffin is used to making big plays, and last year, a number of them occurred because of his legs, whether running or extending plays. But that's not always happening, and in games where his legs aren't a weapon, he has forced some throws. Not all the interceptions are his fault, of course, but in general, that's been a theme: forcing throws. Also, they're not able to use as much play-action throws as last year because of game situations, and when that happens, he and the passing game are very, very ordinary. They need to move defenders around, causing chaos in drops, with their zone-read fakes and play fakes. Denver also kept seven in coverage last week, and that's always trouble for a unit that has just one receiver who threatens a defense in
Pierre Garcon
(although tight end
Jordan Reed
does now, too).
Philip Rivers
' stock has dropped the past couple of seasons. But under a new coach, he's playing at a high level. Why?
Williams
: Coach Mike McCoy and offensive coordinator Ken Whisenhunt installed an up-tempo, no-huddle offense focused on the short passing game and getting the ball out quickly. The result has been better decision-making for Rivers. He leads the league in completion percentage this season at 73.9 percent, which is nearly 10 percent more than his career average (64.3). And his 111.1 passer rating (second in the NFL) is more than 15 points higher than his career rating of 95.6. San Diego's offensive line also has done an excellent job of protecting Rivers. The Chargers have allowed just 11 sacks through seven games, tied for second-best in the NFL.
Washington's defense is allowing 32.7 points a contest, second-worst in the NFL. Why is Jim Haslett's defense struggling to keep teams out of the end zone?
Keim
: The defense struggled mightily in the first four games but has mostly done its job in the past three games, when the Redskins have been hurt by special teams (two punt returns for a score; a 90-yarder to set up another one) and the offense (turnovers deep in their own territory; an interception return for a score). But this is not a top-level unit by any means. The Redskins' secondary has holes, especially at safety, and the linebackers, as a group, aren't great at coverage. But they've played the run better of late, and they're causing turnovers. They have two good but not great pass-rushers in
Ryan Kerrigan
and
Brian Orakpo
. They have a good nose tackle in
Barry Cofield
. So they have good parts. They played great for three quarters against Denver; alas, the game went four.
Why has the Chargers' pass rush been more productive lately?
Williams
: Defensive coordinator John Pagano has used some creative defensive fronts and exotic blitz packages to manufacture pressure. Along with that, the ability of interior defensive linemen such as
Corey Liuget
and
Kendall Reyes
to push the pocket inside have created one-on-one matchups for San Diego's inexperienced edge rushers. And guys such as
Thomas Keiser
and
Larry English
have taken advantage of their opportunities.
Speaking of opportunities,
Alfred Morris
has followed up an impressive rookie campaign by rushing for 565 yards and four touchdowns through seven games. He leads all running backs with a robust 5.23 yards per carry. How has Morris remained effective, even with Griffin struggling?
Keim
: Good question. Morris is better than he was a year ago, thanks to even better vision and stronger legs. Both qualities were good last year, too. Defenses have keyed more on him, knowing that on zone reads, for example, Griffin would not hurt them (until recently). Also, Denver rarely used an eight-man front against Washington in an attempt to play better in coverage. The Redskins usually receive good blocking from their tight ends and receivers, which helps Morris as well. And the line's continuity shows up in the run game. But Morris deserves a lot of credit. He's a patient runner who knows how to set up a defense, then cut back once it overcommits. Morris has proved this year that he's not a creation of the zone read. The key for Washington is giving him more carries; this season's high is 19. Last season he had 10 games with more than 19 carries. Of course, that stems from winning and being in control of games. The Redskins have done little of both this season.
Eric, do you believe in this team yet, or do you still see a lot of holes? If so, where?
Williams
: Offensively, San Diego has what it takes to make the playoffs in the AFC. The Chargers are one of the most balanced teams in the NFL. Rivers' ability to move the ball in the passing game has been nicely complemented by the emergence of bruising runner
Ryan Mathews
, who had back-to-back, 100-yard rushing games. But defensively, the Chargers remain a question mark, even though they have not allowed a touchdown in 11 quarters. The Chargers' defensive backfield has just two interceptions this season, and
Jarret Johnson
leads the team with just three sacks through seven games. The Chargers still lack elite playmakers on defense.
October, 29, 2013
10/29/13
12:30
PM ET
SAN DIEGO -- A weekly examination of the Chargers'
ESPN.com Power Ranking
:
Preseason:
23 |
Last Week:
12 |
ESPN.com Power Ranking since 2002

Idle for Week 7, the
San Diego Chargers
moved up another spot to No. 11 in this week's Power Rankings, the highest the team has been this season.
But the real question is, will San Diego remain in the top 15 in four weeks? The Chargers play three of their next four games on the road, facing opponents with a combined 18-8 record.
The first test in that tough stretch is a road contest at Washington, traveling across the country to the East Coast to face a team that is more talented than a 2-5 record indicates. The Chargers will need a game plan defensively to deal with the running ability of quarterback
Robert Griffin III
, along with the bruising running style of
Alfred Morris
.
Plus, San Diego quarterback
Philip Rivers
understands that Washington defensive coordinator Jim Haslett likes to show a lot of different looks and bring pressure in his 3-4 defensive front.
October, 25, 2013
10/25/13
1:45
PM ET
ENGLEWOOD, Colo. -- When Mike Shanahan brings his
Washington Redskins
offense to Denver Sunday, the folks in the seats at Sports Authority Field at Mile High will certainly see a little of the league's new-age style with
Robert Griffin
III at quarterback.
But many will see what they've seen so many times before, with so many 100-yard games from so many backs, a pile of dominating wins and Mile High salutes. They will see a late-round draft pick --
Alfred Morris
, Redskins' sixth-rounder in 2012 -- working behind an offensive line with five players drilled to move as one, to fire out, all in one direction, to sweep defenders away like a windshield wiper.
They will see, once again, Mike Shanahan's zone run game. And in an increasingly pass-happy world, Shanahan still believes there is a place for a run game.
[+] Enlarge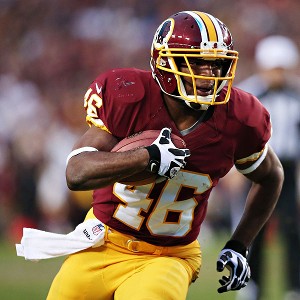 Win McNamee/Getty ImagesIt should surprise no one the Redskins have had success with late-round pick Alfred Morris.
"No. 1, you need great players,'' Shanahan said. "You've got to have everybody that buys in … you've got to have some very unselfish wide receivers, tight ends, offensive linemen, quarterbacks.''
And how the Broncos, who have faced just one team that has run it more than they passed it this season, handle that will have a lot to do with how Sunday goes. They do have some inside information, however, on Shanahan's staples.
Alex Gibbs, who carries the title of Broncos offensive consultant, was a long-time Shanahan assistant in Denver, including the two Super Bowl wins during Shanahan's tenure. Also, the quarterback behind center for those teams -- John Elway -- runs the Broncos' football operations, so when the Redskins move from the read-option to the traditional zone run game, the Broncos will know what's coming.
But knowing what's coming and stopping it has always been the riddle of Shanahan's run game. Gibbs, Shanahan and Redskins running backs coach Bobby Turner have been at the heart of it all since Shanahan was hired by Pat Bowlen in Denver in 1995.
And Turner has certainly been the under-the-radar guy of the triumvirate. The late Mike Heimerdinger, also a long-time Broncos assistant and Shanahan's former college roommate at Eastern Illinois, routinely joked before every draft "if Bobby likes a running back then I like him a lot, too.''
They never felt the need to like that running back in the first round. Since the start of the 1995 season the Broncos have had 18 different running backs rush for at least 100 yards in a game, 14 of those backs played for Shanahan in Denver. And none of the 14 who played for Shanahan was a first-round pick. The closest were Clinton Portis, who was a second-round selection in the 2002 draft, and Tatum Bell, a second-rounder in 2004.
But Terrell Davis was a sixth-round pick ('95), Mike Anderson was a sixth-round pick ('00), Olandis Gary was a fourth-round pick ('99), Quentin Griffin was a fourth-round pick ('03),
Peyton Hillis
was a seventh-round pick ('08) while both Mike Bell and Selvin Young were signed as undrafted rookies in 2006 and 2007, respectively.
Toss in Reuben Droughns, who was signed as a fullback after he had been released by the Lions, and it should shock that the Redskins took Morris on the draft's third day and he went on to roll up 1,613 rushing yards last season.
"You know what you're getting there,'' Broncos cornerback
Champ Bailey
has said. "It's all discipline, one-cut running backs who don't waste steps and they're coaching it the same way and finding the right guys. That's hard to stop when everybody sticks to what they're supposed to do. We know what it looks like -- we used to see it every day.''
Morris is another classic find. He showed up to the Senior Bowl in January of 2012, where the Redskins staff was coaching, as a late addition. He was almost sent home because the Washington coaches had wanted a fullback, not another running back, but Morris volunteered on the spot to play fullback. He did not get a carry in the game, but Shanahan said the coaches had seen enough to keep his name handy on the draft weekend.
Morris is currently ninth in the NFL in rushing with 472 yards, but he leads the league's running backs at 5.2 yards per carry. Washington also figures to be the sternest test of the season for the Broncos' base defense after the Colts rode a far more balanced attack than most opponents have offered to a 39-33 win this past Sunday night.
With the Broncos having sported big leads early in most games, opposing offenses have collectively ditched the run. The Ravens threw the ball 41 more times than they ran it, the Giants 30 more times, Jacksonville 15 more times and Dallas 22 more times without a rushing attempt in the fourth quarter. In the Broncos' only loss, the Colts had seven more passes than runs.
The Eagles, who rushed for 166 yards in a Week 4 loss to the Broncos, ran it four more times than they threw it in the game.
The Broncos expect the Redskins, who threw it 70.9 percent of the time in their 0-3 start, to operate more as they have over the past two weeks -- Washington is 2-1 in those games. Over their past three games the Redskins have run the ball on 52 percent of their offensive snaps.
"Their last couple of weeks -- well over 400 yards of total offense, over 200 yards rushing -- 45 points last week in the win, they're obviously better,'' Broncos defensive coordinator Jack Del Rio said. "It looks like [Griffin] is getting healthier as the year goes on.''
"If you can run the football and the defense has to respect it, I think it gives you a big advantage once you get to the playoffs to have a chance to win,'' Shanahan said. " … The defense can usually take a way a one-dimensional team, but when you can do both, it really puts a lot of pressure on a defense.''
September, 27, 2013
9/27/13
12:00
PM ET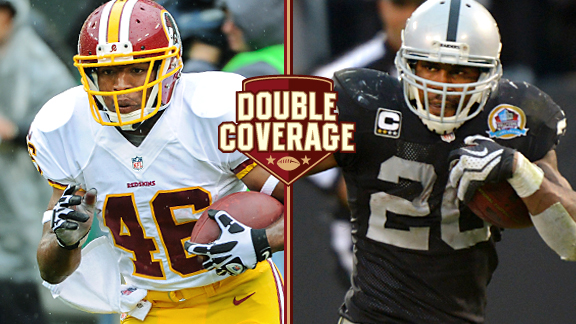 USA TODAY SportsAlfred Morris and Darren McFadden combined to account for three touchdowns in Week 3.
The
Washington Redskins
, with their still-healing franchise quarterback seemingly rounding back into shape, are 0-3 for the first time since 2001.
The
Oakland Raiders
, with their young quarterback in question after a concussion, are coming off a spanking on national television.
Something has to give Sunday at 4:25 p.m. ET in Oakland, right?
Washington team reporter John Keim and Raiders team reporter Paul Gutierrez break down this week's rematch of Super Bowl XVIII.
Paul Gutierrez
: John, there's a lot of uncertainty in the heart of Silver and Blackdom, what with
Terrelle Pryor
's first-ever concussion putting his availability to play Sunday in serious doubt. Many critics of running quarterbacks say this is the risk they take -- more hits. From afar, it seems the shine is off
Robert Griffin III
a bit, and not just because his team is winless and the catcalls have the young QB being called RG0-3. Is he already at a career crossroads, or are we simply seeing a young signal-caller dealing with adversity after a devastating injury?
John Keim:
I think it's a combination of both, Paul. Griffin does not want to rely on his legs as a quarterback, using them only as an occasional weapon. Eventually I think he'll get there, but he's not a refined passer just yet. So he still needs to evolve and that's where the injury comes in: He still needs his legs to be a dynamic player and because of the injury he's still not quite himself. When he was at Baylor they used a rather elementary passing game. I think he'll eventually blossom as a passer because he throws the ball well, is smart and works hard. But he's not at that point yet. Paul, along those lines, the Raiders' defense does not have good stats against the pass. Is that just because they've faced
Andrew Luck
and
Peyton Manning
in two of the first three weeks? Or are there real issues here?
Gutierrez
: True, the Raiders have faced Luck and Manning in two of their first three games and lost both. Yet stats-wise, Oakland is a middle-of-the-pack defense when it comes to defending the pass, ranking 16th in passing yards allowed per game. And really, at this stage, the Raiders will take it, especially after beginning the season with nine new starters on defense and then losing strong safety
Tyvon Branch
in Week 2 against Jacksonville on a blitz. What's really sticking in their craw is the lack of interceptions by the Raiders. As in zero. No picks. None. As
Charles Woodson
put it after the clinic Manning put on against them on "Monday Night Football," it's something the secondary especially has to make a concerted effort on this week. So I'd expect the Raiders to take a page out of Denver's defensive playbook by stacking the box and daring RG III to beat them through the air, rather than on the ground. If that is Oakland's strategy, might that backfire on the Raiders? Or does the threat of RG III turning the corner on a zone read actually open up the play-action pass?
Keim
: That's definitely the strategy I would take right now. Detroit did it last week, daring Griffin to beat them with his arm and not his legs. Actually, they weren't afraid of his legs. On one of the zone read runs he made Sunday, Detroit sent both the end and the linebacker at
Alfred Morris
. They were more worried about him running. It will be this way until Griffin shows that he not only can run, but can hurt a team while doing so. I will say that Griffin was really close to having a good game against Detroit. They were using more play-action -- and a 57-yarder off this play-action was dropped in the end zone. If not for that play and Griffin's late fumble off a 21-yard scramble, his game would look different. But even if the Raiders use eight in the box the Redskins will try to run. Everything works better when that's their focus and it sets up what was a lethal play-action game a year ago. What does your gut tell you about who will play quarterback this week for the Raiders? And could you break down where Pryor's game is, as well as Matt Flynn's? Obviously their offense would look much different with Pryor than with Flynn.
Gutierrez
: The gut, especially with Pryor having yet to be cleared to practice as of Wednesday, tells me that
Matt Flynn
will get the call. And the locals will not be happy. Pryor has become a huge fan favorite and his skills are as raw as he is electrifying. His pocket presence has improved as has his downfield passing. He simply does not look like the same scattershot guy who was a dark-horse favorite to be the Raiders' No. 3 quarterback after the draft. He has a presence about him that did not exist a few months ago and he is improving every week in this small sample size. Flynn, meanwhile, is the prototypical West Coast offense quarterback. He's accurate and mobile enough but needs time to let plays develop. He didn't get that in the exhibition season. He had a sore elbow and was under constant assault by the defense and had no time to pass. So the $6.5 million man was beaten out for the second summer in a row after signing a big-money deal. He admitted he was down but said it did not affect his preparation. And with Washington's defense giving up record-level points thus far, maybe the stars are lining up for the chosen quarterback, or the guy who was supposed to be the franchise quarterback. Then again, sometimes things don't go according to plan. Like Mike Shanahan and the Raiders. Hard to believe it's been a quarter of a century since he was hired by Al Davis in Los Angeles. Not so hard to think he still harbors resentment toward the Raiders. Has that come up at all during Raiders week? After all, he says Al Davis still owed him money.
Keim
: Mike talked about that today and says he had a lot of respect for Al, even though they had their differences. Knowing Mike, he'd still like to stick it to that franchise. He's a competitive guy who loves beating people or teams that he has a grudge with. He used to save articles when he was with Denver and then bring them out after the Super Bowl to remind the writers that they were wrong. And we all know the story about the time he was on the field before the game and one of his players threw a ball at Al (
Steve Young
, I believe). This is also the first time Shanahan has played an AFC West team since he left Denver. I'm sure those old feelings are still there; after all, he spent a brief time there and then spent a number of years wanting to beat them twice a year. Those feelings don't just fade away, especially in a guy like Shanahan. But right now, he has bigger things to worry about than any money Al Davis might have owed him. It seems like the Raiders have been without hope for a while. Where is the hope now -- and what should the Redskins be concerned with?
Gutierrez
: The hope, from the fans' perspective, resides in Pryor's arm and legs. Realistically, it's in the Raiders having some semblance of continuity. Consider: Since Jon Gruden was traded to Tampa Bay following the 2001 season, the Raiders have had seven coaches in 11-plus seasons in Bill Callahan, Norv Turner, Art Shell, Lane Kiffin, Tom Cable, Hue Jackson and now Dennis Allen. The message from general manager Reggie McKenzie is that he's getting closer to putting a product on the field that resembles his vision. The Raiders will have a lot of money to spend in free agency next year but McKenzie said he will not be shopping at Macy's. Hope and change -- you being in the District should be familiar with such talk, no? -- come with gradual improvement, and continuity being allowed to foster, so to speak.
.