AFC West:

Anthony Toribio
September, 21, 2012
9/21/12
6:00
PM ET
San Diego running
Ryan Mathews
practiced fully all week and is listed as questionable to play Sunday against visiting Atlanta. He has been out since Aug. 9 with a broken clavicle, but should play barring a setback.
Even though he is listed as questionable,
U-T San Diego reports
that San Diego coach Norv Turner said of Mathews' impact on Sunday: "I expect him to come in and play at a high level."
Tight end
Antonio Gates
practiced fully the past two days and is listed as probable. He missed last week's game with the injury.
In other key AFC West injury updates:
For Oakland, several players are questionable to play Sunday against Pittsburgh. They include: tight end
David Ausberry
(shoulder), running back
Mike Goodson
(hamstring), kicker
Sebastian Janikowski
(left groin), running back
Taiwan Jones
(ribs), linebacker
Rolando McClain
(concussion, ankle), and defensive tackle
Richard Seymour
(knee)
Denver linebacker
Von Miller
(hip) practiced fully Friday for the second straight day and is listed as probable for the game against Houston on Sunday. Nickel cornerback
Chris Harris
is also listed as probable. He missed the Atlanta game Monday.
For Kansas City, tight end
Kevin Boss
(concussion), cornerback
Jacques Reeves
(hamstring) and receiver
Devon Wylie
(hamstring) are out. Guard
Ryan Lilja
(back), defensive tackle
Anthony Toribio
(ankle), safety
Kendrick Lewis
(shoulder), receiver
Dexter McCluster
(shoulder) are questionable, and receiver
Steve Breaston
(wrist) is probable.
September, 14, 2012
9/14/12
5:35
PM ET
There is no guarantee
Brandon Flowers
will make his season debut Sunday at Buffalo, but there are signs that he will be on the field.

The Chiefs have listed Flowers as questionable to play Sunday. He has been out with a foot injury since July 31. Flowers has practiced fully the past two days. Also, backup cornerback
Jalil Brown
is questionable with a groin injury.
There are four Chiefs out, though. They are defensive tackle
Anthony Toribio
(ankle). Safety
Kendrick Lewis
(shoulder), receiver
Devon Wylie
(hamstring) and defensive lineman
Allen Bailey
(ankle).
However, if the Chiefs get Flowers back, it will be a big boost. Kansas City coach Romeo Crennel told reporters Friday that Flowers could be eased back into action.
"I think that you have to kind of temper it and know that conditioning will be a factor, and if the guy is able to play, you may have to monitor his reps," Crennel said. "Then, some of that will depend on how the game goes. Probably asking him to play 100 plays would not be the thing to do, but if you can mix in here and there and give him a break now and then, then maybe he can get through a game."
In other AFC West news:
Oakland long snapper
Jon Condo
practiced on a limited basis. If he is not cleared to play by Sunday,
Nick Guess
will be promoted from the practice squad. Linebacker
Rolando McClain
(ankle) and running back
Taiwan Jones
(ribs) both practiced on a limited basis and are questionable to play. Receiver
Denarius Moore
is probable after missing several weeks with a hamstring injury. The Raiders are expected to ease him back into action Sunday.
The Chargers announced they have sold enough tickets to avoid a local television blackout Sunday against Tennessee in their home opener. The team received a 24-hour extension. The team is urging fans to wear white at the game. The Chargers will be wearing white jerseys and uniform pants.
Denver cornerback
Chris Harris
did not practice for the second straight day with an ankle injury.
Tony Carter
would be the nickel cornerback at Atlanta on Monday if Harris can't play.
September, 9, 2012
9/09/12
5:00
PM ET
A look at the Chiefs' disappointing
40-24 loss
in the season opener:


What it means:
This outcome was not surprising at all. Teams won't win many games when missing four defensive starters. I picked the Chiefs to win the AFC West and I'm not concerned about them after this game. Defensive starters
Tamba Hali
,
Brandon Flowers
,
Kendrick Lewis
and
Anthony Toribio
were out and linebackers
Derrick Johnson
and
Jovan Belcher
were banged up going into the game. That is too much missing talent against a strong offense like Atlanta's. Yes, the Chiefs are 0-1. But I expect this team to come together quickly.
Bad second half for offense:
Despite the defensive issues, the Chiefs were in this game at halftime, trailing 20-17. The offense was clicking in the first half. Yet, the wheels fell off in the second half. Kansas City missed a field goal, quarterback
Matt Cassel
fumbled and then he was picked off twice. This coincided with the Falcons' offense continuing to score at a high level. The Chiefs just couldn't keep up.
Nice homecoming for Gonzo:
Former Kansas City tight end
Tony Gonzalez
-- one of the best and beloved Chiefs of all time -- scored a touchdown in his first trip back to Kansas City since being traded to the Falcons in 2009.
Nice day for Charles:
In his first game back after tearing the ACL in his knee in September 2011, Kansas City running back
Jamaal Charles
had 87 yards on 16 carries. He looked good, and I expect the Chiefs to continue to increase his workload. All told, the Chiefs had 152 yards rushing on 33 carries. Free-agent pickup
Peyton Hillis
had just 16 yards on seven carries. I would think Hillis' workload (and success) will increase.
McCluster looks good:
Third-year player
Dexter McCluster
, who went from receiver to running back and then back to receiver this year, performed well. He had six catches for 82 yards. He was targeted 10 times. It is clear the Chiefs want to work McCluster into a major role. Meanwhile, 2011 first-round pick
Jon Baldwin
didn't register a catch.
What's next:
The Chiefs play at Buffalo, which got hammered by the Jets on Sunday. Kansas City safety
Eric Berry
tore his ACL in Week 1 last season when he was blocked by the Bills' Steve Johnson. Many people, Berry included, wondered if Johnson's block was too low. Johnson denied any wrongdoing.
September, 9, 2012
9/09/12
12:55
PM ET
In the end,
Brandon Flowers
' foot did not improve enough for him able to play in the
Kansas City Chiefs
' opener against the pass-happy
Atlanta Falcons
.

Thus, the Chiefs will be without four defensive starters Sunday and with two starters who were listed as questionable on the injury report.
I picked the Chiefs to win the AFC West this season. I still stand by that pick, but today could be rough for the Chiefs playing with such a depleted defense against such a potent offense. The Chiefs must control the game clock with their stout running game featuring
Jamaal Charles
and
Peyton Hillis
.
There was hope Flowers could play after he practiced on a limited basis all week. Expect him to be able to play next week at Buffalo unless there is a setback,
Jacques Reeves
will replace Flowers.
Also out for the Chiefs' defense are star pass-rusher
Tamba Hali
(one-game NFL suspension), safety
Kendrick Lewis
(shoulder) and nose tackle
Anthony Toribio
(ankle). First-round pick
Dontari Poe
, who improved steadily in the preseason, will start at nose tackle.
The Chiefs did get some good injury news. Linebackers
Derrick Johnson
(ankle) and
Jovan Belcher
(groin) are active. They were listed as questionable on the injury report.
In Other AFC West news:
CSN Bay Area reports the Raiders have decided on who will be their kick and punt returners Monday night.
The Broncos are wearing a ribbon on the back of their helmet that features the state flag. The ribbon is in remembrance of the victims of the July movie theater shooting in suburban Denver and the wild fires that ravaged the state this year.
September, 7, 2012
9/07/12
5:35
PM ET
Three key Kansas City defensive players are listed as questionable for Sunday's season opener against visiting Atlanta.
On the official injury report, the Chiefs listed cornerback
Brandon Flowers
(foot), linebacker
Derrick Johnson
and linebacker
Jovan Belcher
(groin) as questionable for the game. Flowers and Johnson were limited at practice all week and Belcher was limited Friday after not practicing Thursday. Unless there are setbacks, I'd expect all three players to play.
The unit is expected to be without safety
Kendrick Lewis
(shoulder) and nose tackle
Anthony Toribio
(ankle). Both players didn't practice this week and they are both listed as doubtful. The team will be without star pass-rusher
Tamba Hali
, who is serving a one-game NFL suspension.
So, no matter if Flowers, Johnson and Belcher are limited, the Chiefs will need them in any form they get on Sunday.
September, 6, 2012
9/06/12
1:55
PM ET
The
Kansas City Chiefs
are dealing with another injury on defense.

The Kansas City Star reported
that starting linebacker
Jovan Belcher
is not practicing Thursday because of a sore groin. He is being replaced at practice by
Brandon Siler
, who missed all of last season with an Achilles injury.
Belcher is yet another Kansas City defender who is banged up heading into the season opener against visiting Atlanta on Sunday. Among the other injured players are safety
Kendrick Lewis
(shoulder), cornerback
Brandon Flowers
(foot) and linebacker
Derrick Johnson
(ankle). Flowers and Johnson are hopeful of playing Sunday, while Lewis is likely out.
Defensive tackle
Anthony Toribio
(ankle) also may not play. Plus, star pass-rusher
Tamba Hali
is serving a one-game NFL suspension. Thus, another injury on defense is the last thing the team needed.
In other AFC West news:
The Raiders confirmed the signing of receiver
Derek Hagan
. He tweeted that he signed with the team late Wednesday night. He provides depth for a unit that is banged up. Hagan spent a couple of months with Oakland last season. Cornerback
Coye Francies
, claimed off waivers last week, was waived to make room for Hagan.
Rap star Ice Cube, a huge Raiders fan, will perform inside the stadium before the Raiders-Chargers game on Monday night.
In an Insider piece, ESPN quarterback guru Ron Jawkorski wrote that when he studied film of Peyton Manning's preseason performance in Denver, he was "wowed" and he
saw a quarterback in his prime

.
August, 31, 2012
8/31/12
10:38
PM ET
Click
here
for the complete list of
Kansas City Chiefs
' roster moves.

Most significant move:
I found it interesting that defensive tackle
Amon Gordon
was cut. Gordon is solid, but far from special. But it could open a spot for
Shaun Smith
. Smith, who was recently cut by the Titans, tried out for the Chiefs on Tuesday. He played for Romeo Crennel in both Cleveland and in Kansas City. Smith could be added to a defensive-tackle group that includes first-round pick
Dontari Poe
,
Anthony Toribio
and
Jerrell Powe
. It was also significant that rookie defensive back
DeQuan Menzie
was put on injured reserve. The Chiefs have a lot of injuries in the secondary (they also cut veteran
Donald Washington
) and will need to do something. Young running backs
Cyrus Gray
,
Nate Eachus
and
Shaun Draughn
all made the team, giving Kansas City some intriguing youth in the backfield. Interestingly, the Chiefs kept five tailbacks, but no fullbacks. What does it mean? The will be doing a lot of multiple-tight-end and -receiver sets. It'd also be nice to see
Jamaal Charles
and
Peyton Hillis
share a backfield on occasion.
Onward and upward:
The Chiefs cut rookie receivers
Junior Hemingway
and
Josh Bellamy
. The Chiefs like both of those players, but they are deep at the position. Both should be headed to the practice squad. As expected, second-year quarterback
Ricky Stanzi
made the team. He will be the No. 3 quarterback and given another chance to develop. Defensive lineman
Jerome Long
, a draft pick, could also be headed to the practice squad.
What's next:
Whether or not the Chiefs sign Smith (doing so after Week 1 would avoid guaranteeing his 2012 contract), I think they could add to the defensive line. I think they certainly will look at help for the secondary because of injuries, and if the right linebacker becomes available, the Chiefs could add some depth. I also think the offensive line might be an area in which Kansas City looks for depth -- it has been trying to add a veteran all summer. One name to keep an eye on is former New England offensive lineman
Dan Koppen
. He has a history with Chiefs general manager Scott Pioli.
August, 24, 2012
8/24/12
11:45
PM ET
A look at the Chiefs'
44-14 home loss
to Seattle on Friday night:
Yes, I'm sure many Chiefs fans are freaking out over a home blowout like this. But I can't join the in the hysteria. Maybe I'm wrong, but the preseason is just the preseason, big win or big loss. Now, if the Chiefs get throttled at home by Atlanta in 16 days, then the hand-wringing should commence. But this loss doesn't mean the Chiefs will be awful in that game.


The Chiefs may be the answer to a trivia question: They were the opponent of Russell Wilson's first preseason start. The rookie quarterback was terrific in his staring debut. He beat up the Chiefs pretty good. Should Kansas City be worried that a third-round pick whipped them? It's not ideal, but again, it's the preseason, so it really doesn't matter. Plus, the Chiefs have some injuries. Still, like their performances against St. Louis last week, the Chiefs' defense showed it is not quite ready for prime time.
Kansas City defensive linemen Glenn Dorsey, Anthony Toribio and Allen Bailey were all banged up some Friday. Toribio's injury allowed first-round pick Dontari Poe to play with the first unit, which was valuable.
Brady Quinn spelled Matt Cassel and it looks like he will win the backup job over Ricky Stanzi, which has long been expected. Quinn threw 10 passes and Stanzi didn't play. You'd have to think that battle has been decided.
The Chiefs' offense was spotty. But it did have a 17-play, 80-yard drive. The Chiefs have had long scoring drives in all three preseason games, which is a good sign.
Receiver Dwayne Bowe played some as expected. Bowe ended his holdout last week.
Running back Nate Eachus made a push for a roster spot with 98 yards on 10 carries.
Receiver Dexter McCluster had a strong game with seven catches for 61 yards and a touchdown.
August, 18, 2012
8/18/12
12:00
PM ET
ST. JOSEPH, Mo. -- This isn't a training camp for the leisurely.

Armed with the best roster the franchise has seen in years, the
Kansas City Chiefs
are moving quickly under new coach Romeo Crennel. For those who visited the Chiefs camp last year, this pace is foreign.
"There are no wasted moments," said quarterback
Matt Cassel
.
The final training camp under former coach Todd Haley will live in infamy in the Heartland. Last season's camp was essentially a three-week walk-through exercise. Haley chose to go that route because he wanted to ease the players back into the program after a lost offseason due the lockout. The plan didn't work, because the Chiefs were physically and mentally behind the rest of the league. They suffered several major injuries early in the season, were drubbed in early games, and it set the tone for a disappointing season.
However, speed is back in vogue as Crennel tries for success in his second go-round as a head coach. The tempo change has paid off so far. The Chiefs have looked crisp in practices and they were dominant on both sides of the ball against Arizona in the preseason opener last week.
The idea is to keep the forward tempo moving into the season as Kansas City tries to win the AFC West for the second time in three seasons.
"It's exciting to see what is happening here," Cassel said. "We have a lot of work to do, but we are all on the same page and all want to have success together."
THREE HOT ISSUES
1. The ACL Club:
In addition to bringing in several free agents, the Chiefs are getting back three standouts. Safety
Eric Berry
, running back
Jamaal Charles
and tight end
Tony Moeaki
all suffered torn ACLs last September, but all are on pace to be major contributors this season.
"All of those guys look great," Cassel said. "They're going to help us a lot."
2. Dwayne Bowe's absence:
It is over now. Bowe signed his franchise tender Friday, a day after camp ended. The Pro Bowl receiver did not participate in the offseason workouts, either. Bowe likely reported in time to learn the system of new offensive coordinator Brian Daboll and get into football shape. With him being out, the Chiefs' offense clicked and it gained a lot of confidence. Having Bowe back heading out of camp should only make this unit stronger
[+] Enlarge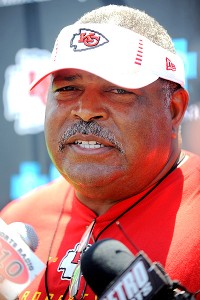 Denny Medley/US PRESSWIREChiefs coach Romeo Crennel has the respect of his players.
3. Good vibrations:
This team is in a good place. The players love playing for Crennel. One of the reasons Crennel was promoted from interim coach was the players' respect for him. It has continued now that he is the permanent coach. He is the polar opposite of Haley, who was known as somewhat of a loose cannon. Crennel offers a calm, steady hand. Players love that he's organized and up front. There is a lot of trust.
"They've worked hard and they know the possibilities this team has," Crennel said. "Every team feels good about itself this time of year, but this team's attitude is in the right place."
REASON FOR OPTIMISM
This is the best overall roster in the AFC West. It is one of the deepest rosters in the AFC. There is proven talent throughout the roster and the team has the right mix of veteran and young players. Still, the Chiefs are the youngest team in the NFL. They are the only team in the league not to have a player over the age of 30.
"When I was on my visit, I just looked up and down this roster and saw so much talent," free-agent pickup, tight end
Kevin Boss
said. "It is just loaded with talent."
When you look at this roster, there isn't much not to like.
REASON FOR PESSIMISM
The Chiefs will be dismissed as playoff contenders until Cassel proves otherwise. Many don't believe in them because they don't believe in Cassel, even though he has already delivered a division title in Kansas City. Many scouts don't think he can be a difference-maker, and that because he is the least talented of the four quarterbacks in the AFC West, he will not be able to overcome the other teams in the division. I believe there is enough talent on the roster to help Cassel lead the Chiefs deep into the playoffs, but he must prove his mettle.
OBSERVATION DECK
The rap on No. 11 overall pick Dontari Poe is that the defensive tackle wasn't productive at Memphis. The Chiefs didn't feel that way. They reviewed every college snap he ever played and were impressed that he played 60 percent of the snaps at 346 pounds. For what it's worth, Poe's college statistics and combine measurables compare favorably to Green Bay's B.J. Raji, who has become a star after being the No. 9 overall pick in 2009. Poe is two inches taller and nine pounds heavier than Raji, yet he ran a 4.9 40-yard dash at the combine compared to Raji's 5.23. Poe had nine more tackles and four more quarterback hurries than Raji in college despite the fact Raji played 16 more college games. This is not to suggest Poe is going to be a better NFL player than Raji, but it does take some steam out of the argument that Poe wasn't a productive college player.

[+] Enlarge

John Rieger/US PRESSWIREThe Chiefs like what they've seen from first-round pick Dontari Poe so far.

When Bowe held out, Jon Baldwin thrived under the professional guidance of veteran receivers Steve Breaston and Terrance Copper. Some folks in camp think Baldwin is making strides because he is taking cues from Copper and Breaston.

Defensive ends Tyson Jackson and Glenn Dorsey are plus players for the Chiefs. Neither is spectacular and they will always get grief for not living up to their draft billing. Dorsey was the No. 5 overall pick in 2008 and Jackson went No. 3 a year later. But both players are excellent run-stuffers and are among the best in the league in that area.

While the focus is on Poe at nose tackle, Anthony Toribio and 2011 draft choice Jerrell Powe are also in the mix.

Inside linebacker Brandon Siler looks good after missing all of last season with an Achilles injury. He could push Jovan Belcher for playing time.

While Haley was known for his ranting and raving on the field, Daboll is also fiery. He scoots around the field, barking instruction.

His new teammates love running back Peyton Hillis. His toughness and competitiveness have created buzz during camp.

Left tackle Branden Albert is quietly becoming the player the former Kansas City regime thought it was getting when it took him No. 15 overall in 2008. I expect the Chiefs to try to extend the pending free agent at some point. He's been stellar.

I wouldn't be surprised if the Brady Quinn-Ricky Stanzi battle to be Cassel's backup continues all season, but with Quinn winning the job initially. The Chiefs like where they stand with both players.

The Chiefs are excited about the potential of tight ends Moeaki and Boss. Expect both to have high-profile roles in the offense.

Second-year pass-rusher Justin Houston has been terrific, and the Chiefs are bubbling over at what kind of pass-rush combination Tamba Hali and Houston can become.

The team appreciates the flexibility of third-year player Dexter McCluster, who has bounced from receiver to running back to receiver again. McCluster may never have a classically defined role, but he will have a role in this offense.

Undrafted rookie receiver Josh Bellamy still has a chance to make the 53-man roster, but in a numbers game, he could wind up on the practice squad.

So far, so good for new center Rodney Hudson. The second-year player looks comfortable playing with Cassel and vice versa.

Camp observers believe kicker Ryan Succop has gotten bigger and stronger, which will help with his field goal range.

The team's fourth-round pick, receiver/returner Devon Wylie, is explosive. He will be given a chance to contribute.

Keep an eye on defensive end Ropati Pitoitua. He has outplayed 2011 third-round pick Allen Bailey and he may be a keeper.

Brandon Flowers' foot injury has allowed second-year cornerback Jalil Brown to blossom. I expect Brown to be on the field often in the regular season.

Fourth-string quarterback Alex Tanney is a curiosity because of his YouTube trick throwing video. But Tanney isn't making much real football tread in this camp. The best he could hope for in 2012 is the practice squad.
September, 4, 2011
9/04/11
2:55
PM ET
The
Kansas City Chiefs
have just announced their eight-player practice squad. Highlighting the list is seventh-round pick
Shane Bannon
(fullback), linebacker
Justin Cole
, defensive back
Quinten Lawrence
, receiver
Jeremy Horne
and massive offensive lineman
David Mims
. Below is the complete list:
Shane Bannon, FB
Justin Cole, LB
Darryl Harris
, G
Jeremy Horne, WR
Quinten Lawrence, DB
Butch Lewis
, OL
David Mims, OL
Anthony Toribio
, DT
January, 9, 2011
1/09/11
12:00
PM ET
KANSAS CITY –- There was only one mild surprise on the Kansas City Chiefs' inactive list Sunday for their AFC wild-card game against visiting Baltimore.
Veteran receiver
Chris Chambers
was inactive, while newly signed veteran receiver
Kevin Curtis
is active. Chambers has been disappointing this season and he might have played his final game in Kansas City. Curtis was signed Wednesday.
Also,
Brodie Croyle
is back to being the Chiefs' backup quarterback while
Tyler Palko
is the emergency quarterback. Palko was the backup last week against Oakland. Here are Kansas City's other inactives: receiver
Quinten Lawrence
, fullback
Mike Cox
, safety
Reshard Langford
, linebacker
Charlie Anderson
, center
Rudy Niswanger
and defensive tackle
Anthony Toribio
. Baltimore had no surprises on its inactive list.
September, 5, 2010
9/05/10
9:30
PM ET