AFC West:

Arizona Cardnals
September, 24, 2010
9/24/10
4:00
PM ET
»
NFC Final Word
:
East
|
West
|
North
|
South
»
AFC
:
East
|
West
|
North
|
South
Five nuggets of knowledge about Week 3:
[+] Enlarge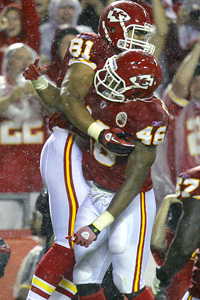 AP Photo/Charlie RiedelThe Chiefs haven't started a season with a 2-0 record since 2005.
Numbers favor Kansas City:
There's real meaning to Kansas City's fast start. It extends beyond the fact that the Chiefs are 2-0 for the first time since 2005 and that they won a total of just 10 games in the past three seasons. A 2-0 start means a team is on the right track. According to ESPN Stats & Information, 167 teams have started 2-0 since 1990. Of those 167 teams, 107 (64 percent) have made the playoffs. Only 28 teams (17 percent) have finished with a losing record. These stats don't necessarily mean Kansas City is on to something -- remember, Denver started 6-0 last season and ended up 8-8 -- but it is a meaningful start as the Chiefs prepare to host San Francisco.
San Diego's secret weapon:
The Chargers are excited about first-round pick
Ryan Mathews
as a primary back. And there's the dynamic but tiny
Darren Sproles
, who is a fine change-of-pace back and a weapon as a receiver. But the Chargers' running game doesn't stop at Mathews and Sproles. Teams must account for
Mike Tolbert
, who will likely start Sunday because of an ankle injury to Mathews . At 5-9 and 243 pounds, Tolbert usually requires multiple defenders to bring him down. The Chargers plan on using him often near the goal line, but I also expect to see him play more snaps in general, starting Sunday at Seattle. Tolbert has 108 yards on 18 carries in two games. In Week 1 at Kansas City, the third-year player had a 29-yard run. He added a 23-yard run in San Diego's win over Jacksonville last week. A combination of Mathews, Sproles and Tolbert will be a major headache for defenses.
The Asomugha-Fitzgerald show:
The Raiders are committed to using star cornerback
Nnamdi Asomugha
more aggressively this season to use his immense ability. Asomugha has moved around and even has played safety. The Raiders will need Asomugha at his best Sunday at Arizona. He will face
Larry Fitzgerald
, by far the best receiver Oakland has faced this season. The Cardinals' offense may be in disarray, but Fitzgerald is still a difference-maker.
Can Kansas City continue to make the key play?
In their two wins, the Chiefs have come up big when it counts. Will they continue their streak against the 49ers on Sunday? In Week 1, Kansas City's defense had a great goal-line stand against the Chargers. The Chargers' threat ended at the Kansas City 6-yard line with 39 seconds to go. In Week 2 in Cleveland, the Chiefs' offense closed the deal. On a gutsy call by coach Todd Haley, Kansas City converted a 4th-and-inches run play at the Browns' 36-yard line at the two-minute warning with the Chiefs holding a a 16-14 lead. Good teams win close games.
Is Thomas ready to replace Marshall?
When Denver drafted
Demaryius Thomas
, it did so hoping he'd be a replacement for
Brandon Marshall
, who was traded to Miami. Like Marshall, Thomas is a big receiver who possesses many skills. Thomas showed a glimpse of how good he can be when he had eight catches for 97 yards and a touchdown catch in his NFL debut during a Week 2 win over Seattle. The Colts certainly must account for Thomas on Sunday. Still, the Colts are probably relieved they won't be facing Marshall. Last December, when Denver roasted Indianapolis, Marshall set an NFL record with 21 catches against the Colts. Thomas is very likely not ready for that type of show, but after a strong debut, expect Denver to continue to go to its new receiver.
June, 16, 2009
6/16/09
12:00
PM ET
Posted by ESPN.com's Bill Williamson
A look at the key loss and his replacement for each team in the division:
Who's out: Jay Cutler, quarterback, traded to Chicago.
Who's in: Kyle Orton, quarterback, acquired from Chicago.
Outlook: It would be impossible for Broncos fans to expect Orton to have the same impact that Cutler had. Orton simply isn't as talented as Cutler.
But in new Denver coach Josh McDaniels' system, the team is confident Orton, who was named Denver's starting quarterback over Chris Simms on Saturday, can manage games and help win games.
Orton was a decent player in Chicago. Cutler was becoming a great player in Denver before he butted heads with McDaniels. Orton probably never will make the highlight-film plays that Cutler does and he never will amass the passing yardage Cutler does. But McDaniels believes Orton will work well in the system. Denver wants the run to set up the pass and Orton has the best receiving weapons of his career. He may not be fancy and he won't make people forget about Cutler's arm, but Orton has a chance to succeed in Denver because of the system that helped Matt Cassel enjoy fast success in New England last year.
Who's out: Tony Gonzalez, tight end, traded to Atlanta.
Who's in: Brad Cottam, tight end.
Outlook: Cottam will have some competition, including journeymen Sean Ryan and Tony Curtis. But the team likes Cottam, who was a third-round pick last year. The thing is, Cottam is more of a blocking tight end and will not remind anyone of Gonzalez, who is the greatest receiving tight end of all time.
But Cottam will get dirty and help in the running game. New Kansas City coach Todd Haley used the tight end sparingly as the offensive coordinator in Arizona. So, Cottam won't have that much pressure on him to make an impact in the receiving game.
Who's out: Kwame Harris, left tackle, cut.
Who's in: Mario Henderson, left tackle.
Outlook: Khalif Barnes was signed as a free agent to replace Harris, who flopped in one season in Oakland. However, the San Francisco Chronicle reports that Henderson is beating out Barnes heading to training camp.
Oakland coach Tom Cable likes Henderson, a third-year player. Still, Barnes was brought in to start. So, Henderson will have to earn the job. This has long been a problem position for Oakland. Perhaps it will be the young Henderson who offers stability.
Who's out: Mike Goff, guard, signed with Kansas City as a free agent.
Who's in: Louis Vasquez, guard.
Outlook: Vasquez will battle with veteran Kynan Forney, who was originally expected to replace Goff, whom the team did not pursue in free agency.
However, Vasquez, a third-round pick, has been outstanding in the spring. If Vasquez has a strong training camp and preseason, expect him to win the job. The Chargers are looking for a long-term answer at the position and they believe it could be Vasquez.
January, 27, 2009
1/27/09
11:30
AM ET
Posted by ESPN.com's Bill Williamson
This one will hurt the Raider Nation.
The player I'm giving the Raiders is a player they bypassed more than four years ago. Yes, the veteran player I'd draft for the Raiders is Arizona Cardinals' wide receiver Larry Fitzgerald.
Ouch.
In 2004, the Raiders had the No. 2 overall draft choice. They took left tackle Robert Gallery in an attempt to answer their need at left tackle. The team also had a need at receiver. Fitzgerald, though, was bypassed. He went to Arizona with the next choice.
Fitzgerald, of course, is in the spotlight this week. He is the Cardinals' best player and a major reason why they will be playing in their first Super Bowl on Sunday. Gallery, meanwhile, has been moved to guard after struggling at left tackle. He was solid in 2008 but he is nowhere near the impact player Fitzgerald has been.
If the Raiders had a chance to get any player, I'd give them Fitzgerald. Along with, yes, left tackle, receiver is the Raiders' greatest need. Fitzgerald is the best impact receiver in the game right now and he would help develop quarterback JaMarcus Russell. With Oakland's solid running game, Fitzgerald would be a dangerous weapon in Oakland.
And to think this actually could have happened.