June, 29, 2012
6/29/12
12:00
PM ET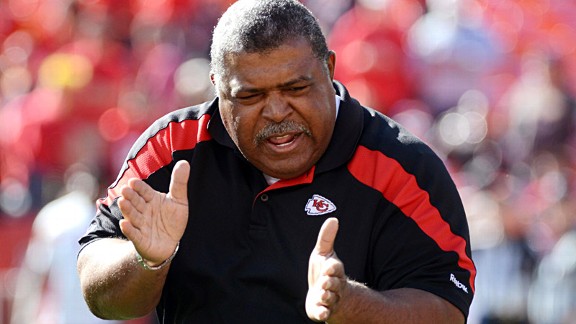 John Rieger-US PresswireRomeo Crennel looks to prove he is the long-term solution for the Chiefs.
Romeo Crennel has proved he can lead the
Kansas City Chiefs
in the short term.
Now, as he begins his second tour of duty as a permanent head coach, Crennel must prove he is the answer in Kansas City for the long haul.
Although the Chiefs' brass looked at other candidates, it really was no contest. Crennel was the choice for the job once he led the Chiefs to a 2-1 record as the interim replacement for Todd Haley, who was fired in December. Promoted from defensive coordinator, Crennel led the Chiefs to a win over the
Green Bay Packers
(then 13-0) in his first game.
There is no doubt that Crennel, who went 24-40 as the head coach in Cleveland from 2005-2008, had the support of his players. He had won before as a defensive coordinator, he is respected by his peers, and he is respected by his players for his above-board and calm demeanor. He was the perfect elixir after the uneven, high-volume days of Haley.
"Romeo was the right guy for the job," Gary Horton of Scouts Inc. said. "The players love him and they played for him. But the key is, can that continue with him being the guy? Playing over your head for a coach you like can work for a few games. It can't work over 16 games. So, now that the interim tag is off of Romeo, the question is, can he prove he is the right choice for the long term?"
If recent history is any indication, Crennel's task is not an easy one. According to the Elias Sports Bureau, the last coach to lead his team to a winning record in his first year as the permanent coach after being the interim coach was Art Shell in 1990. He led the Raiders to a 12-4 record.
That's a long 22 years.
Since 2000, according to Elias, seven coaches were promoted after being an interim coach, including Oakland's Tom Cable in 2009. The best records in the first year as the permanent coach were registered by San Francisco's Mike Singletary in 2009 and Dallas' Jason Garrett last season. Both teams went 8-8. In total, the coaches had a combined 43-69 record.
In addition to the waning support of players, there are other reasons that interim coaches haven't had much success on a permanent basis. Many league observers think an organization may settle to keep their interim coaches rather than paying for a new coach and his staff. As a result, the same bad habits of the previous regime can creep in.
Horton thinks Crennel's personality and the team's upward trajectory will work in the Chiefs' favor.
"I like Romeo's team," Horton said. "I think he can win. I don't see this as a case of [Kansas City general manager] Scott Pioli settling. I think he got his top choice for the job. … I just like the way this team is set up and think it has a real shot to be good right away."
In a telephone interview this week, Shell said Crennel is entering an exciting time. He said the interim period is chaotic for a coach, but now Crennel is able to construct his own program.
Crennel added new offensive coordinator Brian Daboll and several other coaches while keeping some assistants from Haley's staff. Crennel remains the Chiefs' defensive coordinator.
"This is his time," Shell said. "As the interim guy, you are just holding on. Now, it's time to set the foundation and let everyone know the way it is going to be on a permanent basis. It's an important time."
I think Crennel, who at 65 is the second-oldest current head coach in the NFL behind Super Bowl champion Tom Coughlin, is comforted by his experience in Cleveland. He has often said this offseason that he will learn from that experience as he begins his next chapter as a head coach.
"A lot of times you don't get second chances in this business" Crennel said earlier this offseason. "You just go along and try to do the best job that you can at the job that you have. If you do that and people take notice, then they give you chances. So, I've got a second chance and I'm going to try to do it better than I did the first time around."
The good feeling Crennel has built within the locker room remains as the Chiefs transition from the offseason program to training camp, which begins in four weeks.
"I love [Crennel], his coaching style," cornerback
Javier Arenas
said. "You want to play for him. I felt great about coach Haley. I loved coach Haley as a head coach, but now with [Crennel], I absolutely love the way he goes about things and want to execute what he lays on the table -- him and the rest of the coaches -- and that's just part of the game, wanting to play for a coach and wanting to help the team be successful."
If it works in Kansas City in 2012, Crennel will enjoy rare immediate success for a promoted interim coach.
October, 8, 2011
10/08/11
4:55
PM ET
It's fitting
that CEO Amy Trask and head coach Hue Jackson are likely to play key roles for the
Oakland Raiders
as they adjust to working in the wake of Al Davis' death on Saturday.
Davis would surely be proud to see them take his beloved organization to the next level. Davis was always a champion of diversity.
Trask is the first and only woman CEO in the NFL. Jackson is one of seven African-American head coaches currently in the NFL.
Davis, the Jewish kid from Brooklyn, was truly color blind. He made Tom Flores the first Hispanic head coach in the NFL and he made Art Shell the first African-American head coach of the modern era of the NFL.
He had African-American quarterbacks when it was uncommon in the league. Countless African-American players from the Raiders' glory days of the 1970s said they had a comfort level with Davis that they sometimes didn't feel with other people.
Davis let people be people. "Just Win, Baby" and let's do it together.
The Raiders are at the forefront of embracing diversity. Numerous people of color hold important positions with the Raiders and the organization often celebrates several ethnic cultures at games each year. They even broadcast radio games in Native American languages.
The Raider Nation is a melting pot which will always be part of Davis' incredible legacy.
July, 27, 2010
7/27/10
8:05
PM ET
While the friends and family of Darryl Stingley are still struggling to forgive
Jack Tatum for the play that defined both players' lives, one of Tatum's teammates and fellow Oakland Raider, Art Shell, remembered him as a great, clean player and as a good man.
In an email Shell made it clear Tatum will be missed in Oakland. The two were teammates in the 1970s in Oakland. Shell was a Hall of Fame tackle and was twice Oakland's head coach.
Tatum, a hard-hitting safety who left Stingley paralyzed after delivering a hit in a 1978 preseason game, died at the age of 61 Tuesday.
"Jack Tatum was a great football player that played within the rules, with a great passion for the game," Shell wrote. "He was a loveable guy who cared about his family, his teammates and winning. He also cared about winning in life ... Janice and I will miss him ... Our thoughts and prayers are with his family."
The feeling in New England is understandable, but Shell's quotes show another side of Tatum.
June, 25, 2010
6/25/10
11:15
AM ET
Notable players:
QB Ken Stabler, FB Mark van Eeghen, WR Fred Biletnikoff, WR Cliff Branch, TE Dave Casper, OT Art Shell, G Gene Upshaw, DL John Matuszak, DL Otis Sistrunk, LB Phil Villapiano, LB Ted Hendricks, CB Willie Brown, S George Atkinson, S Jack Tatum, P Ray Guy.
[+] Enlarge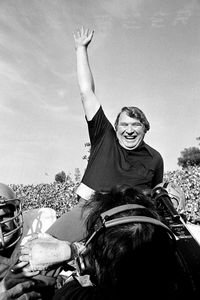 AP PhotoJohn Madden's 1976 season was nearly perfect -- culminating in a Super Bowl win over the Vikings.
Analysis:
This championship season was in the works for some time. Oakland owner Al Davis and coach John Madden put together a great team.
The Raiders didn't have the titles that Miami, Dallas and Pittsburgh had, but they were a dominant team in the 1970s. If you were going to win the Super Bowl, you probably had to go through the madcap marauders of the East Bay.
Wild, free-spirited and wickedly clutch on the field, the Silver and Black was a special fabric of the NFL in the 1970s. They were always known for close calls, but in the end not having enough to be complete the championship journey.
That all changed in 1976. The Raiders had plenty. They were, by far, the class of the NFL and they have the hardware to prove it.
Led by a stunning group of players, this team had depth on offense and defense. Stabler was the engineer, as he seemingly rolled out of bed and led the Raiders to one last-minute win after another. He had great receivers in Biletnikoff, Branch and Casper. The offensive line was anchored by future Pro Football Hall of Famers Shell and Upshaw.
Defensively, the Raiders were nasty with first-year Raider Matuszak and Sistrunk up front, Hendricks in the middle and Brown and Tatum anchoring the unit.
It was enough for Oakland to nearly go unbeaten. After New England thrashed the Raiders in Week 4, Oakland didn't lose another game. Oakland went 13-1 in the regular season (despite having a five-game trip spanning Weeks 2-6) and then won home playoff games against New England and Pittsburgh before toying with Minnesota in Super Bowl in XI.
It was a culmination of a great run in Oakland. In the end, this team will be remembered as one of the NFL's great all-time teams.
Most impressive win:
A 32-14 victory over Minnesota in Super Bowl XI. The Raiders showed their dominance on offense and defense by completely suffocating the Vikings. It was a fitting day to end a near-perfect season. No one in Oakland will forget the sight of a jubilant Madden being carried off the Rose Bowl field by his victorious Raiders. Davis surely never will.
Crazy start:
The Raiders had some memorable battles with Pittsburgh. This special season started with a classic battle between the two 1970s powerhouses in Oakland.
The Steelers led 28-14 with five minutes to go. However, Oakland made a furious comeback to tie the score. Oakland then got the ball back and won it with a short field goal with 18 seconds remaining, sending the home crowd into a wild celebration.
Nothing like beating the hated Steelers on opening day. It set the tone for Oakland's best season of all time
.
Honorable mention:
1967:
The Daryle Lamonica-led Raiders were 13-1 in the regular season before being worn down by Green Bay in Super Bowl II.
1980:
The Raiders became the first wild-card team to win a Super Bowl. The 11-5 Raiders were led by coach Tom Flores and spunky, resurgent quarterback Jim Plunkett.
1983:
The Raiders' third Super Bowl champion was a dominant unit. Led by a great defense and young running back Marcus Allen (1,014 yards rushing, 11 TDs), this was a special team.
June, 4, 2010
6/04/10
12:00
PM ET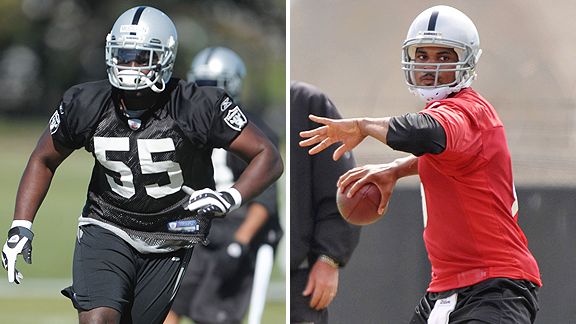 US PresswireRolando McClain and Jason Campbell are two offseason acquisitions that give the Raiders optimism heading into the 2010 season.
The
Oakland Raiders
have continued their annual attempt to emerge from the doldrums.
Is this finally the year that it will work?
The following is a look at some possible solutions and continued issues for Oakland as it enters the season with the odor of an NFL-record seven straight years with at least 11 losses. Oakland is a stunning 29-83 during that time.
Reasons for hope
Quarterback play:
Oakland surely will be better at the most important position on the field. The Raiders, who considered several quarterback options throughout the offseason, added
Jason Campbell
in a trade with Washington on draft weekend.
The Raiders then cut
JaMarcus Russell
. The No. 1 overall draft pick in 2007 will go down as one of the greatest busts in NFL history.
Russell was 7-18 as the Raiders' starter and regressed in 2009. The Raiders were rarely competitive with him on the field and were much spunkier with journeyman
Bruce Gradkowski
at the helm.
Campbell is far from a great player. He quarterbacked a 4-12 team last year and was cast aside this offseason by new Redskins coach and noted quarterback guru Mike Shanahan. But in Oakland, the hard-working Campbell should be an upgrade. He has a good arm and he fits Oakland's vertical scheme. He is also a solid game manager. Campbell may not win games by himself, but he won't lose many either.
With a decent running game, an excellent tight end in
Zach Miller
and promising young receivers
Chaz Schilens
,
Louis Murphy
and
Darrius Heyward-Bey
, Campbell should have a positive impact on the offense.
"Campbell is not fancy, but he'll make Oakland better," said Matt Williamson of Scouts Inc. "The Raiders will be competent at the position and you couldn't say that in the past."
A young stud at linebacker:
The Raiders were pretty quiet in the offseason until the draft. Other than Campbell, Oakland's only major acquisition of 2010 who could make an immediate impact was middle linebacker
Rolando McClain
. The Raiders took McClain with the No. 8 overall pick.
The Raiders have earned a reputation for whiffing in the first round in recent years. I don't think this will be an issue with McClain. Expect him to be an instant impact player. He was a key to Alabama's national championship team and was known as one of the most instinctive and brightest players in college football. He called defensive audibles himself, a rarity in the college game.
The Raiders' run defense needs plenty of help, and McClain should be a huge addition. He will be a big upgrade over
Kirk Morrison
, who was traded to Jacksonville two days after McClain was drafted.
August, 14, 2009
8/14/09
11:35
AM ET
Posted by ESPN.com's Bill Williamson
Let's break down the Raiders' 31-10 preseason opening win over visiting Dallas.
The first thing we are going to do is disregard the outcome. While teams always want to win, winning and losing in the preseason doesn't mean a thing. If you don't agree, please refer to the one-season second tenure of Art Shell as the Raiders' coach in 2006. Oakland went 4-1 in the preseason and went 2-14 in the regular season.
What is worthwhile in the preseason is the performance of key players and key units. Let's take a look at what worked and what didn't work for the Raiders on Thursday night.
The Good
Chaz Schilens: The second-year receiver (a seventh-round pick in 2008) caught five passes for 52 yards. Schilens has the look of a player who could be a No. 1 receiver very soon. Schilens has had a great camp and he opened more eyes Thursday night.
Darren McFadden: This is the Raiders' best offensive weapon. He ran for 63 yards on four carries, including a 45-yard gain. Oakland needs to revolve the offense around this special player.
Reserve quarterbacks: Bruce Gradkowski and Charlie Frye combined to complete 16 of 28 passes for 241 yards and two touchdowns. No. 2 quarterback Jeff Garcia didn't play because of injury. Gradkowski and Frye are fighting to be the No. 3. This seems like it will be a good battle.
The Bad
Penalties: The Raiders have been one of the least disciplined teams in the NFL over the past several years. It continued against the Cowboys. Oakland committed 14 penalties for 107 yards. The theme of this camp was learning and the Raiders showed they need to work on the fundamentals more.
Stanford Routt: Routt has been competing for the right cornerback job with Chris Johnson. His campaign just took a big hit. Routt was beaten badly by the Cowboys.
Asomugha hurt: Superstar left cornerback Nnamdi Asomugha left the game with a heel injury. It may not be serious, but the last thing the Raiders need to see is their best player leave any game.
Incomplete
JaMarcus Russell: Russell was OK. He completed 6-for-9 passes for 50 yards, but nothing really stood out.
Darrius Heyward Bey: He top pick had one catch for eight yards.
The first-team defense: It was an uneven effort. The Cowboys gained their yardage in a limited role. But it the Oakland defense wasn't destroyed.
February, 19, 2009
2/19/09
8:05
PM ET
Posted by ESPN.com's Bill Williamson
The agent for wide receiver Jerry Porter says the Raiders are "definitely one of the teams Jerry is interested in signing with."
"Jerry really respects the organization and the tradition of the Raiders," his agent Joel Segal said Thursday evening.
Segal said the process of Porter returning to Oakland is in the preliminary stages. Segal described the timetable of Porter potentially returning to Oakland as "down the road."

Porter signed a six-year, $30 million deal last year with Jacksonville, but after an unproductive season, the Jaguars cut him last week. He had just 11 catches last season.
Porter's departure from Oakland was fairly ugly. He was in former coach Art Shell's doghouse. But Porter has a good relationship with Raiders owner Al Davis and the Raiders have a need for veteran receivers.
Oakland mostly needs a true No. 1 receiver and in this point in his career, Porter may be more of a rotation receiver. But he would give Oakland some depth that it doesn't have if he ends up returning to the team.
February, 3, 2009
2/03/09
9:04
PM ET
Posted by ESPN.com's Bill Williamson
Welcome to the AFC West where the Raiders are on the eve of announcing the hiring of Tom Cable as coach and the Chiefs have made a move on Todd Haley. Maybe we'll have a full complement of head coaches in the division after all.
There is no word if Oakland owner Al Davis will attend Cable's news conference. There have been reports that Davis could explain that he took his time announcing the hiring of Cable because he wanted to concentrate on the assistant coaching staff because he wasn't happy with the staffs of Art Shell and Lane Kiffin, the past two Oakland head coaches.
If Davis does complain about those staffs, it should be noted that Shell directly hired just three members of his staff with the other hiring being a group effort. Cable, Davis' new man, was on Kiffin's staff.
Many around the league expect the team to hire former San Francisco assistant Ted Tollner and former Seattle defensive coordinator John Marshall as offensive and defensive coordinator, respectively. Both are respected veterans, yet both are coming off situations in which they were not retained by their clubs.
With Cable getting the Oakland job, Jim Fassel is reportedly going to coach in a new league. Fassel only campaigned to be Oakland's coach.
In other AFC West news, Tyler Thigpen is making his push to be the Chiefs' quarterback. Yet, with the team still without a head coach, Thigpen's words are moot at this point. The Chiefs are weeks, if not a couple of months, away from making their decision on who'll be their new quarterback.
January, 18, 2009
1/18/09
7:02
PM ET
Posted by ESPN.com's Bill Williamson
Two of the reasons why the Arizona Cardinals are headed to the Super Bowl are coach Ken Whisenhunt and wide receiver Larry Fitzgerald.
Whisenhunt, in his second season as the Cardinals' coach, has ended the culture of losing in Arizona and he has overseen the implementation of a dynamic offense. Fitzgerald has become perhaps the game's best receiver as the Cardinals have ascended to the top of the NFC.
Both Whisenhunt and Fitzgerald could have been Oakland Raiders.
Whisenhunt was pursued by Raiders owner Al Davis after the Steelers won the Super Bowl three years ago. However, Whisenhunt resisted overtures and stayed in Pittsburgh for one more season before taking the job in Arizona.
In 2004, Oakland had the No. 2 overall pick. It had a need at receiver. The Raiders, though, took tackle Robert Gallery. He is now a guard in Oakland after flaming out at the more pivotal left tackle possession. Gallery is serviceable and he had a solid 2008 season. But he's not a Pro Bowl level player.
Meanwhile, Oakland still has a need at receiver as Fitzgerald prepares to lead his team to the Super Bowl.
Oakland, of course, is still looking for a head coach. Since pursuing Whisenhunt, Oakland has had three head coaches, Art Shell, Lane Kiffin and Tom Cable.
Cable is a candidate for the current job along with Green Bay assistant Winston Moss and Kevin Gilbride.
Ironically, the Cardinals could be connected to Oakland again. There are strong indications the Raiders could consider interviewing offensive coordinator Todd Haley. He fits the mold Davis craves. He's young, innovative and offensive-minded. Perhaps landing Haley could take away from the sting of the two Cardinals that got away.
November, 14, 2008
11/14/08
4:00
PM ET
Posted by ESPN.com's Bill Williamson

Denver Broncos (5-4) at Atlanta Falcons (6-3), 1 p.m. ET

It was late last season and the Denver Broncos brought in kicker Matt Prater for the stretch run. Yes, a kicker.
Jason Elam was there, as he had been since 1993. Asked why Prater was brought in, the Broncos' brass bristled. No, it had nothing to do with Elam, who would be a free agent after the season, management said. Prater had a strong leg and the team was just looking at him as an option for kickoffs. Still, Elam was confused. The move made him wonder if his Denver days were about to end.
Elam, a career-long Bronco, said he could never imagine himself in another uniform. He is the most "clutch" kicker in team history. He had been a member of the Broncos' two Super Bowl-winning teams. He decided four of Denver's seven victories in 2007 with last-second kicks. He's even married to a former Broncos cheerleader.
Then in March, Denver didn't pay him what he asked for and he signed with his home-state Atlanta Falcons. The Broncos, who now employ Prater as their field-goal kicker, will visit Elam and the Falcons on Sunday.
While Elam's departure seemed unfathomable last season, it has worked out for both parties. Prater has a huge leg and has been excellent on field goals and on kickoffs. Elam has been his reliable self for the surprising Falcons.
Could Sunday's game come down to a game-winning field-goal attempt by either Elam or Prater? That would be some good theater.
New Orleans Saints (4-5) at Kansas City Chiefs (1-8), 1 p.m. ET
It may have been lost in the Chiefs' three devastating losses in a row, but Tony Gonzalez is playing at an All-Pro clip.
The future Hall of Famer is playing like a 27-year-old. It seems Gonzalez's nontrade at the deadline has inspired him. He deserves a lot of credit. He wanted to be dealt to a contender last month. When potential deals fell apart, Gonzalez admitted he wasn't happy, but he promised he would give the team his all for the rest of the season.
Gonzalez wasn't kidding. Since the trade deadline, Gonzalez has made 29 of his 50 catches. He's playing with a purpose and Chiefs fans have another reason to salute him.
Oakland Raiders (2-7) at Miami Dolphins (5-4), 1 p.m. ET
Tony Sparano should prove to the Oakland Raiders what a difference a new coach can make, even in just one season.
The Raiders will, in all likelihood, try to get it right again after the season, hiring a new coach for the fifth time in seven years. From Bill Callahan to Tom Cable, the Raiders have struggled mightily.
As the Raiders travel to Miami to face the resurgent Dolphins, who were 1-15 last season, they can look at Sparano and see hope for next year and another new Oakland head coach.
San Diego Chargers (4-5) at Pittsburgh Steelers (6-3), 4:15 p.m. ET
Like Gonzalez in Kansas City, the Chargers' tight end is getting his groove back.
Antonio Gates is coming off his two best games of 2008. Gates has 14 catches for 162 yards and two touchdown catches in the past two games. He has 38 catches this season.
Gates appears to be nearly 100 percent healthy after struggling to return from surgery on his left big toe. Gates didn't play in the preseason, and he said the toe injury hampered his play earlier in the year. At one point early on, Gates admitted that he didn't think he'd be able to help the Chargers this season.
But in the past two games, Gates has been playing at a high level. If the Chargers win the AFC West title, their All-Pro tight end probably will be a major reason why.
October, 10, 2008
10/10/08
4:00
PM ET
Posted by ESPN.com's Bill Williamson
Oakland Raiders (1-3) at New Orleans Saints (2-3), 1 p.m. ET



The Tom Cable era begins in the Big Easy.
But is anything ever easy for a Raiders head coach?
Cable is Oakland's' fifth head coach since 2003. The past three Oakland coaches -- Norv Turner, Art Shell (in his second stint as head coach) and Lane Kiffin -- all lost their debuts. Cable is certainly used to losing. He was 11-35 at his alma mater, Idaho, in his previous head coaching post.
Still, Cable had the reputation in the NFL as one of the best offensive line coaches. He is a tough coach who now is in charge of a 1-3 team that is trying to rebound from a turbulent first month of the season.
The Big Easy? I think not.
Jacksonville Jaguars (2-3) at Denver Broncos (4-1), 4:05 p.m. ET



Think the NFL isn't a week-to-week proposition?
All eyes are on the Denver offense this week. Yes, the Denver defense is off the hook after leading the team to a 16-13 win over Tampa Bay last week as Denver improved to 4-1 and increased its surprising lead in the AFC West to two games. The Denver defense allowed 113 points in the three previous games.
With the Denver defense stepping it up, it's all about the Denver offense. After scoring a cumulative 114 points in its first three games, Denver has scored 35 points combined in the past two games.
The Broncos had just one play for more than 20 yards against Tampa Bay. With receiver Eddie Royal and tight end Tony Scheffler likely out this week because of injury, the Broncos will be challenged even more to display the firepower they displayed in first three weeks of the season.
Yes, in the NFL, it's all week-to-week.
New England Patriots (3-1) at San Diego Chargers (2-3), 8:15 p.m. ET



Lost in the Chargers' sea of high-profile injuries and yet another slow start is no small issue: The Chargers' offensive line, one of the best in the NFL, has yet to become a cohesive unit. It, too, has been banged up. And it has shown.
San Diego quarterback Philip Rivers, who is nursing sore ribs, has been knocked around the past couple of weeks. Both Oakland and Miami put constant pressure on Rivers.
It's out of character in San Diego, but it's to be expected. Pro Bowl center Nick Hardwick is just getting back into the swing of things after having offseason foot surgery. Pro Bowl left tackle Marcus McNeill missed two games with a neck stinger and guard Mike Goff missed much of practice last week.
The unit rarely has practiced together. Add the fact that right tackle Jeromey Clary is a new starter and it is no mystery why Rivers isn't having much time.
There have been plenty of trouble spots in San Diego, but the offensive line hasn't had time to work together as it heads into Sunday's game against New England. The Patriots have one of the most active pass rushes in the league.
September, 30, 2008
9/30/08
2:37
PM ET
Posted by ESPN.com's Bill Williamson
At this point, being fired is probably best for Lane Kiffin. Kiffin's phone call from Raiders owner Al Davis today ended his 17 days on the hot seat. He was twisting in the wind for nearly three weeks and the entire Raiders organization was consumed by whether Davis would actually pull the trigger. Now that he has, it's best for Kiffin and the Raiders. Everyone can move on.
| | |
| --- | --- |
| | |
| | Paul Jasienski/Getty Images |
| | Lane Kiffin posted a 5-15 record with the Raiders. |
Kiffin, who had plenty of fan support in Oakland, leaves town knowing that his team played hard for him during this turbulent time and that he worked hard to the end. Remember, this is Oakland. Being fired by Davis is not exactly a novelty. Kiffin's career is not ruined by this. At 33, he is a bright, young coaching prospect with head-coaching experience.
Sure, it didn't work out in Oakland. Kiffin's record there was 5-15. But a losing record in Oakland this decade is nothing new either. Since losing the Super Bowl in the 2002 season, the Raiders are 20-64. The three other coaches -- Bill Callahan, Norv Turner and Art Shell -- were a combined 15-49.
Had the Kiffin-Davis relationship been able to work, there was a chance that Oakland could have had success with Kiffin. He has done a pretty nice job this year with the Raiders' young talent on offense. The players seemed to respond well to Kiffin and the team made progress even though the Raiders blew the last two games in the fourth quarter, at Buffalo and at home against San Diego.
There were signs that Kiffin was making progress in Oakland, but that didn't matter. Davis didn't like the way Kiffin handled himself and it was clear that his firing was only a matter of time. There is a school of thought that Kiffin's brutally honest approach to his job and his ability to stand up to Davis could hurt him in the future with other NFL owners or potential college jobs. No one wants a rabble-rouser.
But I believe prospective employers will realize that Kiffin was in a tough situation and won't worry about his combative tenure in Oakland.
Kiffin will no doubt emerge as a candidate for college jobs -- his name has been linked to a potential opening at Syracuse -- or offensive coordinator jobs in the NFL next year.
Because of Davis's decision to not pay him the remainder of his contract, Kiffin technically could join another staff this season. Whether that happens remains to be seen. But the end result is Kiffin is no longer in Oakland. And that's probably a good thing for him.
August, 21, 2008
8/21/08
3:07
PM ET
Posted by ESPN.com's Bill Williamson
| | |
| --- | --- |
| | |
| | Al Messerschmidt/Wireimage.com |
| | The Raiders won two Super Bowls while Gene Upshaw was anchoring the offensive line. |
Before he wore a suit every day and became a champion for NFL players' rights, Gene Upshaw played the game himself.
Upshaw liked to remind folks about that once in a while in recent years, when former players took shots at him during the firestorm over former players' rights.
How could we forget?
The sight of No. 63 in the silver and black uniform, standing next to No. 78, Art Shell ...
Gene Upshaw was Oakland Raiders football of the 1970s. He and Shell were the face of the tough, gritty Raiders and major figures in the team's rivalry with the Kansas City Chiefs and Denver Broncos in the old, wild AFC West days.
Indeed, long before he was the executive director of the NFLPA, Gene Upshaw was a Raider. Eugene Thurman Upshaw Jr., who died suddenly following a bout with pancreatic cancer this morning at the age of 63, was a Pro Football Hall of Famer.
"I hope people remember that," said former Minnesota Vikings defensive end Carl Eller, himself a Hall of Famer. "Gene was the pilot of that great offense."
The Raiders selected Upshaw out of Texas A&I with the 17th overall pick of the first AFL-NFL draft in 1967. The Robstown, Texas, native became an immediate fixture on Oakland's offensive line until he retired in 1981. Six years later, he was inducted into the Pro Football Hall of Fame in Canton, Ohio. Upshaw was an 11-time All-Pro selection. He won two Super Bowls while with Oakland -- Super Bowl XI against Minnesota and Super Bowl XV against Philadelphia.
Because he was an end, Eller was never responsible for lining up directly opposite Upshaw, but they ended up in the same scrum plenty of times. Eller recalls prior to the Vikings' Super Bowl game against the Raiders that Upshaw was a constant mention in Minnesota's defensive game-plan meetings. Beating Upshaw was the key to beating Oakland and winning the elusive Super Bowl ring in Minnesota. The Purple People Eaters couldn't beat Upshaw, and the Vikings couldn't beat the Raiders.
"Gene was a nightmare for us," Eller said. "I remember Jim [Marshall] complaining about him all the time. He was a tough, rugged guy to play against."
The Vikings were lucky. They didn't have to play against Upshaw very often. It was the Raiders' AFC opponents who had to tussle with Upshaw on a regular basis.
In the 1970s, one of the Raiders' greatest rivalries was against the Broncos and their Orange Crush Defense. They were a menacing bunch. They crushed everyone. But Upshaw was a different story. The architect of the Orange Crush defense, Joe Collier, to this day says Upshaw was one of his team's toughest opponents. Collier calls Upshaw one of the greatest guards ever to play in the NFL.
"Gene was a load to play against," Collier said." The Raiders had a great running team back then and Gene and Art Shell were the reason for it. You knew the play was going to that left side. All you had to do was stop it. But rarely could you stop it. In a critical part of the game, they were going right over Gene and Art and they'd always get the first down. We had some knock-out, drag-outs with Gene over the years. He was a great player."
Upshaw and Shell will always be connected. Their coach, John Madden, called them Highway 63 and Highway 78. Shell's representative, Danny More, said that Shell and his family are devastated by the news. More said Shell last talked to Upshaw a couple of weeks ago and the two friends were making plans to get together.
"This is a friendship that has lasted more than 40 years," More said. "Art is crushed. When you think of Gene, you think of Art and vice versa."
More said the true measure of Upshaw's ability as a player was the lasting impression he made on his great opponents. More said legendary former Kansas City Chiefs coach Hank Stram told him that he used to draft defensive linemen simply based on if he thought they could hang with Upshaw and Shell. More also said former Pittsburgh great "Mean" Joe Greene told him that the Steelers knew their greatest challenge getting to the Super Bowl was to get through Upshaw and Shell.
"Joe said no matter how good the Steelers were their great worry was that Oakland offensive line," More said. "Gene was the best. It's simple as that."
AFC WEST SCOREBOARD
Thursday, 12/12
Sunday, 12/15