August, 1, 2012
8/01/12
2:45
PM ET
Dwayne Bowe
's holdout from the
Kansas City Chiefs
is sure to wear on the nerves of the team's general manager, Scott Pioli.
No general manger has much patience for a veteran holdout and I'm sure Pioli is no different. Yet, he does have experience in this situation, as this is not Pioli's first holdout rodeo.
In 2007, when Pioli was an executive with the
New England Patriots
, cornerback
Asante Samuel
held out as the franchise player.
It will be interesting to see if Bowe's situation resolves itself the same way as Samuel's issue in New England did. Samuel reported to the Patriots on Aug. 27, 2007, after missing training camp and three preseason games. Bowe -- who missed the entire offseason -- has been out since Chiefs camp started Friday.
Interestingly, Samuel received some concessions from the Patriots as he ended his holdout and signed his franchise tender in 2007. The reported agreement was if Samuel played 60 percent of the defensive snaps or if the Patriots won 12 games in 2007, New England would not put the franchise tag on him. The requirements were met and Samuel went on to sign a monster deal with Philadelphia in 2008 as an unrestricted free agent.
I'm sure Bowe would be interested in a similar agreement, but there are no guarantees the Chiefs would do something similar. If so, I'd think the requirements would be more difficult to attain in Bowe's particular situation. There was little chance a healthy Samuel would play less than 60 percent of the snaps and the loaded Patriots went 16-0 that season, so the odds were Samuel would not be franchised.
The Chiefs may want to give themselves more protection.
Plus, Samuel was a different player than Bowe. Cornerbacks are valued more than receivers, Samuel was part of two Super Bowl winning teams and he was always a good team player. Who knows how Pioli will react, but the Samuel situation gave him valuable experience in dealing with a veteran holdout.
May, 10, 2012
5/10/12
5:45
PM ET
The
Denver Broncos
have won their first AFC West battle of 2012.

ESPN's Adam Schefter reports
Denver has signed cornerback
Drayton Florence
to a two-year deal. Florence, who has started 45 games in the past three seasons, was cut by Buffalo last week.
Florence was highly coveted after being released by the Bills. He visited Tennessee on Wednesday. San Diego, where he spent his first five NFL seasons, was also trying to sign Florence. Schefter reports Denver will pay Florence fairly well.
San Diego wanted Florence, 31, as a nickel cornerback, and that is likely the role he will have in Denver. He adds depth to a talented cornerback crew that includes starters
Champ Bailey
and
Tracy Porter
.
I could see some situations where Bailey plays nickel in some instances. He played some nickel last season. The Broncos also have
Chris Harris
, an undrafted player in 2011 who played well, and 2012 fourth-round pick
Omar Bolden
. He missed last season with a torn ACL, but the Arizona State product was considered a second-round talent before his injury.
Thus, Denver has a deep and talented cornerback group, and the Florence addition strengthens it. Last month, Denver tried to trade for
Asante Samuel
, but it couldn't come to an accord with Samuel.
May, 4, 2012
5/04/12
6:50
PM ET
Buffalo released cornerback
Drayton Florence
. He started 45 games in the past three seasons. It could be worth Oakland's while to explore acquiring him. His experience would help at the Raiders' biggest worry position.
Denver looked into trading for
Asante Samuel
, so perhaps it will be interested in Florence. Detroit could also be among the teams interested in Florence.
Can the NFL learn from the Junior Seau tragedy? U-T San Diego
explores what can be done.
April, 25, 2012
4/25/12
6:05
PM ET
It became evident in the past couple of days the Denver Broncos were not going to be able to work out a deal for cornerback Asante Samuel.
Thus, it was no surprise that the Eagles sent Samuel to the Falcons for a reported seventh-round pick on Wednesday.
The deal was finalized after Samuel agreed to a new deal with the Falcons.
Denver and Samuel tried to strike a deal last week but were unable to.
It's not the end of the world for Denver not to get Samuel. He would have been a nice addition and he would have given Denver flexibility moving forward. However, if the Broncos thought Samuel didn't fit in financially, there was no reason to go out of budget for a player who would have been a luxury addition.
In other AFC West news:
Several readers have asked me if safety Nick Collins could be an option in Oakland to reunite with Reggie McKenzie.
Collins was released by the Packers on Wednesday.
I think McKenzie, who came to Oakland from Green Bay, would be interested But Collins has a serious neck injury and it is unknown if he will be able to play again. If he is cleared, I think Oakland and several teams would show interest.
Former Denver linebacker Nate Webster is
likely facing a prison sentence
after being convicted of unlawful sexual conduct.
April, 24, 2012
4/24/12
2:20
PM ET
A lot has been made of Archie Manning saying he thinks Peyton Manning is taking his career "
year to year
."
In my opinion, way too much has been made by it. I think it would be wrong to translate Archie Manning's words as saying his son is going to retire at the end of the 2012 season. Basically, Archie Manning was saying there are no guarantees and you have to take it one season at a time. That's fair.
The Broncos expect Manning, 36, to be their quarterback for at least three more seasons, and they'd love for him to play for the life of his five-year contract. And let's be real: Manning is not working so hard to come back from a neck injury to play just one more season. He wants to stick around a while.
In other AFC West news:
April, 23, 2012
4/23/12
10:55
PM ET
The San Diego Union-Tribune reported Monday
that the Chargers are trying to trade up to take Alabama safety
Mark Barron
.
For what it's worth, I heard the rumblings a couple of times, too. Barron looks likely to go in the 12-to-16 range in the first round, meaning that there isn't much of a chance he will be around when the Chargers draft at No. 18. A trade up could cost a third-round pick and the No. 18 pick or a similar package.
If Barron is the apple of Chargers general manager A.J. Smith's eye, a trade is likely necessary. We all know Smith is not scared to move up. He's done it before and I can see him doing it again.
In other AFC West news:
NFL.com reported
that the Broncos could still trade for Eagles cornerback
Asante Samuel
. The Broncos reportedly tried to get Samuels last week, but talks with Samuel about a new deal stalled; perhaps they will reignite. The price for Samuels is expected to be a late-round pick.
The NFL boosted the number of roster spots for the beginning of training camp from 80 to 90. That means each team will probably sign more undrafted free agents. The in-season 53-man roster remains.
Jacksonville cut safety
Darcel McBath
. He was cut by Denver last year being a second-round pick in 2009. Josh McDaniels' first draft in Denver was a disaster.
Will the Chiefs draft a receiver
with
Dwayne Bowe
's future unsettled?
The Chargers began
their offseason program Monday
.
The Raiders
had a solid turnout at a voluntary minicamp
. These are considered voluntary, but teams highly encourage players to attend, so attendance is usually pretty strong.
April, 21, 2012
4/21/12
1:20
PM ET
Alfonzo Dennard
created a potential dilemma for NFL teams, including some from the AFC West.
The Nebraska cornerback
was arrested Saturday morning in Lincoln for allegedly assaulting a police officer.
He is reportedly still in jail. Dennard, who already had some character concerns, could have gone in the top 40-50 picks. However, his arrest will likely cause him to tumble in the draft.
Teams are going to have to weigh the possibility of taking a talented player at a premium position against the reality of his arrest and the public perception surrounding it.
Denver, Oakland and San Diego are teams that could take a cornerback in the early rounds. If a talent such as Dennard was available late in the third or fourth round, it would be tempting for any team to take him.
There is no doubt, the middle rounds have just become more interesting.
In other AFC West news:
The Eagles are reportedly willing to take what they can get for cornerback Asante Samuel. Denver reportedly tried to get Samuel, but couldn't come to terms with him. Coming to an accord with Samuel is the key for the deal going through with any team.
Oakland linebacker Rolando McClain has settled a lawsuit stemming from a 2008 incident. He is facing a May trial on an assault involving a gun allegation stemming from an incident last fall.
Denver defensive tackle Ben Garland's Air Force commitment has been fulfilled and he has re-joined the team. The high-motor player has a chance to make the roster, but his presence on the roster doesn't decrease Denver's need at the position.
April, 20, 2012
4/20/12
2:05
PM ET
The
Denver Broncos
reportedly are one of the teams that have had trade talks with the Eagles about cornerback
Asante Samuel
.
Samuel
The Denver Post reports
that Denver has inquired about Samuel, but a deal is not likely at this point. The Broncos were talking to the Eagles about sending a fifth- or-sixth round pick for Samuel and they also discussed swapping a player for him.
Samuel has a hefty contract and that appears to be a potential stumbling block for any team that would want to deal for him, more so than the price tag it would cost to get him. Samuel doesn't strike me as the type of player who will play for peanuts. That's not a knock. He's still a good player and he wants to be compensated for it.
In other AFC West news:
NFL.com reports
Raiders exclusive free-agent
Marcel Reece
is one of the players in the league who has not signed their tender and is not participating in the team's offseason program. Same goes for
Dwayne Bowe
in Kansas City. He has not signed his franchise tag.
I would not get too hopped up over these developments. Sitting out the offseason program is normal protocol for players who have not signed their tenders. I'm sure Reece would like a new contract and perhaps one will be negotiated down the road. But if not, Reece (and Bowe) will play in 2012. What choice do they have?
In a formality
, the Broncos are going to rely heavily on the no-huddle offense
Peyton Manning
prefers. This was a no-brainer. Denver is going to make Manning as comfortable as possible in the offense.
ESPN Stats & Information
has a by the numbers look at the draft needs for each AFC West team. Here is a hint: Defense, defense, defense.
Here is a draft name to keep an eye on in Oakland: Arizona cornerback
Trevin Wade
. He has not visited the Raiders, but he could be a target in the middle rounds.
The Raiders signed receiver
Duke Calhoun
. He participated in the Raiders' voluntary veteran mini-camp earlier this week on a tryout basis. He had one catch in nine games with the Giants in 2010. He has an uphill battle to make the roster.
In an Insider piece,
Bill Polian thinks the Chiefs have had the best drafts in the AFC West in the past three years.
April, 18, 2012
4/18/12
4:00
PM ET
When a high-profile player becomes available, I get flooded with questions if he is a good fit for the AFC West.
Samuel
Philadelphia cornerback
Asante Samuel
is no different.
ESPN's Adam Schefter reports
the Eagles have talked to several teams about trading for Samuel and he could be sent packing by next week's draft.
I don't see any easy fits in the AFC West for Samuel, but let's take a closer look:
Denver:
The Broncos have an aging
Champ Bailey
and have
Tracy Porter
signed for one year. I think they may be looking for a cornerback, but perhaps in the draft rather than via a trade for a veteran.
Kansas City:
The Chiefs are set at cornerback with
Brandon Flowers
and
Stanford Routt
. I see no room for Samuel, even though he has history with Romeo Crennel and Scott Pioli in New England.
Oakland:
The Raiders could use Samuel more than any team in the division, but I don't think they have the trade means to get him. But if the price is right, perhaps Oakland could get in play.
San Diego:
They could be the favorite in the division to land Samuel, but I don't know if they would be in the race. Samuel would give San Diego some flexibility in the backfield, but I'm not sure the team would think pursuing Samuel would be worthwhile.
April, 19, 2011
4/19/11
1:00
PM ET
I am not surprised the player I voted No. 1 in our cornerback Power Rankings did not finish on top. Actually, I'm surprised I had company in voting
Oakland Raiders
free-agent
Nnamdi Asomugha
No. 1 on the list and that he was actually within man-to-man coverage distance of winner
Darrelle Revis
of the
New York Jets
.
Nationally, in my opinion, Asomugha doesn't get nearly the attention and credit that Revis does. Yet, Asomugha received some love in our rankings.
[+] Enlarge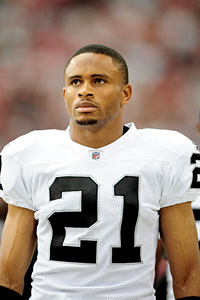 Mark J. Rebilas/US PresswireNnamdi Asomugha is one the league's best cornerbacks.
John Clayton and Paul Kuharsky also voted Asomugha ahead of Revis. It was not enough to elevate Asomugha to the top of the cornerback food chain. Revis finished with 77 voting points and Asomugha finished with 75 points. Former Raider and current
Green Bay Packers
star
Charles Woodson
finished a distant third with 58 points.
Revis and Asomugha had a monopoly on all the first and second-place votes. That's the way it should be. They are the two best corners in the game and they'd be our two starting cornerbacks in any dream game.
However, I gave Asomugha the edge because I think he has a longer résumé and he has had a bigger impact on the game. Asomugha has been in the league since 2003 and Revis has been in the league since 2007. Both men are in their prime.
I've seen passes completed against Revis in a limited view of his work. I've watched Asomugha play live for years. I can count on one hand the balls that have been completed against him. I'm sure plenty of teams will agree on Asomugha's worth when he will be showered with lucrative free-agents offers once the lockout ends.
The AFC West influence didn't end with Asomugha.
Denver Broncos
cornerback
Champ Bailey
finished fifth with 53 points. He was one vote behind the
Philadelphia Eagles
cornerback
Asante Samuel
. I had Bailey ranked fourth. He may be 32, but he is still playing at a high level. That's why Denver just gave him a lucrative new deal to keep him off of the free-agent market.
In a bit of a surprise, Oakland's
Stanford Routt
finished two points out of the top 10. I did not vote for Routt. I actually voted San Diego's
Quentin Jammer
10th. I think Jammer is an underrated player, so I'm not surprised I was alone in recognizing him. Routt received two votes, including a sixth-place vote by Clayton.
I like Routt and I'm interested to see what he does, in 2011 after signing a fat, new contract. Especially if Asomugha leaves and Routt is the No. 1 cornerback in Oakland. I think Routt was awarded in this ranking for his
strong "burn rate" numbers.
I'll be prepared to put Routt in the top 10 next year if he performs well in 2011.
Kansas City Chiefs
cornerback
Brandon Flowers
received three voting points. Like Routt, I could see myself considering Flowers next year. Former Oakland player
DeAngelo Hall
finished ninth and former Charger
Antonio Cromartie
received five points. I didn't consider either because I think they are both overrated. Neither Oakland nor San Diego misses those two players.
Overall, this exercise shows that is a strong time for cornerback play in the AFC West.