August, 7, 2014
Aug 7
9:30
AM ET
ENGLEWOOD, Colo. -- The
Denver Broncos
opened training camp with a team that was good enough to have played in the Super Bowl six months before and as one of the league's most active teams in free agency, a rare combination as they try to repair the damage from February's 35-point loss to the
Seattle Seahawks
.
The Broncos wanted a little more nastiness on defense, more athleticism across the board and to keep their edge after back-to-back 13-3 seasons that have ended in postseason disappointment.
They wanted what John Elway calls "the right mentality."
So far in this training camp they have shown they should certainly be in the Super Bowl discussion if they simply keep the train on the tracks in the months to come.
"We will get what we work for," coach John Fox said.
Without many starting jobs open, or even roster spots for that matter, the camp has been about getting the new faces acclimated and smoothing any rough edges before things get going for real.
"I think we all understand what they've got going here and why they brought some of us in," said safety T.J. Ward, a free-agent signee. "We all know it's time to get to work and get ready."
THREE REASONS FOR OPTIMISM

1.
It's clear already the offense is going to score plenty -- again. Peyton Manning, who needs just 18 touchdown passes to set the league career record, has looked as sharp as ever and may actually have more options to throw to than he did in last year's record-setting 606-point performance.
Orlando Franklin
's move inside to guard means the Broncos should pass protect better in the middle of the formation, and wide receiver
Emmanuel Sanders
should have a career year in this offense, especially given his versatility to play all over the formation. The Broncos also didn't sit on the laurels of last season's record-setting effort as Manning and offensive coordinator Adam Gase were each aggressive and honest, with plenty of attention to detail when looking at what could be better.
[+] Enlarge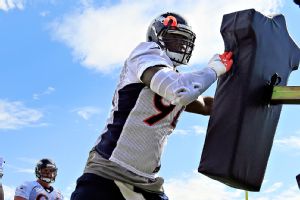 AP Photo/Jack DempseyDeMarcus Ware has made his presence felt since signing with the Broncos.
2.
In cornerback
Aqib Talib
, defensive end
DeMarcus Ware
and Ward, the Broncos got exactly what they wanted in free agency. Ware has commanded respect with his no-nonsense, quiet work ethic and leadership from his first day in the building. Talib is the physical corner who can match up anywhere in the formation the Broncos need him, and Ward is a guy defensive coordinator Jack Del Rio will move all over the field. The Talib-
Demaryius Thomas
battles have created some of the highlights of practice. Ware has mentored, in some way, virtually all of the pass-rushers, especially linebacker
Von Miller
.
3.
Continuity helps. The team's playcallers on offense and defense -- Gase and Del Rio -- are back. Last season, as Gase raced to put in some changes to the offense when Mike McCoy moved on to become the Chargers' coach, the Broncos were working through the new stuff. This year, Gase has tweaked the offense in spots, but there looks to be a greater comfort level across the board. The groups have played fairly cleanly in practice, with only a smattering of penalties and a minimum of repeats as they have worked through things.
THREE REASONS FOR PESSIMISM
1.
Until they square up in a game that counts, there is at least some question if a slightly revamped offensive line is going to make it happen in the run game. The Broncos don't want to be some outdated, 50-50 run-pass affair, but they do want to be able to pound the ball to close out games and keep the heat off Manning when needed. Thus far, in limited full-contact work, it's been a spotty effort with flashes of potential. It will be a key piece in keeping opposing defenses honest and giving the Broncos some other options in the scoring zone.
2.
Somebody, anybody, has to step up in the return game. As camp has rolled on, the Broncos have simply mishandled too many kickoffs and punts. They would prefer to not have to use starters if they don't have to, and wide receiver
Andre Caldwell
and defensive back
Omar Bolden
have been the most consistent in kickoff returns so far. At punt return, however, things are still open with
Wes Welker
, who suffered two concussions last season, currently listed at the top of the team's depth chart. Because of the concussion risk, Welker is not the player the Broncos want catching punts beyond any deep-in-their-own-territory fair catches. So it is a chance for a young player such as wide receiver
Jordan Norwood
or rookie
Isaiah Burse
.
3.
The blue ball is in play -- a football with a blue covering -- to emphasize ball security after the team led the league in lost fumbles last season. The Broncos also dropped their fair share of passes in 2013, including a seven-drop game against the
New England Patriots
and a six-drop game against the
Tennessee Titans
. It has been a front-burner issue all through camp, but they have still put the ball on the ground on occasion in workouts, especially on special teams. It will bear watching as they move through the preseason and into the regular season.
OBSERVATION DECK
With the additions of Sanders and rookie Cody Latimer to an offense that already includes Demaryius Thomas, Welker and Julius Thomas, the Broncos feature an array of pass-catchers who can all play, with equal comfort, on the outside or in the slot. It gives them plenty of size to create some matchup problems against more aggressive defenses. Even the most aggressive defensive backs are going to have a difficult time manhandling them all as the Broncos have spent plenty of time considering how to consistently get their pass-catchers the free release they need off the line.

Manning, and his receivers have said as much, has shown a little more pop in his arm through offseason workouts and camp and has pushed the ball down the field with ease.

Of the team's draft class, cornerback Bradley Roby is, at minimum, going to play in the nickel and dime, Latimer will be in the rotation on offense, and Lamin Barrow figures to get special-teams work and could work his way into some of the specialty packages on defense.

In recent seasons, the Broncos have consistently had a late free-agent signing, a veteran who signs a one-year deal, come in and contribute in a big way. This year it looks like that guy is going to be defensive tackle Marvin Austin. He had back surgery in the past year, and the former second-round pick by the Giants has caught the Broncos' eye.

It's early with plenty of road to be traveled, but the most improved players from a year ago look to be running back Ronnie Hillman and guard Ben Garland, who was switched from defensive tackle in the offseason and is pushing hard for one of the final roster spots allotted for the offensive line. Hillman has shown the big-play potential the offense needs at the position, especially as it looks to improve its impact on runs between the tackles against the bevy of nickel and dime formations used to stop the Broncos' passing game.
July, 26, 2014
Jul 26
9:15
PM ET
ENGLEWOOD, Colo. – A daily review of the hot topics coming out of
Denver Broncos
training camp:
Wide receiver Demaryius Thomas, who is slated to return to practice Monday after spending the first four days of training camp in Georgia after the death of his grandmother, will be eased into drills upon his return. Or as offensive coordinator Adam Gase put it; "He has got a great grasp of our offense. There is no concern with me. Once he gets back, he will just jump right in. We will probably be smart with him, make sure that we don't do anything crazy. He is not going to come out here and just run all go routes -- none of that on the first day. We will work him back in, we will be smart, make sure he gets caught up to speed with his conditioning, but then he will slide right in.''
Another day, another reason the Broncos signed Aqib Talib. The Broncos practiced in full gear for the first time in this camp Saturday morning. As a result, they did plenty of work in the run game, including some one-on-one drills when the team's wide receivers were asked to block the cornerbacks as if it were a running play. Talib was easily the toughest cornerback to block in the group as he repeatedly tossed aside the receiver who had tried to block him. The Broncos believe safety T.J. Ward and Talib will significantly improve the Broncos' ability to pressure the line of scrimmage in run defense behind the team's front seven.
In the usual ebb and flow of training camp, the defense tipped the scales its way much of the time Saturday. That figures to change a bit as the offense continues to dial in over the coming days and weeks. But as the offense went through some of its offerings in the run game, but Broncos' defensive front was stout and aggressive, particularly in the middle of the field. Ward also was easy to find, arriving first on many run plays outside the tackles. "I like what I've seen in the meetings. I like the way he conducts himself,'' defensive coordinator Jack Del Rio said. "He's going to bring some toughness to our defense, and we've got some tough guys on our defense so he'll fit right in with that. A welcomed addition.''
During Elvis Dumervil's time with the Broncos, he routinely credited his work against Broncos left tackle Ryan Clady on a day-to-day basis as a big reason Dumervil became a Pro Bowl player. And while those battles were always of high quality, Saturday gave a quality glimpse into one that could be even better as Clady and DeMarcus Ware went at it both in one-on-ones and when the Broncos' starting offense went against the starting defense. Ware, who said he has dropped some weight this season, was consistently quick off the ball and repeatedly tested Clady's ability to get into his pass sets. The work will certainly benefit both players.
Chris Clark, who is getting the first look at right tackle with the starters, had some tough moments in the one-on-ones as well as on some two-on-twos, when the Broncos offensive linemen were working on their footwork against a variety of stunts. Guard Louis Vasquez spent some time off to the side with Clark, going over hand placement to maximize the first contact on the opposing rusher.
Odds and ends: Ward forced a fumble on wide receiver Emmanuel Sanders in the morning practice … Ben Garland, who has spent two years on the Broncos' practice squad as both an offensive and defensive lineman after completing his service commitment in the U.S. Air Force, has been at the left guard spot with the second-team offense. … Paul Cornick, who was on the Broncos' practice squad last year, has worked as the No. 2 right tackle, behind Clark in the early going … Quote of the day fromlinebacker Danny Trevathan on Ward and Ware: "Those guys are savages.'' ... The Broncos moved their second practice of the day indoors because of lightning in the area. They held a walk-through on an undersized field adjacent to the team's weight room.
May, 1, 2013
5/01/13
8:00
AM ET
Mid-week mail call:
Eric from San Jose wants to know
if I think Oakland linebacker
Miles Burris
has a strong future.
Bill Williamson:
Sure, Burris did a nice job as a rookie last year. A lot of scouts I talk to think he will be an average linebacker, but there's nothing wrong with that. Oakland brought in some veteran linebackers on short-term deals and drafted Sio Moore, but I think Burris will have a role in Oakland for the foreseeable future.
Josh Edwards from Manhattan, Kan., wants to know
if I think the Chiefs can sign
Brian Urlacher
.
BW:
Anything can happen and the Chiefs could use a veteran at inside linebacker, but I just don't see it at this point and time. But, I guess things can always change.
Rich Mahler from New York wants to know
if the Broncos have plans for
Ben Garland
.
BW:
The former Air Force player is a team favorite. They like him so much they are giving him another chance. He is being moved from defensive tackle to offensive tackle. He has been developed on the practice squad. Coaches and players really like him. He has some skills and he works hard. But he will have to show he has a future on offense or his NFL dream may end.
April, 26, 2013
4/26/13
12:50
PM ET
Former Giants running back
Ahmad Bradshaw
has been cleared to play
after going through a foot injury. Denver reportedly has had some interest in him. The Broncos could take a running back as early as the second round Friday night in the NFL draft.
If Alabama running back
Eddie Lacy
somehow falls to No. 58, Denver may take him. If not, there are other targets in the second and third rounds for Denver. If the Broncos don't fill the need, Bradshaw could come into play.
In other AFC West notes:
The
Miami Dolphins
bragged about how little they gave up
moving up from No. 12 to No. 3 in a trade with the Raiders. The Raiders also got pick No. 42 in the trade.
The Denver Post reports the Broncos have moved former Air Force project defensive tackle
Ben Garland
to the offensive line. Like he was on defense, the practice squad player is a long shot to make the final 53-man roster.
September, 1, 2012
9/01/12
2:10
PM ET
The
Denver Broncos
have announced seven members of their practice squad. They have one more move to make.
The list is highlighted by defensive tackle
Ben Garland
. The Air Force product is a team favorite and he has a chance to develop. Also on the Denver practice squad are safety
Duke Ihenacho
, tight end
Cornelius Ingram
, running back
Jeremiah Johnson
, receiver
Greg Orton
, nose tackle
Sealver Siliga
and guard
Wayne Tribue
.
In other AFC West notes:
It's interesting that Oakland has kept punter
Marquette King
. He was put on injured reserve with a toe injury. If star punter
Shane Lechler
leaves after the season as a free agent, perhaps King can be groomed. King is not NFL ready, but he has a live leg and he has potential.
The Chiefs reportedly are considering signing quarterback
Mike Kafka
, who was cut by the Eagles on Saturday.
August, 31, 2012
8/31/12
2:34
AM ET
A look at the Broncos'
16-13 victory
Thursday night at Arizona:


It was a night for the backups for the Broncos in a game that Arizona coach Ken Whisenhunt decided to tie with a short, final-minute field goal instead of going for it and ending the misery of a fourth preseason game. Really, coach?
However, Denver kicker
Matt Prater
saved the world from preseason overtime by hitting a 44-yard field goal at the end of regulation to give the Broncos the win.
Nice night for rookie cornerback
Omar Bolden
. He took a kick return 103 yards for a touchdown in the town where he had to sit out last season at Arizona State due to a torn anterior cruciate ligament. Bolden looks like a keeper.
Quarterback
Brock Osweiler
, Denver's second-round pick and also a Sun Devils product, was 3-of-6 passing for 36 yards, tossing an interception as he returned to Phoenix. Expect Osweiler to be the No. 3 quarterback this season. He is very much a developmental player.
Ronnie Hillman
had a nice night with 68 yards on 14 carries. He will play a lot when it counts.
Tight end
Virgil Green
had two catches for 45 yards. He now faces a four-game NFL suspension for using a banned substance.
Tight end
Julius Thomas
, a fourth-round pick in 2011, didn't have a catch. I wonder if he makes the 53-man roster Friday.
Even though it was a backup show, Denver's run defense was much improved in this game.
Defensive tackle
Ben Garland
had a sack. It will be interesting to see if Garland, a team favorite, makes the final roster. He's probably headed to the practice squad.
Former first-round pick
Knowshon Moreno
completed a strong preseason with 49 yards on seven carries. There has been talk that he could be cut or traded, but if the Denver brass thinks Moreno can help this team, it will likely keep him.
Linebacker
Danny Trevathan
, a sixth-round pick, had seven tackles in the first half. I could see him making a serious playing-time push soon at a position the Broncos are looking for a spark.
Veteran safety
Jim Leonhard
started. He has been injured, so the Broncos wanted to get a good look at him.
Undrafted rookie linebacker
Steven Johnson
had another solid game. He is on the bubble, but I have a feeling the Broncos might be tempted to keep a promising player at a need position.
August, 7, 2012
8/07/12
6:25
PM ET
Several Denver players got new Air Force sabers and an Air Force helmet to replace the items Broncos' defensive tackle Ben Garland lost in the recent Colorado wildfires. The items were at his grandparent's home. Garland had no idea his teammates had the items replaced.
"He's a great guy, an awesome guy, a great player," Denver linebacker Joe Mays said. "You want to do special things like that for a person such as Ben."
In other AFC West news:
Kansas City cornerback Jalil Brown was working on the right side opposite left cornerback Brandon Flowers on Tuesday morning. Brown excelled for the past several days when he played for Flowers, who was out with a bruised foot. Kansas City coach Romeo Crennel said Stanford Routt is still the starting right cornerback, but he just wanted to make Brown flexible and use him on the right side. It will be interesting to see how much Brown plays moving forward. At the very least, he will make a valuable third cornerback, which is vital in the NFL.
Denver linebacker D.J. Williams participated in some practice Tuesday. He is not practicing because he is facing a six-game NFL suspension and the Broncos' coaching staff wants to get the other linebacker ready.
Denver cornerback Champ Bailey, in a radio interview, said quarterback Peyton Manning makes practices more difficult than games.
ESPN's John Clayton offers his camp observations from his visit to the Broncos.
Oakland receiver Denarius Moore is reportedly not practicing again Tuesday as he nurses a hamstring injury.
July, 29, 2012
7/29/12
12:00
PM ET
ENGLEWOOD, Colo. -- A veteran Denver Bronco was relaxing after the first training camp practice of a monumental season for the franchise.
He shook his head.
"When was the last time we had something like
this
here?" he asked. "This is something."

This
is No. 18.
This
is
Peyton Manning
.
Everything has changed for the Broncos.
With one phone call from Manning to Denver leader John Elway in March, the landscape of the organization changed. The Broncos are no longer a league curiosity caused by
Tim Tebow
-mania. They are now relevant because Manning, who missed last season with a neck injury, is
the
story in the NFL.
The Broncos, though, aren't consumed by being a popular story. They are focused on the impact Manning, at age 36, will have on the team. In public and in private, the Broncos are not worried about Manning's health. They are simply in awe that he is on their side.
The organization feels it's time to make a major push because of Manning.
"It's very similar to the Super Bowl year we had in New Orleans," said new Denver cornerback
Tracy Porter
, a former Saint. "We have extremely high expectations on this team, starting with Peyton, all the way down to the last guy on the roster. Our expectations are not just to hopefully get to the playoffs. Our expectations are to get back to New Orleans to play for the Super Bowl and win the Super Bowl."
THREE HOT ISSUES:
1. Manning's health:
The Broncos operate as if Manning will be ready for the Sept. 9 opener against visiting Pittsburgh, but they won't know if he will be fully healthy until he takes a few hits. Again, all indications are that Manning should be fine. He is throwing well, he hasn't suffered a setback and he is practicing at a strong tempo. He is on pace to be ready for the season.
[+] Enlarge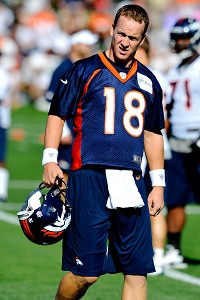 Ron Chenoy/US PRESSWIREThe Broncos won't know exactly what they have with Peyton Manning until he starts taking some hits.
2. Defensive readiness:
The Broncos' defense is still a work in progress. It went from No. 32 to No. 20 in the NFL last season under the guidance of head coach John Fox and defensive coordinator Dennis Allen. Allen parlayed the success into the Raiders' head-coaching job. Former Jacksonville head coach Jack Del Rio, Fox's defensive coordinator in Carolina in 2002, stepped in to replace Allen. The Fox-Del Rio pairing is strong, but this unit must continue to improve. It will have to play the first six games of the season without weakside linebacker
D.J. Williams
because of an NFL suspension, and pass-rusher
Elvis Dumervil
could face a short suspension for a recent gun arrest. So, the team will have to get a lot of players ready during camp as the Broncos try to continue the upward defensive swing.
3. Young receivers:
Third-year receivers
Demaryius Thomas
and
Eric Decker
will be in the spotlight throughout camp. Both are talented players who have a lot of promise. Playing with Manning should hasten their learning curve. But there is not a quarterback in the NFL who is as particular about his receivers as Manning, and both must adjust to Manning's game. The early word is that both players are earning Manning's trust.
REASON FOR OPTIMISM
The Broncos have a terrific head coach in Fox, whose presence and impact should not be discounted. He is an upper-echelon coach who has a firm grip on this program. His players love him and the overall spirit of the franchise is probably as high as it has been since the back-to-back Super Bowl-winning years in the late 1990s. Fox did a wonderful job last season turning a 4-12 weakling into an 8-8 team that won a playoff game. In Fox's second season in Carolina, he led the team to the Super Bowl. Will it happen again in Denver? We'll see, but his players fully believe in him, and that's a huge head start.
REASON FOR PESSIMISM
We do not yet know if the Broncos are loaded enough with talent to make a long playoff run. There are a lot of questions.
Will the team be able to run the ball enough to help Manning now that the Broncos aren't using the Tebow-led option? Are the youngsters on the offensive line ready to protect Manning? Will they be good enough at defensive tackle and safety?
This team is far from a finished product and it faces a brutal schedule. Still, expectations are high because of Manning. But the truth is, Denver must build itself around Manning very quickly -- the chief challenge of training camp.
OBSERVATION DECK:
Players rave about Del Rio. They love his toughness and the fact he is a former NFL player. Many players said Del Rio understands what they are going through and they feel they are on the same page with him already. The word around Denver's camp is that the Fox-Del Rio relationship has taken up where it left off in Carolina.

[+] Enlarge

AP Photo/Eric BakkeNew Broncos defensive coordinator Jack Del Rio held the same position for John Fox in Carolina.

Watch for rookie running back Ronnie Hillman, a third-round pick, to get plenty of chances to prove himself. Denver sees him as an explosive threat as a runner and as a receiver out of the backfield.

Former Chicago quarterback Caleb Hanie has the inside track to be Manning's backup. Still, Adam Weber or rookie Brock Osweiler could pull off the surprise and beat him out.

The Broncos are high on undrafted rookie linebacker Steven Johnson. The Kansas product could get some looks at middle linebacker in the preseason.

The Broncos will look at a lot of punt return options. Having Decker do it may be risky. I think it is an area Denver will look to upgrade on the waiver wire.

While guard Chris Kuper is slowly coming back from a severe ankle injury suffered in Week 17 in 2011, the Broncos expect him to continue to make progress.

Running back Knowshon Moreno, the No. 12 overall pick in 2009, is back after suffering a torn ACL last season. Still, he has an uphill battle to impress this staff.

Keep an eye on fourth-round pick Omar Bolden, a cornerback. He was highly rated out of Arizona State, but he missed all of last season with a knee injury. He looks like a keeper.

The Broncos rave about linebacker Von Miller, the 2011 NFL Rookie of the Year. The pass-rusher is working diligently to improve his overall game. Coaches and teammates laud Miller for his desire to improve.

The Broncos would like to see middle linebacker Joe Mays shore up his tackling in camp. He is a solid player, but he whiffed too many times last season.

The Broncos love what they see in Porter. Because of his talent, experience and confidence, Porter should be able to handle the pressure of playing opposite Champ Bailey, according to the Broncos. Second-year safety Rahim Moore opened with the first-team defense. He will compete with fellow second-year safety Quinton Carter.

Veteran defensive tackle Ty Warren was working with the first-team defense. Before Warren re-committed to the team in June, Sealver Siliga worked with the first team. Mitch Unrein got some work with the first-team defensive line early in camp as Denver looked for the right rotation.

Defensive lineman Ben Garland is making an impression. He is athletic and has great feet and could make the team.
July, 10, 2012
7/10/12
11:00
AM ET
By
ESPN.com staff
| ESPN.com
Denver Broncos
What if
Peyton Manning takes a hit
and is lost for a significant amount of time, or worse yet, the entire season? NFL.com's Dan Hanzus examines the depth chart behind Manning.
Adrian Adame, a Colorado Springs native and father of three children who lost their home in the Waldo Canyon fires,
received support from Broncos defensive linemen Ben Garland and Justin Bannan
and Miles the mascot early this week. "My son plays football, so meeting the Broncos, he'll remember that for the rest of his life -- seeing how big this guys were, that's pretty motivating," Adame told Sam Davis of Broncos.com.
When it comes to Super Bowl odds,
the Broncos are tied with the Lions and Bears
at 20-to-1, according to the Denver Post's Mike Klis.
The league's most prominent pitchman, Peyton Manning,
will appear in a new Buick commercial
on Wednesday night during the ESPY Awards show.
Kansas City Chiefs
Dwayne Bowe and the Chiefs have almost exactly one week
for the two sides to decide on how the 2012 season will play out for the wide receiver.
Offensive coordinator Brian Daboll referred to
Alex Tanney as "trick shot"
during one of the rookie's first OTA practices as a member of the Chiefs. Josh Looney of Chiefs Insider explains the history behind the nickname.
Oakland Raiders
Veteran defensive end
Richard Seymour says coach Dennis Allen has the "it factor,"
writes Gregg Rosenthal on NFL.com.
General manager Reggie McKenzie described talks between
the Raiders and strong safety Tyvon Branch's agent
about a long-term contract as ongoing, the Oakland Tribune reports.
San Diego Chargers
The Chargers
admit that reaching out to rival fans may have been a bad idea
, writes Michael Gehlken of the San Diego Union-Tribune.
The all-time Chargers great
is hosting the LaDainian Tomlinson Preparatory Academy
this weekend.
June, 29, 2012
6/29/12
6:40
PM ET
NFL Commissioner Roger Goodell has let NFL teams know that the league is making process toward going to back Los Angeles,
according to the Los Angeles Times.
The Chargers and the Raiders are among the potential candidates to relocate to Los Angeles.
June, 15, 2012
6/15/12
6:55
PM ET
The following are some highlights from our AFC West chat, which was held earlier Friday:
Denver
Chad from Denver:
Hey Bill, I am a huge Air Force fan, and I would love to see former DT/DE
Ben Garland
make the Broncos squad and have a career similar to
Chad Hennings
. What do you think his chances are?
Bill Williamson:
There are a lot people who love Garland. He is a serious worker and I think he has a chance at the 53-man roster.
Kansas City
Ryan from Lebanon, Mo.:
If you had to make a guess as to if or when
Dwayne Bowe
gets a contract or signs his tender when do you think it will happen or do you think he will hold out like
Vincent Jackson
did last year ?
Bill Williamson:
Maybe I'm wrong on this one, but I don't see a long holdout happening.
Oakland
Mark from Toronto:
What do you think the chances are that Van Dyke or Chewka could beat out Spencer (or I guess Bartell) for a starting CB gig?
BW:
Sure, I think that's what the team would like to see. Get one of those young guys out there. They are the future. Bartell and Spencer are quick fixes. Both are 30.
San Diego
Matt Johnson from Flagstaff, Ariz.:
Which Charger receiver do you think will have the most catches next season? I'm hearing a lot of good things about
Eddie Royal
this year.
BW:
Don't discount
Vincent Brown
. I could see him really becoming a big part of the offense.
May, 29, 2012
5/29/12
6:25
PM ET
Ben Garland will continue to serve his country as he tries to make an NFL roster.
The Denver defensive tackle will be sworn in as a member of the 140th Wing of the Colorado Air National Guard on Wednesday at the team's facility. Garland will serve as a public affairs officer in the National Guard.
Garland played at the Air Force and for the past two seasons, he was on the Broncos' military reserve list. The Broncos view Garland as an interesting project, who could make the 53-man roster.
In other AFC West news:
In a radio interview,
Denver receiver Eric Decker said he is looking forward to the focus being on football in the post Tebowmania days in Denver. I think everyone in the organization is thinking the same thing. The focus on Tim Tebow got to be overwhelming at times in Denver.
The Broncos have hired Cory Undlin as defensive quality control coach. He previously worked for new Denver defensive coordinator Jack Del Rio in Jacksonville where Del Rio was the head coach.
Oakland free-agent offensive tackle Stephon Heyer has signed with the Jets. He started two games for the Raiders in 2011.
The Chargers have
signed several players
to help fill out the roster.
April, 21, 2012
4/21/12
1:20
PM ET
Alfonzo Dennard
created a potential dilemma for NFL teams, including some from the AFC West.
The Nebraska cornerback
was arrested Saturday morning in Lincoln for allegedly assaulting a police officer.
He is reportedly still in jail. Dennard, who already had some character concerns, could have gone in the top 40-50 picks. However, his arrest will likely cause him to tumble in the draft.
Teams are going to have to weigh the possibility of taking a talented player at a premium position against the reality of his arrest and the public perception surrounding it.
Denver, Oakland and San Diego are teams that could take a cornerback in the early rounds. If a talent such as Dennard was available late in the third or fourth round, it would be tempting for any team to take him.
There is no doubt, the middle rounds have just become more interesting.
In other AFC West news:
The Eagles are reportedly willing to take what they can get for cornerback Asante Samuel. Denver reportedly tried to get Samuel, but couldn't come to terms with him. Coming to an accord with Samuel is the key for the deal going through with any team.
Oakland linebacker Rolando McClain has settled a lawsuit stemming from a 2008 incident. He is facing a May trial on an assault involving a gun allegation stemming from an incident last fall.
Denver defensive tackle Ben Garland's Air Force commitment has been fulfilled and he has re-joined the team. The high-motor player has a chance to make the roster, but his presence on the roster doesn't decrease Denver's need at the position.