AFC West:

Best of the NFL summer 2011
June, 30, 2011
6/30/11
1:00
PM ET
»
Best of NFC
:
East
|
West
|
North
|
South
»
AFC
:
East
|
West
|
North
|
South
As part of Best of the NFL Week on ESPN.com, here are five bests for the AFC West: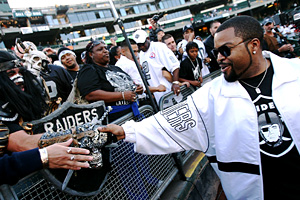 Ezra Shaw/Getty ImagesIce Cube has been a Raiders fan ever since the team moved to Los Angeles in the 1980s.
Best talent evaluation:
We're going with the Chargers here. I like what the Chiefs have done in the past two years. But the truth is, San Diego general manager A.J. Smith has built a consistent winner in the past seven years. The Chargers have talent throughout the roster and are deep at key spots. Smith has a plan and he clearly knows how to build a quality roster.
Best training camp venue:
The Raiders' training camp facility in Napa, Calif., is second to none. This is not simply just the best camp site in the AFC West, but it's the best camp site in the entire NFL. How can it be argued? While many NFL teams hole up in college dorms during training camp, the Raiders stay at a Marriott resort in the heart of wine country. Many players around the league need to rent bikes to get around massive college campuses to go to the cafeteria, training room, practice field, dorms and meeting rooms. Everything is centrally located at this spot. It's the only private camp in the NFL, and it's first-class all the way.
Best coaching staff:
I really like the Chiefs' staff. There is a reason why this young team came together last season, went 10-6 and won the AFC West title after winning a total of 10 games in the three previous seasons. Kansas City head coach Todd Haley often praises his coaching staff, and he knows how strong it is. This is a staff that relies heavily on teaching and communication. It has two former NFL head coaches on the staff in defensive coordinator Romeo Crennel and new quarterbacks coach Jim Zorn. Offensive assistants Bill Muir and Maurice Carthon are also top-notch coaches.
Best celebrity fan:
When you think about Ice Cube, the Raiders have to come to mind. One of the reasons is that he is often wearing a Raiders cap when he is out in public. Ice Cube grew up in Los Angeles and became a Raiders fan when the team moved to L.A. in the early 1980s. Ice Cube, a renowned rapper/actor/director/producer, has remained a die-hard Raiders fan since the team moved back to Oakland in 1995. Ice Cube directed an ESPN 30 for 30 film "Straight Outta L.A." on the team, and he is often on the sideline during Oakland games. He has also been known to tweet his thoughts on the Raiders (and the officiating) during games. There are a lot of celebrities who show up to games, but Ice Cube's loyalty to the Raiders runs deep.
Best tradition:
First off, this is a tradition-rich division. But I have to go with the
Oakland Raiders
. How can that be disputed? The Raiders are one of the most traditional teams in all of sports. Everyone equates the colors Silver and Black with the Raiders. There's Al Davis, who has been with the franchise for 48 years. There are all the great Hall of Fame players, and there were great battles with Pittsburgh in the heyday of the 1970s. There's the three Super Bowl titles. You think of the AFC West, and you think of the Raiders.
June, 29, 2011
6/29/11
2:00
PM ET
»
Best of NFC
:
East
|
West
|
North
|
South
»
AFC
:
East
|
West
|
North
|
South
As part of Best of the NFL Week on ESPN.com, here are five bests for the AFC West:
[+] Enlarge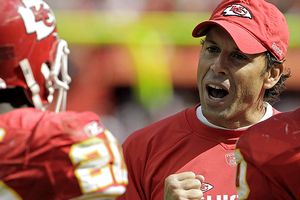 AP Photo/Charlie RiedelTodd Haley is an in-your-face coach which has allowed him to keep the Chiefs in check.
Best ego manager:
Kansas City's Todd Haley is an in-your-face coach. He is scared of no one. His demeanor has led Haley to clash with players, and player-coach sideline disagreements are not rare. But his style works. Players respond to Haley and he gets their respect. When he became the head coach in Kansas City in 2009, Haley wasn't looking for any friends, and he broke down several players, including former first-round picks
Dwayne Bowe
and
Derrick Johnson
. Both players responded well and played at a high level in 2010. Haley has dealt with several high-profile receivers in his career, such as
Keyshawn Johnson
and
Terrell Owens
. He survived them both. That is one of the reasons the Chiefs had no reservations about taking Pittsburgh receiver
Jon Baldwin
, who has a reputation as a diva, in the first round this year. Haley is prepared for Baldwin.
Best motivator:
We're taking a leap here because the Raiders' Hue Jackson has never been a head coach, but I'm confident he will be a premier motivator. He surely was as the Raiders' offensive coordinator last season. He is very positive and often talks up his players. He is very vocal on the practice field. He also produced instant results last season -- Oakland's offense was leaps and bounds ahead of the 2009 version. Jackson's players always speak well of him, and he has them believing the Raiders are on the doorstep of big things. Something must be working.
Best coach-GM tandem:
This is a potentially strong group of front-office types and coaches. In San Diego, GM A.J. Smith and coach Norv Turner work well together. Jackson and Oakland owner Al Davis appear to be very chummy and work well together. The early vibe on the John Elway-Brian Xanders-John Fox trio in Denver appears to be strong. But we're going to give the nod to Kansas City's tandem of Haley and GM Scott Pioli. The two have a strong working relationship, and they have turned the Chiefs around quickly. In their second season in Kansas City, Pioli and Haley built a division winner. The Chiefs are set up well for the future, and this tandem is the primary reason why.
Best delegator:
The ability of Turner to to delegate in San Diego is one of his strengths. Smith has complimented Turner's in that area in multiple discussions with this blogger. Turner is a premier play caller and quarterbacks coach. He knows his role, and he allows his coaches to work and coach. He is not a dictator or the type who needs to have his thumbprints on every minor detail. He lets his coaches do their jobs, and trusts they will get things done.
Best X's and O's:
I'm going to give the nod to Fox, the new head man in Denver. Don't be swayed by the fact that the
Carolina Panthers
were awful in 2010. Fox earned a strong reputation as fine coach in his nine seasons with the Panthers. He is a defensive specialist who is aggressive and detailed-oriented. On offense, Fox is a big believer in running the ball down opponents' throats. He sticks to his plan and is very organized. The Broncos will be well-coached in 2011.
June, 28, 2011
6/28/11
2:00
PM ET
»
Best of NFC
:
East
|
West
|
North
|
South
»
AFC
:
East
|
West
|
North
|
South
As part of Best of the NFL Week on ESPN.com, here are five bests for the AFC West:
Best trash talker:
One of the NFL's greatest talkers is San Diego linebacker
Shaun Phillips
. In league circles, Phillips is known for being an underrated pass-rusher. But he can also talk plenty of mess. I know several players who can't stand Phillips' mouth. He has gotten under the skin of many offensive players. He is consistently in offensive linemen's ears, and he had a famous on-field tiff with former Denver quarterback
Jay Cutler
. Then there was a classic pre-game trash-talk fest with former Denver coach Josh McDaniels. Phillips knows how to press buttons.
[+] Enlarge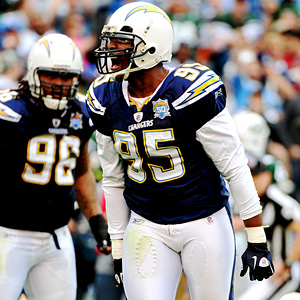 Robert Laberge/Getty ImagesOpposing players can't stand the mouth of San Diego's Shaun Phillips -- the top trash talker in the AFC West.
Best short fuse:
It's got to be San Diego quarterback
Philip Rivers
. A highly religious man and truly a kind heart off the field, Rivers gets fired up on the field. I've received countless emails from fans around the league accusing Rivers of being a "crybaby." He does get upset quickly when things go awry, and he's been known to let whoever is near him -- opposing players, teammates, referees, opposing fans -- know about it. But that's the beauty of Rivers. He's a great competitor who leaves his heart on the field. You know how badly he wants to win just by watching him.
Best individual rivalry:
It has to be San Diego center
Nick Hardwick
versus Oakland defensive lineman
Richard Seymour
. These are two very good players. And they don't like each other. This rivalry began when Seymour was with New England. After the AFC title game in the 2007 season, Hardwick
had this to say
about Seymour: "Richard Seymour is the biggest (expletive) I've ever come across in football," Hardwick said. "They've got 10 good football players on that (defense). Richard Seymour is a dirty, cheap little pompous (expletive)." Fittingly, Seymour's first game as a Raider in 2009 was against Hardwick and the Chargers. Hardwick suffered a serious ankle injury that day. The two teams have met since. There haven't been any major fireworks, but I've seen some pushing and shoving. As the rivalry between the improved Raiders and the Chargers heats up, this rivalry is a delicious side dish.
Best interview:
I feel fortunate to cover the AFC West because there are several great talkers in the division. Even better, many of the division's better players are also some of the division's best talkers. A notebook can get filled fast in an AFC West locker room. Rivers, Seymour,
Nnamdi Asomugha
,
Champ Bailey
,
Brian Dawkins
and
Antonio Gates
are all fabulous interviews. But I'm going to go with Chiefs' Pro Bowl guard
Brian Waters
as the best interview in the division. He's the epitome of being a go-to talker. He's the type of guy who can talk about any aspect of the game and break it down both colorfully and technically. This is one of my cardinal rules: When in Kansas City, stop by Waters' locker. It's a must.
Best intimidator:
One of the reasons Hardwick and Seymour have had problems is that Seymour is an intimidator. He has a reputation for being one of the dirtiest players in the NFL. I don't think Seymour cares. His toughness is one of the reasons Oakland gave up a first-round pick for him. He has given Oakland's defense a nasty demeanor it was lacking. He's been kicked out of games for his rough play. That, of course, isn't what the Raiders want from Seymour. They want him on the field. But the idea that Seymour may do something has to get into the heads of opposing teams, and that's a step toward a victory for Oakland.