August, 20, 2014
Aug 20
7:30
AM ET
ENGLEWOOD, Colo. -- What the
Denver Broncos
and
Houston Texans
are doing this week is rare and, in the end, took at least some risk-reward analysis before the two teams agreed to do it.
No, it's not rare that they'll have three days' worth of practices against each other before they play a preseason game Saturday night in Sports Authority Field at Mile High. Teams have done it plenty through the years, the Texans are the sixth team the Broncos have practiced against since 1996.
But the Broncos and Texans are doing this in the days leading up to the third preseason game for both teams and just three weeks before the regular-season opener. And that takes at least some thought as the two teams try to balance the benefits of getting the work in they want without exposing everyone involved to unnecessary injury risk.
"I think we did a pretty good job -- both teams -- of respecting each other, but still having an intense practice and getting after it," said Broncos tight end
Julius Thomas
following Tuesday's practice. "So I expect more of the same (Wednesday)."
The two teams will practice together again Wednesday and Thursday. Originally the plan had been for the two teams to practice in full gear both Tuesday and Wednesday, but after the Broncos had played on Sunday afternoon with the Texans having played on Saturday an adjustment was made.
The players worked in shells, helmets and shorts Tuesday and are now expected to work in full pads in Wednesday's practice.
"We decided to go shorts today because we were a day behind them as far as the recovery," said Broncos head coach John Fox. "I thought it went well. ... I think it's a good look, new faces for the players. There are new schemes both offensively and defensively and even in the kicking game. All in all, I think it was a good first day."
It was also a departure of sorts for Fox, who did not practice against another team in training camp at any point in his nine-season tenure as the
Carolina Panthers
head coach. Fox said Tuesday the last time he had worked against another team in camp was in 2001, when he was the
New York Giants
defensive coordinator.
Fox believes the proximity of the work, on the calendar, to the opener could also help his team and that the Broncos, despite having finished their two-a-day practice schedule of the preseason, still have a training camp mindset going.
"Camp is camp, late or early," Fox said. "These guys will tell you they get paid to practice and they would play the games for nothing. I think they did good work. I think it's a good time actually because you've been banging on the same guys for three weeks -- besides the preseason games -- but I think getting someone different is good."
For their part the players behaved Tuesday. Though some words were exchanged at times, especially in a late two-minute drill, there were no major scuffles in the two-hour workout and the teams will not tackle players to the ground in any of the workouts.
Fox and Texans head coach Bill O'Brien had discussed how the practices would be conducted and both expressed confidence the work could get done without any unnecessary conflicts. That, in the end, the benefits simply outweighed any potential downside.
"I know it is great work ... especially when we put on the pads (Wednesday) to get more of a real look in person as far as with the pads," said Broncos quarterback
Peyton Manning
. "Receivers benefit from going against different corners every day. I think there's a benefit."
"It's the same thing we do every day," Fox said. "We are going to take the approach that we are going to treat the Houston Texans just like we treat our own team and we expect the same from them. I don't foresee any problems."
August, 19, 2014
Aug 19
4:15
PM ET
ENGLEWOOD, Colo. -- Less than 48 hours after a 34-0 preseason victory over the
San Francisco 49ers
,
Denver Broncos
quarterback
Peyton Manning
brought a little verbal rain after the team's first of three practices with the
Houston Texans
.
The Broncos and Texans will practice together for three days this week at the Broncos' complex before the two teams play Saturday night in Sports Authority Field at Mile High. And with a familiar face calling the shots in the Texans' defense in Romeo Crennel, Manning came away from Tuesday's workout, shall we say, less than enthused about what he had seen.
"I thought our offense stunk today,'' Manning said following practice. "Their defense totally kicked our butt. ... We'll learn from the film, hopefully there is some good things to see, hopefully we come out and do a better job tomorrow from a player standpoint.''
Crennel, after his time as the
New England Patriots
' defensive coordinator as well as
Kansas City Chiefs
' head coach, is a familiar adversary through the years. Crennel is in his first season as Texans defensive coordinator, joining the team after another former Patriots assistant, Bill O'Brien, was named head coach.
"Romeo Crennel is one of the best coaches out there, overall it will be a good week for us,'' Manning said. "... But we've got to do better than we did today on offense.''
Asked what the main issue happened to be, Manning simply said, "Were you watching?''
"They executed better than we did,'' Manning added. "... They just did their job a lot better than we did.''
In reality, Manning and the Broncos' offense, while not at their best following a day off Monday, made their share of plays in both 7-on-7 and team drills. But the group also had some choppy moments against the Texans' regulars.
Manning may have had some other motives as well. The Broncos' starters on offense have played on four drives in two preseason games and the team has scored on three of those drives.
Manning is 22 of 27 passing for 180 yards and a touchdown in those two games and there has been at least some sentiment in and around the Front Range the Broncos' offense is ready to start the season. And that's an idea Manning seemed to want to poke a hole in Monday.
"I think today that story ought to die,'' Manning said. "Today's performance out there on whatever field that is, field 2 ... I kind of call it like I see it. When you have a pretty below-average practice, you've got to call it a below-average practice. I think this team does a pretty good job staying pretty even keel. I don't think anybody is overly excited about beating a San Francisco team that didn't have
Justin Smith
,
Patrick Willis
, didn't blitz us one time, kind of a pretty vanilla scheme. They will be a different animal when we play those guys in the regular season.''
August, 19, 2013
8/19/13
8:00
AM ET
One of the more intriguing AFC West storylines of training camp has been undrafted rookie quarterback Matt McGloin overtaking fourth-round pick
Tyler Wilson
as the No. 3 quarterback in Oakland.
Many league observers thought Wilson could potentially be in the mix to start this season. McGloin was signed to be a camp arm. However, McGloin has impressed and Wilson has struggled in camp. Wilson didn't throw a pass at New Orleans on Friday. McGloin, who was terrific in the preseason opener against Dallas, struggled some at New Orleans. But it still appears he has the edge on Wilson.
The team also has a starter
Matt Flynn
and backup
Terrelle Pryor
. It will be interesting to see if the team keeps all four quarterbacks (which are rare in the NFL) or if they expose McGloin or Wilson to waivers in an attempt to put one of them on the practice squad.
With McGloin -- signed out of Penn State -- virtually coming out of nowhere in this battle, I asked Steve Muench of Scouts Inc. his thoughts on the development. Scouts Inc. gave
Wilson, an Arkansas product, an early third-round grade
, while McGloin was listed as a free agent.
Muench points to McGloin's season under former NFL coach Bill O'Brien at Penn State as a pivotal point in his development.
"Here's why I'm not shocked despite the discrepancy -- McGloin made great strides and learned what it takes to be a pro under Bill O'Brien last year," Muench said. "He's also a former walk on who has been told he's not talented enough in the past and found a way to come out on top. Wilson didn't play nearly as well after Bobby Petrino left Arkansas and his decision making regressed while McGloin's improved last year."
Still, Muench said there was no doubt that Wilson was considered a better pro respect coming into the draft.
"Neither player has a cannon for an arm but Wilson has the better frame, he played in a tougher conference and he was a hard working leader at Arkansas," Muench said. "Far more importantly, he's more accurate on tape. I just went back and watched McGloin's pro day and there were some things to like most notably the way he threw the ball when he moved out of the pocket. However, he also missed throws and his placement was off on other throws. Considering it's a scripted workout it did nothing to improve what teams may have thought about his accuracy in my opinion"
So, does Muench think McGloin can continue his journey up the quarterback rung in Oakland?
"As far as McGloin's upside is concerned, I'd be very surprised if he emerges as a starter at any point," Muench said. "He's an overachiever with an average arm, average mobility and a below average frame.
Still, for at least the moment, McGloin 's overachieving ways are serving him well. It's difficult to discount those types of players.
January, 3, 2013
1/03/13
10:15
PM ET
Earlier in the week, there was a report that the
San Diego Chargers
wanted to talk to Penn State coach Bill O'Brien. But it was no sure thing he'd make himself available.

Thursday, he did, then he took himself off the market.
CBS Sports reports
that O'Brien will stay at Penn State after he interviewed with the Browns this week.
Cross an intriguing name off the Chargers list.
A lot of people I talked to thought O'Brien would be a perfect fit for the Chargers. He is an offensive mind and the Chargers need a spark offensively. Many people thought O'Brien -- a former New England offensive coordinator -- would be a great influence on Chargers quarterback
Philip Rivers
, who has struggled the past couple seasons.
With O'Brien out of the picture, the Chargers will still plug along. While they run their general-manager search, the coaching names that have been connected to San Diego thus far are Colts offensive coordinator Bruce Arians, Andy Reid (who could become the Chiefs' coach in the next 24 hours) and Lovie Smith.
January, 1, 2013
1/01/13
1:10
PM ET
Bill O'Brien
has said
he will remain at Penn State after revitalizing the program in one year.
However, it appears O'Brien would have opportunities in the NFL -- including in the AFC West.
CBS Sports reports
the
San Diego Chargers
are one of four teams that will pursue O'Brien.
It's an interesting pairing. O'Brien was a longtime assistant at New England and he is a noted quarterback coach. He could be the remedy for
Philip Rivers
. And because Rivers is perhaps the best quarterback on the list of available teams, O'Brien could have mutual interest if he is actually open to leaving the Nittany Lions.
The Chargers have said they will hire a general manager and then a coach, so their official list of candidates may not be formulated for some time.
CBS Sports reported
the Chargers have asked permission to talk to Arizona's Steve Keim about the opening, Keim is a favorite to take over in Arizona. The Chargers are also interested in San Francisco executive Tom Gamble.
In other AFC West news:
Here is the 2013 NFL opponent list for every team. The schedule will be released in April.
December, 31, 2012
12/31/12
2:40
PM ET
Monday's events
make the
Kansas City Chiefs
' head-coaching job one of the most intriguing openings in the NFL.
It makes me wonder if Kansas City owner Clark Hunt is priming to go after a big-name coach.
There are clearly some indications that that could be the case. Hunt fired coach Romeo Crennel but said this about general manager Scott Pioli in a statement announcing Crennel's dismissal: "The entire football operation will remain under review, and there may be additional changes to come. No final determination has been made at this point on the future of general manager Scott Pioli."
[+] Enlarge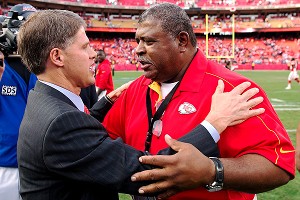 Zumapress/Icon SMIClark Hunt now shifts his focus to finding a new coach to replace Romeo Crennel.
ESPN's Adam Schefter reported Hunt will lead the coaching search and then he and the new coach will discuss Pioli's future.
That means the team will not be hiring another high-powered general manager. It seems like the coach will have more power than Pioli. I think that means Pioli will likely go. Remember, four years ago, Hunt kept coach Herm Edwards on board until he hired Pioli. The reverse may be in play here.
I just don't see it working between Pioli and a new coach unless the choice is someone like Iowa coach Kirk Ferentz or former New England assistant and current Penn State coach Bill O'Brien.
But it seems like the focus is more on the future, instead of making it work with Pioli.
So, perhaps Hunt will go for a big fish such as Oregon coach Chip Kelly. There has been some speculation Hunt could be interested in former Eagles coach Andy Reid.
However, a wrinkle in that, though, is the report from ESPN's Chris Mortensen that the
Chiefs will interview Atlanta offensive coordinator Dirk Koetter
this week. Koetter is not an experienced NFL coach and he is not considered a big-ticket candidate. I'd have a hard time thinking Koetter is prepared to give any input on the future of the general manager.
But it's early in the process. There is a lot to play out. But Monday's steps show that Hunt is going about his search in a way that was unexpected. Hunt has a reputation for being immensely private, and he doesn't show his cards much. The word is even his closest confidantes are in the dark.
Hunt apologized to the fans in his statement Monday, and he used strong words like "embarrassed." He knows Kansas City fans are fed up. He saw the empty seats in beautiful Arrowhead Stadium. He knows dramatic changes are needed.
So, this might be the time for a big splash. If Bill Cowher ever would want to get back in the NFL, maybe it could be for the team for which he was the defensive coordinator from 1989 to 1991.
I think anything is on the table, and I think coaches will listen to Hunt.
Of course, the biggest ding on this team is the lack of a quarterback. That is a huge problem and the Chiefs will have to figure something out, perhaps bringing in a bridge veteran opposed to staking its future to a risky rookie from a weak quarterback class. But there are a lot of things to like about this team.
It is a talented roster with a lot of salary-cap room. After all, the Chiefs had five Pro Bowl players despite going 2-14. They also have the No. 1 pick in the draft. The fan base is good and the team's facilities are top-notch.
This is an attractive situation.
For those who think Hunt will not shell out financially for a big-name coach, remember that Pioli was the general manager prize four years ago and Hunt got him. Hunt may think it is time to go for it again, this time with a high-profile coach.
January, 7, 2012
1/07/12
12:20
PM ET
ESPN's Adam Schefter and Chris Mortensen had some interesting AFC West news Saturday morning on "NFL Countdown." Let's review:

KANSAS CITY

Schefter reported the Chiefs are planning to retain interim coach Romeo Crennel.

My take: Schefter said the interview process is ongoing, but the plan is to hire Crennel. That scenario has been expected. Crennel was 2-1 as interim coach after Todd Haley was fired and he has the respect and support of the players. I think this is the right way to go. Kansas City has interviewed Green Bay offensive coordinator Joe Philbin and former Jacksonville coach Jack Del Rio. Perhaps the Chiefs can pursue Del Rio as a defensive coordinator if Crennel is kept.

Schefter reported former Denver coach Josh McDaniels is about to join the New England staff. He came to Denver from New England.

My take: This affects the Chiefs, because they reportedly asked St. Louis permission to talk to McDaniels. He was considered a top offensive coordinator candidate for Crennel -- as was Bill O'Brien, who just became the head coach at Penn State. It will be interesting to see who Crennel pursues as offensive coordinator if he is given the Kansas City job.

OAKLAND

Mortensen reported that new Raiders' general manager Reggie McKenzie may consider replacing coach Hue Jackson.

My take: Jackson's possible firing has been the elephant in the room for days. There have been rumblings of it and Mortensen's report brings light to the situation. There has been talk that Jackson took too much power after owner Al Davis died in October, that he gave up too much to get quarterback Carson Palmer and that he rubbed players the wrong way. The fact that the Raiders lost four of their final five games including a Week 17 home loss to San Diego with the AFC West title on the line could go against Jackson. There is no doubt Jackson is a talented coach, but perhaps McKenzie will want to start fresh and bring in his own coach. Schefter said Green Bay assistant Winston Moss could be a target. Moss was a candidate in Oakland in the past and he was a favorite of Davis. Like McKenzie, Moss is a former Raiders linebacker. Is Jackson definitely on the chopping block? I wouldn't say that, but it is a situation to watch in the coming days.
December, 30, 2011
12/30/11
1:50
PM ET
NFL.com reports
New England Patriots offensive coordinator Bill O'Brien could be moving to the the Kansas City Chiefs in the same role. Former Denver coach Josh McDaniels, however, is a favorite to be the offensive coordinator in Kansas City if Romeo Crennel is made the permanent coach.
Meanwhile,
former Denver Broncos and current St. Louis Rams receiver Brandon Lloyd said he wants to follow McDaniels next season wherever the coach lands. Lloyd is a free agent. Making the situation even more interesting is the fact that Lloyd is from Kansas City. The Chiefs' No. 1 receiver Dwayne Bowe, who will be a free agent, is better and younger than Lloyd. But Lloyd is a quality player who thrilled under McDaniels and he would be less expensive than Bowe.
We're trying to connect some dots here, but an interesting scenario could play out for the Chiefs in the next couple of months.
September, 30, 2011
9/30/11
12:00
PM ET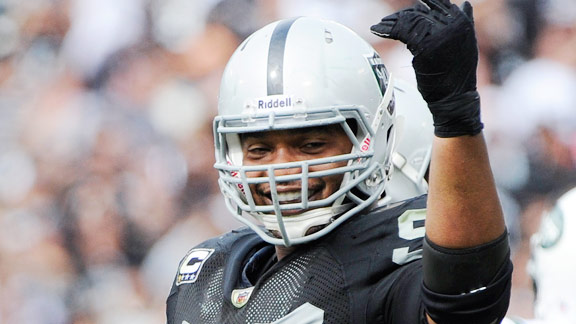 Thearon W. Henderson/Getty ImagesRichard Seymour and his defensive linemates will welcome his old team to Oakland this Sunday.
Bill Belichick created this dilemma.
Now, the New England Patriots' coach must find a way to overcome one of the NFL's better defensive fronts on Sunday in Oakland, which will be one of the NFL's showcase games of Week 4. The catalyst of Oakland's defensive line -- a ferocious combination of power, speed, experience and zestful youth -- is a man Belichick said goodbye to two years ago. Belichick stunned the NFL,
Richard Seymour
included, by shipping him to Oakland a week before the 2009 season started. Belichick had a knack for knowing when to pull the plug on veterans over the years in New England. Seymour has been the exception.
Yes, there are reasons for the Patriots to feel good about the trade. They've made the playoffs both years without Seymour, they saved a lot of money (Seymour was re-signed to a lucrative deal by the Raiders prior to the lockout) and they got a promising left tackle in
Nate Solder
with the No. 17 overall pick in April as compensation from Oakland. Still, that won't help the Patriots on Sunday in a critical early-season game for the two 2-1 teams. Seymour and his explosive defensive line mates will be coming after New England quarterback
Tom Brady
all game.
The Patriots know it.
"That's a good question," said New England offensive coordinator Bill O'Brien this week when asked how he is going to prepare for the former New England star defensive lineman and his new mates. "That's a tough question. These guys are really big up front. They're a physical defense, they're fast. Again, that's part of our discussion right now of all the different areas of their defense and how we're going to handle some of the problems all over the place that they present -- challenges that they present. So, there are a lot of different things you can do -- I'm certainly not going to tell you, but [Seymour is] playing really well. They're all playing really well right now; it's a really good football team that's playing fast and physical."
[+] Enlarge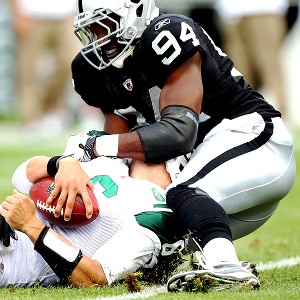 Jed Jacobsohn/Getty ImagesJarvis Moss had two sacks for Oakland in last week's surprising win against the Jets.
There is no denying Oakland's attitude, talent and success up front starts with Seymour. Eyebrows were raised when Oakland traded for Seymour two years ago. The three-time Super Bowl winner would have been better-suited for a playoff contender. It has taken a couple of years, but the Raiders are now playoff contenders with Seymour spearheading the line.
"He's obviously a leader for that defensive line," Brady said at his press briefing Wednesday. "When he gets going, they all get going."
The Seymour trade immediately improved massive defensive tackle
Tommy Kelly
. It allowed him to disrupt the middle. The Raiders continued to build with youth around Seymour. They added feisty, underrated pass-rusher
Matt Shaughnessy
in the 2009 draft and the versatile
Lamarr Houston
in the second round last year to round out the starting front four. Matt Williamson of Scouts Inc. said Houston greatly benefits from playing next to Seymour; they are similar because both are able to play each position along the line.
The line also has strong depth. Add massive run-stuffer
John Henderson
, young defensive tackle
Desmond Bryant
, pass-rusher
Trevor Scott
and former Denver first-round flameout
Jarvis Moss
(he had two sacks in an upset win over the Jets last week), and the Raiders have a steady stream of talent on their first line of defense.
"I've been around some teams with six guys, maybe seven," Raiders coach Hue Jackson told reporters recently. "To have eight, that is kind of unbelievable."
Scott has said the line is like a
"tag-team match."
This unit just keeps coming against the pass and the run. Oakland is tied for fourth in the NFL with 10 sacks in three games, but is still having trouble stopping the run. It is allowing 120 yards per game. Still, opponents know the best way to get success against Oakland defensively is get the game past the front four.
"The front four are very strong penetrators," Buffalo coach Chan Gailey said this month. "They really get after you and create. They try to disrupt the running game by penetrating and they try to create pass rush by penetration."
Williamson said he thinks the Raiders have a top-10 defensive line that continues to get better. He said the trade for Seymour was the beginning of the dominance.
"The beauty of Seymour is that he is good at everything. He is a great interior pass-rusher on throwing downs," Williamson said. "He can be an excellent defensive end in either the 4-3 or the 3-4, and he still is a great 3-technique for the 4-3. So when he is on the field, you don't know exactly what front you are going to get, and he can shift effectively right before the snap to further confuse matters ... by all accounts, Seymour is a great locker-room guy and leader."
Seymour will surely like to remind his former coach about all of those attributes that Oakland is benefiting from Sunday.