November, 30, 2012
11/30/12
12:00
PM ET
We are exactly a month from the end of the NFL regular season. Thus we are a month and one day from the start of the first process of the 2013 season: the firing of head coaches.
With five games remaining, both the
Kansas City Chiefs
and
San Diego Chargers
have to be considered prime candidates to make a coaching change. The Chiefs are 1-10, and Romeo Crennel has to be in danger even though he is in his first full season as coach. In San Diego, Norv Turner's team is 4-7. It was a major surprise that the team kept Turner after last season. I don't see any way he makes it to another season, barring an unlikely playoff berth.
The coach firings might not be the end in both cities. If Crennel is fired, general manager Scott Pioli will likely suffer the same fate. I get the feeling Kansas City owner Clark Hunt wants to keep both Pioli and Crennel, but the fan fury is so great, I doubt he'll be able to. San Diego general manager A.J. Smith may also be on the firing line, but I can see a situation where he is kept and Turner is not.
There is always a chance Oakland owner Mark Davis can lose patience and end the Reggie McKenzie-Dennis Allen tandem after one season (or just get rid of coach Allen). But I believe Davis will stick with the current situation despite a disappointing first year.
With potential change in the air, let's look at some of the coaching candidates, in alphabetical order, who could be available: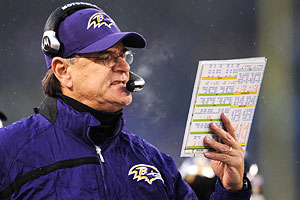 AP Photo/Gail BurtonBrian Billick went into broadcasting after he was fired by the Ravens in 2008.
Bruce Arians, interim Indianapolis head coach:
I'm intrigued by Arians. The longtime offensive coordinator is doing a fantastic job with Colts coach Chuck Pagano out because of his fight with cancer. This is a unique situation. Teams could hire a coach who may lead a team to the playoffs without any restrictions -- and what an audition Arians is having. He has worked with
Ben Roethlisberger
in Pittsburgh and
Andrew Luck
in Indianapolis. I could see the Chargers being interested in pairing him with
Philip Rivers
. The Chiefs could also be a fit for Arians.
Brian Billick, former Baltimore head coach:
Billick is interesting because he is a Super Bowl-winning coach who might be reasonably priced. He has a reputation for being a strong offensive mind and a strong leader. He could fit in both San Diego and Kansas City, and I think he could work with an established general manager.
Bill Cowher, former Pittsburgh head coach:
When Cowher decides he wants to come back, he will likely have his pick of jobs. I'm not sure if any of the AFC West jobs would be more attractive to him than others. Still, Cowher has a history in Kansas City and is the dream coach for many Chiefs fans. But he may be way too pricey for the team.
Jack Del Rio, Denver defensive coordinator:
Del Rio has done a terrific job in Denver and had lots of head coaching experience in Jacksonville. I have a feeling he may remain Denver's defensive coordinator, but he could be a reasonably priced option for the Chiefs or Chargers.
Jon Gruden, former Oakland and Tampa Bay head coach:
The most frequent question I get from readers is this: Is there a chance Gruden could come back to coach the Raiders? I've heard that countless times since Gruden was fired by Tampa Bay after the 2008 season. My answer now is the same as always: Probably not. There have been plenty of opportunities for Gruden to come back to Oakland and it has not happened. Never say never, but I'd be surprised. If there is a fit this offseason in the division, I'd say it would be San Diego. I think Gruden -- some reports say the University of Tennesee wants to hire Gruden -- would love to live in San Diego, and he'd love to work with Rivers. I'm not saying Gruden is a favorite to end up in San Diego, but it wouldn't shock me.
Chip Kelly, University of Oregon head coach:
See Cowher. Kelly will get his pick of jobs and he will cost a ton. I'm not sure he'd fit in the AFC West, although working with Rivers could be intriguing to him.
Mike McCoy, Denver offensive coordinator:
He is going to be a hot candidate. I think the preferred destination for McCoy, a former Panthers assistant, is to go to Carolina if the Panthers fire Ron Rivera; he is highly regarded there. I could see him receiving interest from the Chiefs as well. He is young, bright and won't break the bank.
[+] Enlarge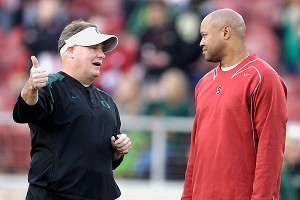 AP Photo/Paul SakumaOregon's Chip Kelly, left, may be too pricey for the AFC West; Stanford's David Shaw could fit better.
Wade Phillips, Houston defensive coordinator:
The only reason I put Phillips on this list is if Smith remains in San Diego. Smith admires Phillips from Phillips' days as the Chargers' defensive coordinator. I think he'd be a candidate if Smith is making the choice.
Andy Reid, Philadelphia head coach:
Reid is very likely entering his last month in Philadelphia after a tenure that started in 1999. The word around the league is that he will get instant interest. If Reid doesn't opt to take time off, I could see San Diego being a fit. He has a home in the area and he'd work well with Rivers. But would the Chargers want to replace Turner with a veteran coach who just flamed out after a long stay with a team?
Rex Ryan, New York Jets head coach:
It is no sure thing he will be fired, but there's a chance. I think he could get some interest in the AFC West. He was a finalist in San Diego when Turner got the job. I think the Chiefs could also be interested. They have the makings of a good 3-4 defense -- Ryan's specialty. Putting him in a small media market could also save Ryan from himself occasionally.
David Shaw, Stanford University head coach:
This is one of my favorites. I can really see Shaw ending up in San Diego. He was born there and may be one of the hot young coaches available. I think he'd be perfect for San Diego whether Smith is there or not. His father, Willie Shaw, was a longtime NFL assistant. David Shaw played for Bill Walsh. He worked for Al Davis. He was an assistant to Jim Harbaugh and he has coached Luck. And he has won as a head coach. If I was hiring a coach next month, I'd seriously investigate this 40-year-old.
May, 16, 2012
5/16/12
12:00
PM ET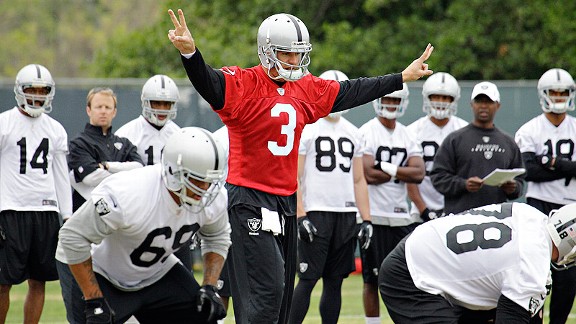 AP Photo/Ben Margot"We are going to take advantage of what Carson does best," Raiders coach Dennis Allen said of Palmer.
ALAMEDA, Calif. –
Carson Palmer
gave himself a refresher course this offseason in what watching football without the modern convenience of high definition is like.
It brought him back to the late 1980s, when he watched football just because he liked what he saw without knowing the complications of the game.
This time around, it was for the benefit of his NFL career.
As part of his indoctrination into the West Coast offense, Palmer, 32, watched as much of the scheme as he could. He went all the way back to the Bill Walsh-coached
San Francisco 49ers
.
"It was pretty cool going back to those days," said Palmer this week during a break in the Raiders' organized team activities. "There were no HD films back then, so it was kind of gritty. It brought me back to when I was 8 years old and I just wanted to see (49ers running back) Roger Craig score a touchdown. You look at the game so differently now, but it was a good learning experience."
Palmer's West Coast cram sessions included several incarnations of the scheme. However, a primary focus was the 2010 and 2011
Houston Texans
. Palmer watched every game the team played the past two seasons.
New Oakland offensive coordinator Greg Knapp was Houston's quarterbacks coach in those seasons, and Knapp is bringing a version of the West Coast offense to Oakland. He is a disciple of the 49ers' West Coast offense and has used versions of it as a coordinator in San Francisco, Atlanta, Oakland (in 2007-08) and Seattle.
Palmer was in a West Coast offense in his first year at USC, at age 18. In a season during which he will turn 33, Palmer must adjust to the offense
in what will be a crucial year for him personally
. The previous Oakland regime traded two premium draft picks for Palmer last season in a desperate attempt to stay in the playoff hunt when starter
Jason Campbell
went down for the season with a broken collarbone.
Oakland was 4-2 when Campbell went down. It was 4-6 after acquiring Palmer from the Bengals. Thrown into the Oakland system after holding out in Cincinnati, Palmer's rust showed as he threw 16 interceptions and 13 touchdown passes for the Raiders.
Palmer is now comfortable in Oakland, and though he is still adjusting to Knapp's system, he says he is thrilled with the playbook because Knapp's offense has so many variations. There are some classic West Coast schemes, but there is also zone-blocking running and other modifications. Palmer said he believes it is the most varied offense he has been in.
He thinks it will blend nicely with Oakland's speed at receiver. Mostly, Palmer is confident his transition to the offense will be easy because of Knapp himself.
"He's been fantastic with me," Palmer said. "He's amazing. He is a teacher in addition to a coach. It will really help me get this offense down."
[+] Enlarge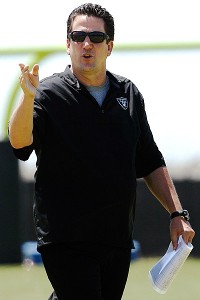 AP Photo/Jeff ChiuNew coordinator Greg Knapp is installing his take on the West Coast offense in Oakland.
New Oakland coach Dennis Allen said Palmer was a major reason why he chose to hire Knapp as his offensive coordinator. He said Palmer's ability to adjust to Knapp's offense made the Palmer-Knapp pairing a "great fit" in Allen's mind.
Allen scoffs at concern that Palmer might not be athletic enough to run Knapp's offense. He has repeatedly said he thinks that Palmer is athletic as
Matt Schaub
, who flourished under Knapp in Houston. Palmer often ran around the field freely on Tuesday in addition to participating in a multitude of plays, including several deep passes, which mesh with his big arm.
"He moved around today," Allen said Tuesday. "He's plenty athletic."
Allen also said the key is to be flexible -- not only on offense, but on defense, where the 4-3-based Raiders will use multiple front-seven sets. Allen -- who was Denver's defensive coordinator last season -- saw the benefit of in-season coaching when the Broncos went to an option offense for
Tim Tebow
midway through the season. He said Tuesday he learned from that experience.
"We are running the West Coast offense, but we're going to do a lot of things," Allen said. "We are going to take advantage of what Carson does best."
While hopes are high in Oakland that Palmer will show he was worth the high price, some worry about the fit. Matt Williamson of Scouts Inc. is in that camp.
"I have a lot of concerns with Palmer adjusting to the Raiders' new offense," Williamson said. "First off, it was the former staff/philosophy that wanted Palmer. He doesn't anticipate routes well. When the receiver becomes open, Palmer throws it. Therefore, defensive backs get a better break on the ball and run-after-the-catch potential is more limited. Also, he has heavy feet and not a movement-based quarterback, which is ideally what they now want in Oakland. I do think Knapp will adapt his system to fit Palmer -- he will have to."
To help Palmer adjust to playing for Knapp, Oakland signed
Matt Leinart
to be his backup. Leinart backed up Palmer at USC and the two Heisman Trophy winners have a close bond. Leinart was in Houston the past two seasons.
Leinart said this week he is happy to help Palmer with any nuances of Knapp's offense. He said keys for Palmer will be to use bootlegs and rely on what should be a strong running game.
"I'm here for Carson, to help him with reads, to let him know that certain things are very good, just to stay on it," Leinart said. "Because when you're taught a new offense, there's things that you're not used to; you're used to doing it a certain way. Sometimes the reads are a little different. I told him today, 'Just stick with this route because it's a great route for us. It's going to be a great route for us.'"
And if he needs any reassurance, all Palmer has to do is flip on that gritty, grainy game film from yesteryear.
November, 21, 2011
11/21/11
2:45
PM ET
The heat is turning up for San Diego coach Norv Turner.
The team many pegged to win the AFC West is 4-6 after losing five straight games. If the Chargers end up with a losing record and out of the playoffs for the second straight year, there will be major calls in San Diego for Turner's five-season era in San Diego to end in about six weeks.
With Turner's support waning, one of the greatest players ever to play in the NFL said Monday he thinks it's time for Turner to go. ESPN analyst Jerry Rice played for Turner in Oakland in 2004. This is what Rice said about Turner on "SportsCenter" earlier Monday:
"He's still not going to be the coach who gets you over the hump."
Rice said unlike his legendary San Francisco coach Bill Walsh, Turner doesn't give players "incentive" to win. Rice also said he believes the struggles of San Diego quarterback Philip Rivers -– he has thrown 17 interceptions this season -– falls on Turner.
Will Rice's thoughts have an effect on Turner's future? No, of course, not. But expect similar views to be expressed if the Chargers' control to spin out of control this season.
Adding more heat to Turner is
a San Diego Union Tribune story
that says that Turner's clock management issues will be reviewed by the team and he added more evidence to the issue in a loss at Chicago on Sunday.