AFC West:

Black Monday 2012
December, 31, 2012
12/31/12
6:35
PM ET
It is interesting that the Chargers hired longtime personnel man Ron Wolf to consult during the general manager search. Wolf's son, Elliot, is the Packers' director of pro personnel. He is young, but he is considered a future general manager. Not sure if the Chargers will consider him.

Last year, Wolf helped the Raiders in their decision to bring in Reggie McKenzie as general manager. McKenzie worked for Wolf in Green Bay and Wolf worked for the late Al Davis in Oakland.
I think Wolf's involvement in San Diego is a strong indication that in-house candidate Jimmy Raye will have major competition for the job. If the Chargers were sold on Raye, I don't think Wolf would have been brought in to help.
Expect the general manager search to be fairly fast. The general manager is going to have a say in hiring the coach, so the process has to be swift.
The Chargers may consider keeping defensive coordinator John Pagano and special-teams coach Rich Bisaccia. Both men did a good job with their units. It may be tough for a new coach to keep a large part of the old staff, but perhaps something could be worked out.
I think the Chargers need offensive help more than anything.
The old adage in the NFL is teams hire coaches who are the opposite of the discarded coach. Norv Turner was a player's coach. Will the Chargers go looking for a hard-edged coach?
December, 31, 2012
12/31/12
6:10
PM ET
The 2012 NFL season has re-affirmed that this is a quarterback league. It starts and finishes at the position.
With so much competition for head coaches this offseason the teams with the best quarterbacks will have an edge.
You can argue the
San Diego Chargers
have the best quarterback situation of the teams that fired their coach on Monday. The
Chicago Bears
with
Jay Cutler
could also vie for top talent.
But Chargers' quarterback
Philip Rivers
is just 31 and he has several more years left in his career. He has a better reputation around the league than Cutler, so I can see many coaches preferring to work with Rivers over Cutler.
There is no doubt Rivers has declined in the past two years. But I think it is correctable. It needs to be noted that Rivers threw just one interception in the final six games and he wasn't intercepted in the final four.
That is tangible proof that he can play with ball security. He just needs more talent around him. The offensive talent pool in San Diego has shrunk incredibly and will need a lot of help.
With a new philosophy, a new voice and more talent, Rivers can still be successful.
December, 31, 2012
12/31/12
4:50
PM ET
Dean Spanos made the right decision Monday.
It's too bad it was a year too late.
Time is precious in the NFL and the Chargers will never get back the 2012 season, which goes down as an unnecessarily lost season.
The Chargers can look at their AFC West rival
Denver Broncos
as an example of making a harsh decision at the right time. Denver dismissed Josh McDaniels before his second season with the team was complete in 2010. The Broncos didn't worry that it was too soon. Now, two years later, the Broncos are as healthy as any franchise in the NFL. It all began with the McDaniels firing.
Last year, Spanos kept general manager A.J. Smith and coach Norv Turner because they were good football men. He liked them and the players liked them. But their time was up. They were no longer effective in their roles. Instead of making the decision to move on, Spanos waited until the Chargers went 7-9 in 2012.
San Diego badly needs an infusion of new blood. It needs to become a healthy franchise.
Smith and Turner did some good things. But the program got stagnant and the talent base has dried up some. Smith was with the team for 10 years and Turner was there for six years.
Four years ago, this was one of the NFL's best rosters. That is no longer the case. Several free agents, such as
Vincent Jackson
,
Darren Sproles
and
Mike Tolbert
, have left and the program has suffered. Smith has been unable to keep up the roster because of free-agent and draft decisions that didn't work.
He will never be forgiven by the fan base for passing up
Clay Matthews
in favor of
Larry English
in the first round four years ago. The 2010 blockbuster trade to get running back
Ryan Mathews
is looking shaky as well.
The decisions have shown on the field. The Chargers' offensive production has suffered a steep decline in the past three seasons. After starting 32-16 in San Diego, Turner finished 24-24.
Smith and Turner were given more than enough time. They were given a year's worth too much time.
What's next for them?
Smith could interest some teams. There will be a lot of front-office change, so he could be in the mix.
Turner is considered one of the NFL's all-time great offensive coordinators. He will be sought after. If Mike McCoy gets a job (he is interviewing in Chicago and Arizona), I could see Denver having interest. I could see the Jets and the Ravens (if they make a hire) being interested as well. Turner should get his pick of jobs as he likely moves from his final stint as an NFL head coach.
December, 31, 2012
12/31/12
3:18
PM ET
The
Oakland Raiders
made a quick statement about their unhappiness over a disappointing first season to the Reggie McKenzie-Dennis Allen era.
But it seems like the two men are safe.
The big move was the firing of offensive coordinator Greg Knapp. Also fired were special-teams coordinator Steve Hoffman, offensive line coach Frank Pollack and linebackers coach Johnny Holland. Allen made the announcement Monday.
"Decisions like this are very difficult," Allen said in a statement. "I have a great deal of respect for all of these men and I appreciate their contributions to the Oakland Raiders this season."
Knapp's offense was a major disappointment. Oakland did not take to Knapp's version of the West Coast offense and the zone-blocking running scheme. Oakland was particularly poor in the red zone.
Running back
Darren McFadden
had a poor season under Knapp and he was never comfortable in Knapp's scheme.
Knapp was a curious decision by Allen. He wasn't his first choice, but he was paid well in Oakland. Knapp was the Raiders' offensive coordinator in 2007 and '08 and he was stripped of his duties by Tom Cable in the 2008 season.
Whoever Allen hires, expect the Raiders to try to employ a more power attack that flourished under former coach Hue Jackson. It seems to fit the team's personnel better than Knapp's scheme.
I think defensive coordinator Jason Tarver should be safe. If he wasn't, he probably would have been shown the door quickly like Knapp was.
Tarver's defense was a sieve for much of the season, but it tightened some in December. The Raiders' biggest issue on defense is talent. I think it has a good coaching base there with Allen and Tarver.
December, 31, 2012
12/31/12
2:40
PM ET
Monday's events
make the
Kansas City Chiefs
' head-coaching job one of the most intriguing openings in the NFL.
It makes me wonder if Kansas City owner Clark Hunt is priming to go after a big-name coach.
There are clearly some indications that that could be the case. Hunt fired coach Romeo Crennel but said this about general manager Scott Pioli in a statement announcing Crennel's dismissal: "The entire football operation will remain under review, and there may be additional changes to come. No final determination has been made at this point on the future of general manager Scott Pioli."
[+] Enlarge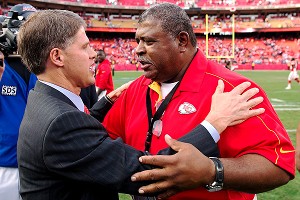 Zumapress/Icon SMIClark Hunt now shifts his focus to finding a new coach to replace Romeo Crennel.
ESPN's Adam Schefter reported Hunt will lead the coaching search and then he and the new coach will discuss Pioli's future.
That means the team will not be hiring another high-powered general manager. It seems like the coach will have more power than Pioli. I think that means Pioli will likely go. Remember, four years ago, Hunt kept coach Herm Edwards on board until he hired Pioli. The reverse may be in play here.
I just don't see it working between Pioli and a new coach unless the choice is someone like Iowa coach Kirk Ferentz or former New England assistant and current Penn State coach Bill O'Brien.
But it seems like the focus is more on the future, instead of making it work with Pioli.
So, perhaps Hunt will go for a big fish such as Oregon coach Chip Kelly. There has been some speculation Hunt could be interested in former Eagles coach Andy Reid.
However, a wrinkle in that, though, is the report from ESPN's Chris Mortensen that the
Chiefs will interview Atlanta offensive coordinator Dirk Koetter
this week. Koetter is not an experienced NFL coach and he is not considered a big-ticket candidate. I'd have a hard time thinking Koetter is prepared to give any input on the future of the general manager.
But it's early in the process. There is a lot to play out. But Monday's steps show that Hunt is going about his search in a way that was unexpected. Hunt has a reputation for being immensely private, and he doesn't show his cards much. The word is even his closest confidantes are in the dark.
Hunt apologized to the fans in his statement Monday, and he used strong words like "embarrassed." He knows Kansas City fans are fed up. He saw the empty seats in beautiful Arrowhead Stadium. He knows dramatic changes are needed.
So, this might be the time for a big splash. If Bill Cowher ever would want to get back in the NFL, maybe it could be for the team for which he was the defensive coordinator from 1989 to 1991.
I think anything is on the table, and I think coaches will listen to Hunt.
Of course, the biggest ding on this team is the lack of a quarterback. That is a huge problem and the Chiefs will have to figure something out, perhaps bringing in a bridge veteran opposed to staking its future to a risky rookie from a weak quarterback class. But there are a lot of things to like about this team.
It is a talented roster with a lot of salary-cap room. After all, the Chiefs had five Pro Bowl players despite going 2-14. They also have the No. 1 pick in the draft. The fan base is good and the team's facilities are top-notch.
This is an attractive situation.
For those who think Hunt will not shell out financially for a big-name coach, remember that Pioli was the general manager prize four years ago and Hunt got him. Hunt may think it is time to go for it again, this time with a high-profile coach.
December, 31, 2012
12/31/12
1:44
PM ET
Another hour, another massive change in the AFC West.
The Chargers just announced they have
fired general manager A.J. Smith and coach Norv Turner
.
Smith was in his role since 2003, and Turner was in his role since 2007. The Chargers went from one of the NFL's better teams to a team that has not made the playoffs in the past three years.
Turner and Smith were expected to be fired last year, but ownership gave them a reprieve. This year, the team had no choice; Turner and Smith had to go. These moves are among the least surprising in the NFL.
This move has been expected for several weeks. Jimmy Raye is a top candidate to replace Smith.
In an interesting development, the Chargers have hired former Oakland and Green Bay personnel guru Ron Wolf to help with the general manager search. Owner Dean Spanos, his son John Spanos and cap man Ed McGuire will stay. That may mean that Raye is not a slam dunk. The general manager will then help hire a coach.
So, the Chargers will keep the power structure of the coach reporting to the general manager.
Here is a statement from Dean Spanos: "I thank A.J. and Norv for the determination and integrity they brought to the Chargers each and every day. Both Norv and A.J. are consummate NFL professionals, and they understand that in this league, the bottom line is winning. My only goal is the Super Bowl, and that is why I have decided to move in a new direction with both our head coach and general manager positions. I am committed to our great fans, and we will do whatever we possibly can to achieve that goal."
December, 31, 2012
12/31/12
12:40
PM ET
The fact Romeo Crennel is out in Kansas City and Scott Pioli is still employed may imply that the Chiefs are pinning their problems on the coach.

That is the wrong tack to take.

It wasn't all Crennel's fault. Yes, his team was terrible. The Chiefs finished 2-14, which is tied for the worst record in team history. Interestingly, Herm Edwards went 2-14 in 2008. That prompted the team's hiring of Pioli four years ago.

Fans and league observers alike applauded the hiring. Now, after two coaches, Pioli's team is 2-14.

The Chiefs didn't look at many other coaches last January when Crennel was promoted from interim coach to the permanent spot. The primary reason was because Crennel was so well-liked and respected by the players. The Chiefs went 2-1 under Crennel to end the 2011 season. They stunned then-13-0 Green Bay in Crennel's first game as the replacement for Todd Haley and Crennel was essentially considered the future coach from that day on.

This was a team that was widely expected to contend for a playoff spot. However, Crennel and his staff did not do a good job this season. There was little fight in this team. They were blown out routinely. Their 13.4-point differential was last in the NFL. The Chiefs averaged 13.2 points this season, which was last in the league.

The Chiefs -- a talented team that netted five Pro Bowl players despite earning the No. 1 overall draft pick -- were tied for the NFL high with 37 turnovers.

Crennel ends his Kansas City career with a 4-15 record. He is 65 and there is a lot of talk the highly decorated defensive coach may retire. It's been a great career for Crennel, who won five Super Bowl rings with the Giants and Patriots. It was just a bad ending. But not all of the Chiefs' issues are solely on him, even though he stands as the fall guy at this moment.
December, 31, 2012
12/31/12
11:27
AM ET
The
Kansas City Chiefs
have begun the cleanup project after a miserable 2-14 season.
And they are taking an unusual route.
The team announced head coach
Romeo Crennel has been fired
. But the team will not fire general manager Scott Pioli ... yet.
Owner Clark Hunt released a statement announcing Crennel's firing. In it, he apologized to fans for the terrible season and said this about Pioli: "The entire football operation will remain under review, and there may be additional changes to come. No final determination has been made at this point on the future of general manager Scott Pioli."
ESPN's Adam Schefter reported Hunt will lead the charge to hire a new coach and then Hunt and the new coach will discuss the direction they want to take at general manager. That is very unusual, especially when there is a strong-willed general manager such as Pioli in place.
This could be an indication that the Chiefs will target an experienced, high-profile coach. I couldn't imagine Hunt would rely on the input of a young coach regarding the future of the general manger position.
This, at the very least, suggests Pioli's power will be greatly decreased if he stays. I can't see Pioli being excited about that prospect.
This is an interesting developing story. I will have more reaction later. Here is Hunt's complete statement:
"I have a tremendous amount of respect and admiration for Romeo, both personally and professionally. He is an accomplished coach, a man of great character and he helped guide our football team through some extremely challenging circumstances this season.
"However, I am embarrassed by the poor product we gave our fans this season, and I believe we have no choice but to move the franchise in a different direction. I will immediately begin the search for the next head coach of the Chiefs. The entire football operation will remain under review, and there may be additional changes to come. No final determination has been made at this point on the future of general manager Scott Pioli.
"Finally, I want to personally apologize to our fans for our performance this season. We are blessed to play for some of the best and most passionate fans in the National Football League and they deserve better than what we gave them this season. I want our fans to know that I will do everything I can to provide them with a dramatically better team -- both next season and in the seasons to come -- and our entire organization appreciates their support."
December, 30, 2012
12/30/12
1:50
PM ET
ESPN's Adam Schefter reported Sunday that he expects the
Kansas City Chiefs
to fire coach Romeo Crennel.
As for general manager Scott Pioli, Schefter reports the Chiefs -- mired in a miserable 2-13 season -- are leaning toward firing Pioli.
If I had to guess, I'd say both Crennel and Pioli are going to be fired. They are a package deal. I think if the Hunt family had its druthers, it would give both men another chance. But the fan fury is so great in Kansas City, I think the Hunts will be compelled to make a move.
I don't think firing one of the two and keeping the other will work.
Pioli has hired two coaches -- Todd Haley and Crennel -- since joining the Chiefs in 2009. I don't necessarily think he will get a chance to hire a third. If that is what is the case, I think the Chiefs will likely make a clean sweep and hire a new general manager (Bill Polian, anyone?) first and then a head coach.
We shall soon see. I don't think the Hunts will wait long before making a decision.