January, 25, 2012
1/25/12
8:00
AM ET
There's no doubt the
Denver Broncos
should be disappointed that they are losing defensive coordinator Dennis Allen.
When the Broncos hired Allen last year, they knew he'd likely get some head-coaching opportunities, but they thought he'd stick around Denver for two or three years. Yet Allen was plucked by Oakland as its head coach after one season as head coach. The Broncos' defense improved immensely under Allen's guidance.
Now Denver's defense will have its seventh defensive coordinator in seven seasons. Think about that.
Champ Bailey
and
D.J. Williams
have both worn a Denver uniform since 2004. They will now have their seventh coach in seven years.
The transition this year will not nearly be as difficult because Denver head coach John Fox is defensive-minded. While Allen did a good job, Fox deserves a lot of credit for Denver's improvement and will ensure the Broncos don't take a step backward on defense.
I think the two names we have to look at as a candidate to replace Allen are former Jacksonville coach Jack Del Rio and Denver linebacker coach Richard Smith. Del Rio was a coordinator for Fox in Carolina and Smith is extremely experienced as well.
The Broncos will miss Allen, but I think they are in better shape on defense than it may appear.
Here is a look at the Broncos' defensive coordinators in the past six years: Larry Coyer (2006, fired), Jim Bates (2007, fired), Bob Slowik (2008, fired), Mike Nolan (2009, departed in mutual decision), Don Martindale (2010, fired), Allen (2011, hired by Oakland).
December, 7, 2010
12/07/10
3:50
PM ET
The
Denver Broncos
have to get out of the firing business.
This team hasn't been to the playoffs since the 2005 season and there has been an avalanche of change in Denver since. The team has been in a firing frenzy. That trend was started by former coach Mike Shanahan, who was famous for firing people if the Broncos ever slipped. But owner Pat Bowlen has continued that trend after he fired Shanahan.
Denver has to find the right people for the job and it extends past the head coach. The Broncos must find the right person to replace Josh McDaniels, who was fired 23 months after taking over for Shanahan, who lasted 14 years on the job.
[+] Enlarge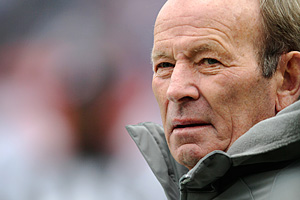 AP Photo/Joe MahoneyBroncos owner Pat Bowlen needs to establish some continuity within the organization.
The following is a look at some key firings in Denver and how they are still affecting this floundering franchise:
Head coach
Firing history:
McDaniels clearly wasn't the right man to replace Shanahan. Now, after going almost a decade and a half with the same coach, Bowlen has to start a coaching search for the second time in less than two years.
Current state:
The Broncos have quickly gone from one of the most stable NFL franchise to being one in disarray. Two years ago, this was perhaps the most attractive job in the league because Shanahan left it in pretty good shape. With a stripped talent base and lack of an identity, this has the look of a team whose reconstruction could take awhile.
Defensive coordinator

Firing history:
The defense has been a mess for several years in Denver. The beginning of the end of the Shanahan era was when Shanahan fired defensive coordinator Larry Coyer after the 2006 season. Shanahan was looking for a scapegoat after a late-season collapse. Coyer was the victim. What a mistake. Coyer, now the defensive coordinator in Indianapolis, is one of the best defensive coaches in the league. All stability on that side of the ball left with Coyer. It began a parade of one-year failures. Jim Bates, Bob Slowik and Mike Nolan all lasted one season in Denver. Nolan and McDaniels mutually decided to part ways after last season. Nolan did a fine job in Denver. McDaniels blew it by not making it work with Nolan, who is now in Miami.
Current state:
Don Martindale will, in all likelihood, be the latest one-year Denver defensive coordinator, meaning Denver will have six defensive coordinators in six seasons. There is little chance Martindale will be kept by the new head coach. Another coaching change could potentially mean the Broncos could move back to the 4-3 base defense that Shanahan used.
Front office
Firing history:
Another underrated loss was when Shanahan fired general manager Ted Sundquist. Shanahan had more power than Sundquist and he got rid of him. It was a mistake. Sundquist was a good personnel man who was detailed-oriented and who built the bottom of Denver's roster very well. The Broncos' roster was always deep when Sundquist was around. The team has gotten thin since he left. After Sundquist -- who is still without a job and who would likely jump at the chance to return to the Broncos -- was fired, Shanahan promoted the father-son team of Jim and Jeff Goodman. When Shanahan was gassed, the Goodmans stayed and were part of the group that hired McDaniels. They were abruptly fired less than two months after McDaniels was hired. This was a bad sign. McDaniels played a role in firing two people who were part of the decision-making team that just hired him. He had too much power for a 32-year-old first-time head coach.
Current state:
Brian Xanders is the general manager, but McDaniels had more control over the team than Xanders. His future with the team is unclear. The Broncos need experienced help in the personnel department and a strong general manager would help.
Whatever happens, Denver has to stop this string of mistakes and settle on the right people at several positions.
February, 1, 2010
2/01/10
12:00
PM ET
Not long ago, I was chatting with a member of the Mike Shanahan regime in Denver.
The former Denver employee and I were discussing what decision marked the beginning of the end for Shanahan's 14-season run in Denver.
After tossing around a few ideas, we came to a consensus: Larry Coyer.
Shanahan should never have fired Coyer, now the defensive coordinator with the Indianapolis Colts, as his defensive coordinator. Shanahan's Broncos never rebounded from his decision to jettison the innovative, successful and popular Coyer after a late-season collapse in 2006.
The Broncos' defense was in a shambles in 2007 and 2008. After Coyer was fired, Shanahan hired Jim Bates to run the defense. He was fired 12 months later. Then, Bob Slowik was promoted to defensive coordinator for the 2008 season. He was fired along with Shanahan. Thursday, second-year Denver coach Josh McDaniels promoted linebackers coach Don Martindale to be the defensive coordinator, replacing Mike Nolan.
Martindale is Denver's fifth defensive coordinator in five seasons.
I wonder if Shanahan would still be the coach in Denver if he hadn't fired Coyer?
Coyer's units were always strong. He was blitz master and he made terrific in-game adjustments.
Coyer,
of course
, has moved on nicely. He is six days away from leading the Colts' defense in the Super Bowl against New Orleans.
October, 2, 2009
10/02/09
2:15
PM ET
Posted by ESPN.com's Bill Williamson
The
Denver Broncos
have a surprise 3-0 record and much of their early success can be attributed to the defense. Denver has allowed an NFL-low 16 points. This is remarkable considering Denver was one of the worst defenses in the NFL the past two seasons.
Compare the 16 points allowed this season to the 112 points allowed in the final three games of the Mike Shanahan era, where Bob Slowik was the defensive coordinator.
ESPN Stats & Information came up with some very telling numbers that illustrate just how strong of an impact new defensive coordinator Mike Nolan has had on Denver's defense.
The Broncos are stopping the run, which is Nolan's specialty. Last season Denver allowed more than five yards per carry. Here are the yards-per-carry averages against Nolan's defenses the past four seasons:
2009: 3.3
2008: 3.8
2007: 3.8
2006: 4.1
The Broncos have relied on pressure packages with several pass-rushers. Here are some numbers showing their success with large numbers of pass-rushers.
Passing offense vs Broncos' increased pressure

Opponent
Plays with 5+ rushers
Yards allowed

Bengals.

17

70

Browns

16

76

Raiders

16

-4
Nolan's success against the run and with in passing situations has resulted in few points for the opponents, of course. The most points Denver has allowed in any game so for is 7. Below is a look how many games Denver has held opponents to single digits in recent seasons:
2009: 3
2008: 0
2007: 1
2006: 5
January, 22, 2009
1/22/09
9:07
PM ET
Posted by ESPN.com's Bill Williamson
• San Diego general manager A.J. Smith had an interesting reaction to LaDainian Tomlinson's message that he wants to stay with the Chargers. Still, I don't take Smith's stance as a telltale sign that the Chargers are going to part ways with Tomlinson.
But I believe Smith is treating it as a serious business decision and he will not allow emotions and sentiment to get in the way. In the end, this is the best approach, because after all, the NFL is a business.
• Former Denver defensive coordinator Bob Slowik is on his way to Detroit. What is most interesting about this is it may be a hint that former Denver coach Mike Shanahan is not going to coach in 2009. Slowik and Shanahan are very close and if Shanahan were close to coming back, Slowik would likely wait until he made a decision.
• Winston Moss comes to Oakland as head coach or he doesn't come at all.
• Meanwhile, the Raiders continue to try to build a coaching staff before they decide on their next head coach. The newest name to surface for an assistant's job is former Rams coach Scott Linehan.
Yes, unless a major development breaks late Thursday night, it seems another day will pass without resolution to the head-coaching situations in both Oakland and Kansas City.
January, 22, 2009
1/22/09
7:34
PM ET
Posted by ESPN.com's Bill Williamson
I had a chance to speak to Jim Bates earlier this month.
I could tell he wanted back in. On Thursday, he came back as the new defensive coordinator in Tampa. He wanted to erase the stink of his last NFL season.
| | |
| --- | --- |
| | |
| | Steve Dykes/Getty Images |
| | Jim Bates will be the new defensive coordinator for the Tampa Bay Buccaneers. |
At 62, Bates could have retired. But he didn't want his career to end after the disaster in Denver in 2007.
This is one of the most respected defensive minds alive. He has had wild success nearly everywhere he's coached. He transformed defenses in Miami and Green Bay, and he sparked a team in Miami as an interim head coach.
He wanted another chance to be that coach again. He didn't want to be remembered with Denver being his last stop.
Bates was fired after his one season in Denver. Bates was hired by then-Denver coach Mike Shanahan to reenergize a Denver defense that collapsed in late 2006. Bates was an inspired hire because of his credentials and history of turning around defenses.
But truth be told, it was a poor fit. Denver didn't have the correct personnel to play Bates' aggressive defense. The Broncos were just too small up front to adjust to Bates' scheme.
The pieces never came together. It was painfully obvious from the preseason on.
Shanahan, known for a happy trigger-finger with defensive coordinators, fired Bates after 16 games.
Of course, things didn't improve in Denver after Bates was replaced by secondary coach Bob Slowik. The Broncos, still woefully undermanned on that side of the ball, floundered again on defense in 2008. In the end, Shanahan and most of his staff, including Slowik, were sent packing.
Ultimately, Bates' failure in Denver was more of a product of a poor fit and a lack of talent on defense than his own missteps. Still, history shows he was a one-year failure in Denver. That ate at Bates.
He wants to be remembered for being the Jim Bates he's been everywhere else. Now, with the Buccaneers, he gets his chance.
December, 31, 2008
12/31/08
12:36
AM ET
Posted by ESPN.com's Bill Williamson
Don't be surprised if Denver owner Pat Bowlen makes an announcement about his personnel department Wednesday. There is a chance the current personnel group stays and the team does not hire an outside general manager. Thus, the primary duties of the new coach will be on the field. That would likely preclude Denver from pursuing Bill Cowher.
A Denver source disputed reports that that one of the reasons why Bowlen fired Mike Shanahan was because he wouldn't fire defensive coordinator Bob Slowik. The source said Bowlen had been planning to fire Shanahan for the past couple of days.
The Broncos will likely interview many coaching candidates and it will likely take two to three weeks before a decision is made.
The Raiders are shooting down reports about the coaches who are rumored to be coming to Oakland.
The word out of Kansas City is that coaches from Herman Edwards' staff are free to take other jobs during this time of limbo. The new general manager will have a major role in determining Edwards' fate.
San Diego running back LaDainian Tomlinson gave a good report on his injured groin Tuesday as the team prepares for Saturday night's playoff game against Indianapolis.
Denver quarterback Jay Cutler expressed frustration over the firing of Shanahan. Cutler was given no advance warning of the firing.
December, 30, 2008
12/30/08
10:25
PM ET
Posted by ESPN.com's Bill Williamson
OK, let's get this out of the way. Here's one job Mike Shanahan won't be taking: The Oakland Raiders.
Other than Shanahan's former team, all other bets are on.
If Shanahan decides he wants to coach in 2009, he will have his choice of jobs. But any job Shanahan takes probably will have to come with the same power he enjoyed in Denver, where he spent the past 14 years.
Many coaches who leave an organization after a long period take time off. Shanahan could decide to go that route. He has a home in Mexico and he could enjoy a year of golf.
Shanahan would be as attractive to teams in a year or two as he is now.
Still, Shanahan strikes me as a coach who would like to get right back in the game. And that was the indication Tuesday evening from people who know him.
Among the jobs that could interest Shanahan are Cleveland, the New York Jets and Kansas City. Shanahan probably would get the necessary power in all three of those spots.
There are a couple of jobs that, if they became available, probably would entice Shanahan. Both Dallas and Tampa Bay could be fits, if coaching changes were made. Dallas could be intriguing because Shanahan and Cowboys owner Jerry Jones have a good relationship and Shanahan has expressed his respect for Jones on numerous occasions.
Shanahan tried to get Terrell Owens to Denver, so he wouldn't be averse to working with the mercurial wide receiver. Also, he tried to sign quarterback Tony Romo -- Shanahan and Romo were quarterbacks at Eastern Illinois a generation apart -- as a college free agent. However, Wade Phillips would have to be fired before any Shanahan-to-Dallas talks could materialize.
Meanwhile, it is being reported that Shanahan's refusal to fire defensive coordinator Bob Slowik led to Denver owner Pat Bowlen firing him Tuesday afternoon. More details could come out Wednesday when both Bowlen and Shanahan address the media.
December, 29, 2008
12/29/08
9:00
AM ET
Posted by ESPN.com's Bill Williamson
In my opinion, the Chargers took control of this division in Week 15.
When San Diego came back from 11 points down at the 2-minute warning in Kansas City it didn't only shock the Chiefs but it shocked the Broncos.
The Broncos entered the field in Carolina thinking the Chiefs were about to close out the game. They were on the field when San Diego finished the comeback. The Broncos were flat for the rest of the game and they never recovered. The win in Kansas City sparked the Chargers and it killed the Broncos.
The AFC West was taken over at that point.
-- Chargers star running LaDainian Tomlinson, who had three touchdowns in San Diego's 52-21 thump job over Denver on Sunday night, said he may have a strained groin. He will be examined later Monday. He is hopeful to play Saturday night against Indianapolis. It doesn't help Tomlinson that the game is played one day earlier than usual.
If Tomlinson can't play, his backup, Darren Sproles, will start. Sproles had 114 yards Sunday night as San Diego compiled 289 yards on the ground against Denver. Fullback Jacob Hester will also have an increased role if Tomlinson can't play.
-- San Diego tight end Antonio Gates has an ankle injury that will be monitored throughout the week.
-- After a week of trash talking, there was some on the field.
"It got chippy," said San Diego linebacker Matt Wilhelm, who during the week called Denver quarterback Jay Cutler "a punk."
"There was some talking out there. There is resentment between the two teams but I think it's because we are the two teams always going for the division title."
However, San Diego quarterback Philip Rivers said there were no issues between him and Cutler. The two have a rivalry dating to last season when Rivers and some teammates and Cutler got into an on-field verbal spat. Rivers said he and Cutler shook hands before and after the game.
"He was great," Rivers said. "We were good."
-- The Chiefs will draft No. 3 and the Raiders will draft No. 7.
-- After the game, Denver coach Mike Shanahan said defensive coordinator Bob Slowik will return for a second season. Slowik was Denver's third defensive coordinator in three seasons. Denver allowed 448 points this season, which was the third-most allowed in the NFL.
-- Rivers completed all six of his pass attempts on third down Sunday night.
-- The Chargers did a much better job against Denver receiver Brandon Marshall on Sunday than they did in Week 2. Marshall had six catches for 55 yards Sunday night. He had 18 catches for 166 yards in Week 2.
-- Raiders quarterback JaMarcus Russell wants Tom Cable to be the team's full-time coach. Since Russell is the future of the team, his endorsement could weigh heavy.
November, 2, 2008
11/02/08
11:57
PM ET
Posted by ESPN .com's Bill Williamson
DENVER -- What's the difference between the AFC West and the United States presidential race?
There will be a winner this week in the chase to be president.
| | |
| --- | --- |
| | |
| | Doug Pensinger/Getty Images |
| | Denver quarterback Jay Cutler played his worst game of the season Sunday, tossing three interceptions. |
Further cementing its stranglehold on the title of worst division in the NFL, the AFC West went a combined 0-3 Sunday. It was the second straight week the division went winless. The four AFC West teams are now 10-22 at the halfway point of the season. No, don't expect an AFC wild card to come out of this division.
With half a season to go, there is a legitimate chance the AFC West will produce the first playoff team with a losing record in the playoffs in a non-strike shortened season. Two 4-5 teams made the playoffs in 1982.
Only a strike could save this division. As silly as it sounds, the Denver Broncos, losers of four of their past five games, are leading the division. Denver is 4-4; San Diego, which had a bye this week, is 3-5; Oakland is 2-6 and Kansas City is 1-7.
After a 26-17 loss to visiting Miami on Sunday, in which the Broncos continued their sloppy ways on offense and untimely lapses on defense, Denver players tried to find a way to be positive.
"The division hasn't been good, we can look at that," Denver linebacker Nate Webster said. "But, come on, we need to start winning some games."
The Broncos, who play on a short week Thursday night at Cleveland, had an opportunity to separate themselves from San Diego while the Chargers were on a bye. With wins over Miami and Cleveland, Denver could have been 6-3 while San Diego was still 3-5. Now, Denver must try to avoid being 4-5 as the Chargers prepare to play host to Kansas City next Sunday.
"We have to shore things up," Denver running back Michael Pittman said. "We have to do it quick."
There is plenty of work to do. Quarterback Jay Cutler is coming off his worst game of the season, the vaunted Denver running attack is coming off its second-worst effort in the history of the franchise and the battered defense probably will now have to play without another stalwart, linebacker D.J. Williams, who suffered a knee injury.
"This was a bad game," Cutler said.
Other key developments from Sunday:
Turnovers continue to kill Denver: The Broncos continued to be careless with the ball. Cutler was the culprit Sunday. He threw three interceptions, two in the first quarter -- including one that was returned 32 yards by Miami cornerback Will Allen for a touchdown to give the Dolphins a 13-0 lead.
The Broncos have committed 15 turnovers in their four losses. Eleven of the turnovers have come in the first half of games. In the past five weeks, Denver has been outscored 56-0 on series after turnovers.
Simply put, the Broncos' defense is not stout enough to withstand the pressure of Denver's offensive mistakes.
The turnovers are also ruining a strong offense. In Denver's first three games, which were essentially mistake-free, Denver scored 114 points. In the five games since, Denver has scored a total of 76 points and no more than 19 points in a game.
"Turnovers, it's that simple," Cutler said when asked his thoughts on his unit's biggest issue.
Nowhere to run: In 14 seasons under Mike Shanahan, Denver has been the premier rushing offense in the NFL. It wasn't Sunday. Denver had 14 yards rushing. It was the second-fewest yards in team history. It was a Miami record for fewest rushing yards allowed. Denver ran the ball only 12 times. Shanahan categorized the effort as "embarrassing."
This is battered unit. Pittman left the game because of recurring neck stingers. After the game, Pittman suggested he may need time to rest the injury.
This may open the door for promising rookie Ryan Torain, who was eased into action Sunday. It was his NFL debut. The fifth-round pick from Arizona State broke his elbow in training camp in early August.
Torain was a non-factor against Miami. He had three carries for 1 yard. However, with Pittman hurting and Selvin Young out for the past three games with a groin injury, Denver may have to turn to Torain in an attempt to regain the Denver rushing spark.
Marshall no fan of defensive scheme: Fresh off his lowest catch output since becoming a starter late in his rookie season in 2006, Denver star receiver Brandon Marshall, who had two catches for 27 yards, was more focused on the game plan of Denver defensive coordinator Bob Slowik.
Marshall didn't like the fact that Denver cornerback Karl Paymah, who replaced the injured Champ Bailey, was playing so far off of Miami receiver Greg Camarillo. He had 11 catches for 111 yards.
"When I look at it, it's common sense, if I was a receiver going against our defense and they're stacking the box and we're playing a one-high defense and eight in the box, and the DBs are 10 yards off of me, I'm going to catch 10 to 12 balls a game," Marshall ranted. "I don't even know that receiver's name who caught all those balls.
"Tighten up the coverage and just play ball, it's real simple. It's real simple. They don't need to be 10 yards off. Tighten it up. You say they don't do that against us, the reason why is a receiver will kill them."
When a star bashes the coaching scheme, it is a sure sign of the wheels falling off a team.
Webster didn't buy into Marshall's complaint. He pointed to Denver's defense nullifying Miami's Wildcat formation. Miami ditched the Wildcat after having very little success using it Sunday. Miami had 75 yards rushing and Dolphins quarterback Chad Pennington completed 23 of 40 passes for 281 yards.
Webster also pointed to Miami's final series as the only poor defensive possession Denver had. The Dolphins went on a 15-play, 80-yard drive that took 8:02 to give them a nine-point lead with 3:08 to go.
"That was it," Webster said. "I don't think our defensive scheme really hurt
us today."
Walking more wounded: When Bailey was lost for at least a month with a torn groin, Williams became Denver's best defensive player. The 2004 first-round pick was having a Pro Bowl season with 77 tackles at weakside linebacker.
Now Denver -- which also lost starting strongside linebacker Boss Bailey for the season two weeks ago -- probably will have to play without Williams for a while.
Shanahan said Williams has a sprained MCL in his knee and he had no idea how long Williams would be out. Williams, who didn't talk to reporters Sunday, departed the stadium on crutches. If Williams is out for an extended period, it could be devastating to Denver's defense.
He is a playmaker, and without the Baileys and Williams, the defense will be stretched extremely thin.
Yes, it was a disastrous Sunday for Denver. But here's the bright spot for the Broncos: They are still the best in the West.
Yes, the AFC West is that bad.
AFC WEST SCOREBOARD
Saturday, 12/20
Sunday, 12/21
Monday, 12/22