January, 16, 2014
Jan 16
8:15
PM ET
ALAMEDA, Calif. --
Oakland Raiders
general manager Reggie McKenzie sat down for an end-of-the season meeting with six reporters who cover the team regularly at the team's compound on Thursday.
Among the many topics discussed in his first public comments since November were his thoughts on how last year's 4-12 team was different from the previous season under coach Dennis Allen, which of his own free agents he would like to retain, how the coming $60-plus million in cap space brings a dual sense of urgency and excitement and his evaluations of the quarterbacks.
[+] Enlarge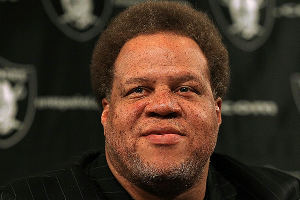 Justin Sullivan/Getty Images"We were competitive I felt in the first half of the season and it faltered during the end," Raiders general manager Reggie McKenzie said.
McKenzie also said he was finalizing a contract with special teams coach Bobby April.
"At the beginning of the season I thought we started off pretty good from the standpoint of how competitive we were from beginning to end," McKenzie said.
"We had lapses in some of those games at different points where it could have turned out, a different outcome, so we were competitive I felt in the first half of the season and it faltered during the end, a couple of games got out of hand but other than that, I thought we played better ... compared to last year.
"It was a different 4-12 team, we ran the ball better. As far as being 4-12, the record is what it is. We've got to find a way to win some of those close games, we've got to close them out some kind of way, and we'll work to upgrade wherever we have to to get that done."
And yes, as Year 1 of the Raiders "reconstruction" begins in earnest, after two years of "deconstruction," McKenzie's goal is the playoffs in 2014.
"Whether it's good or not, that's my expectations," he said. "I want to be top 12 and get to the playoffs, then it's a different season. Whether it's the sixth seed or the No. 1 seed. I've been both, we won the Super Bowl in Green Bay as a six seed. If we can get in, now it's all about the Super Bowl and trying to get there.
"The expectation is winning and getting into the playoffs to have that opportunity to play in the Super Bowl."
Check back as we hit on specific topics ...
June, 3, 2013
6/03/13
8:25
PM ET
ALAMEDA, Calif. -- Some thoughts from the Raiders' OTA session Monday:
I found it interesting that Oakland coach Dennis Allen is putting a huge premium on finding leaders on both sides of the ball. Allen said identifying leaders is "huge" in the big picture.

Oakland is a young team that is going under a major rebuilding movement. The team lost several veteran players and Allen is looking for some players to emerge as leaders to guide the roster, Allen calls it "peer pressure."
Allen sees free-agent pickup linebacker
Nick Roach
and veteran fullback
Marcel Reece
as potential leaders. I agree with Allen. The importance of leadership cannot be discounted. If this inexperienced roster is going to make some noise, it's going to need strong on-field leadership.
Allen said cornerback D.J. Hayden, the team's first-round pick, is still on target to return for the start of training camp in late July. Hayden, who watched practice Monday, had surgery last week to remove scar tissue in his stomach, stemming from a life-threatening heart surgery last November. Allen called the situation "unchartered waters," but he said the team remains confident Hayden should be fine once camp starts.
Receiver Jacoby Ford (hamstring) and defensive tackle Christo Bilukidi (ankle) did not practice Monday.
Cornerback Tracy Porter was noncommittal on whether or not he is going to give up No. 24 to Charles Woodson. Woodson wore the number in his previous Oakland stint. He is wearing No. 2 in practices, but the NFL doesn't allow defensive back to wear single digits. Porter said say the number exchange is up for discussion. Translation: Woodson will have to pay up if he wants No. 24.
Allen was asked about punter Chris Kluwe not being able to attend a Washington D.C. event for gay rights. The event is being held next week during the team's mandatory minicamp. Allen said Kluwe knows his focus has to be on making the roster. It was an expected answer from a coach and frankly, it's the right answer. Players need to focus on the team during the season. Kluwe is a pro. He knows that.
As for Kluwe's competition, Marquette King, Allen said consistency is the key for the strong-legged youngster. Kluwe is the favorite to win the job because of his experience.
Allen said the overall production of this week's media-open session was much better than last week's open session.
Allen expects free-agent picks ups Vance Walker and Pat Sims to improve the team's run defense.
Allen said he wants to further the importance of special teams this year as he moves into his second season as the team's head coach. Allen praised the experience and ability of new special teams coach, longtime NFL assistant Bobby April. Allen thinks improved depth at linebacker and in the secondary can help on special teams.
Allen categorized the tight end position as being "wide open" with every tight end on the roster having a legitimate chance at significant playing time. Allen said if an interesting veteran becomes available at some point, Oakland could show interest. On paper, it is one of the team's weakest positions.
Allen expressed excitement about improvements in both the secondary and at linebacker. As he has all offseason, Allen praised this team for "loving football." He really likes this group of players.
Tony Bergstrom, a third-round pick in 2011, was back working ahead of 2011 undrafted free agent Lucas Nix at left guard. Nix was working ahead of Bergstrom last week. The battle should continue all summer.
Undrafted free-agent receiver Conner Vernon continues to look good. He might have a shot to stick with the 53-man roster.
In other AFC West notes:
New San Diego pass-rusher Dwight Freeney isn't with the team in OTAs yet. Coach Mike McCoy said he expects Freeney in soon. The team is having a mandatory minicamp next week.
Denver running back Knowshon Moreno did some light work as he returned from a knee injury he suffered in the playoff loss to Baltimore.
May, 9, 2013
5/09/13
1:05
PM ET
The
Oakland Raiders
are considering veteran punters to compete with young, but raw
Marquette King
.
The Raiders recently worked out veterans
Jason Baker
and
Mat McBriar
. The Raiders are seriously considering bringing in a veteran to compete with King. It would be the smart move. King has a huge leg, but he was inconsistent last summer and he has no regular-season NFL experience. The team still believes in King, but like every other position, the Raiders want competition.
Longtime star
Shane Lechler
signed with Houston this offseason. Baker, 34, last played in the NFL with Carolina. McBriar, 33, was with the Eagles last season. He played for new Oakland special-teams coach Bobby April in Philadelphia. Oakland could potentially look at other veterans, including
Chris Kluwe
, who was cut by the Vikings earlier in the week.
Again, these workouts don't necessarily spell doom for King's chances of being Oakland's punter this season, but they do show Oakland has interest in bringing in veteran competition.
Meanwhile, former Browns receiver/returner
Josh Cribbs
is visiting the Giants,
according to ESPNNewYork.com
. He is visiting the Raiders and Jets this week as well. Cribbs reportedly has an offer from the Raiders. But the fact that he is still visiting teams means he is looking for a better offer.
January, 19, 2013
1/19/13
8:50
PM ET
The
Oakland Raiders
hired Bobby April as special-teams coach. April has held that position with six previous NFL teams, including the past three with new
Kansas City Chiefs
coach Andy Reid with the
Philadelphia Eagles
. Reid took several coaches from Philadelphia with him to Kansas City. April was not one of them.
Oakland also made official the hiring of offensive coordinator Greg Olson. The Raiders are still looking for an offensive-line coach and a linebackers coach.
January, 19, 2013
1/19/13
2:40
AM ET
The
Oakland Raiders
' search for an offensive coordinator -- their most important hire of the 2013 coaching season -- is over.

Oakland has hired Greg Olson as its offensive coordinator, according to an NFL source. The Raiders are expected to formally announce the hire in the coming days.
Olson was Jacksonville's quarterbacks coach in 2012. Olson has had an extensive coaching career and will run an offense better adapted to Oakland's talent base than that of Greg Knapp, who was fired after one season with the team. Knapp became Denver's quarterbacks coach Friday.
Olson is expected to run a downhill, power-run attack in Oakland. Primary tailback
Darren McFadden
excelled in such an offense in 2010-11; Knapp ran a zone-blocking run scheme that did not succeed with the Raiders.
Olson, who coached on Jon Gruden's staff in Tampa Bay, has spent six full NFL seasons as an offensive coordinator, holding the position in Detroit, St. Louis and Tampa Bay. He worked with Rams running back
Steven Jackson
and Buccaneers quarterback
Josh Freeman
.
Olson has a solid reputation in the NFL. He has pieces to play with in Oakland, beginning with McFadden and quarterback
Carson Palmer
.
I think the right first step is going back to a power running scheme. Using the zone-blocking scheme was a mistake Oakland couldn't overcome last season.
Olson might not be the sexiest of picks, but as long as he fits the personnel and works well with head coach Dennis Allen and the rest of the staff, Oakland should be improved on offense in 2013 as it tries to build from a disappointing 4-12 season in 2012.
Oakland still needs to hire a special-teams coach, an offensive-line coach and a linebackers coach. Bobby April is a candidate to be special-teams coach.
January, 18, 2013
1/18/13
6:05
PM ET
Mike McCoy continues to make impressive moves with his first NFL coaching staff.
The
San Diego Chargers
have announced defensive coordinator John Pagano will stay with the team. Joe Barry (linebackers), Greg Williams (assistant linebackers) and Don Johnson (defensive line) will be retained as well. They are not expected to bring back defensive backs coach Ron Meeks and secondary assistant
Cris Dishman
. Keeping Pagano was an expected, but critical, move. He did a fine job in his first season on the job in 2012 and deserves to be back. San Diego has good, young talent on defense and they responded well to Pagano. Having continuity and the same scheme on that side of the ball is vital.
He has also made impressive hires by getting offensive coordinator Ken Whisenhunt and quarterback coach Frank Reich.
Meanwhile, potential offensive coordinators for the Oakland Raiders are coming off the market . Stanford offensive coordinator Pep Hamilton is the new coordinator with the Colts. Among the candidates that have been connected to Oakland are Mike Martz, Greg Olsen and Oakland assistant Al Saunders. There is a belief Saunders could emerge as the leading candidate.
Oakland's offensive coordinator spot is the lone remaining high-profile job in the division. Greg Knapp was fired Dec. 31 and every other team in the division has hired at least one coordinator. I'd be surprised if the Raiders don't make a hire before Monday.
A special teams coaching candidate could be Bobby April. He has been a special teams coach in six NFL cities. He was with new Kansas City coach Andy Reid with the Eagles the past three years.
The Chiefs signed defensive lineman Daniel Muir. He spent some time with the Jets last season with new Kansas City defensive coordinator Bob Sutton. He was originally signed by the Packers in 2007 where new Kansas City general manager John Dorsey worked.

AFC WEST SCOREBOARD
Friday, 8/22
Saturday, 8/23
Sunday, 8/24