August, 30, 2013
8/30/13
1:55
AM ET
Random thoughts from the
San Diego Chargers
'
41-6 home loss
to San Francisco:
OK, it was ugly. Ugly.

What does it mean? Well, the 49ers' backups are much, much better than the Chargers'. San Diego doesn't have much depth, and this was a classic fourth preseason game for Mike McCoy's team. The starters rested. And the backups were hammered.
The Chargers' depth on the offensive line was exposed. Left tackle
Max Starks
, signed to start, might not even make the team. He wasn't very good. I can see
Mike Harris
being kept over Starks as the swing tackle.
San Diego's special teams were bad again, giving up a blocked punt (the second of the preseason) that resulted in a touchdown. San Diego's special teams has been bad all preseason, perhaps a byproduct of a lack of depth. It will be something to monitor early in the season.
Receiver
Robert Meachem
suffered a possible concussion late in the game. He could be cut or put on injured reserve. Regardless, I don't see a future for Meachem in San Diego, even though he will make $5 million this season.
Guard
Johnnie Troutman
, expected to provide depth at guard, suffered an arm injury. He missed all of last season with a shoulder injury.
Rookie quarterback
Brad Sorensen
wasn't very good after playing well earlier in the preseason, throwing two interceptions. Still, I think he will be the No. 3 quarterback.
August, 29, 2013
8/29/13
10:00
AM ET
Here are three things to watch in the San Diego Chargers' home preseason game against San Francisco:

Special teams:
The San Diego special teams were rotten in the first half of the preseason. It improved in some facets last week. But the team needs to see improvement, especially in the return game.
Tackle race:
Veteran
Max Starks
and youngster
Mike Harris
are competing to be the swing tackle. Perhaps both will make it, but right now, it seems like Harris, an emergency starter as an undrafted rookie last year, has the edge.
Brad Sorensen:
The seventh-round pick has look good in the preseason. He should play a lot in this game. This is his chance to show the Chargers' brass he has a future as an NFL quarterback.
August, 15, 2013
8/15/13
11:50
PM ET
Random thoughts on the
San Diego Chargers
' 33-28
loss
at the
Chicago Bears
on Thursday night:
There's no getting around it: San Diego's first-team offense was awful.
It's the preseason and I have never been an August alarmist, but the problems that plagued San Diego in Chicago are the same issues that sabotaged the team in recent years. They were the reason why new head coach Mike McCoy was brought in.

San Diego looked good offensively against Seattle last week, but it was a disaster on Thursday night. The first-unit offense committed four turnovers (backup quarterback
Charlie Whitehurst
was on the field with the rest of the starters for one of them).
Quarterback
Philip Rivers
threw an interception and lost a fumble on a sack. Turnovers have been a problem for Rivers the past two years. He also hasn't gotten much protection. That was an issue again Thursday night as Rivers was sacked three times in three series. That's ridiculous, but it's nothing new.
According to ESPN Stats & Information, Rivers was sacked every 11.9 times he dropped back to pass last season -- the worst rate in the NFL. The pace was much higher in this game. It has to get better or the Chargers and Rivers will falter regardless of the good work McCoy and his staff are doing.
Max Starks started over King Dunlap at left tackle. Dunlap started last week and has been the starter most of camp. Dunlap played the second drive and is considered the favorite to win the job. Starks was beaten badly on a play Rivers was sacked and where he lost a fumble on the third drive. The performance could go a long way in giving Dunlap the job.
Guard D.J. Fluker, the No. 11 overall draft pick this year, has struggled in pass protection, but has been awesome in run-blocking. That's the book on him as a rookie.
Running back Ryan Mathews looked good. He ran hard and had 45 yards on nine touches. He will be fine if he can finally stay healthy.
Whitehurst had a solid night. He completed 9 of 13 passes for 97 yards and two touchdowns. He improved from last week and his performance in Chicago quieted talk that he could be replaced as the backup.
Rookie quarterback Brad Sorensen was also good as he went 8-for-14 for 127 yards and a touchdown.
The first-team San Diego defense was decent, considering all the turnovers it had to deal with. The unit has some holes, but it's further along than the offense at this point.
The Chargers have been beyond shaky on special teams in two preseason games. They were alarmingly bad in all phases at Chicago. McCoy believes the team will be better in the regular season because of injuries. Guys are playing who won't be in a few weeks.
Rookie receiver Keenan Allen's chances of winning the punt-returning job decreased when he badly muffed a punt and it was recovered by Chicago. Can't do that, rookie.
Running back Danny Woodhead did not play as he comes back from an undisclosed injury. He is expected to make his preseason debut next week.
Second-year tight end Ladarius Green had a touchdown catch for the second straight game and he totaled five catches for 78 yards for the night. He is showing he may be a factor this season.
Former Green Bay linebacker D.J. Smith continued to look good for San Diego.
Key backup cornerback Johnny Patrick was shaken up.
Undrafted rookie safety Jahleel Addae continued to make a push to make the 53-man roster.
Detroit is reportedly signing defensive tackle Justin Bannan. The Chargers had interest in him earlier this summer and could still use depth on the defensive line.
August, 9, 2013
8/09/13
7:45
PM ET
The NFL Network reported
that the Oakland Raiders checked in with running back Darren McFadden about a contract extension.
He is entering the final year of his contract that began with Oakland in 2008 when the Raiders took him with the No. 4 overall pick. The report states McFadden was not interested in an extension at the time.
I wouldn't take that as a sign that McFadden wants to leave. I know that he has been interested in re-signing but I think he simply wants to see what he can do in his contract year -- especially now that Oakland is going back to the power-blocking scheme that best fits McFadden's style. He struggled some last year in the zone-blocking scheme.
In another AFC West note:
U-T San Diego wonders
if Charlie Whitehurst will hold off rookie Brad Sorensen to be Philip Rivers' backup. Sorensen was better than Whitehurst on Thursday night against Seattle.
Whitehurst was playing against better competition and Sorensen probably is not ready to be a backup. If Whitehurst fails throughout the preseason, the Chargers may be more apt to look for a backup quarterback elsewhere.
August, 9, 2013
8/09/13
12:10
PM ET
A few thoughts on the
Chargers' 31-10 home loss
to Seattle on Thursday night:
All in all, it was a positive night for the Chargers. Only in the preseason can that be said about a three-touchdown loss at home.

The Chargers' backups were throttled Thursday night. We all know the Chargers are not a deep team. If the injuries continue to pile up, it will be a problem. But the good news is the Chargers' first-stringers looked strong against a very good team in Mike McCoy's first preseason game.
Sure, teams want to see the entire program do well. But if you had to pick one unit to look good, of course, it would be the frontliners. San Diego hung well with Seattle's first-stringers. San Diego led 3-0 after the first quarter.
The focal point of the McCoy regime, quarterback
Philip Rivers
, looked great. He completed 5 of 6 passes and led the Chargers on a 12-play drive that resulted in a field goal. The first-string offensive line, the biggest question mark, did well and running back
Ryan Mathews
ran with a purpose.
Defensively, San Diego held a potent Seattle attack to no scores on two drives. Key newcomers
Dwight Freeney
and
Manti Te'o
both were active.
Rookie receiver
Keenan Allen
got some action as a punt returner. Expect him to be a big part of the team as a rookie.
Safety
Sean Cattouse
, linebacker
D.J. Smith
and tight end
Ladarius Green
stood out as depth players.
Backup quarterback
Charlie Whitehurst
struggled as he threw two interceptions. But rookie
Brad Sorensen
, who was up-and-down in camp, had a nice day. He was 7-for-10 and connected with Green on a 31-yard touchdown.
August, 8, 2013
8/08/13
12:00
PM ET
SAN DIEGO -- Gone is the omnipresent GM lurking from the large deck that hovers over the practice field.
Gone is the comfortable head coach who went at his own pace.

It's a new day for the
San Diego Chargers
. There is new energy in America's Finest City.
Change was badly needed. The Chargers arguably had the best roster in the NFL five years ago, but it never paid off. The lack of success finally cost general manager A.J. Smith and coach Norv Turner their jobs after another lackluster season in 2012.
The Chargers' fans demanded new leadership for the stagnant franchise. They got their wish. The Chargers now have some of the youngest, freshest leaders in football as the team moves past the stale days of the Smith-Turner era.
Smith was famous for watching practice from the deck of his office. New general manager Tom Telesco, 40, watches practice from the sideline. There are no messages of pecking order being sent from the general manager's office. Telesco, in a camp-issued T-shirt and shorts, could easily be mistaken for an equipment manager.
The head-coaching switch from Turner to Mike McCoy, 41, is almost as distinctive as the change at GM. McCoy's practices have appeared to be crisper and more detailed-oriented than in the past. There isn't much downtime in San Diego's practices. Everyone's moving at all times. That wasn't always the case under Turner.
"I think we're getting a lot done," quarterback
Philip Rivers
said. "Coach McCoy clearly has a plan. It's been impressive. ... The big thing is everyone has bought in to him. The reality is we are .500 over the past three years. It was pretty easy to buy in what's now going on here."
THREE HOT ISSUES
[+] Enlarge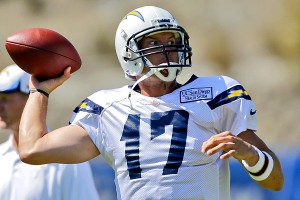 AP Photo/Lenny IgnelziPhilip Rivers threw 15 picks last season to just 26 touchdown passes.
1. The quarterback:
Rivers is a major focal point of this training camp. Telesco hired McCoy, Denver's former offensive coordinator, with an eye toward fixing Rivers. The quarterback has struggled the past couple of years, particularly with turnovers. McCoy and new offensive coordinator Ken Whisenhunt, the former head coach of Arizona, form a strong quarterback-coaching tandem and quarterback coach Frank Reich is also highly regarded. All three men believe in Rivers, and it seems to be paying off. Rivers has looked fantastic in training camp. His confidence is high, and his passes are accurate. It is vital for both Rivers and the Chargers that he has a good season and the team continues build around him. If not, it could be a crossroads season for both the franchise and Rivers' career.
2. The offensive line:
Because of injuries, this unit has been terrible the past couple of years. No matter how much Rivers improves, he won't have much of a chance if he doesn't have protection. The Chargers' line has four new starters. It is not a great unit, and there will be some growing pains. But the group is getting rave reviews for being athletic and tough. Rivers is impressed and trusts the group. He thinks it's deeper with players such as rookie
D.J. Fluker
at right tackle and veterans
King Dunlap
and
Max Starks
competing at left tackle. Dunlap is leading the race. But if there are injuries, this group appears better equipped to weather them than last year's squad.
3. The rookie linebacker:
The Chargers are thrilled with inside linebacker
Manti Te'o
. He will start in the team's 3-4 schemes. He has looked good in training camp and has fit in with the locker room. The hoax he was involved in at Notre Dame is not a factor. The Chargers love the way he works and practices. He is instinctive, and he plays faster on the field than his combine times suggested. The Chargers think Te'o is ready to make a big impact.
REASON FOR OPTIMISM
[+] Enlarge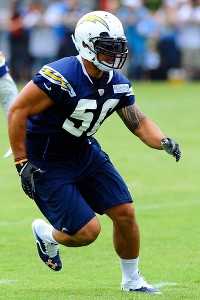 Christopher Hanewinckel/USA TODAY SportsThe Chargers are happy with the progress of second-rounder Manti Te'o, who's slated to start at inside linebacker.
The Chargers are loaded with young talent on defense. Any defense that has
Eric Weddle
at safety, Te'o and
Donald Butler
at inside linebacker and
Corey Liuget
and
Kendall Reyes
at defensive end is an impressive group.
I think these players will be the core to one of the better defenses in the coming years. The Chargers are doing backflips over the combination of Liuget and Reyes. Liuget is entering his third NFL season, and Reyes is entering his second. Liuget was terrific all of last season, and Reyes showed serious pass-rush potential toward the end of the season.
While this defense has some holes, there are some exciting pieces here.
REASON FOR PESSIMISM
The Chargers are pretty thin in a lot of places. I think this team is on the rise, but it may not be a quick fix. There are too many positions where depth is an issue.
San Diego has dealt with the injury bug already. Pass-rusher
Melvin Ingram
, the No. 18 overall pick in 2012, suffered a torn ACL in May. Starting receiver
Danario Alexander
and backup linebacker
Jonas Mouton
suffered the same injury during camp.
Alexander's and Ingram's injuries are particularly worrisome. This team can't afford to lose high-end talent before the season starts. Other positions vulnerable to injuries include the offensive line (even though the depth is better than in the past), defensive tackle, edge rushers and the secondary. There isn't much wiggle room on this roster.
OBSERVATION DECK
The Chargers appear to be well-coached. The influx of offensive coaches and the return of several defensive coaches, led by coordinator John Pagano, makes for a nice mix. Most of the new blood was needed on the offensive side of the ball.

The team feels great about Dwight Freeney, who was signed to replace Ingram. The Chargers are convinced Freeney still has something left in the tank and will be a difference-maker.

The Chargers like the progress of nose tackle Cam Thomas, who they think is ready for a breakout year. Coaches and teammates are talking him up big.

San Diego is looking to add depth on the defensive line. Free agent Justin Bannan on is still on the team's radar. I think we will see the Chargers be active on the waiver wire at a few positions.

Free-agent guard Chad Rinehart is showing solid leadership skills.

The team loves free-agent running back Danny Woodhead. He has been a camp star and should take pressure off starter Ryan Mathews. Expect to see Woodhead used in several different ways. He could be a poor man's Darren Sproles, perhaps.

Yes, tight end Antonio Gates hasn't had a superstar season in years because of injuries, but the team likes what they see from him. He may have another year or two left in the tank.

Ladarius Green, Gates' potential successor, is still growing. But he has shown flashes. He has natural pass-catching ability.

While there are questions at cornerback, the Chargers feel like Derek Cox and Shareece Wright will be an upgrade over last year's starting duo of Quentin Jammer and Antoine Cason.

Rookie quarterback Brad Sorensen has been up and down. He has a good enough arm to keep him on the 53-man roster.

Cornerback Johnny Patrick has looked good. He could see a lot of action in nickel situations.

Fifth-round pick Tourek Williams is getting looks at both defensive end and outside linebacker. The team would like for him to contribute at linebacker.

Robert Meachem, a big-money, free-agent bust last season, has been given new life after Alexander's injury. Still, I have my doubts that Meachem will make much of a difference. He hasn't been a standout in camp.
May, 9, 2013
5/09/13
8:57
PM ET
Manti Te'o
is officially a San Diego Charger.
Te'o
When Te'o steps on the practice field Friday for the Chargers' minicamp, he will do it as a signed member of the team. The middle linebacker from Note Dame was one of four San Diego draft picks to sign with the club Thursday night. Joining Te'o on the dotted line were receiver
Keenan Allen
, defensive lineman
Tourek Williams
and quarterback
Brad Sorensen
.
They are the first draft picks in the division to sign. Because of the new CBA, rookie contracts take little negotiation time.
Te'o's signing shows he is ready to put a tough start to 2013 behind him and focus on starting his NFL career. The Chargers took Te'o with the No. 38 overall pick in the draft. He was originally expected to be a top-10 pick.
But Te'o tumbled in the draft after a poor showing against Alabama in the national title game, a bizarre hoax involving a dead fake girlfriend and a low 40-yard dash.
Still, the Chargers have high hopes for Te'o. He is expected to start at an inside linebacker spot as a rookie. Now that he has signed, that is the next goal for Te'o.
May, 9, 2013
5/09/13
8:30
PM ET
Free-agent safety
Charles Woodson
said he is open to playing under any circumstances at this point.
"When this process first started out, that was my thing, I needed to go to a contender," Woodson told the NFL Network. "I know I am towards the end of my career. At this point, I want to play football. So if it is a rebuilding stage, at this point if that is the circumstances I have to play under, then that is what I am going to do."
That could be of interest in Oakland, where Woodson started his career. The Raiders could use help at safety and the 36-year-old Woodson knows general manager Reggie McKenzie when he played for him in Green Bay.
While the Raiders have been filling their roster with younger players they did re-sign 33-year-old
Andre Carter
, so the team is open to acquiring veterans in the right spot.
In other AFC West notes:
U-T San Diego reports that the
San Diego Chargers
are expected to sign third-round pick, receiver
Keenan Allen
and seventh-round pick, quarterback
Brad Sorensen
, as soon as Thursday.
All four teams in the AFC West will have a rookie minicamp this weekend. Rookie contracts now take little time to negotiate under the guidelines of the new collective bargaining agreement. While none of the draft picks in the division have signed, I think we'll see several rookies under contract soon.
Here's a hint that the Raiders have no interest in bringing back
Richard Seymour
: his No. 92 jersey was given to a rookie.
CBS Sports reports Cleveland free agent receiver/returner
Josh Cribbs
will visit Detroit next. He visited Oakland, the Jets and Giants this week.
In an Insider piece,
Chris Sprow explains why he thinks

quarterback
Alex Smith
will help the
Kansas City Chiefs
make big strides this season.
Blog note:
I will be away from the blog Friday. But please check back. I will have an Eight in the Box feature and blog editors will post headlines.
May, 9, 2013
5/09/13
1:55
PM ET
One of the more interesting aspects of training camp in the AFC West this summer will be watching the progess of the rookie quarterbacks.
Every team added a quarterback. Oakland took Arkansas'
Tyler Wilson
in the fourth round. San Diego took Southern Utah's
Brad Sorensen
and Denver took Miami-Ohio's
Zac Dysert
in the seventh round. Kansas City signed Tennessee's Tyler Bray (who was expected to be a mid-round pick) as a free agent.
As we prepare to see these players in action, here is a chance to go back to Jon Gruden pre-draft quarterback camp.
This link directs you to video interviews
with Wilson, Dysert and Bray.
April, 27, 2013
4/27/13
7:40
PM ET
The AFC West added quarterbacks Saturday.
Oakland took Arkansas quarterback
Tyler Wilson
in the fourth round, and in the seventh round the Chargers added Southern Utah's
Brad Sorensen
and Denver picked Miami-Ohio's
Zac Dysert
.
Sorensen, who originally went to BYU, is big, smart and productive. He does have some field limitations and he is already 25. There were some thoughts the Chargers would draft
Philip Rivers
' potential replacement this year. I don't think Sorensen is that guy. He is a potential backup, though.
Denver's decision to draft Dysert will make people wonder about
Brock Osweiler
, who Denver drafted in the second round last year. It shouldn't, Denver loves Osweiler. If Dysert ever leapfrogs him, it would be a surprise.
But Denver likes Dysert's skills and executive vice president John Elway covets arms. He figured taking a seventh-round flier on Dysert was worth it.
Now it is up to these young quarterbacks to show their new AFC West teams they were worth the picks.