AFC West:

Brandon Meriweather
December, 6, 2013
12/06/13
10:00
AM ET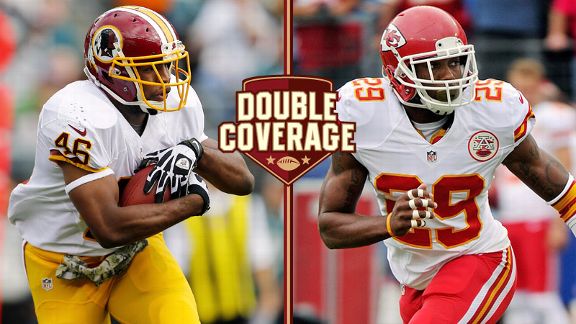 Getty ImagesWashington's Alfred Morris, left, and KC's Eric Berry lead teams trying to end losing streaks.
Fortunes have turned this season for the
Washington Redskins
and
Kansas City Chiefs
. The Redskins, who won the NFC East championship last season, are 3-9. After winning just two games last season, the Chiefs are 9-3 and can clinch a playoff spot Sunday if they beat the Redskins and either the
Baltimore Ravens
or the
Miami Dolphins
lose. But the Chiefs have lost three straight, and their chances for winning the AFC West are virtually gone after being swept in their two games against the
Denver Broncos
.
ESPN.com's Chiefs reporter Adam Teicher and Redskins reporter John Keim discuss Sunday's game:
Teicher:
This is a complicated question, but what's happened this season with
Robert Griffin III
? Still bothered by the knee? Feeling the effects of missing offseason practice?
Keim:
Yeah, it's complicated because there are a lot of issues that have added up to him having an inconsistent sophomore season. The knee played a factor early in that he wasn't going to run a lot and wanted to be more of a dropback passer (partly because he was fooled by last season's success). The knee brace restricts him a little, but he just hasn't regained his explosiveness. He's still fast, but that first-step burst isn't the same, and that hurts on some of the read-option or escaping trouble. Defenses are playing them different -- teams with good fronts can sit back and take away their play-action. They've seen coverages they didn't see a lot of last season, and a greater variety of stunts and blitzes (knowing Griffin might not hurt them as badly). Missing the offseason really hurt Griffin's ability to develop as a passer, and that has been a big issue. There are games when he looks solid, like against the Giants, but he also has had a couple of games that are as bad as any since he entered the NFL. Because he came from a much less complex passing system at Baylor, he needs a full offseason of work.
Adam, who would have thought
Alex Smith
would be the quarterback with the better team in this game? What sort of difference has he made for the Chiefs?
Teicher:
His stats haven't been great until the past couple of games, but he's actually had a pretty good season. He's been burned to some extent by dropped passes or his statistics would actually look a lot better. Through the nine-game winning streak to start the season, Smith played well enough not to mess up a good thing. He wasn't committing turnovers, and, although he wasn't making many big plays in the passing game, he was bailing the Chiefs out of some tough situations, whether scrambling or on the option or on a called play. Lately, they have needed more points and big plays, and he has delivered.
Kansas City has given up some yards via the running game this season. Give us a little scouting report on how Washington uses
Alfred Morris
and
Roy Helu
, and what there is to choose from between those guys. Also, do most of RG III's rushing yards come on the option, called runs or scrambles?
Keim:
The Redskins love to use a lot of stretch-zone and outside zone runs with Morris and Helu. Both can run inside. They will use some boot action off the stretch-zone, as well. Morris does a much better job than Helu of setting up defenders by pressing the hole and cutting. He gets linebackers to overflow, then cuts back. Morris is more patient than Helu, who hits holes as fast as he can run, and that often means he doesn't set up defenders and therefore doesn't create lanes for himself. He's a bigger threat in the open field as a receiver. Helu is used more as a third-down back, but he is capable of running and does have the speed to break a long run. But, again, just not patient enough, and therefore gets a lot of 2-yard runs. As for Griffin, he's averaging 5.46 yards per carry off zone-read runs (compared with 8.0 last season). His longer runs have come off scrambles -- but that also depends on whether a team plays a lot of man coverage. He's just not as explosive off the zone-read runs, but teams have adjusted to it -- they are more disciplined against it, and safeties are more aggressive coming up to defend.
Looking at the Chiefs' defense, how would you assess them at this point after such a dominant start?
Teicher:
Not very good. The Chiefs have allowed more than 400 yards in each of their past four games. They are going to give up some yards, given the style they play (pressure on the quarterback, cornerbacks frequently in one-on-one coverage). Kansas City gave up some yards and big plays early in the season. But now, the Chiefs are not getting to the quarterback often, are rarely forcing him into mistakes, and are not getting the turnovers and favorable field position that made them so successful early in the season. That is why I think Washington could move the ball and score some points against Kansas City. The Chiefs played against a series of journeymen, backups or inexperienced players at quarterback over several weeks and feasted against those guys. The past three weeks, though, they have faced
Peyton Manning
twice and
Philip Rivers
and haven't fared very well. Given Griffin's dual-threat abilities and Washington's running game, Kansas City has some things to worry about.
The Redskins have given up a ton of points. The run defense looks as if it has been decent, but Washington has been horrible against the pass. Pinpoint the problems areas in that regard for the Redskins.
Keim:
The Redskins have not generated enough pressure from their four-man rushes, although there are times when they get what they would consider good rushes but it's not making enough of an impact. I don't sense that quarterbacks are uncomfortable in the pocket. Sometimes it is because the coverage behind them is too soft, especially when they play zone. Washington has a lot of holes in its zone coverages, and quarterbacks can quickly find them. Makes it tough to then pressure. Cornerback
DeAngelo Hall
has been solid and made some big plays; he's much better now in tight man coverage. But the safeties as a group have struggled, sometimes because of injury, and other times because of performance. The Redskins have to upgrade here.
Brandon Meriweather
is OK, but he's one bad hit from a longer suspension. They have had to mix and match a lot at safety to try to make it work. But it's not just here; the inside linebackers have not had a strong season. Cornerback
Josh Wilson
plays the run well out of the slot but can be picked on. He's up and down. Rookie cornerback
David Amerson
can make big plays but also can surrender them (although some of that has subsided). It is an inconsistent group, and it is why defensive coordinator Jim Haslett is under fire. It is not all his fault, as there are times the calls aren't his, but that is life in the NFL.
How big a difference has coach Andy Reid made --- and are the Chiefs a legitimate contender?
Teicher:
He has made a huge difference. He has given direction to an organization that before had a lot of guys pulling in a lot of different directions. Reid came through the door for the first time with an impressive résumé, and players -- tired of the losing and the way things had been -- were more than willing to listen. He has been able to get a lot of guys to put aside personal goals for the greater good. But I don't see the Chiefs as being legitimate contenders, not this season. Even during their nine-game winning streak, there were some red flags everyone knew were going to be problems down the road. The two games against the Broncos, particularly last week's, showed a wide gap between the Chiefs and one of the league's premier teams.
.
October, 28, 2013
10/28/13
5:00
PM ET
SAN DIEGO -- Chargers tight end
Antonio Gates
remembers the respect he and other receivers earned by being man enough to run across the middle of the field, take a big hit and come down with a critical catch when he first arrived in the league 11 years ago.
However, with the NFL's implementation of new rules that protect defenseless players from head-to-head hits, Gates said things have changed.
Gates
"Everybody's going across the middle now," Gates said. "Back then, when you went across the middle, you had a little different respect from the game. It's kind of like, 'Wow, that receiver can go across the middle and make that play. He's a man's man.'
"That's kind of changed now. You see receivers all the time going across the middle and making plays now that back in the day, I don't know if they would go across the middle and make those same plays."
Gates offered his opinion in response to Washington safety
Brandon Meriweather
's comments
to reporters on Monday
.
Meriweather has received several fines during his seven-year playing career for helmet-to-helmet hits. After two more incidents against the Bears on Oct. 20, the league suspended Meriweather for two games. An appeals process reduced the ban to one game, making him available when San Diego faces Washington this week.
"I guess I just got to take people's knees out," Meriweather told reporters in the Redskins' locker room on Monday. "That's the only way. I would hate to end a guy's career over a rule, but I guess it's better other people than me getting suspended for longer.
"You just have to go low now, man. You've got to end people's careers. You got to tear people's ACLs and mess up people's knees. You can't hit them high anymore."
Gates was diplomatic when talking about Meriweather.
"In his case, I've seen some hits and -- I don't know much about him, I don't play him twice a year -- so some of those hits look like they're blatant, and some of them didn't," Gates said. "And how do you make that judgment? How do you make that determination on whether or not he should get fined for it, or whether or not it's a good play? It's so hard to say."
Gates said even with the new information and emphasis by the league on reducing concussions, he'd still rather get hit up top instead of at the knees.
"To me, I've got more protection up top -- I've got shoulder pads and a helmet," Gates said. "I'm not saying one way is right and the other way is wrong. It's just so hard to monitor this game with that type of particular situation.
"Sometimes guys are smaller and are going to hit you lower naturally. Sometimes guys are bigger and are probably going to naturally hit you high."
Chargers rookie receiver
Keenan Allen
understands big hits are a part of the game, but wants defenders to be smart with how they target vulnerable receivers.
"I think I'd rather be hit high, but in a smart way though -- not exactly trying to take someone's head off, but at the same time not trying to take my knee out," Allen said. "You just have to be smart about the situation."
March, 15, 2012
3/15/12
1:57
PM ET
ESPN's Adam Schefter reports
the
Washington Redskins
have landed safety
Brandon Meriweather
.
Denver is looking for a veteran safety with
Brian Dawkins
considering retirement. Meriweather did visit with Denver. The Broncos also visited with Cleveland's
Mike Adams
.
Schefter reports former Seattle cornerback
Marcus Trufant
will visit the Broncos on Friday.
The Broncos have otherwise been quiet in free agency -- despite having $38 million in cap room -- as they wait for
Peyton Manning
to make a decision.
Meanwhile, San Diego's four-year deal with left tackle
Jared Gaither
includes an $8 million signing bonus. His 2012 contract is fully guaranteed.
March, 14, 2012
3/14/12
10:40
AM ET
Seattle tight end
John Carlson
decided to cut his trip to Kansas City short and head to Minnesota. He will likely sign with the Vikings on the trip.
The Chiefs were hoping to pair Carlson, who missed all of last season with a shoulder injury, with
Tony Moeaki
, who missed all of last season with a knee injury. The Chiefs are expected to host right tackle
Eric Winston
and running backs
Mike Tolbert
and
Peyton Hillis
on Wednesday.
In other AFC West news:
Tennessee owner Bud Adams told a local television station that the team will meet with quarterback
Peyton Manning
and he expects Manning to make a quick decision. The Broncos are one of the teams interested in Manning. The Broncos have been very quiet in free agency despite having $38 million in salary-cap room. It is clear the Broncos are waiting to see what Manning will do.
ESPN's Adam Schefter reported that Chicago safety
Brandon Meriweather
was planning to visit Denver, but will now first visit Washington. The Broncos want a veteran safety.
March, 13, 2012
3/13/12
4:30
PM ET
ESPN's Adam Schefter is reporting Denver will visit with Chicago free-agent safety
Brandon Meriweather
and Kansas City cornerback
Brandon Carr
will visit the
Dallas Cowboys
.
Meriweather was cut by New England last season. He played in 11 games and had four starts for the Bears. I don't think he would be an overly expensive pickup for Denver is he signs. The Broncos are looking for a veteran safety with
Brian Dawkins
considering retirement.
Dallas has been considered a top landing spot for Carr. There is little chance he will return to the Chiefs. The Chiefs signed former Oakland cornerback
Stanford Routt
last month.
September, 4, 2011
9/04/11
1:25
PM ET
Carolina has reportedly waived defensive end
Everette Brown
, according to Sirius NFL radio. The Panthers traded a future No. 1 pick in 2009 (yes,the same thing Denver did with flameout cornerback
Alphonso Smith
that year) to take Brown in the second round. It will be interesting to see if the
Denver Broncos
(coached by former Carolina coach John Fox) claim Brown. Denver has the No. 2 claiming priority in the league behind Carolina. Thus, the Broncos will get first crack at Brown. For a team looking for the right mix on defense, I could see the Broncos making this move if Fox believes Brown can play.
In other AFC West related-news Sunday:
Well, we can
forget the notion
that
Brandon Meriweather
could reunite with Scott Pioli in Kansas City. The safety
has signed
with the Bears. He was cut by New England on Saturday.
As a result of the 53-man roster Saturday,
the Chargers are the third oldest team in the NFL. Signing veteran defenders
Takeo Spikes
,
Bob Sanders
and
Na'il Diggs
(who was added Saturday) certainly helped add to the Chargers' age tally. Rebuilding Denver is the youngest team in the division.
ESPN's Adam Schefter has reported
that former Chiefs guard
Brian Waters
has agreed to terms with New England. Waters, a face of the organization for the past 11 years, was cut in Kansas City this summer. Best of luck to Waters, who was always generous with his time with me in the Chiefs' locker room.
There were some interesting numbers-related nuggets gleaned from the 53-man rosters. The Raiders have among the fewest linebackers (six) in the league. Kansas City is tied for the fewest amount of offensive lineman (seven) while San Diego is tied for the most linebackers (10) in the league. Perhaps these numbers are indications of where teams could look to add or look to cut from in the next few days.
September, 3, 2011
9/03/11
5:45
PM ET
Will Scott Pioli make a run at former
New England Patriots
safety
Brandon Meriweather
? The Chiefs showed they had interest in a safety earlier in the week. ESPN's Adam Schefter reported last week that
James Sanders
was considering Kansas City but signed with the
Atlanta Falcons
.
Pioli was with the Patirots when they drafted Meriweather in the first round in 2007.
He was cut by the Patriots on Saturday.
Meriweather has stated every NFL game he's played in and he has made the past two Pro Bowls.
There could be a place for him in Kansas City. Pairing
Eric Berry
, who made the Pro Bowl as a rookie last season and Meriweather could be interesting. I wouldn't be shocked if the Chiefs looked into it.