August, 26, 2014
8/26/14
7:30
AM ET
Most significant move:
There may be no more difficult place on the roster for a young player to earn the trust of the coaching staff than on the offensive line. So much so that
Orlando Franklin
is the last Broncos' offensive linemen to start as a rookie, and he did it in 2011 -- John Fox's first season as the team's coach. But rookie
Michael Schofield
, a third-round pick in the May draft, and
Paul Cornick
, who spent the 2013 season on the team's practice squad, have shown enough to convince the Broncos to part ways with
Winston Justice
in the first round of cuts. Justice went through much of the early work in offseason workouts as
Ryan Clady
's backup at left tackle and got plenty of snaps in an audition as the starting right tackle as well. But the Broncos chose youth, and Justice, who is headed into his ninth season, was sent on his way.
Wild card:
Often when the Broncos make this first round of roster cuts, there are actually players they want to bring back for the practice squad on the list. But to do that, the players must clear waivers, so sometimes the thinking is with rosters still at 75 around the league, teams may be less inclined to claim one of those players on waivers. Running back
Brennan Clay
, wide receiver
Greg Wilson
, wide receiver
Greg Hardin
and defensive tackle
Will Pericak
certainly fit that profile. Clay's play tapered off slightly as camp wore on, but during offseason work there were some with the Broncos who believed he had the best hands as a pass-catcher of anyone at the position. But he wasn't always assignment sound in recent days and wasn't going to get past fellow undrafted rookie
Juwan Thompson
on the depth chart.
Broncos' cuts:
LB
Jamar Chaney
(moved to injured reserve), RB Brennan Clay, WR Greg Hardin, LB
Jerrell Harris
, T Winston Justice, defensive tackle
Cody Larsen
, S
Charles Mitchell
, WR
Jordan Norwood
, DT Will Pericak, quarterback
Bryn Renner
, DE
Chase Vaughn
(waived injured), RB
Jerodis Williams
and WR Greg Wilson. Norwood was a good bet to make the roster as a sixth receiver and punt returner until he tore his left ACL last week.
August, 1, 2014
8/01/14
6:15
PM ET
ENGLEWOOD, Colo. -- A daily review of the hot topics coming out of
Denver Broncos
training camp:
Backup quarterback Brock Osweiler will get a rather tidy training camp exam Saturday morning. The Broncos will hold their annual practice/summer scrimmage at Sports Authority Field at Mile High. And after some of their usual drills to open the workout they will send the No. 1 offense against the No. 2 defense for 12 plays of live tackling. And that means Osweiler and the No. 2 offense will try its hand against the No. 1 defense. "Brock is really going to have to be smart and moving the ball well against the 1s," Broncos offensive coordinator Adam Gase said. The combination to keep an eye on, at least if the last few days of practice are any indication, is Osweiler and undrafted rookie Bennie Fowler. The two have connected on several big plays, including touchdown throws Thursday and Friday. Fowler has worked with the second-team offense lately and if he's on the field Osweiler will look his way.
The running back rotation in the scrimmage will bear watching, especially how things go with the second and third units. Montee Ball figures to get most, or all, of the carries with the starters with Ronnie Hillman working as his backup right now. C.J. Anderson is expected to run with the second team while Juwan Thompson, Kapri Bibbs and Brennan Clay will likely mix and match with the third-team offense. Thompson, however, has taken second-team snaps in camp in short-yardage work.
Following Friday's practice, Broncos defensive coordinator Jack Del Rio had high praise for cornerback Chris Harris Jr.'s work in coming back from ACL surgery in February. Harris was cleared to return to practice this week, less than six months following his surgery. "I've been around guys that have rehabbed and come back from injury, but I don't know if I've ever seen a guy more determined every day with great energy attacking it the way he did," Del Rio said. "He's really stayed engaged mentally in the meetings. He's worked extremely hard and been very diligent, and it's gone well -- no setbacks or anything."
Linebacker Jamar Chaney, who started 23 games for the Philadelphia Eagles earlier in his career and had a three-interception season in 2011, had a leaping pick on a Zac Dysert pass in Friday's red-zone drills. Chaney leaped high to tip the ball up and then caught the tipped ball. Chaney, who has worked with the third-team defense the majority of the time, faces a tight battle at linebacker for the last few spots. The team kept seven linebackers in the cut to 53 players in 2011 and 2012 to go with six at the position last season.
The Broncos' practice/scrimmage at 11 a.m. at Sports Authority Field at Mile High will be their only practice Saturday.
Odds and ends: Defensive end Derek Wolfe, who left Thursday's practice with stiffness in his lower back, was back on the field Friday ... Safety Quinton Carter, who is on track to make the roster after two missed seasons with knee troubles, finished his work in a team drill at one point in Friday's practice and jumped on a stationary bike to ride for a few minutes. He then returned to practice ... Wide receiver Emmanuel Sanders reached high for a scoring grab in the back of the end zone in team drills, getting his feet down just before crossing the end line ... Hillman got a few carries with the starting offense in run-game work.
July, 31, 2014
7/31/14
5:25
PM ET
ENGLEWOOD, Colo. -- When former
Denver Broncos
running back
Knowshon Moreno
had scratched and clawed his way out of the depth chart doghouse to post his best season as a professional in 2013 (1,038 yards rushing and 60 receptions), running backs coach Eric Studesville said this:
Hillman
"I hope guys, young guys, older guys, anybody, look at what Knowshon did for himself, how he worked, how he carried himself to go from where he was to do what he did, and see that's exactly how you handle football adversity."
Well, consider the point taken. In a meeting room where no running back has played more than two seasons worth of games in the NFL,
Ronnie Hillman
was apparently paying attention.
While
Montee Ball
is this team's starter and the guy who will lug the rock much of the time, Hillman has the most potential to be a home-run hitter in the run game. Hillman's potential, though, has far outweighed his accomplishments.
Last year he was handed the first crack at the starting job in offseason workouts, but by the time the Broncos rolled into the regular-season opener against the
Baltimore Ravens
Hillman had just four carries in that game. By the eighth game of the season, Hillman was a game day inactive and eventually did not play in any of the Broncos' postseason games.
So it could be easy to be jaded about any uptick the Broncos say they see in Hillman's play because last season is still fresh in many people's minds. They've heard about potential before, heard what he could give to the offense.
"But I love what Ronnie has done," Studesville said. "From when we started this spring in April forward, he has been unbelievable. He's a completely different guy in the best possible way and I'm just excited about what he's doing, how he's approaching it, how he's making plays on the field. It's been great. It's been there the whole time, but we're finally seeing the maximum side of it. ... I didn't do a good job of bringing it out, but now we are, he's bringing it out."
During offseason workouts, offensive coordinator Adam Gase said the depth chart behind Ball was "wide open." Since the start of training camp, however, Hillman has been solidly No. 2 in the rotation.
C.J. Anderson
has nudged himself back into the No. 3 spot, for now, after losing about 20 pounds and rebounding from a sluggish performance in OTAs and minicamp. Rookies
Juwan Thompson
,
Brennan Clay
and
Kapri Bibbs
have also gotten some select carries in the No. 3 spot, while Thompson has had a few with the No. 2 offense in short-yardage work.
But it is an odd twist of fate and roster building that Hillman, who is entering his third season in the league after being a third-round pick by the Broncos in 2012, is the most experienced back on the team. Hillman has flashed his speed to the corner in the run game, the acceleration with a screen pass in his hands and far more willingness to dig in and take on a rusher in pass protection.
"Give a lot of credit to him," Studesville said. "For ... sitting back and looking at two years in the NFL, a talented guy who should be here, who's demonstrated he's got the ability to be here and wasn't playing for whatever reason. And he found a way to turn that around and turn our eyes around ... and we love what we're seeing."
Asked what he's learned along the way and Hillman has been quick to say "that you have to be accountable ... that I probably relaxed a little bit last year when maybe I shouldn't have. It won't happen again ... I come in here every day with a chip on my shoulder."
Hillman has also been savvy enough to add "you have to show it in how you practice and what you do in games. I want to make plays in games that help us do good things."
July, 30, 2014
7/30/14
7:30
AM ET
ENGLEWOOD, Colo. -- The
Denver Broncos
haven't had the usual throngs of their faithful waiting for them when they arrive at the practice field.
They've had no roars of approval for long passes completed or the customary oohs and aahs for interceptions, forced fumbles and
Peyton Manning
being Manning.
[+] Enlarge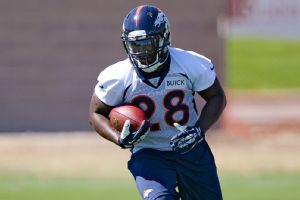 John Leyba/The Denver Post/Getty ImagesMontee Ball seems to have Denver's starting tailback job wrapped up, but who will back him up?
As Manning put it, "It's kind of going to be on us to keep ourselves going."
The Broncos, who will hold the second of three open-to-the-public practices at Sports Authority Field at Mile High as the $35 million makeover continues at their complex, are a deep team with very few roster spots truly in play. Still, after the first week of training camp, there are some questions they still need to answer in the coming weeks, including:
Depth chart at running back:
Montee Ball
was handed the starting job in the offseason, much like
Ronnie Hillman
was a year ago. Hillman didn't keep the job, but Ball clearly will.
He's shown vision in the run game, decisiveness in his cuts and consistent, quality work in the passing game. He's poised for a big season and perhaps even the first 250-carry season for the Broncos since Reuben Droughns had 275 carries in 2004.
Knowshon Moreno
had 247 in 2009 and 241 last season, while
Willis McGahee
had 249 in 2011.
Hillman has also responded after a listless 2013. He's been a little grittier in pass protection and seems to have learned the sometimes painful lesson that he has to stay on his toes to have a chance to stay in the lineup.
C.J. Anderson
,
Juwan Thompson
and
Brennan Clay
will hash it out for the other spots. Anderson was sluggish in OTAs and minicamp at 234 pounds. After his performance in those offseason workouts, there were plenty of folks with the team who were not confident he would keep a roster spot at that weight.
He's now about 215 pounds in camp and looks more like the guy who made the roster last season as an undrafted rookie. But all three of those backs should be camped out at special-teams coordinator Jeff Rodgers' door because the No. 3 running back got all of 55 carries a year ago and might not get anywhere close to that this time around.
Right tackle:
Chris Clark
has worked with the starters thus far, but the decision hasn't been made. He has struggled at times with some of the power moves from the Broncos' defensive linemen in pass-rush drills and hasn't always gotten his hands in the right spots on initial contact. He played well in place of an injured
Ryan Clady
at left tackle last season, but the strong side is a different deal, and he hasn't yet slammed the door on the competition for the job.
The Broncos can help the right tackle with a tight end if they need to but would prefer not to have to. So, consider auditions still open, and the position will bear watching in preseason games.
Returner(s):
There are some candidates who have flashed some explosiveness such as Hillman, rookie wide receiver
Cody Latimer
, undrafted rookie
Isaiah Burse
,
Omar Bolden
and
Andre Caldwell
, among others. But none of them has consistently caught the ball well enough in practice so far to be considered the front-runner.
At least one of them has to step forward in the coming weeks in the return game and handle the ball consistently. Otherwise the Broncos will be faced with eschewing the idea of an impact returner in lieu of simply fielding the ball without a bobble.
That would be an awful lot of field position left unsecured before the Broncos' offense takes the field.
May, 22, 2014
5/22/14
7:30
AM ET
ENGLEWOOD, Colo. – In a vocation where scouting matters a lot,
Juwan Thompson
has had a better up-close-and-personal look at what the
Denver Broncos
' offense has to offer than almost any other undrafted rookie.
Thompson is a former Duke running back and one of many first-year hopefuls being put through the offseason paces in Denver. Duke University happens to be where, because of head coach David Cutcliffe's presence, Broncos quarterback
Peyton Manning
and the team's pass catchers have gathered in each of the past two offseasons to get a head start on their work.
[+] Enlarge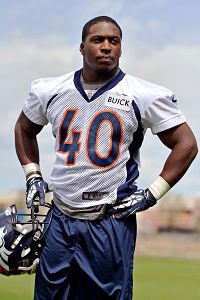 AP Photo/Jack DempseyThe depth chart behind Montee Ball is wide open and Juwan Thompson looks to claim a spot.
"I was able to see those guys, see their practice habits, see how it correlated back to them," Thompson said. "Those guys going full out, they went twice a day, they made sure they got their rehab in so they were good to go the next day. ...
"I met the guys a couple times when I saw them around. But just to watch them, it was a great feeling. It would kind of like a home fit for me at the end of the day. There is opportunity here ... and I know my special teams ability can help."
And while there are few job openings on a fairly young team that also had the salary cap room to dive into free agency, the running back position is another story. This past week offensive coordinator Adam Gase threw open the doors on competition for each of the slots after starter
Montee Ball
.
"Right now, it's an open competition for that spot -- all those spots," Gase said. "So we need to see who is going to be the guy to step up."
That's because the Broncos allowed
Knowshon Moreno
-- who finished with his first career 1,000-yard rushing season in 2013 to go with 60 receptions -- to test the market. Moreno signed a one-year deal with the
Miami Dolphins
. The Broncos also did not select a running back in the draft.
Ronnie Hillman
, a third-round pick in 2012 who went from starter last offseason to a game day inactive much of the time, faces a get-it-done summer to keep his roster spot.
C.J. Anderson
, who made the Broncos roster as an undrafted rookie last season, and this year's class of undrafted players make up the rest of the depth chart at the position -- Thompson,
Jerodis Williams
, Oklahoma's
Brennan Clay
and Colorado State's Kapri Bibbs.
In some ways Thompson is a little bit an outlier in that group. Williams, who went to training camp with the
Minnesota Vikings
last season, Clay and Bibbs were all work-horses in college. Thompson, in Cutcliffe's spread-it-around philosophy, was one of six players on the Duke roster to have at least 60 carries last season.
And none of those Blue Devils had more than 113 carries.
"But at the end of the day we had one goal and that was just winning," Thompson said. "I had to put that selfishness in the backseat so we could have that record we had."
Cutcliffe, who was Manning's offensive coordinator at Tennessee and one of Manning's closest confidants in football, spoke highly of Thompson to the Broncos coaches when it was time to sign rookies who were not selected in the seven-round draft. At 225 pounds Thompson is the biggest back on the roster. He ran a 4.57 40-yard dash at his pro day to go with a double-take worthy 35 1/2-inch vertical jump. He also played plenty of special teams in his career at Duke and is well-versed in pass protection.
Last season Moreno went from a shaky roster spot to starter for the Broncos because, at least initially, he was the most reliable in pass protection. Moreno then kept the job because of the way he handled his business running the ball as well.
Thompson says, having seen Manning and the team's receivers work up close, he also understands just how detail-oriented things are in the Broncos' offense.
"They wanted to make sure they were precise at the end of the day," Thompson said. "It will be very beneficial to me … . Most importantly in pass protection."
Gase said Ball is slotted as the starter as the Broncos work through their offseason team workouts, just as Hillman was this time last year. Ball went on to pass Hillman on the depth chart and carry the ball 120 times for 559 yards as a rookie in the highest-scoring offense in league history. The Broncos will share the work at least some in the running game this time around as well, but who gets those carries after Ball is still to be sorted out.
"We drafted [Ball] to be a guy that was going to be a big contributor for us," Gase said. "But at the running back spot, it's hard to just have one guy and say, 'Hey, we're going with him for 350 carries.' It's really not what we're looking for. We're looking for a guy that can start those games out, be consistent all year, make sure that he's great in pass protection, great in route concepts, which he's shown us that he has the ability to do. We just need to make sure that he continues that through this season."