September, 19, 2013
9/19/13
1:10
PM ET
ENGLEWOOD, Colo. -- If you really want to feel what the
Denver Broncos
-
Oakland Raiders
rivalry should be, what many of those who fill the seats in each city in each football weekend expect it to be, you're going to need a few things.
Like …
Gray hair.
A good memory, as in a really, really good memory. You know, almost Mensa.
VHS.
Oh, and quarterbacks. Game-changing, rivalry-stoking quarterbacks.
[+] Enlarge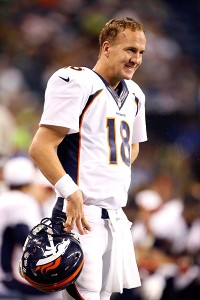 Joe Nicholson/USA TODAY SportsQB play has helped Denver dominate its rivalry with the Raiders in recent seasons.
As the Broncos and Raiders prepare to open up AFC West play for each on Monday night, these two ships will again pass in the night. The Broncos, with
Peyton Manning
at quarterback, consider themselves a Super Bowl contender, complete with plenty of eight-figure contracts and a parcel of off-the-field drama in tow.
The Raiders are in Year 2 of not just a re-build job, but they have largely scrapped the lot and elected to start from the ground up. With that the team's decision-makers, including general manager Reggie McKenzie and coach (and former Broncos defensive coordinator) Dennis Allen, have handed the offensive keys, at least for the moment, to quarterback
Terrelle Pryor
, their latest hope behind center.
The bottom line is it's been quite some time since this long-standing, annual battle between two of the AFL's original eight, has been a give-as-good-as-you-get rivalry. Even with all of the road the two have traveled together, the fact is they have rarely been good together, facing off at the peak of their powers.
One of the two has most often been up, flexing potential postseason muscle, and the other has basically been the welcome mat. There have been just five seasons when both the Raiders and Broncos made the playoffs in the same year. And since the start of the 1992 season, they have both made the playoffs in the same year just once -- in 2000 when the Raiders won the division at 12-4 and the Broncos were a wild card at 11-5. That's a long way from the zenith, the 1977 season when the two didn't just meet in the playoffs, they met in the AFC Championship with a Super Bowl trip at stake.
Or as Broncos Ring of Famer Randy Gradishar put it; "Now that's what a rivalry looks like. If people ever want to know what it looks like, what it feels like, that was it right there."
Since, however, there's also the Shanahan effect. When Mike Shanahan was hired by the Broncos, it was his second stint as an NFL head coach since his first stint had ended rather unceremoniously in Oakland four games into the 1989 season. Shanahan and the late Al Davis also had a long, well-chronicled tiff over some bonus money after the firing, adding some emotional hot sauce. So, needless to say, Shanahan liked beating Davis' team and made it an organizational priority. And Shanahan did it a lot, going 21-7 against the Raiders in his time with the Broncos.
Current coach John Fox is 3-1 against the Raiders in his two previous seasons on the Front Range. The only time since Shanahan's first season in Denver the Raiders have had an upper hand against the guy wearing the big headset for the Broncos was during Josh McDaniels' just-under-two-year tenure when the Raiders were 3-1 against the Broncos.
But like most things in the league these days, success and failure over the long haul can often be traced back to what happened at quarterback, how the draft went and just how many ill-conceived contracts were handed out to free agents who didn't perform.
While the Broncos have certainly had their draft/checkbook stumbles over the past two decades, they have had fewer than the Raiders. Even as the quarterback search in the post-Elway era has had some ups and downs in Denver -- seven different quarterbacks have started against the Raiders for the Broncos since Elway retired following the 1998 season -- it has gone far better than the mistake-filled search behind center for the Raiders.
Brian Griese,
Jay Cutler
and Peyton Manning have been named Pro Bowl quarterbacks for Denver in the post-Elway era while Gus Frerotte, Tim Tebow, Jake Plummer and Manning each started postseason games for the Broncos over the past 15 years. By contrast the Raiders have started 13 different quarterbacks against the Broncos since the start of Shanahan's first season in Denver. And Rich Gannon is the only Raiders quarterback to have started at least five consecutive meetings with the Broncos over that span.
Sure, Broncos cornerback
Champ Bailey
will often say "we don't like them and they don't like us," when the division games come rolling by, but Broncos-Raiders is really a remember-when rivalry right now, something maintained and nurtured because folks feel it's the right thing to do along the way. The bones are there, though, just waiting for both teams to cooperate and make it what all involved always seem to hope it will be.
March, 20, 2012
3/20/12
10:00
AM ET
For years, the theme in Denver was the Broncos were searching for their next John Elway.
Leave it to Elway to finally get the job done. It's been a windy road at the most important position on the field in Denver since Elway -- who became Denver's top football decision-maker last year -- retired after the 1998 season and back-to-back Super Bowl titles.
The Broncos now have greatness at the position again in the form of Manning. Let's review what has happened during the often frustrating journey between Elway and Manning in Denver:
Brian Griese
Years as Denver's starter:
1999-2002
Comment:
Griese had the impossible task of replacing Elway. He had his moments, but he was not a special player and Denver couldn't handle seeing the dip at the position.
Jake Plummer
Years as Denver's starter:
2003-06
Comment:
Plummer was probably better than he was given credit for. He won his share of games in Denver, but, again, he wasn't a special player.
Jay Cutler
Years as Denver's starter:
2006-08
Comment:
He is the poster boy of Denver's frustration at quarterback in its post-Elway existence. Cutler flourished under coach Mike Shanahan and he seemed like he was on his way to being an elite player for Denver. But he famously clashed with Shanahan's replacement, Josh McDaniels, and he was shipped off to Chicago. It changed the course of the organization that has been felt all the way until Manning's agreement to come to Denver.
Kyle Orton
Years as Denver's starter:
2009-11
Comment
: Acquired in the Cutler deal, Orton did a nice job for Denver, but he was just a journeyman.
Tim Tebow
Yeas as Denver's starter:
2010-2011
Comment:
He was McDaniels' parting gift to Denver. Tebow started 16 games in Denver and it was a wild scene. But Elway was never comfortable with Tebow's ability to be an NFL passer, and now it appears Tebow will be another quarterback who will be shown the door in Denver.
November, 20, 2010
11/20/10
5:00
PM ET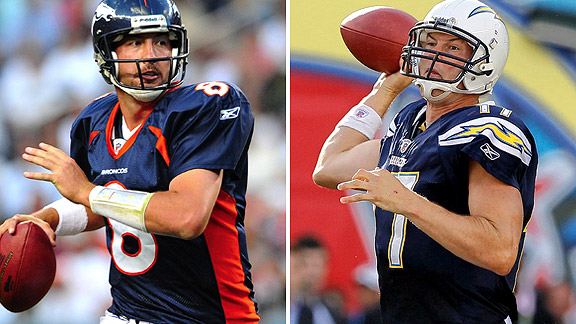 US Presswire/Icon SMIBoth Kyle Orton, left, and Philip Rivers are on pace to approach the 5,000-yard passing mark.
SAN DIEGO -- We thought the
Denver Broncos
-
San Diego Chargers
quarterback drama died when
Jay Cutler
was shipped out of the division.
Cutler and
Philip Rivers
engaged in a deliciously icy relationship complete with on-field antagonism and off-field name-calling. It had potential to be a decade-long dispute. It was a letdown when Cutler was drop-kicked to Chicago by Josh McDaniels in 2009. With the feud foiled, it appeared all the intrigue of AFC West quarterback play had disappeared. What could replace the Cutler-Rivers loathe fest?
How about unprecedented quarterback play? Will that do?
Kyle Orton
, the player who came to Denver from Chicago as part of the Cutler trade, may not have the feisty demeanor, but he has the ability to keep up with Rivers. In one of the more astounding storylines of the 2010 NFL season, the two AFC West quarterbacks are reaching uncharted quarterbacking territory.
Through nine games, Rivers is leading the NFL with 2,944 passing yards. Orton is second with 2,806 yards. Rivers is on pace to set the NFL single-season passing record with 5,233 yards. Orton is on pace to throw for 4,988 yards.
Only two times in league history have quarterbacks thrown for more than 5,000 yards. Dan Marino threw for a record 5,084 yards in 1984 and
Drew Brees
(whom Rivers replaced in San Diego in 2006) threw for 5,069 yards in 2008. There is a legitimate chance the AFC West may match history this season. We will get to see Rivers' and Orton's march for 5,000 yards Monday night when Denver visits San Diego on ESPN's "Monday Night Football."
"These are two very strong players," former NFL quarterback and current ESPN analyst Trent Dilfer said. "They are two very different players, but you can't deny the season or talent either player has."
Rivers, who'll turn 29 next month, and Orton, who turned 28 last Sunday, have taken separate paths. Rivers has long been designated a top quarterback. The No. 4 pick of the 2004 draft, Rivers has been on the fast track since taking over the Chargers' offense in 2006. He has the best career passer rating in NFL history at 96.9.
Orton has taken a less certain NFL road. Orton was a starter in Chicago in his rookie season in 2005 and in his fourth season in 2008 before being a throw-in on the Cutler trade. Orton made immediate progress last season under McDaniels. Orton threw for 3,802 yards and 21 touchdowns in 2009. It was a nice start in a new system. This year, Orton looks like he's been playing in McDaniels' system for 10 years. In addition to his load of yards, Orton is very efficient. He has 16 touchdown passes and has thrown just five interceptions.
Former Chicago teammate and current Denver radio color man Brian Griese said Orton's arrival as a solid NFL player was a matter of leaving Chicago. Griese didn't think former Chicago offensive coordinator Ron Turner (the brother of Rivers' head coach, Norv Turner) helped Orton's career as much as McDaniels has. Griese said he and Orton were in an "archaic" system in Chicago.
"For Kyle, it was a matter of him getting his health, being in a good system and getting good coaching," Griese said. "I knew once he got out of that bad situation, he'd flourish. ... Anyone who flips on the film knows Kyle Orton is a good quarterback. He has a great combination of accuracy, arm strength and knowledge of the game."
Unlike Rivers, Orton is not known for having a big arm, but both Griese and Dilfer insist Orton has an underrated arm to go with his accuracy and strong grasp of the game. There's statistical backing for that view. According to ESPN Stats & Information, Orton and Rivers are among the NFL's best on passes of 21 yards or longer. Rivers has completed 50 percent of those passes for 650 yards and eight touchdowns. His passer rating on those passes is 110.9. Orton has completed 46.3 percent of passes 21 yards or longer for 653 yards and five touchdowns. His passer rating in the situation is 122.2.
Dilfer laughs that Orton has not been able to shake the "game manager" label he picked up in Chicago. The Broncos have the No. 32-ranked run offense in the NFL, and the Broncos' offensive line struggled the first half of the season.
"Everyone looks at Kyle as a low upside guy with no measurables and who at best can manage a game," Dilfer said. "The truth is, there is no bigger quarterback-driven offense in the NFL than Denver. The burden is on him every play and he handles it flawlessly, and I don't say that lightly."
While Orton has been dealing with the disadvantage of having a poor running game, Rivers has had his own challenges. He has been playing without Pro Bowl receiver
Vincent Jackson
all season. Jackson, who ended his holdout last month, is set to return in Week 12. Other receivers have been hurt. In Week 9, Rivers was playing without his top four receivers and without star tight end
Antonio Gates
. Still, Rivers threw for 295 yards and four touchdown passes in a comeback win that kept San Diego's AFC West hopes alive. According to ESPN Stats & Information, Rivers is second in the NFL in pocket passing with 16 touchdowns and a passer rating of 105.8.
Rivers' success in distress doesn't surprise Dilfer.
"Philip Rivers is one of the very elite players in the NFL," Dilfer said. "He's the best I've ever seen at playing in chaos. He doesn't need a clean pocket. It doesn't matter if all hell breaks loose, he makes plays. In situations where most guys crumble, Rivers will throw an 18-yard strike and it makes you say, 'How did he do that?'"
If San Diego, which has been strapped by bad special-teams play, had a record better than 4-5, Rivers would probably be the runaway MVP candidate.
He is currently No. 2
on ESPN's MVP Watch. Matt Williamson of Scouts Inc. believes Rivers is the top candidate for NFL MVP.
"No one is playing better than he is this season," Williamson said. "He's an elite guy."
Concluded Dilfer: "These are two great players. Everyone knows Rivers is good, but forget the label on Orton; the guy is good, too. These two are going to be around a long while in that division."
September, 3, 2010
9/03/10
12:00
PM ET
The Great Debate series wouldn't be complete this year without a discussion about Broncos rookie quarterback
Tim Tebow
.
Tebow is one of the most talked-about players in the NFL and he hasn't even played in a regular-season game. The Heisman Trophy-winning quarterback from Florida is a polarizing wonder. Tebow's NFL future has been serious water-cooler conversation ever since Denver shocked the NFL by trading three draft picks to move up and take him with the No. 25 pick in April. Everybody has an opinion and the opinions vary.
And that is the case with ESPN.com senior writer John Clayton and AFC West blogger Bill Williamson. Clayton is taking the stance that Tebow's game will not translate to the NFL, while Williamson believes it will.
Let's get started:
[+] Enlarge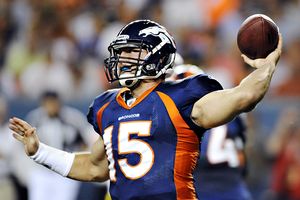 AP Photo/Chris SchneiderSome have suggested Tim Tebow's sidearm throwing motion cannot be fully corrected.
John Clayton:
Bill, we were at Broncos camp at the same time, which is why I'm surprised we have come to such different opinions. Because I know you so well, I know you are an optimist. Like most people, you would like to see Tebow succeed as a quarterback. I would like to see him succeed too. At the moment, though, I don't see it in the immediate future and when I say immediate future, I'm thinking the next two, maybe three, years.
Remember how we watched Tebow throw with the proper mechanics in warm-ups. He kept the ball high and was consistent with his release point in pre-practice. Then we watched practice and some of the old habits returned. He would throw the ball with more of a sidearm delivery. At times, there would be a little hitch in the throw. The release was slow and sometimes the passes weren't accurate.
In sports, it's hard to change habits. While it's possible for him to fix the delivery in time, it's going to take at least two years. I give Josh McDaniels credit, he recognized the dilemma and covered the organization by giving
Kyle Orton
a one-year contract extension. Both of us agree Orton is good, not great. It's also nice that he recognizes that both of us respect his abilities, leadership and the way he runs an offense.
What I like most about watching Tebow is his dedication. He won't fail because of a lack of effort. How about the extra stretching and muscle-building exercises he does at practice? Too bad we can't find a "throw doctor'" we can send him to for a quick fix.
Bill Williamson:
Mechanics is a fair enough place to start on Tebow. That, of course, is the biggest knock on him. He has an awkward delivery, there's no doubt about it. But I don't think it's a sure sign of failure for a quarterback.
Philip Rivers
doesn't have the prettiest motion in the league, nor did the late Steve McNair. Rivers is an elite player and McNair was an NFL MVP. They were able to adjust in time and Tebow will have time.
Even though we will see Tebow as a rookie in special formations such as the Wildcat, he probably won't start until 2012 unless there is an injury to Orton. Rivers and McNair sat and they were better for it. Plus, Tebow already has made strides in a short time under McDaniels' guidance. He's a much better quarterback today than he was the day he was drafted four-plus months ago. He got better as the offseason program went on and he made improvements in training camp and in the preseason. Tebow's delivery appeared to shorten as the preseason went on. He is working on improving himself. Imagine what is going to happen when the learning curve continues for two years?
Plus, several NFL folks I have talked to, including Rivers, say that Tebow doesn't necessarily have to refine his entire motion, just naturally work on it and still be the player he is comfortable being. I think taking this player's delivery and making that the premise for his ultimate failure may be a tad short-sighted.
JC:
Because you covered the Broncos in Denver, you can appreciate this: Denver is one of the toughest cities to be an NFL quarterback, and I think the Broncos made a big mistake by hyping him up after the draft.
The biggest mistake was making him a first-round pick. Quarterbacks taken in the first round tread on John Elway's turf. Those who tread on Elway's turf get worse than turf toe. They eventually become unemployed. The worst I remember was
Tommy Maddox
. He came to town when Elway was still a top quarterback. He eventually had to go into Arena Football and then the Steelers to have any kind of a successful career. The quarterback expectations eventually caught up to
Brian Griese
and
Jake Plummer
.
Now, here comes Tebow, perhaps the greatest college leader of our time. By him being taken in the first round, Tebow jerseys flew out of stores. Fans expected his college skills to translate into the NFL with instant success. Columnists in town took their sides, and some of the most influential called for McDaniels to have guts and just go with Tebow. Had that happened, Tebow might be destined for the Arena League.
In Denver, as you know, good isn't good enough when it comes to quarterbacks. Griese was kicked away because he was a 60-percent thrower but a 50-percent winner. Plummer's time ran out because he was a 50-percent thrower and a 60-percent winner. The standard in Denver is Elway, the ultimate arm and the ultimate winner. He carried the Broncos. Tebow can't do that right away and I'm not sold he ever will. Even if he fixes his bad throwing mechanics, he has the chance to start his career as a 50-percent thrower. Because the talent around him is suspect, Orton, who is good, is going to struggle to make the Broncos a 50-percent winner this season. That means Tebow would have better than a 50-50 chance of being a disaster.
[+] Enlarge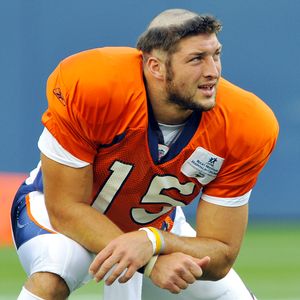 Ron Chenoy/US PresswireTim Tebow's "Friar Tuck" haircut is just one example of him being a team guy.
BW:
John, I think any team that would have drafted Tebow would have pumped him up. It goes with the territory of drafting a quarterback in the first round. Select Tebow in the first round and the situation magnifies greatly. This was a great draft with several top-flight players and Tebow stole the draft. The draft was all about the No. 25 pick. That wasn't the case last year when Miami drafted Illinois cornerback
Vontae Davis
at No.25.
Tebow brings electricity. It's because he has great intangibles. I know intangibles don't pay the bills, but they can be a great difference-maker. Tebow has special intangibles. People gravitate toward him, including his teammates.
This whole Tebow Mania deal in Denver had potential to be a disaster. Tebow's jersey instantly became the biggest seller in the NFL and Tebow is Topic A in Denver. This is the most popular team in the state of Colorado and all anyone wants to talk about is the rookie quarterback. That could have led to jealousy and hostility. It hasn't happened.
It hasn't happened because Tebow immediately earned the respect of his veteran teammates by being humble and working hard. Veterans such as future Hall of Fame cornerback
Champ Bailey
have been wowed by Tebow's work ethic and attitude. Remember that
hideous Friar Tuck haircut Tebow's teammates gave him
prior to an open scrimmage? Tebow didn't fret. He embraced the hazing. He's a team guy.
During the preseason, his teammates have remarked how Tebow already has controlled the huddle. The Broncos believe in Tebow just as his teammates at Florida did. Elway and
John Lynch
have raved about Tebow's intangibles after meeting him. If you impress these two guys, you have something going for you.
JC:
After we left Broncos camp, I watched Tebow's first preseason game and came to another disturbing conclusion. Because Tebow is fearless, I worry about his health.
That touchdown run he had in his first preseason game was exciting, but it also reminded me of the pounding Tebow took in college trying to get Florida to be a great college power. As a college quarterback, Tebow was bigger and more powerful than a lot of the linebackers and defensive backs trying to tackle him. In the pros, he's a target and I worry about him getting concussions or more injuries. That preseason touchdown run bruised his ribs, and the injury was a result of Tebow not playing it safe. That's the style that made him so good in college and it's the style that could make his career ever so short in the NFL.
As great as Tebow is as an athlete, he runs a 4.7 40, which isn't particularly fast for a NFL quarterback. His footwork isn't the greatest either. In many ways, Tebow looks like a combination of Steve Grogan and Joe Kapp. Sorry for going old school on you, buddy, but the point I'm trying to make is what worked for Grogan and Kapp back in the day doesn't work now in a league dominated by great passers.
Michael Vick
is a better athlete and better thrower than Tebow will ever be and I'm not sold he can be a winning quarterback in the post-2005 NFL, which is dominated by quarterbacks who are accurate and can run the no-huddle flawlessly.
Vince Young
is the ultimate compromise that might work because he's a 6-foot-5 quarterback who is faster than Tebow and is always looking downfield when he rolls out of the pocket. I fear Tebow tucking the ball away and just running, absorbing a big hit.
I do think Tebow's in good hands with McDaniels now that Orton will be the starter for the next two years. I just hope he stays healthy, which he will if they groom him to be an eventual backup and see where he is as a developmental quarterback by 2012.
BW:
John, I don't think there is any gray area. I don't think Tebow is going to be a decent backup. He is either going to be a star or be a failed experiment. And I don't see him failing. He is simply not going to allow himself to fail.
In one of my conversations with Tebow, he admitted that he is afraid of failure. He is afraid to let down his coaches, teammates and family. The fire burns. That's what McDaniels saw during the famous combine meeting when the Broncos' brass fell in love with Tebow.
I have talked to countless folks about Tebow. There are two schools of thought when it comes to whether his game translates to the NFL. One is that Tebow is so focused and so determined that there is no way he'll fail. The other is that he already has gotten all he can out of limited ability and has peaked as a player. Two head coaches have told me that, as have a couple of general managers.
However, there are many personnel folks who think Tebow will thrive under McDaniels' guidance. I point to the immense improvement he already has made as evidence that Tebow has not peaked. He learns from his mistakes and he gets better. He reads defenses and senses oncoming defenders better than he did a month ago. He handles the pocket better than he did earlier in camp. Tebow is an ascending player. There's little doubt in my mind.
July, 14, 2009
7/14/09
12:08
PM ET
Posted by ESPN.com staff
Denver Broncos
Kansas City Chiefs
Oakland Raiders
San Diego Chargers
May, 13, 2009
5/13/09
8:59
PM ET
Posted by ESPN.com's Bill Williamson

Fox Sports is reporting that Tampa Bay is close to cutting Brian Griese. I know, I know, it's silly, but I wonder if Denver would consider bringing in Griese to be a backup? The report about him being cut mentions New England as a possible landing spot. If the Patriots like Griese, new Denver coach Josh McDaniels, who was the Patriots' offensive coordinator, could like Griese as well.
Still, the Broncos are loaded at quarterback. Plus, Griese never loved being Denver's quarterback as he had the impossible task of replacing John Elway. However, less pressure would be on Griese now and he still has charitable ties in town.
Fox Sports is reporting the Raiders have agreed to terms with tight end J.P. Foschi. The journeyman started five games for Oakland in 2005. He will have to work to make the team. He Raiders may need some insurance with starter Zach Miller recovering from a sports hernia.
Willie Anderson, who was being pursued by San Diego last summer after he was cut by Cincinnati, has retired.
October, 5, 2008
10/05/08
11:28
PM ET
Posted by ESPN.com's Bill Williamson
DENVER -- The Denver Broncos learned something valuable about themselves Sunday and it is sure to make them sleep much better.
The defense, which had given up at least 32 points in each of the past three games, can win a game for the Broncos. If the Broncos' offense falters or encounters a tough defense, which occurred Sunday, the defense is capable of carrying the day and leading the team to the win.
The Broncos would have lost their second straight game had it not been for a strong defensive performance. Tampa Bay's stellar defense held the Broncos' big-play offense in check, but the Denver defense shut down Tampa Bay's offense as the Broncos won 16-13 to improve to 4-1.
| | |
| --- | --- |
| | |
| | AP Photo/Jack Dempsey |
| | Knocking Tampa Bay quarterback Brian Griese out of the game on this play, Champ Bailey and the rest of the Denver defense delivered a knockout blow. |
The Denver defense dictated the game.
"I think it came down to our defense just believing in itself," said Broncos cornerback and defensive captain Champ Bailey. "Really it was as simple as that. We got tired of making stupid little mistakes. Last Monday, and especially on Wednesday when we got back to practicing full go, we just said it was time to stop being late to plays. We're always making dumb little mistakes. We all decided there was too much talent here to keep allowing that to happen."
Say what you want about the Buccaneers' challenged offense, this was an important step made by the Denver defense. It was one of desperation. Essentially, Denver had given up on this defense. And no one could be blamed for tossing the unit aside after another unacceptable performance last week.
After a strong opening-season performance in Oakland, in which Denver gave up 14 points, the Broncos were savaged the past three games, giving up 113 points. The unit bottomed out last week when it gave up 33 points to the Kansas City Chiefs in a stunning defeat. The Chiefs have scored 32 points in their other four games combined.
Sunday, Denver was very aggressive and they blitzed more than in recent games. The Broncos had three sacks against Tampa Bay after having six in their previous four games. The Denver pressure was constant. Bailey knocked Bucs quarterback Brian Griese out of the game after he smoked him on a double cornerback blitz.
"We came after them," said Denver defensive end Elvis Dumervil, who registered his first sack of the season. "That's something we have to keep doing."
If the Denver defense has, indeed, found something to build upon, perhaps this Broncos' resurgence will last.
Here are several other key elements for Denver I noticed during the game:
The Denver offense may have taken a big injury hit: Two of Jay Cutler's most dangerous weapons may be facing daunting injuries.
Rookie receiver Eddie Royal left the game with a sprained left ankle in the third quarter after returning a punt. Royal downplayed the seriousness of the injury after the game. He said the injury is a low ankle sprain (less serious than a high ankle sprain) and X-rays showed no broken bones. However, Royal was on crutches and coach Mike Shanahan acknowledged the injury could be serious.
Royal said he is a fast healer and hopes to play next Sunday against visiting Jacksonville. He was replaced by No. 3 receiver Brandon Stokley, who caught the Broncos' only touchdown after replacing Royal.
If Royal misses some time, it will have an impact on the Broncos' offense. Royal, who has 30 catches, has quickly become one of Cutler's favorite targets.
The team could also be without pass-catching tight end Tony Scheffler. He has a left groin injury. He said he will find out Monday morning how serious it is. He did not seem overly confident after the game.
Losing Scheffler would be a blow. He had four catches for 65 yards and he had Denver's longest play of the game a nifty 33-yard catch. Cutler often looks for Scheffler in crucial situations and his loss would take an element away from Denver's offense.
The Broncos have regained the Mile High magic: The Broncos are 3-0 at home and look as if they have gotten out of their home doldrums.
For years Denver was one of the most difficult places in the NFL to play. However, that changed in recent years. After going 8-0 at home in 2005, Denver was beaten hard by Pittsburgh in the AFC Championship Game in January 2006. That started a tumble.
In 2006, the Broncos were 4-4 at home including a loss to San Francisco on the final day of the season that knocked Denver out of the playoffs. Last season, Denver was 5-3 at home including three straight losses. The lowlight of the streak was a 38-point loss to San Diego.
However, Denver has now won six straight games at home. It plays Jacksonville next week, which beat the Broncos in Denver last season.
Running the hard way: There has been much talk about the Denver running game being uncharacteristically down this season. It entered the game ranked 10th in the NFL in rushing.
Still, there were whispers that no one was afraid of the Denver running game. Sunday's performance probably didn't change that, though the Broncos scratched and clawed for their yardage on the ground.
While Cutler threw for 227 yards, Denver gained 106 yards on 26 carries. Shanahan wants to average five yards a carry; the Broncos averaged 4.1. Michael Pittman had 39 yards and Selvin Young had 38.
The Broncos are going to need a bigger rushing threat or their lack of balance will hurt the team. There is possible help in the form of rookie Ryan Torain. He is expected to start practicing soon. He broke his elbow in early August. Before he injury, the fifth-round pick from Arizona State was making a push to be the starter.
He is a big, powerful back who fits into Denver's zone-blocking schemes. The addition of Torain certainly will not hurt Denver's rushing attack.
October, 5, 2008
10/05/08
6:01
PM ET
Posted by ESPN.com's Bill Williamson
DENVER -- Jeff Garcia has just replaced Brian Griese as Tampa Bay's quarterback.
Griese went out when he was hammered by Denver cornerback Champ Bailey who came in on a double cornerback blitz. It was just announced Griese is out with a shoulder injury. He is questionable to return.
This is Garcia's first time in three weeks that he has been the Buccaneers' backup. He had been the No. 3 quarterback.
October, 5, 2008
10/05/08
5:39
PM ET
Posted by ESPN.com's Bill Williamson
Halftime thoughts from a defensive slugfest. The game is tied 6-6:
The Denver defense looks the best it has since opening day in Oakland.
The Broncos still have to find a way to run the ball better.
One thing Jay Cutler needs to improve upon is he sometimes throws the ball too high occasionally. That was a problem a young Brett Favre dealt with.
Denver is showing a better pass rush than most weeks this year. The Broncos have sacked Brian Griese three times.
Denver running back Andre Hall was penalized twice for a total of 25 yards in a span of four plays. He was saved by a 40-yard Matt Prater field goal.
The team honored left tackle Gary Zimmerman at halftime. He was inducted into the Pro Football Hall of Fame this summer.
October, 5, 2008
10/05/08
4:07
PM ET
Posted by ESPN.com's Bill Williamson
DENVER -- Afternoon odds and ends: It is 66 degrees and mostly cloudy skies in Denver.
Rookie Spencer Larsen replaces fellow rookie Peyton Hillis in the starting lineup at fullback.
Jeff Garcia is the No. 2 quarterback behind Brian Griese after being the No. 3 quarterback in recent weeks.
Jarvis Moss is, once again, inactive for Denver. The No. 17 overall pick in the 2007 draft is having a difficult time adjusting to the NFL.
Antonio Bryant is starting for the injured Joey Galloway at receiver.
In Houston, NFL Commissioner Roger Goodell was asked about the situation in Oakland. Here's what the commissioner had to say, courtesy of AFC South blogger Paul Kuharsky: "Well no one likes to see a dispute like that happen. I think Mr. (Al) Davis made it very clear that he didn't like it. I think it's something that's unfortunate. You don't want to see it happen but it is a reality of our business and they've moved on now. If I'm involved in some fashion or asked to be involved or required to be involved, I will obviously fulfill my responsibility. I don't think there is anymore to say but how unfortunate the situation is."
October, 1, 2008
10/01/08
5:38
PM ET
Posted by ESPN.com's Bill Williamson

Cutler
Denver Broncos quarterback Jay Cutler has been named the AFC offensive player of the month for September.
Cutler, in his second full season as a starter, is second in the NFL behind New Orleans' Drew Brees, with 1,275 passing yards. Cutler has thrown nine touchdown passes and he has been intercepted four times.
Cutler is a major reason why Denver is 3-1 and a surprise leader of the AFC West at the quarter point of the season. Cutler is the first Denver player to win the award in exactly seven years when then quarterback Brian Griese took it in September, 2001. Ironically, Cutler and the Broncos will face Griese on Sunday when Tampa Bay visits Denver.
September, 29, 2008
9/29/08
7:41
PM ET
Posted by ESPN.com's Bill Williamson
Here is a sampling of Mike Shanahan's press conference today in the wake of Denver's 33-19 loss at Kansas City on Sunday, courtesy of the Denver PR staff:
On what he meant by saying the team needs to get back to the drawing board

"I don't remember saying that, but I probably said it. When you take a look at a game like that, people will point to the defense and that is so far from the truth. When you turn the football over four times and go 1-for-4 in the red zone, you do not win football games. We've talked about having a positive turnover ratio at Arrowhead and just with a plus-one, I think they have won 18 in a row and that gives you an idea there. When you go against a guy like (Larry) Johnson and you give up a couple big plays and then all the sudden you take a look at those stats, but those are not always indicative of how we played. People forget that after the first drive in which we held them to three points, we had nine possessions in a row in which the longest drive was 38 yards and I think there were two in the 20's but the rest were less than that. The game was still 16-13 and we had the ball first-and-10 on the 50-yard line and we still had a chance to win the football game. Even after the turnover, they made a third-and-10 and the rest were turnovers inside the 50-yard line. There is a lot that goes into a football game and everybody wants to throw it at the defense. Any offense that does that gives your defense no chance."

On the defense

"We have to play better, but we still don't want to give up those kind of plays in the fourth quarter. We can work on that. Most of them were missed tackles or assignments. Larry Johnson seems to do that to people every once in a while. We have work to do, but it was not quite as bad as it looked in those final stats."

On if QB Jay Cutler was trying too hard to get the ball to WR Brandon Marshall

"I will leave that to you guys. I don't get into how guys play. You know me better than that. I can tell you that when you turn the ball over, two interceptions and two fumbles, you are not going to win many football games. We still had a chance, but we were 1-for-4 in the red zone and you can't overcome all those things."
August, 6, 2008
8/06/08
9:47
PM ET
Posted by ESPN.com's Bill Williamson

Griese
The news that Brian Griese could be part of the compensation package in a potential Brett Favre trade from Green Bay to Tampa Bay got me thinking.
Will Griese ever stop being in the shadow of a legendary quarterback?
Griese is the son of Miami Dolphins legendary quarterback Bob Griese. Then, Griese was drafted by the Denver Broncos and was the replacement for Broncos legendary quarterback John Elway after he retired. Now, Griese could be part of the package the Packers get for Favre.
Bob Griese, John Elway and Brett Favre. That is a closet full of big shoes to fill. I guess Griese is used to it now. He better be.