AFC West:

Broncos-Chiefs 120609
December, 6, 2009
12/06/09
8:00
PM ET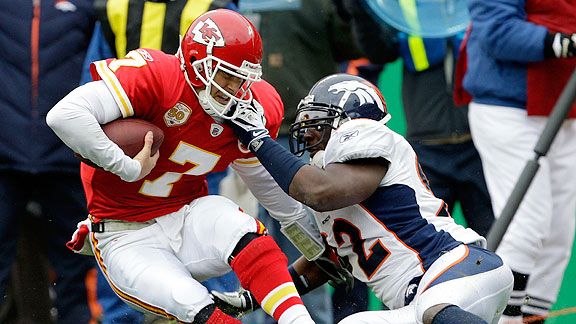 Jamie Squire/Getty Images
Matt Cassel struggled against his former mentor, Josh McDaniels, completing just 10 of 29 passes for 84 yards before being benched. He also threw two interceptions
KANSAS CITY --- This couldn't have been the
Matt Cassel
whom Josh McDaniels tried to trade for, completely changing the complexion of his new organization in the process.
In their first meeting as opponents, Cassel looked far from the breakout player he was in New England last year under McDaniels' guidance. Cassel -- whose career will always be linked to McDaniels -- had perhaps his worst day as a professional Sunday, and spent more than a quarter of Denver's
44-13 thrashing
on the bench.
After the game, Chiefs coach Todd Haley said Cassel is still his quarterback. Haley answered with a simple "yes" when asked if Cassel will be behind center against Buffalo next week.
Still, Cassel's departure had the feel of a benching. At the very least, his performance had something to do with his early departure and the insertion of
Brodie Croyle
at quarterback.
Cassel, who was awful in the third quarter as Denver outscored Kansas City 20-0, completed 10 of 29 passes for 84 yards. He threw both of his interceptions in the third quarter. Cassel had been improving steadily this season, but he had little to offer Sunday.
Still, it was startling to see Croyle replace Cassel in the third quarter, especially under the circumstances. Croyle -- the team's former starter, who completed only 6 of 14 passes for 50 yards -- entered after the Chiefs recovered a fumble at the Broncos' 3 late in the third quarter and Denver leading 34-6. You would think the starting quarterback would be kept in at the goal line.
"I always want to be out there with my team," Cassel said. "I always want to fight. Part of the situation of us being where we were was my fault … Coach felt like it was time to put Brodie in the game and the game was out of hand at that point. And that was part of his decision-making."
Haley made it clear that he still believes in Cassel.
"I'm very confident in Matt," Haley said. "The game didn't go the way he or we wanted it to go."
While Cassel's departure from the game wasn't a classic benching, and he is still the team's quarterback of the future, it was a remarkable downward turn for the player McDaniels wanted to be his quarterback in Denver.
Perhaps it served as a reminder to Denver that the dramatic turn of events in the offseason worked out best for them.
In one of his first moves as Denver's coach, McDaniels looked into trading for Cassel, who shined for New England as Tom Brady's injury replacement last season. Denver quarterback
Jay Cutler
, coming off a Pro Bowl year at the age of 25, was going to be part of a potential three-way deal. The trade never happened and Kansas City sneaked in and got Cassel instead.
But the damage was done in Denver. Cutler was eventually sent to Chicago in a deal in which the Bears tossed in quarterback
Kyle Orton
.
On Sunday, Orton continued his steady, game-managing ways for the Broncos, who improved to 8-4.
McDaniels threw praise at his beleaguered protégé Sunday. But it's clear McDaniels is enjoying more success than Cassel after the botched trade that would have reunited them.
Other keys to the game:
Denver is back on track:
The team of streaks continued its wild ride. Denver started the season with six straight wins before losing four straight and its hold on first place in the AFC West. Now, Denver has won two straight games and looks to be in good shape for the playoffs.
Denver trails San Diego (9-3) by one game in the division entering the final quarter of the season and would currently be the AFC's No. 5 seed.
If the Broncos win their final two home games (against Oakland and Kansas City) they will reach the 10-win mark, which should secure a playoff berth. The Broncos have a tough test at 12-0 Indianapolis next week.
Denver's running game thrives:
After struggling during its losing streak, the Denver running game was at its best Sunday.
Correll Buckhalter
had 113 yards on 12 carries and rookie
Knowshon Moreno
had 86 yards and two touchdowns on 21 carries.
Buckhalter set the pace with three runs totaling 56 yards on a touchdown drive during the second quarter that gave Denver a 14-3 lead and command of the game.
"Buck has done a great job all year," Orton said. "He's a guy that once he breaks through that line he's really got a lot of home run potential."
If Buckhalter and Moreno can sustain their 1-2 punch (as they did early in the season), Denver's offense could be difficult to stop late in the season.
Thomas would have been proud:
On the day that Kansas City's late legendary pass-rusher
Derrick Thomas
had his No. 58 jersey retired, Chiefs linebacker
Tamba Hali
had his best game as a pro. Hali had 10 tackles, three sacks and two forced fumbles.
"Tamba played his [rear] off," Kansas City linebacker
Mike Vrabel
said. "It's too bad we couldn't take advantage of it."
While Hali was the pass-rushing story of the day, Denver linebacker
Elvis Dumervil
had a sack to raise his total to 15, which leads the NFL. Dumervil needs one sack to tie Denver's single-season record and he is 7.5 sacks from tying the NFL record. He is on pace for 20 sacks.
Vrabel loses his cool:
Vrabel reacted angrily after Denver scored its final touchdown to make it 41-13 with 12:05 to go. Moreno scored on an 18-yard run on fourth-and-1
He directed an obscene gesture toward Denver's bench. Vrabel was with McDaniels in New England the past several seasons.
Vrabel attributed the gesture to frustration after another tough loss. He said he wouldn't be surprised if he is fined by the NFL. Players have been fined for such gestures in the past.
December, 6, 2009
12/06/09
5:11
PM ET
KANSAS CITY --- The
Denver Broncos
excel at not playing down to the level of their opposition.


Denver wiped out the Chiefs on Sunday, further helping its playoff cause. This game was never close as Denver exorcised some bad history. The Broncos entered the game with a 1-17 record in Kansas City in the month of December.
The Broncos bucked the trend in grand style. Their 44 points scored was their highest point total at Arrowhead Stadium.
The Broncos continued their season of streaks with the win. Denver opened the season with six straight wins. Then, it lost four straight before recovering and winning two straight. The Broncos are 8-4 and in good shape in the AFC wild-card race. They trail San Diego, which is 8-3 and playing Sunday afternoon in Cleveland, by a half game in the AFC West.
If the Broncos can beat Oakland at home on Dec. 20 and Kansas City at home in the season finale, they will have 10 wins and should be in fine playoff shape. Denver has lost to just one team with a losing record this season and that was against Washington when quarterback
Kyle Orton
was hurt.
Sunday, Denver easily dispatched the Chiefs in a game that showed Kansas City is not ready to compete with the better teams in the division. In back-to-back weeks, Kansas City has been outscored by a total of 60 points by San Diego and Denver.
December, 6, 2009
12/06/09
3:41
PM ET
KANSAS CITY ---
Matt Cassel
is not playing for Kansas City and he seems healthy.
We are not sure if Cassel was benched in the traditional sense because
Brodie Croyle
entered the game with the Chiefs down by 28 points.
But Croyle was put in after the Chiefs got a turnover deep in Denver territory late in the third quarter. You'd think Cassel would have been the quarterback in that circumstance.
Cassel struggled badly Sunday, especially in the third quarter when the Broncos went on a 20-0 run. He has completed 10 of 29 passes for 84 yards. He has been intercepted twice.
It will be interesting to see if this situation has legs, but for right now, it looks like Cassel is not on the field because of performance issues.
December, 6, 2009
12/06/09
3:03
PM ET
KANSAS CITY -- Todd Haley has been questioned for play calls often in his first season as an NFL head coach.
The questioning will continue Sunday.
Early in the second half, Haley snuck backup quarterback
Brodie Croyle
onto the field as the punter from Kansas City's own 27. Croyle tried a pass, but it was badly thrown. Denver took over at the 27. The Broncos converted the Kansas City gaffe into a field goal and a 17-6 lead.
The call was unfathomable. You are really going to send out a quarterback on the field instead of the punter and expect it to work?
Maybe Haley thought he could catch Denver sleeping like Washington did on a fake field goal that went for a touchdown a few weeks ago.
Whatever Haley's reason for it, it's inexcusable. I think Haley has gotten bad rap in some cases this season, but that call was not good. It was way too risky considering there was nearly a half of football to be played and his team was trailing by eight.
Denver now leads 24-6.
December, 6, 2009
12/06/09
2:38
PM ET
KANSAS CITY --- The Broncos lead the Chiefs 14-6.
The Chiefs are retiring the No. 58 jersey of the late, great
Derrick Thomas
in a ceremony as I type. Thomas, a pass-rushing star, died in 2000 after complications from an auto accident.
Denver has two turnovers to Kansas City's none, but still lead. Denver linebacker
Elvis Dumervil
registered his 15th sack of the season. He is one sack off Denver's team record and 7.5 off the NFL record for single-season sacks.
Denver running back
Correll Buckhalter
had 90 yards on eight carries in the first half. Backfield mate
Knowshon Moreno
added 41 yards on 11 carries.
The Chiefs are having success when they use the no-huddle offense. Denver's defense seems confused by it.
December, 6, 2009
12/06/09
2:07
PM ET
KANSAS CITY -- Denver running back
Correll Buckhalter
is running all over the Chiefs.
He had runs of 26, 17 and 13 yards -- on the same drive. Buckhalter's runs allowed Denver to take a 14-3 lead.
He has 64 yards on five carries. His backfield mate, rookie
Knowshon Moreno
, has 37 yards on nine carries and a 1-yard touchdown run.
If Buckhalter and Moreno keep this up, Kansas City's defense will wear down.
December, 6, 2009
12/06/09
1:36
PM ET
KANSAS CITY --
Ryan Harris
' return to Denver's starting lineup did not last long.
Harris was hurt on Denver's second possession Sunday and was taken off the Broncos' sideline on a cart with a foot injury. The team said Harris is doubtful to return.
He was replaced by
Tyler Polumbus
. Harris returned to the field Sunday after missing four games with a toe injury. It is not known if Sunday's injury is related to his previous injury. Harris practiced fully all week leading up to the game.
Denver's line wasn't as strong without Harris. If Harris is out for an extended period of time again, it will hurt the offense.
December, 6, 2009
12/06/09
12:45
PM ET
KANSAS CITY -- A New England reunion has taken place on the field prior to the game.
Both the Broncos and the Chiefs have major New England influences. New Denver coach Josh McDaniels was the Patriots' offensive coordinator. Kansas City general manager Scott Pioli was an executive with the Patriots.
Both men brought several players and employees from New England to their new situations. Many players from both teams are spending time together, catching up, and Pioli spent a good portion of the morning chatting with old friends.
Also of note before kickoff:
December, 6, 2009
12/06/09
12:00
PM ET
KANSAS CITY–- Please join us Sunday afternoon for
NFL Nation Live.
We will have a live discussion of all of the NFL action.
I will be at the Broncos-Chiefs game, giving live updates. I look forward to it.
December, 5, 2009
12/05/09
11:15
PM ET
KANSAS CITY -- The
Kansas City Chiefs
put backup running back
Kolby Smith
on the injured reserve Saturday with an ankle injury.
Smith only played in three games this season because of injuries. He was backing up
Jamaal Charles
after the team cut
Larry Johnson
.
The team promoted rookie Javarris Williams from the practice squad. Williams was a seventh-round pick this season. He should get some carries as Charles' backup.
Meanwhile, the
Denver Broncos
will be playing their first game, Sunday in Kansas City, without their most famous fan.
Tim McKernan -- better known as the "Barrel Man" -–
died at the age of 69
on Saturday. McKernan was known around the league for attending Broncos games wearing a big, orange barrel, a Cowboy hat and not much else. He was beloved in Denver. Because of illnesses, McKernan retired from his 'Barrel Man" persona in recent years.