AFC West:

Broncos cut Orton
November, 25, 2011
11/25/11
12:00
PM ET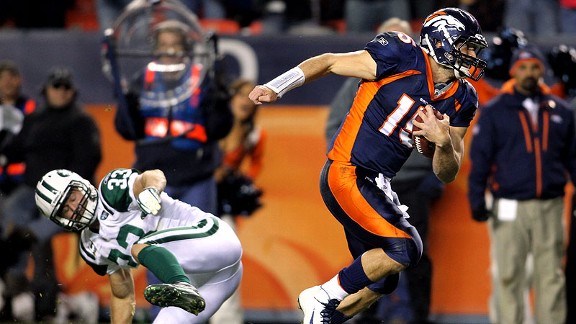 Chris Humphreys/US PresswireAs long as Tim Tebow continues to win, Denver has no choice but to keep him as the starter.
How long will the
Denver Broncos
' option offense work?
The team clearly hopes it works as long as possible, hopefully through this season so the Broncos can make their final decision on quarterback
Tim Tebow
's future in the offseason.
Denver coach John Fox believes it's the offense Tebow is most qualified to run right now. So it's either option or bust for Denver.
"We're just trying to win football games, that's all we're trying to do, take advantage of the guys on our football team and utilize their talents the best we can to win," Denver offensive coordinator Mike McCoy recently told reporters in Denver.
With the 5-5 Broncos in the AFC West hunt -- they are 4-1 in Tebow's five starts – there's little chance the Broncos will risk changing the offense now. There's not enough time to make Tebow an NFL-quality pocket-passer during the rest of the season.
While Denver has been hot, relying on the option offense is still a major risk in the final six weeks of the season. What if the
San Diego Chargers
completely shut down the option offense on Sunday?
After the Broncos had terrific success using variations on the option at Oakland and Kansas City, it was shut down for a big portion of Denver's Week 11 game against the
New York Jets
. But the offense clicked when Tebow led an aggressive, 12-play, 95-yard drive that culminated in a 20-yard touchdown run by Tebow.
The truth is, the Broncos have become better in every phase of the game since Tebow took over. The key for him is to continue to buy himself time. For each victory, Tebow will earn another chance to convince Denver football leader
John Elway
he can be the long-term solution at quarterback.
Despite the win-loss success, there have been red flags. Tebow has had a completion percentage of less than 50 percent in all four victories. According to the Elias Sports Bureau, he is only the second quarterback to do that in four wins in one season in the past 20 seasons -- and there's plenty of time left in this season.
The legendary Elway is one of the strongest-armed quarterbacks ever to play. He can't be thrilled to see his first team as an NFL executive play leatherheads football. Who would have ever thought an Elway team would be a gimmick-led offense?
Shannon Sharpe
-- a fellow Hall of Famer who was one of Elway's favorite targets -- said Denver's current offense is straight out of the
"Big Eight days."
After he watched the offense beat his brother Rex's Jets, Dallas defensive coordinator Rob Ryan said seeing the option offense in the NFL made him "vomit."
Elway is clearly not convinced, either.
He angered many Denver and Tebow fans
earlier in the week when
he said on radio
that he is not yet committed to Tebow for the long term. In the meantime, Elway and his staff have scouted many of the top collegiate quarterback prospects this fall.
It's difficult to find anyone who thinks the option offense can really fly in Denver in the long term. Countless analysts have panned the offense, calling it nothing more than a survival move. Hall of Fame quarterback and ESPN analyst
Steve Young
was one of the most ardent opponents of the idea. He said several times on the air that it is a disservice to Tebow because it is stunting his development and he guaranteed it will not work for the long haul.
ESPN's
Merril Hoge
and Mel Kiper have also chimed in with similar thoughts.
Matt Williamson of Scouts Inc. agrees. He can't see the Broncos' offense lasting even long enough to let the Broncos overtake first-place Oakland (6-4) in the division race. Plus, Williamson is unsure if Tebow can withstand the pounding he'll take using this offense the rest of the season.
"I do not think it can be the long-term answer," Williamson said. "The quarterback just takes too much of a beating and this league is won through the air."
The key for Denver to continue to have success with the offense for the rest of the season, Williamson said, is to add wrinkles. The Broncos added different option plays each week and that probably will continue Sunday at San Diego after a 10-day break since the Jets game.
For the team's short-term success and Tebow's long-term future, the Broncos must continue to develop their take on this ancient offense or the back-to-the future experiment could all go away in a cloud of dust.
November, 23, 2011
11/23/11
7:20
PM ET
Now that
Kyle Orton
will finish the season as the Kansas City Chiefs' quarterback, does
Matt Cassel
have anything to worry about going into next year?
Well, he has more to worry about than he would had
Tyler Palko
remained his replacement.
I still think the Chiefs are committed to Cassel – who is out for the year with a broken hand -- for next season. But what if Orton clicks with the offense and leads the Chiefs to the playoffs? I guess all bets would be off.
Orton is a free agent at the end of the season, so he is auditioning for the entire league. If he builds a good thing in Kansas City, I could see the Chiefs being open to keeping him.
I do believe the current thinking is simply to have Orton play this year. The chance to get the experienced Orton for the rest of the season was the team's primary motivation when the Chiefs claimed him Wednesday. Denver put him on waivers Tuesday.
But I'm sure the Chiefs will keep an open mind toward the future, especially since Orton and Cassel are fairly comparable players.
How does Orton's presence affect Palko and
Ricky Stanzi
? I don't think it affects Stanzi, the team's fifth-round pick this year, at all. He is a project and he wasn't going to play this season regardless. As for Palko, he is a low-level backup. He'll play if Orton gets hurt, but the Chiefs had a chance to upgrade and they took it.
If Orton does leave Kansas City as a free agent, the Chiefs could get a compensatory pick for him in 2013, depending on how the rest of the team's 2012 free agency develops.
November, 23, 2011
11/23/11
6:25
PM ET
There were reports earlier Wednesday
that quarterback Kyle Orton was trying to spread the word to Kansas City that he wanted to go to Chicago on a waiver claim and that he could consider not reporting to Kansas City if the Chiefs claimed him.
Well, either the Chiefs didn't get the word or they did and they didn't care. A day after Denver waived its disposed starting quarterback, Kansas City claimed Orton and it will likely make him its starting quarterback for the stretch run. Dallas and Chicago also claimed Orton. The Chiefs were awarded him because they have a worse record than the other two teams.
I don't think the Chiefs have anything to worry about. I fully expect Orton to report.
Perhaps Orton's representatives were trying to spoke the Chiefs because Orton really wanted to play for the Bears. That's fine. Orton had the right to want to go some teams more than other teams. But the reality is, he had no say in this since he is not a free agent yet. He will be after the season.
That's one of the reasons why Orton must report. If he didn't, teams may stay away from him in free agency. Now, he has a chance to impress teams down the stretch and give himself better game film that he had when he had a 1-4 record in Denver earlier this season.
Also, if Orton didn't report to the Chiefs, he'd forfeit the remaining $2.5 million on his contract this season. Why would he give up that much money just because he wanted to go to the Bears?
After what Orton has had to endure the past month and a half, I'm sure he'll relish the opportunity to go to Kansas City and end the season as the starter. I fully expect Orton to arrive happily in Kansas City.
November, 22, 2011
11/22/11
10:30
PM ET
The Denver Post reports
that
Kyle Orton
would love to end up in Chicago again. Orton was cut by Denver on Tuesday and the Bears have a need at quarterback with
Jay Cutler
expected to miss several games with a broken thumb.
It would be ironic, of course, if Orton is Cutler's temporary replacement. The Bears put Orton in the package for Cutler in a 2009 trade. The Broncos host the Bears on Dec. 11. Meanwhile, here is a look other takes on the Orton situation from our
NFL Nation bloggers
.
There are several men with AFC West ties
among the 26 semifinalists for induction into the Pro Football Hall of Fame. It just shows how much history this division has.
Former Oakland receiver
Derek Hagan
signed with Buffalo on Tuesday. He was cut earlier this month to make room for
T.J. Houshmandzadeh
. Hagan had 11 catches for 114 yards in seven games for the Raiders. Houshmandzadeh has two catches in three games.
The Chargers need to sell 3,400 tickets by Thursday for Sunday's game against Denver to avoid a local television blackout. The team will honor former star linebacker
Junior Seau
during halftime.
Kansas City coach Todd Haley
found the positives
in
Tyler Palko
's first NFL start Monday, a 34-3 loss at New England.
November, 22, 2011
11/22/11
7:30
PM ET
Will the
Kansas City Chiefs
put in a claim on
Kyle Orton
?

We will find out Wednesday. I think it's a possibility. In the past few hours since Denver waived the quarterback, I spoke to several people who believe the Chiefs will make a claim.
There are reasons why Kansas City could claim Orton. It could use a veteran signal-caller, it could absorb the cap hit it would take to get Orton and it is just two games out of the AFC West race.
If the 4-6 Chiefs still think they can make a run at the playoffs, they might — particularly given that they have the toughest remaining schedule in the league — be inclined to turn the offense over to Orton rather than stick with the inexperienced
Tyler Palko
, who made his first NFL start in the Chiefs'
34-3
loss at New England on Monday night. Starter
Matt Cassel
is out for the season with a broken hand. Palko's backup is rookie
Ricky Stanzi
.
If the Chiefs want Orton, they might be able to get him. Chicago has been mentioned as a landing spot for Orton — who was traded to Denver by the Bears in the
Jay Cutler
deal of 2009 — because Cutler is out for several weeks. The Chiefs have waiver priority over the Bears because they have a worse record. However, if a team like the Colts (who don't have much cap room) or Redskins want Orton, the Chiefs would be blocked.
Still, there is no guarantee Kansas City will consider Orton. It could be interested in seeing what Palko – and maybe even Stanzi – can do with Cassel out. Still, if the Chiefs want a veteran, Orton presents an interesting option.
If the Chiefs do claim Orton, it would setup an intriguing Week 17 battle in Denver between the two teams. We'll find out Wednesday if that juicy matchup comes to fruition.
November, 22, 2011
11/22/11
6:15
PM ET
The
Denver Broncos
cut former starter
Kyle Orton
on Tuesday. Here are
some thoughts on the move
:

Shrewd move by the Broncos:
Give the Broncos a lot of credit for making this move now. They waited for some teams to get injuries – the Chiefs, Texans and Bears are all have suffered recent injuries at the position. Thus, Orton will likely be claimed Wednesday. If so, Denver will save the remaining $2.5 million in his deal. Orton is a free agent at the end of the season and there was virtually no chance he was going to take another snap in Denver, anyway.
No affect on Tebow:
Don't be fooled that the release of Orton is a sign the Broncos are prepared to commit long-term to
Tim Tebow
, who took over for Orton five games ago. The Broncos had no interest in re-signing Orton next year and Tebow is likely safe for the rest of the season. If Tebow were to be replaced this season,
Brady Quinn
would get the call. So, the release of Orton does not affect Tebow's playing future.
Win/win:
I wrote on the day
Denver made Tebow the starter that the Broncos should get rid of Orton. He no longer served any purpose in Denver. He was not interested in being a backup to Tebow and Orton is likely thrilled to get a chance to go elsewhere. This has been coming since July. Remember, Denver tried hard to trade Orton to Miami as soon as the lockout ended. Orton's presence on this team this year has been awkward. After going 1-4 with Orton, Denver is 4-1 with Tebow. The reality was, the Broncos were moving on without Orton whether he was or wasn't on the roster.
Orton served his purpose in Denver:
The Broncos were 4-14 with Orton since the start of last year and 8-8 with him in 2009. But he did have some moments. He was a decent bridge quarterback after the
Jay Cutler
trade with Chicago, which he was a part of. Orton was never great, but for a time, he was a productive player for Denver.
Who could be interested?
The top possibilities, on paper, include Kansas City, Houston and Chicago. All three teams suffered recent injuries. I will come back with a post later on how I see Orton would fit there. I think Chicago would like to bring back Orton for the rest of the regular season with Cutler out. Houston, though, will not go after Orton, according to
a local report.
It wouldn't be a major shock if a team such as Indianapolis or Washington puts a claim in just to see if he could be a good fit.
November, 22, 2011
11/22/11
5:03
PM ET
Orton
The
Denver Broncos
just released some statements
on their release
of former starting quarterback
Kyle Orton
. Here they are:
HEAD COACH JOHN FOX:
"I spoke with Kyle earlier today and thanked him for everything he did for the Broncos. He was a true professional throughout this season. I've got a great deal of respect for him as both a player and as a person.
"This was the right decision for our football team. We feel good about our quarterback group, and this gives Kyle an opportunity to help another team and showcase his talents.
"I wish Kyle and his family all the best going forward."
EXECUTIVE VICE PRESIDENT OF FOOTBALL OPERATIONS JOHN ELWAY:
"I would like to thank Kyle for all his work with the Denver Broncos. In the three years that he's been here, he's been an absolute pro. We thought it was best for the Broncos at this time as well as for Kyle to catch on with a different team.
"Kyle is going to have more options in the NFL. He'll get an opportunity to play somewhere else, and we wish him the best of luck."
November, 22, 2011
11/22/11
4:22
PM ET