April, 24, 2010
4/24/10
2:30
PM ET
OK, it's official: The
Oakland Raiders
found the quarterback they were looking for this offseason.
[+] Enlarge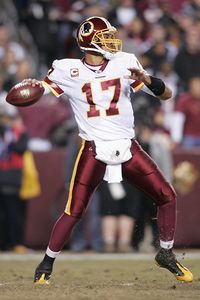 Icon SMIJason Campbell passed for 3,618 yards and 20 touchdowns last season.
In their latest attempt to upgrade a large but unimpressive quarterback group, the Raiders are trying to salvage the starting career of disposed Washington starter
Jason Campbell
. Oakland gave up a fourth-round pick in 2012. That's
a bargain price for a starting quarterback
. Ironically, Oakland owner Al Davis finally got his new quarterback by dealing with former charges Mike Shanahan and Bruce Allen.
Campbell was given a contract extension through the 2011 season. It is clear Oakland is putting its offense in the hands of Campbell.
This is a good move for the short term. Campbell, a former first-round pick, is average. That means he's much better than
JaMarcus Russell
,
Bruce Gradkowski
,
Kyle Boller
and
Charlie Frye
.
Campbell won't lose games for Oakland. He will keep the Raiders competitive. He should account for two or three more wins. So, Oakland should be out of that 11-loss danger zone. The Raiders have lost 11 or more games for the past seven years, which is an NFL record.
Campbell is the big move Oakland has been toying with all offseason. They were linked to
Donovan McNabb
(who was traded to Washington and who replaced Campbell),
Ben Roethlisberger
and
Sage Rosenfels
.
Campbell, 28, is not necessarily a long-term answer. But he has started 45 games in the past three seasons and he is steady. He has improved each season. He threw for 3,618 yards and 20 touchdowns last season. Compare those with Russell's numbers and Campbell looks like a Pro Bowl player.
Campbell has the big arm Oakland covets and he is a smart player. He should help Oakland's young receiving corps of
Chaz Schilens
,
Louis Murphy
and
Darrius Heyward-Bey
. Provided the receivers hold onto the ball better, Oakland's passing game should be improved.
The Raiders also have running backs
Michael Bush
and
Darren McFadden
. If these two runners can become more consistent, Oakland's offense should be much improved. Or at least, it should be competitive, which wasn't the case much of last year. Oakland upgraded its defense with Rolando McClain and Lamarr Houston in the first and second round.
Saturday, Oakland addressed another big need.
I was critical of the Raiders on Friday night
for bypassing falling quarterbacks
Jimmy Clausen
and
Colt McCoy
. The Raiders needed to address the future at the position. Saturday, in the form of Campbell, the team addressed the immediate future and that's good enough.
I applaud Oakland for realizing it needed to do something at quarterback. Even if Campbell just helps for the next two years, it can get Oakland out of the abyss. The quarterback position was holding Oakland back.
It's time for Russell to be cut. Gradkowski is a nice backup option, but he has limitations. Oakland broadened its quarterback horizons with the Campbell deal. Now, it can finally become a legitimate NFL franchise.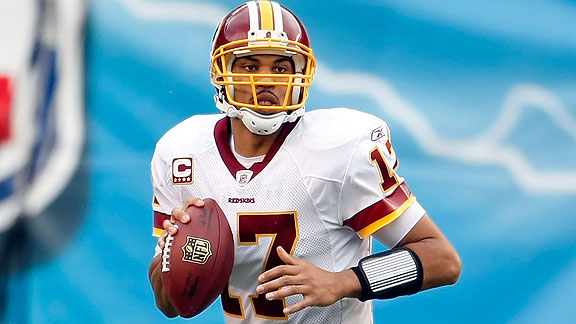 April, 5, 2010
4/05/10
1:35
PM ET
We pondered this idea
Sunday night and it seems the Raiders are intrigued by the thought as well.
ESPN radio in Washington
is reporting that Oakland is one of five teams to express interest in
Jason Campbell
. He will likely be moved now that Washington replaced him Sunday night by trading for
Donovan McNabb
.
Oakland's interest makes perfect sense. The Raiders were pursuing McNabb before Philadelphia traded him to Washington. Now, Campbell becomes the best available quarterback.
Why shouldn't Oakland consider him? The Raiders clearly are looking for an upgrade over
JaMarcus Russell
and
Bruce Gradkowski
. Campbell isn't great -- quarterback guru Mike Shanahan wouldn't have replaced him before playing one game with Campbell if he thought was a rising star -- but he could help Oakland some. If the price is right, Oakland should consider it.
There aren't a lot of other top options out there. This move wouldn't shake up the AFC West like McNabb's acquisition would have, but Campbell could provide a small upgrade.
It would be interesting to see if Oakland owner Al Davis would strike a deal with former employees Shanahan and Bruce Allen in Washington. But if he wants a new quarterback, he may have no choice.
December, 17, 2009
12/17/09
1:10
PM ET
The dream of many
Oakland Raiders
fans was that Bruce Allen would return to the team and perhaps bring former Oakland coach Jon Gruden back to town with him. The two were with Oakland during its resurgence earlier this decade.
Allen was an effective right-hand man for owner Al Davis. Allen gave Davis balance and helped make Oakland a serious contender. But Allen is not coming back to Oakland any time soon. He
was just hired
by Washington. I know this will hurt some Oakland fans. Allen is a good football man and he will help the Redskins.
Also in th AFC West:
Here is some good news for Oakland: Quarterback Bruce Gradkowski wants to re-sign with the team. He signed a one-year deal earlier this year. It is understandable why Gradkowski wants to come back to Oakland. He has been given a chance in Oakland and he seems to be a great fit. I expect Oakland and Gradkowski should be able to come to an accord fairly soon.
San Diego kicker Nate Kaeding is again the most accurate field goal kicker in NFL history. But it's a fluid situation.
Dwayne Bowe is back in the starting lineup in Kansas City after he missed the past four weeks serving an NFL suspension for using a banned substance.
January, 17, 2009
1/17/09
9:13
PM ET
Posted by ESPN.com's Bill Williamson

It's clear that Josh McDaniels, Denver's new coach, wants to put his own stamp on the Broncos' passing offense. At the same time however, expect him to be open to finding ways to maintain Denver's successful running game.
McDaniels will call the plays and he has brought in Carolina assistant Mike McCoy to be the passing coordinator. Former San Francisco assistant Adam Gase will coach the receivers. They replace Jeremy Bates and Jedd Fisch, respectively.
Some in Denver's building wanted to keep Bates and Fisch but McDaniels was given the final call. Still, he kept Denver's running attack in place by keeping run-game coordinator/offensive line coach Rick Dennison and running backs coach Bobby Turner. Bates is being considered in Detroit and could emerge as a candidate in Tampa Bay.
Elsewhere in the conference:
The Oakland Tribune reports the Raiders are warning against fans expecting freshly fired Tampa Bay coach Jon Gruden and and general manager Bruce Allen to return to Oakland. The return of the two men, especially Gruden, is a long shot for many reasons. Give Oakland credit for trying to keep the speculation of a Gruden return from growing.
The Kansas City Star is reporting defensive coordinator Gunther Cunningham is interviewing in Detroit. Two other Kansas City assistants have taken jobs elsewhere. The fact that Cunningham is talking to another team could be a sign inside the building that the expectation is that new general manager Scott Pioli will end up firing coach Herm Edwards.
The idea earlier in the week that Steve Spagnuolo would be high on Pioli's wish list. That, of course, is out of the question as Spagnuolo became the coach in St. Louis Saturday. Chris Mortensen's report that the Giants are targeting Dom Capers as Spagnuolo's replacement could affect Denver's pursuit of him as an assistant.
Former Chicago secondary coach Steve Wilks is a candidate for the same job in San Diego.
January, 16, 2009
1/16/09
9:15
PM ET
Posted by ESPN.com's Bill Williamson

With Raider Nation buzzing with the hope that Jon Gruden could somehow end back up in Oakland, the Oakland Tribune reports that fired Buccaneers general manager Bruce Allen could have a better chance of returning. Meanwhile, the paper reports more assistant coaches are being interviewed and more head coaching candidates could be considered.
Here's a name to keep an eye on if the Raiders bring in more candidates: Arizona offensive coordinator Todd Haley. He is considered a bright young offensive mind and the Cardinals offensive is high flying. He fits the mold of coach Davis usually looks at. It wouldn't be a surprise if Davis considers him.
A day after Denver retained running backs coach Bobby Turner, Denver also decided to keep running game coordinator Rick Dennison under new coach Josh McDaniels. Dennison is a well respected coach who has done a good job on the offensive line. Dennison interviewed for the head coaching job.
If Jeremy Bates ends up in Detroit, his replacement could be Carolina assistant Mike McCoy. The former quarterback is regarded as a strong passing game coach.
Gruden added Joe Barry to his staff shortly before he was fired. If he doesn't stay in Tampa Bay, Barry's name could surface as an assistant candidate in San Diego.
Don't be surprised if San Diego and defensive coordinator Ron Rivera discuss a new contract. His prior contact was done when he was the inside linebacker coach. After his success in the second half of the season, Rivera, if he isn't considered for any head coaching jobs, will likely have his contract adjusted to reflect his responsibilities.
October, 1, 2008
10/01/08
3:29
PM ET
Posted by ESPN.com's Bill Williamson
Here are some thoughts on the Raiders as they move on from one of the more bizarre days in the NFL this season (so far):
Raiders Under Kiffin
Wins
5
29th in NFL
Passing ypg
162.2
31st in NFL
Opponents'
total ypg
338.5
21st in NFL

Total TDs
35
22nd in NFL

The Denver Broncos clearly have company as the team that Al Davis most despises. Tuesday, after an electric press conference in which he fired Lane Kiffin and made offensive line coach Tom Cable the interim coach in Oakland, Davis accused the Patriots of tampering before the Randy Moss trade least year. The Patriots weren't biting Wednesday.
Still, it seems the Patriots aren't one of Davis' favorites This reminds me of a situation this summer when the Raiders finally cut running back LaMont Jordan after trying to trade him for several weeks. When Jordan was cut, sources said, Davis instructed his agent, Alvin Keels, not to send Jordan to two clubs: Denver or New England.
Jordan currently has 19 carries for 90 yards for the Patriots.
It was interesting that Davis said he could use a right hand man. Davis has had assistants in the past and they've been successful -- Ron Wolf and Bruce Allen are two to come to mind. Nearly every decision-maker in the NFL has help and it is encouraging to see that Davis is leaning that way again.
Meanwhile, here are some figures, courtesy of ESPN Research, illustrating Oakland's current situation:
Raiders Since Reaching Super Bowl XXXVII
Seasons: 6
Head coaches: 4
Winning percentage: .238 (worst in NFL)
Road wins: 7
---
Raiders Offensive Line Under Tom Cable (2007-08)
Rushing ypg
135.3
4th in NFL
Yards per rush
4.2
10th in NFL
Rushing TDs
14
17th(t) in NFL
Sacks allowed
51
23rd in NFL