November, 3, 2013
11/03/13
4:01
PM ET
ORCHARD PARK, N.Y. -- A few thoughts on the
Kansas City Chiefs
' 23-13
victory
against the
Buffalo Bills
:

What it means:
The Chiefs moved to 9-0 and, more importantly, guaranteed they will head to Denver for their Nov. 17 showdown with the
Denver Broncos
with no worse than a one-game lead in the AFC West. The 7-1 Broncos had a bye Sunday and will play the Chargers in San Diego next Sunday.
Stock watch:
The once-productive pass rush continues to be ineffective. The Chiefs, who lead the NFL with 36 sacks, failed to get to Buffalo rookie quarterback
Jeff Tuel
. The Chiefs tackled as poorly as they have all season in allowing more than 200 rushing yards to
C.J. Spiller
and the Bills.
Dexter McCluster
dropped a deep pass when he was uncovered and could have scored a touchdown. Rookie cornerback
Marcus Cooper
was beaten deep for a touchdown in the first half by
Marquise Goodwin
, but made up for it in the fourth quarter when he punched the ball lose from
T.J. Graham
.
Tamba Hali
recovered the fumble and returned it for the touchdown that put the Chiefs ahead 20-13.
Offensive futility:
The Chiefs had fewer than 200 yards until late in the game, and managed just three field goals offensively.
Alex Smith
completed 19 of 29 passes, but for just 124 yards. Both of Kansas City's touchdowns were scored by the defense. Hali's score came early in the fourth quarter. A bigger play came early in the third quarter. With the Bills ahead 10-3 and on the Kansas City 2, Tuel threw an ill-advised pass into coverage that was intercepted by
Sean Smith
, who returned it 100 yards for the tying touchdown. Tuel had wide receiver
Stevie Johnson
open in the end zone on the play, but apparently didn't see him.
What's next:
The Chiefs are on their bye, and they'll need to benefit from the break. When they return to game action, they'll head into the meaty part of their schedule. Two of their next three games will be for AFC West supremacy against the Denver Broncos. Sandwiched in between is a game with another division rival, the
San Diego Chargers
.
April, 22, 2010
4/22/10
12:25
PM ET
ESPN's Chris Mortensen said on ESPN Radio

Thursday morning that two high-profile AFC West players could be available during the draft. Mortensen said Oakland could move running back
Darren McFadden
and San Diego could trade linebacker
Shawne Merriman
.

McFadden

Merriman
The McFadden talk is surprising. He was the No. 4 overall pick in 2008. McFadden hasn't made much of an impact and has often been injured. Still, as of now, McFadden and
Michael Bush
are expected to carry the load at running back for Oakland.
Justin Fargas
was released earlier this offseason.
If the Raiders want to trade McFadden, perhaps they are preparing to draft a running back. Clemson running back C.J. Spiller has the world-class speed that Oakland owner Al Davis craves, but so does McFadden. That's why he was picked so high when Oakland had other glaring needs two years ago. Spiller would require Oakland's' top pick, which is No. 8 overall.
Perhaps the Raiders will look for a running back later in the draft. Still, I think dealing McFadden may be difficult because of his lack of production. Plus, this is a very deep running back class, so it would be surprising if a team gave up much for McFadden. There's no way Oakland will get fair-market value in return. Oakland can't just give away the No. 4 overall pick from two years ago. In the end, I'd be surprised if McFadden was traded.
I'd be less surprised if Merriman was sent packing, although I'm not necessarily expecting it. There has been talk of Merriman's availability all offseason. Merriman would have to sign his restricted free-agency tender to facilitate a trade. If a team wanting to trade for Merriman is willing to give him a new contract, I'd imagine he wouldn't have a problem signing his tender to kick start the trade.
Will these deals happen? We'll see soon. It just adds to the excitement of the weekend.
April, 7, 2010
4/07/10
4:00
PM ET
Midweek mail call:
David Coleman from Buckeye, AZ wants to know
if the Chargers packaged their two top pick (No. 28 and No. 40) for a running back, who their top choice would be.
Bill Williamson:
If San Diego made that move, it could probably get to the 12-15 range. Clemson's C.J. Spiller is the premier back in a stacked running back class. San Francisco is said to covet him. The 49ers pick No. 13 and No. 17. If the Chargers wanted to take a crack at Spiller, they may have to get the No. 12 pick from Miami. Because the Chargers have other needs and because the running back group is so strong, I'm not sure San Diego would make such a move.
---
Mike from Maryville, Mo. wants to know
if Kansas City could trade a second-round pick to Baltimore for left tackle
Jared Gaither
.
BW:
There has been talk Gaither could be on the move. Teams such as Washington and Dallas could make a play for him. Kansas City could use a tackle and it may use the No. 5 overall pick on one. So, pursuing Gaither could be smart. The Chiefs have two second-round picks and using one on Gaither would be a worthy investment and allow the Chiefs to both get a quality tackle and address another need, such as safety at No. 5.
---
Stephen from El Dorado, Arkansas wants to know
my opinion of Oakland quarterback
Bruce Gradkowski
.
BW:
I admire Gradkowski. You can't deny the impact he had on Oakland's offense when he replaced
JaMarcus Russell
last November. The unit got instantly better with Gradkowski. He is a sparkplug, whose teammates really like playing with. With that said, I think, ultimately, Gradkowski's limitations as a pure quarterback will get in his way of being a longtime solid starter. But he is currently the best quarterback on Oakland's roster and if the Raiders had to start the 2010 season with Gradkowski behind center, it wouldn't be the worst thing in the world.
March, 28, 2010
3/28/10
10:00
AM ET
Weekend mail call:
Jon from Fort Collins, Colo. wants to know
what college running backs is San Diego coach Norv Turner targeting.
Bill Williamson:
At the NFL owners meetings this week, Turner discussed several of the top running backs available. The players he mentioned by name were Clemson's
C.J. Spiller
, Cal's
Jahvid Best
, USC's
Joe McKnight
, Fresno State's
Ryan Mathews
and Stanford's
Toby Gerhart
. There are other players San Diego will look at including Georgia Tech's
Jonathan Dwyer
. I wouldn't be surprised if San Diego ends up with one of these players.
Spencer from Oakland wants know
to if Oakland could pursue Philadelphia quarterbacks
Donovan McNabb
or
Michael Vick
.
BW:
It has been reported
that Oakland has interest in McNabb. But McNabb would rather go to a contender. I think Vick could be interesting. No quarterback on Oakland's roster is far and away better than Vick. He'd also come fairly cheaply, but still I'm not sure Oakland is ready to make such a move. But it is important to know that the Raiders are looking at options other than
Bruce Gradkowski
and
JaMarcus Russell
.
Tyson W. from Denver wants to know
if free-agent receiver
Kevin Curtis
could fit in with the Chiefs.
BW:
Curtis has been available for more than week and the Chiefs have not shown any interest. They brought in Arizona free agent
Jerheme Urban
. He played for Kansas City head coach Todd Haley in Arizona. The Chiefs think Urban can be a very solid No. 3 player, so there may not be much room for Curtis. Plus, Kansas City will likely draft a receiver fairly high.
March, 23, 2010
3/23/10
2:25
PM ET
San Diego coach Norv Turner spoke at the NFL owners meeting Tuesday.
Much of his session centered on the Chargers' draft needs at running back. San Diego is sure to use a high pick on a running back and Turner seems pleased with the available group. Here is some of what Turner covered:

Turner
His impression of Clemson running back C.J. Spiller and the other top backs:
"I've had limited exposure, but you see him enough to know that Spiller is just dynamite. He does it all, the return game, the explosiveness, the perimeter running. He's an exciting player. He's probably a little bit like [Jahvid] Best at Cal, similar style. Like
Joe McKnight
at SC. Those three guys are as explosive as you can be around. They're big plays just waiting to happen with those guys."
On Stanford's Toby Gerhart:
"Gerhart is a lot more explosive player than people realize because he's very physical. I just named seven guys that are pretty good players."
On whether he would want to draft a physical, big back because the team has change-of-pace back Darren Sproles:
"I think people look at it and say, 'Hey, with Sproles they can offset that.' But we just want the best back. We're going to adjust to what he does. It's a physical game. The guys I named who are those elusive type guys, they're still -- coaching
Chris Johnson
in the Pro Bowl, he's so fast that you don't realize how physical a player he can be."
On if Gerhart and Jacob Hester are similar players:
"I think Gerhart is more of a pure runner. Jacob has been, even with us, he's kind of been that role guy that ran some, caught some, blocked some, done a lot of things. Jacob's just been an outstanding player for us. We've put him at fullback with Tolbert, and then he's been just a great special teams player. He and Tolbert, they're two of our leading tacklers on all our special teams, and they're good. Jacob blocked a punt for a touchdown, stripped a ball from the punt returner and ran it in for a touchdown. He makes big plays. He's just a [solid] player."
On what he expects from linebacker Shawne Merriman:
"Everyone talks about it takes another year to come back from a surgery. The biggest thing -- and I had this conversation about two weeks ago with
Philip Rivers
-- he says that it's not so much that the knee takes a year. But while you're rehabbing your knee, it doesn't allow you to do all the other things that you need to do to get ready for the season.
"So Shawne went through the year and missed time with the groin, missed time with the foot. The knee wasn't the issue. So I think having a great offseason so he doesn't have those nagging injuries, and then the knee being a year better… Shawne had a really good year last year. He just didn't have those game-changing-type plays that we've all seen him have. But I think those will come. He's such a competitor, such a physical player, that when he gets that step back he'll return as an outstanding pass-rusher."
On if Merriman lost explosion:
"I think you could see that coming back all the way through the year. The problem was when he had the foot injury, he had the plantar fascia and the problem with the foot, it was a six-week injury and he wasn't able to practice a lot. You could see him where he was favoring it a little bit. I think those things were more of a factor than him losing the explosion."
On what his team can learn from the playoff loss to the Jets:
"I think that game has to be a great learning situation for our guys when we get back into that situation. There are a lot of different things you look at and try to analyze: Were we trying too hard? Were we too revved up? All the different things once it started going the other way, guys were trying to do things they hadn't done throughout the season. The thing we've got to try to build from is we won 11 straight games, and we won them every possible way you could -- a goal-line stand, downing a punt inside the 5, getting a big kick return to set our offensive up for a short drive, driving the ball four times in the last two minutes for touchdowns, those things that our guys have to take a lot of pride from. All of us, when we get back in that situation, we've just got to handle it better."
March, 17, 2010
3/17/10
6:55
PM ET
Charlie Whitehurst
may make the
San Diego Chargers
better immediately and down the road.
Not bad for a guy who has never thrown an NFL pass.
Taking advantage of the Seahawks' need to develop a young quarterback, the Chargers
received a great bounty
for a player who has never been a factor and did not appear to have a future in San Diego any time soon.
In return for Whitehurst, Seattle flipped second-round picks with San Diego in next's month draft and will send the Chargers a third-round pick in 2011. San Diego will now draft No. 40 in the second round, 12 picks after its No. 28 selection in the first round. San Diego, which had the No. 60 pick in the second round, now has three third-round picks in 2011. The Chargers got a third-round pick next year when it sent cornerback
Antonio Cromartie
to the Jets earlier this month. The choice can improve to a second-round pick based on Cromartie's playing time.
These two trades give San Diego great flexibility and a great opportunity to reload.
The Chargers have more draft needs this year than in recent years, and these trades will allow them to find several quality players. The Chargers need a running back and a nose tackle. They should be able to address those needs at No. 28 and No. 40.
San Diego could potentially package both picks and move up in the first round to get Clemson running back C.J. Spiller, who is considered the best back in the draft, if he is available in the 12-15 range. San Diego could also start using those 2011 third-round picks as trade bait.
The Chargers are in a position of strength – all because they traded their third-string quarterback, who was selected with the 81st pick of the third round in 2006. Whitehurst was nowhere near unseating
Billy Volek
as Philip Rivers' backup.
I know some San Diego fans haven't been thrilled with the team's lack of activity this offseason. But this was a huge move. Getting this type of value for guy who doesn't play is simply stunning.
Watch for San Diego to try to replace Whitehurst late in the draft with a developmental quarterback prospect. No offense to Whitehurst, but he will not be difficult for San Diego to replace. But his value to Seattle should pay off big for the Chargers.
March, 2, 2010
3/02/10
12:00
PM ET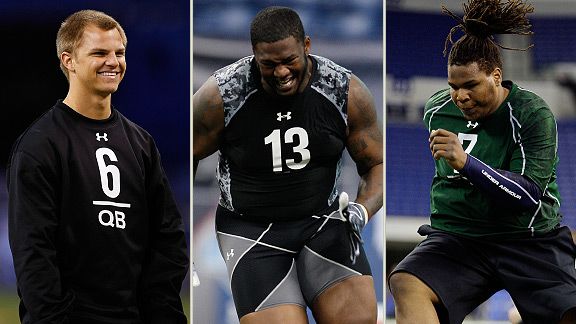 AP, Getty ImagesQuarterback Jimmy Clausen, OT Anthony Davis and DT Terrence Cody took part in the NFL scouting combine and could be attractive options for AFC West teams in April's draft.
With the NFL combine wrapping up in Indianapolis, each AFC West team is preparing for the NFL draft in full force.
Here are five players each team in the division may be studying for various reasons as the combine concludes:

Denver
Dez Bryant, receiver, Oklahoma State:
Bryant did not run at the combine due to a hamstring injury. Still, Denver is keeping a close eye on this game-breaker. If Brandon Marshall is traded, Bryant, the jewel of the receiver class, could be heading to Denver at No. 11. But there are some off-field concerns that could make Bryant
a risk.
Jimmy Clausen, quarterback, Notre Dame:
Clausen is a long shot. However, he fits coach Josh McDaniels' system. Denver has other needs, but if Clausen slips past Washington (No. 4) and Buffalo (No. 9), Denver could be tempted to answer its long-term needs at quarterback.
Terrence Cody, defensive tackle, Alabama:
The Broncos need a sturdy nose tackle as they enter the second season of using the 3-4 defense. Cody, who slimmed down 16 pounds from the Senior Bowl, has a chance to be a dominant force. If he is available in the second round, Denver could make a run at him.
Mike Iupati, guard, Idaho:
Denver is looking to get bigger on the offensive line. The 6-foot-5, 331-pound Iupati would do the trick. He is rising up draft boards. He may not be on the board in the second round, but if he is, Denver could snatch him up.
Rolando McClain, linebacker, Alabama:
This is a legitimate option at No. 11. McClain was impressive in his meetings with teams at the combine. He is a leader and would be a perfect middle linebacker in Denver.

Kansas City
Eric Berry, safety, Tennessee:
The Chiefs would love to get the chance to draft Berry with the No. 5 pick, but they will need some help. If St. Louis drafts a quarterback, Berry could fall to Kansas City, but that could be a long shot. If not, Tampa Bay may take him at No. 3.
Clausen:
This is another long-shot scenario. However, you have to think Clausen intrigues Kansas City. He played for new Kansas City offensive coordinator Charlie Weis at Notre Dame. Although Kansas City likes quarterback Matt Cassel, a Clausen-Weis pairing could be intriguing. Clausen said at the combine that he wants to prove to NFL coaches that he does not have a bad attitude. He would not have to win over Weis, whom already believes in his former player.
Russell Okung, offensive line, Oklahoma State:
Okung is a favorite to be drafted by Kansas City. He would be an instant starter at left tackle and would enable the team to move 2008 pick Branden Albert to right tackle. Okung was impressive in his interviews at the combine and he looks the part. A hamstring injury should not hurt his draft status.
Anthony Davis, tackle, Rutgers:
Davis is a player Kansas City could be eying at No. 5 if Okung is off the board. Davis may be a bit of a reach at No. 5, but Kansas City has to be paying attention to him.
Golden Tate, receiver, Notre Dame:
Tate helped his cause very much at the combine. He ran great and won over teams in his interviews. It is not out of the question that he worked his way into the bottom part of the first round. If he sticks around to the second round, Tate could be reunited with Weis.

Oakland
Bruce Campbell, tackle, Maryland:
Campbell has the look of a player Oakland will seriously consider taking. Campbell was one of the stars of the combine. He tested well, and at 6-foot-6, 314 pounds, Campbell ran a 4.85 40-yard dash. He did not always play well in college, and there are some attitude concerns. However, his combine test and his great size and speed may help him skyrocket up draft boards. Oakland loves combine stars and it really needs a tackle. This could be a pairing.
Davis:
Oakland will also look at Davis. The Raiders will study several tackles. It is the most likely position the Raiders will choose from at No. 8. Davis should still be available.
Dan LeFevour, quarterback, Central Michigan:
There was talk that Oakland could target LeFevour in the mid rounds. Oakland will be looking for a quarterback in the draft and many scouts thought LeFevour would be an excellent prospect to consider in the third through fifth rounds. However, he struggled at the combine and showed a lack of arm strength. That could turn off Oakland. Owner Al Davis likes strong-armed quarterbacks.
McClain:
If some of Oakland's top options are gone, it could make a run at McClain. He should be available at No. 8. He would help the Raiders, who could use a spark on the defensive front seven.
Okung:
The Raiders were surely reviewing Okung in Indianapolis. Drafting him may be wishful thinking. Okung is the best player at Oakland's biggest area of need. If he is available at No. 8, Oakland has to take this star.

San Diego
Jahvid Best, running back, California:
Best may have been too good at the combine for San Diego's liking. He was the fastest running back at the combine. That could move him up the draft board dramatically. He was considered a late first-round talent prior to the combine. Now, Best could move into the top 15 along with Clemson's
C.J. Spiller
. San Diego picks No. 28 and would likely love to get a shot at Best.
Cody:
Along with running back, nose tackle is San Diego's biggest need. Cody is the type of player who could help San Diego. With his improved effort at the combine, San Diego has to consider him a decent option at No. 28.
Jonathan Dwyer, running back, Georgia Tech:
Dwyer said he had a great meeting at the combine with San Diego. He said he thought the team was interested in him and said he is interested in the Chargers. However, he did not have a great performance at the combine. He ran a pedestrian 4.64 40-yard dash. He could be available in the second round. If San Diego feels comfortable with Dwyer's game film and are not swayed by his slow 40 time, perhaps it could consider taking Cody in the first round and Dwyer in the second round.
Toby Gerhart, running back, Stanford:
Although Dwyer had a less-than-stellar combine, Gerhart performed very well. He ran better than expected and showed his versatility by ranking near the top of several combine tests. Gerhart may now be a sure second-round pick. The Southern California native looks like a good fit for the Chargers' system. He did not hurt his chances in Indianapolis.
Trindon Holliday, receiver/returner, LSU:
Holliday could be a decent replacement if Darren Sproles leaves San Diego through free agency. Like Sproles, Holliday is a tiny speedster. Holliday is 5-foot-5 and is awfully quick. He ran a 4.34 40-yard dash at the combine. What better way to replace Sproles than with a Sproles clone?
February, 26, 2010
2/26/10
12:00
PM ET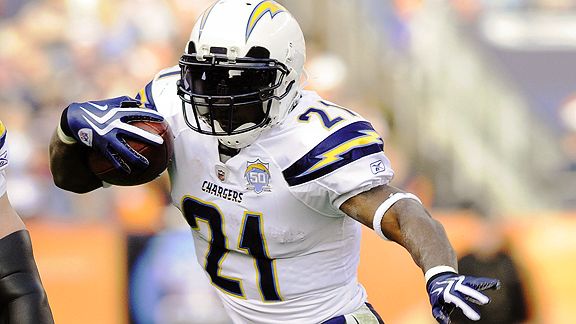 Icon SMIThe Chargers need to find an answer at running back now that LaDainian Tomlinson is no longer with the team.
One of the top story lines of the NFL offseason will be what San Diego does at running back.
The Chargers probably will bring in at least two new running backs. The team released legend
LaDainian Tomlinson
this week after he showed -- in his ninth NFL season -- that he could no longer be a reliable lead running back. San Diego may need another tailback to replace change-of-pace standout
Darren Sproles
, who appears
headed to free agency.
San Diego was 31st in rushing last season. It has to find a new spark. Watch for the Chargers -- who are at the NFL scouting combine this week working on improving the position -- to explore trades, free agency and the draft. Expect the draft to be a major option because the current list of available veteran talent is fairly unimpressive.
Here's a list of running backs who could be headed to San Diego:
Jahvid Best, California
How:
Draft
The skinny:
Best will be closely looked at by San Diego. If he checks out medically --- he had head and neck issues at the end of last season --- the dynamic Best should be available late in the first round. San Diego has the No. 28 pick and may be able to get in on Best. He is a fast, game-breaker type and would work well if San Diego grabbed a big back. But Best also could fit well if the Chargers kept Sproles.
Ahmad Bradshaw, New York Giants
How:
Trade
The skinny:
There has been
some thought
that the Giants could dangle either Bradshaw or
Brandon Jacobs
in a trade for San Diego cornerback
Antonio Cromartie
, who is being shopped. Bradshaw could be the more likely of the two to be dealt. He'd be a decent rotational option.

Bush
Reggie Bush, New Orleans
How:
Free agency
The skinny:
If Bush is cut, the only way San Diego would be interested in this native son is if Sproles left. This is a long shot.
Tashard Choice, Dallas:
How:
Trade
The skinny:
I get the feeling Choice is the Chargers' top choice among the veteran lot. San Diego inquired about the Cowboys' backup in the Cromartie conversations. However, Dallas is reluctant to give up Choice. If that changes, San Diego may pounce on him.
Jonathan Dwyer, Georgia Tech
How:
Draft
The skinny:
Dwyer is a big, strong back. The combine is important for him. If he does well, he could sneak into the first round. If he is average, Dwyer could be had in the second or third round, where San Diego would consider him if it also gets a veteran back.
Toby Gerhart, Stanford
How:
Draft
The skinny:
Gerhart seems like a player who would intrigue San Diego general manager A.J. Smith. He was a very productive college player and has a big upside. He could be a steal in the third or fourth round. The Southern California native is big and rugged. If he and a veteran were brought in, and Sproles was kept, it could be an exciting time in San Diego.

Jones
Thomas Jones, New York Jets
How:
Free agency
The skinny:
Jones is not free yet, but he is expected to be cut. If so, put him at the top of San Diego's veteran wish list. Even though he is 31 and past his prime, Jones is a tough runner who could help for a year or two. Add Jones with a rookie and Sproles, and San Diego's run offense would surely improve in 2010.
Ryan Mathews, Fresno State
How:
Draft
The skinny:
Mathews had a productive season and is one to keep an eye on. He will surely be in San Diego's mix along with Mississippi State's
Anthony Dixon
and USC's
Joe McKnight
.
Willie Parker, Pittsburgh
How:
Free agency
The skinny:
He shouldn't be high on the list. Parker is on the decline, but there aren't many high-quality running backs on the market yet. He could be a backup plan.
C.J. Spiller, Clemson
How:
Draft
The skinny:
He is expected to be the class of the rookie crop. If he does what is expected of him in the next two months, Spiller could be a top-15 pick, which would be difficult for San Diego to get to. If for some reason he fell into the 20s, expect the Chargers to make a draft-day run at this potential difference-maker.

Taylor
Chester Taylor, Minnesota
How:
Free agency
The skinny:
Taylor is 30, but he has fairly low mileage. The most carries he's had in a season was in 2006 when he had 303 and ran for 1,216 yards. He hasn't had more than 160 carries in any of his other seven seasons. It's unclear how he would do if given the opportunity to carry the ball 20-25 times a game.
Pierre Thomas, New Orleans
How:
Free agency
The skinny:
The restricted free agent would be intriguing if he hit the open market. Thomas may not be the answer as the primary back, but he'd help as a rotational back.
LenDale White, Tennessee
How:
Trade
The skinny:
If the Titans were to let go of White at a decent price, San Diego might be tempted. He's big and strong and he can get the job done if not too much is asked of him. Add him to a backfield that included a rookie and Sproles and San Diego would be able to get by nicely.