AFC West:

Camp Confidential
August, 8, 2013
8/08/13
12:00
PM ET
SAN DIEGO -- Gone is the omnipresent GM lurking from the large deck that hovers over the practice field.
Gone is the comfortable head coach who went at his own pace.

It's a new day for the
San Diego Chargers
. There is new energy in America's Finest City.
Change was badly needed. The Chargers arguably had the best roster in the NFL five years ago, but it never paid off. The lack of success finally cost general manager A.J. Smith and coach Norv Turner their jobs after another lackluster season in 2012.
The Chargers' fans demanded new leadership for the stagnant franchise. They got their wish. The Chargers now have some of the youngest, freshest leaders in football as the team moves past the stale days of the Smith-Turner era.
Smith was famous for watching practice from the deck of his office. New general manager Tom Telesco, 40, watches practice from the sideline. There are no messages of pecking order being sent from the general manager's office. Telesco, in a camp-issued T-shirt and shorts, could easily be mistaken for an equipment manager.
The head-coaching switch from Turner to Mike McCoy, 41, is almost as distinctive as the change at GM. McCoy's practices have appeared to be crisper and more detailed-oriented than in the past. There isn't much downtime in San Diego's practices. Everyone's moving at all times. That wasn't always the case under Turner.
"I think we're getting a lot done," quarterback
Philip Rivers
said. "Coach McCoy clearly has a plan. It's been impressive. ... The big thing is everyone has bought in to him. The reality is we are .500 over the past three years. It was pretty easy to buy in what's now going on here."
THREE HOT ISSUES
[+] Enlarge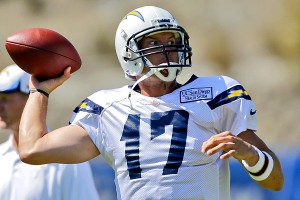 AP Photo/Lenny IgnelziPhilip Rivers threw 15 picks last season to just 26 touchdown passes.
1. The quarterback:
Rivers is a major focal point of this training camp. Telesco hired McCoy, Denver's former offensive coordinator, with an eye toward fixing Rivers. The quarterback has struggled the past couple of years, particularly with turnovers. McCoy and new offensive coordinator Ken Whisenhunt, the former head coach of Arizona, form a strong quarterback-coaching tandem and quarterback coach Frank Reich is also highly regarded. All three men believe in Rivers, and it seems to be paying off. Rivers has looked fantastic in training camp. His confidence is high, and his passes are accurate. It is vital for both Rivers and the Chargers that he has a good season and the team continues build around him. If not, it could be a crossroads season for both the franchise and Rivers' career.
2. The offensive line:
Because of injuries, this unit has been terrible the past couple of years. No matter how much Rivers improves, he won't have much of a chance if he doesn't have protection. The Chargers' line has four new starters. It is not a great unit, and there will be some growing pains. But the group is getting rave reviews for being athletic and tough. Rivers is impressed and trusts the group. He thinks it's deeper with players such as rookie
D.J. Fluker
at right tackle and veterans
King Dunlap
and
Max Starks
competing at left tackle. Dunlap is leading the race. But if there are injuries, this group appears better equipped to weather them than last year's squad.
3. The rookie linebacker:
The Chargers are thrilled with inside linebacker
Manti Te'o
. He will start in the team's 3-4 schemes. He has looked good in training camp and has fit in with the locker room. The hoax he was involved in at Notre Dame is not a factor. The Chargers love the way he works and practices. He is instinctive, and he plays faster on the field than his combine times suggested. The Chargers think Te'o is ready to make a big impact.
REASON FOR OPTIMISM
[+] Enlarge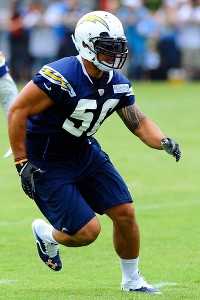 Christopher Hanewinckel/USA TODAY SportsThe Chargers are happy with the progress of second-rounder Manti Te'o, who's slated to start at inside linebacker.
The Chargers are loaded with young talent on defense. Any defense that has
Eric Weddle
at safety, Te'o and
Donald Butler
at inside linebacker and
Corey Liuget
and
Kendall Reyes
at defensive end is an impressive group.
I think these players will be the core to one of the better defenses in the coming years. The Chargers are doing backflips over the combination of Liuget and Reyes. Liuget is entering his third NFL season, and Reyes is entering his second. Liuget was terrific all of last season, and Reyes showed serious pass-rush potential toward the end of the season.
While this defense has some holes, there are some exciting pieces here.
REASON FOR PESSIMISM
The Chargers are pretty thin in a lot of places. I think this team is on the rise, but it may not be a quick fix. There are too many positions where depth is an issue.
San Diego has dealt with the injury bug already. Pass-rusher
Melvin Ingram
, the No. 18 overall pick in 2012, suffered a torn ACL in May. Starting receiver
Danario Alexander
and backup linebacker
Jonas Mouton
suffered the same injury during camp.
Alexander's and Ingram's injuries are particularly worrisome. This team can't afford to lose high-end talent before the season starts. Other positions vulnerable to injuries include the offensive line (even though the depth is better than in the past), defensive tackle, edge rushers and the secondary. There isn't much wiggle room on this roster.
OBSERVATION DECK
The Chargers appear to be well-coached. The influx of offensive coaches and the return of several defensive coaches, led by coordinator John Pagano, makes for a nice mix. Most of the new blood was needed on the offensive side of the ball.

The team feels great about Dwight Freeney, who was signed to replace Ingram. The Chargers are convinced Freeney still has something left in the tank and will be a difference-maker.

The Chargers like the progress of nose tackle Cam Thomas, who they think is ready for a breakout year. Coaches and teammates are talking him up big.

San Diego is looking to add depth on the defensive line. Free agent Justin Bannan on is still on the team's radar. I think we will see the Chargers be active on the waiver wire at a few positions.

Free-agent guard Chad Rinehart is showing solid leadership skills.

The team loves free-agent running back Danny Woodhead. He has been a camp star and should take pressure off starter Ryan Mathews. Expect to see Woodhead used in several different ways. He could be a poor man's Darren Sproles, perhaps.

Yes, tight end Antonio Gates hasn't had a superstar season in years because of injuries, but the team likes what they see from him. He may have another year or two left in the tank.

Ladarius Green, Gates' potential successor, is still growing. But he has shown flashes. He has natural pass-catching ability.

While there are questions at cornerback, the Chargers feel like Derek Cox and Shareece Wright will be an upgrade over last year's starting duo of Quentin Jammer and Antoine Cason.

Rookie quarterback Brad Sorensen has been up and down. He has a good enough arm to keep him on the 53-man roster.

Cornerback Johnny Patrick has looked good. He could see a lot of action in nickel situations.

Fifth-round pick Tourek Williams is getting looks at both defensive end and outside linebacker. The team would like for him to contribute at linebacker.

Robert Meachem, a big-money, free-agent bust last season, has been given new life after Alexander's injury. Still, I have my doubts that Meachem will make much of a difference. He hasn't been a standout in camp.
July, 29, 2012
7/29/12
12:00
PM ET
ENGLEWOOD, Colo. -- A veteran Denver Bronco was relaxing after the first training camp practice of a monumental season for the franchise.
He shook his head.
"When was the last time we had something like
this
here?" he asked. "This is something."

This
is No. 18.
This
is
Peyton Manning
.
Everything has changed for the Broncos.
With one phone call from Manning to Denver leader John Elway in March, the landscape of the organization changed. The Broncos are no longer a league curiosity caused by
Tim Tebow
-mania. They are now relevant because Manning, who missed last season with a neck injury, is
the
story in the NFL.
The Broncos, though, aren't consumed by being a popular story. They are focused on the impact Manning, at age 36, will have on the team. In public and in private, the Broncos are not worried about Manning's health. They are simply in awe that he is on their side.
The organization feels it's time to make a major push because of Manning.
"It's very similar to the Super Bowl year we had in New Orleans," said new Denver cornerback
Tracy Porter
, a former Saint. "We have extremely high expectations on this team, starting with Peyton, all the way down to the last guy on the roster. Our expectations are not just to hopefully get to the playoffs. Our expectations are to get back to New Orleans to play for the Super Bowl and win the Super Bowl."
THREE HOT ISSUES:
1. Manning's health:
The Broncos operate as if Manning will be ready for the Sept. 9 opener against visiting Pittsburgh, but they won't know if he will be fully healthy until he takes a few hits. Again, all indications are that Manning should be fine. He is throwing well, he hasn't suffered a setback and he is practicing at a strong tempo. He is on pace to be ready for the season.
[+] Enlarge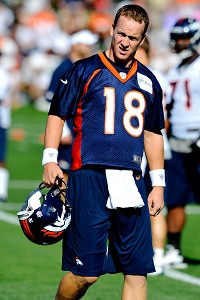 Ron Chenoy/US PRESSWIREThe Broncos won't know exactly what they have with Peyton Manning until he starts taking some hits.
2. Defensive readiness:
The Broncos' defense is still a work in progress. It went from No. 32 to No. 20 in the NFL last season under the guidance of head coach John Fox and defensive coordinator Dennis Allen. Allen parlayed the success into the Raiders' head-coaching job. Former Jacksonville head coach Jack Del Rio, Fox's defensive coordinator in Carolina in 2002, stepped in to replace Allen. The Fox-Del Rio pairing is strong, but this unit must continue to improve. It will have to play the first six games of the season without weakside linebacker
D.J. Williams
because of an NFL suspension, and pass-rusher
Elvis Dumervil
could face a short suspension for a recent gun arrest. So, the team will have to get a lot of players ready during camp as the Broncos try to continue the upward defensive swing.
3. Young receivers:
Third-year receivers
Demaryius Thomas
and
Eric Decker
will be in the spotlight throughout camp. Both are talented players who have a lot of promise. Playing with Manning should hasten their learning curve. But there is not a quarterback in the NFL who is as particular about his receivers as Manning, and both must adjust to Manning's game. The early word is that both players are earning Manning's trust.
REASON FOR OPTIMISM
The Broncos have a terrific head coach in Fox, whose presence and impact should not be discounted. He is an upper-echelon coach who has a firm grip on this program. His players love him and the overall spirit of the franchise is probably as high as it has been since the back-to-back Super Bowl-winning years in the late 1990s. Fox did a wonderful job last season turning a 4-12 weakling into an 8-8 team that won a playoff game. In Fox's second season in Carolina, he led the team to the Super Bowl. Will it happen again in Denver? We'll see, but his players fully believe in him, and that's a huge head start.
REASON FOR PESSIMISM
We do not yet know if the Broncos are loaded enough with talent to make a long playoff run. There are a lot of questions.
Will the team be able to run the ball enough to help Manning now that the Broncos aren't using the Tebow-led option? Are the youngsters on the offensive line ready to protect Manning? Will they be good enough at defensive tackle and safety?
This team is far from a finished product and it faces a brutal schedule. Still, expectations are high because of Manning. But the truth is, Denver must build itself around Manning very quickly -- the chief challenge of training camp.
OBSERVATION DECK:
Players rave about Del Rio. They love his toughness and the fact he is a former NFL player. Many players said Del Rio understands what they are going through and they feel they are on the same page with him already. The word around Denver's camp is that the Fox-Del Rio relationship has taken up where it left off in Carolina.

[+] Enlarge

AP Photo/Eric BakkeNew Broncos defensive coordinator Jack Del Rio held the same position for John Fox in Carolina.

Watch for rookie running back Ronnie Hillman, a third-round pick, to get plenty of chances to prove himself. Denver sees him as an explosive threat as a runner and as a receiver out of the backfield.

Former Chicago quarterback Caleb Hanie has the inside track to be Manning's backup. Still, Adam Weber or rookie Brock Osweiler could pull off the surprise and beat him out.

The Broncos are high on undrafted rookie linebacker Steven Johnson. The Kansas product could get some looks at middle linebacker in the preseason.

The Broncos will look at a lot of punt return options. Having Decker do it may be risky. I think it is an area Denver will look to upgrade on the waiver wire.

While guard Chris Kuper is slowly coming back from a severe ankle injury suffered in Week 17 in 2011, the Broncos expect him to continue to make progress.

Running back Knowshon Moreno, the No. 12 overall pick in 2009, is back after suffering a torn ACL last season. Still, he has an uphill battle to impress this staff.

Keep an eye on fourth-round pick Omar Bolden, a cornerback. He was highly rated out of Arizona State, but he missed all of last season with a knee injury. He looks like a keeper.

The Broncos rave about linebacker Von Miller, the 2011 NFL Rookie of the Year. The pass-rusher is working diligently to improve his overall game. Coaches and teammates laud Miller for his desire to improve.

The Broncos would like to see middle linebacker Joe Mays shore up his tackling in camp. He is a solid player, but he whiffed too many times last season.

The Broncos love what they see in Porter. Because of his talent, experience and confidence, Porter should be able to handle the pressure of playing opposite Champ Bailey, according to the Broncos. Second-year safety Rahim Moore opened with the first-team defense. He will compete with fellow second-year safety Quinton Carter.

Veteran defensive tackle Ty Warren was working with the first-team defense. Before Warren re-committed to the team in June, Sealver Siliga worked with the first team. Mitch Unrein got some work with the first-team defensive line early in camp as Denver looked for the right rotation.

Defensive lineman Ben Garland is making an impression. He is athletic and has great feet and could make the team.