December, 19, 2013
12/19/13
3:20
PM ET
KANSAS CITY, Mo. -- The
Kansas City Chiefs
hardly missed
Dexter McCluster
last week when they scored 56 points in a lopsided win against the
Oakland Raiders
. That doesn't mean they won't look forward to having back their slot receiver and punt return specialist in Sunday's game against the
Indianapolis Colts
at Arrowhead Stadium.
The Chiefs signaled Thursday that McCluster would be available to play against the Colts when they released his replacement,
Chad Hall
. They re-signed defensive lineman
Jerrell Powe
to take Hall's spot on the roster.
McCluster missed the Oakland game after a cut on his ankle became infected and swelled. He said he received the cut while returning a punt for a touchdown in the previous Sunday's game at Washington.
[+] Enlarge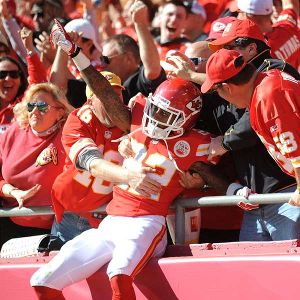 Denny Medley/USA TODAY SportsGetting Dexter McCluster back in the lineup is something the Chiefs and their fans will celebrate.
"Adrenaline took over," McCluster said. "It was just a small cut. I took a shower, bandaged it up, kept moving. Something must have crept in there underneath all that."
He practiced last week on Wednesday as normal, but that's when the ankle swelled on him. He had the wound cleaned out later in the week, but wasn't able to return on time to play against the Raiders.
"This is a first for me," he said. "You get those small cuts every day. It's just something that kind of popped up on me, but we caught it early. Doctors did the (procedure to clean the wound), and I've been taking positive steps forward after that.
"I'm going to keep treating it. I'm going to keep doing whatever I have to do off the field to get back on the field."
Initially, the Chiefs feared McCluster's infection might be MRSA, which is resistant to antibiotics. Tests later ruled that out, and the Chiefs were able to treat the infection.
"I had no idea what that was," McCluster said, referring to MRSA. "My mom, she was calling me (about that). We didn't know what it was (at first). Thank God it wasn't. Something that small, a cut I get every day in this sport. I took it very serious. I wanted to make sure it didn't move, didn't spread, didn't affect my body as a whole. They did a great job of going in and finding out what it was."
The Chiefs scored seven offensive touchdowns against the Raiders without McCluster, their third leading receiver.
Jamaal Charles
scored five of them, four on passes.
The Chiefs attacked the Raiders repeatedly with the screen pass, but offensive coordinator
Doug Pederson
said none of those passes would have gone to McCluster had he been in the lineup.
"Most of that was designed for the tailback," Pederson said.
McCluster has more impact for the Chiefs as a punt returner. He has scored twice on returns this season.
"Getting Dexter back is big," special teams coordinator Dave Toub said. "He's a threat, obviously, with the two touchdowns. He saves field position catching all of those short kicks. He catches the deep ones. Obviously, the threat that he's going to catch it every time, that creates a lot of pressure on the punt team as well."
December, 14, 2013
12/14/13
2:50
PM ET
KANSAS CITY, Mo. --
Kansas City Chiefs
slot receiver and punt returner
Dexter McCluster
missed practice Thursday and Friday because of an infection in his ankle. And Saturday, McCluster was ruled out for Sunday's game against the
Oakland Raiders
.
McCluster
McCluster cut his ankle in Sunday's game against the Redskins in Washington. He complained of a swollen ankle after participating in practice Wednesday. After structural damage was ruled out, McCluster had a procedure on the ankle in which the wound was opened and cleaned out.
The Chiefs said tests ruled out MRSA.
McCluster is third on the Chiefs with 46 receptions, but he has had a bigger impact this season as a punt returner. He has two returns for touchdowns this season, including one for 74 yards against Washington last week.
Junior Hemingway
and
Chad Hall
will split McCluster's snaps as a slot receiver. Hemingway has eight catches and two touchdowns and Hall one catch this season.
The Chiefs will use Hall or
Quintin Demps
to return punts. Neither has returned a punt this season.
October, 7, 2013
10/07/13
5:25
PM ET
KANSAS CITY, Mo. --
Donnie Avery
, the most productive wide receiver for the
Kansas City Chiefs
this season, had to prematurely leave Sunday's win over the
Tennessee Titans
because a shoulder bruise made it difficult for him to raise his hand above his head.
The Chiefs had no clarity Monday as to whether Avery would be available for this week's game against the
Oakland Raiders
at Arrowhead Stadium. Replacing Avery and his 19-yards-per-catch average would be a problem for the Chiefs.
They used a similarly fast player,
A.J. Jenkins
, in the second half against the Titans. Jenkins had the ball thrown his way one time but he didn't make the catch. He has one reception this season for a measly six yards.
A better solution might be
Chad Hall
, acquired off waivers from the 49ers at the end of the preseason. Hall is only 5-foot-8 and 187 pounds, so he's better suited to playing in the slot.
But the Chiefs seem to think he and a player with similar size,
Dexter McCluster
, work well together in the same lineup. The Chiefs used Hall a lot early in the Tennessee game and threw to him four times, but he caught just one pass for nine yards.
"Both he and (McCluster) are a little bit undersized,'' coach Andy Reid said. "They're smaller guys but they've got great quickness and we tried to utilize both at the same time.''
Another option is
Junior Hemingway
, who has been productive in limited playing time. The problem with Hemingway is that he, paired with
Dwayne Bowe
, leaves the Chiefs without much speed at wide receiver.
That's why Hall, or even Jenkins, would be a better choice for the Chiefs if Avery can't play against Oakland.