September, 19, 2013
9/19/13
12:00
PM ET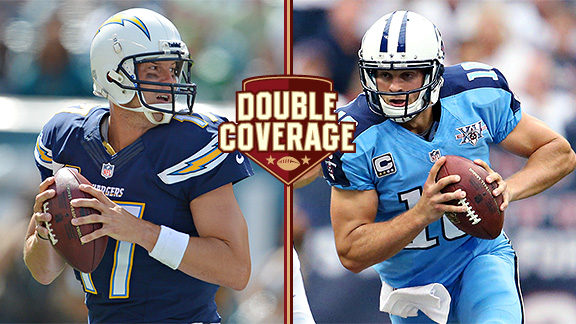 USA TODAY SportsJake Locker, right, will try to keep up with Philip Rivers and the Chargers, who have scored 61 points through two games.
The
San Diego Chargers
are the Tennessee Titans' white whale.
The teams don't play that frequently -- just nine times since 1993, including a wild-card playoff matchup in January 2008. The franchises have undergone all sorts of changes during that span, but one thing has remained consistent when they meet: The Chargers always win.
Bill Williamson, why do you think that is, and what are the odds it continues?
Bill Williamson:
I don't see the Chargers' history with the Titans being a factor. I know in Nashville the word "Chargers" makes fans cringe because of the history. Both teams are rebuilding and trending upward. These are two similar teams, and they will both be in the AFC conversation in the coming years.
The Titans made a lot of changes. This isn't the team the Chargers beat 38-10 last September. What's the biggest difference?
Paul Kuharsky:
The central part of the offseason revamp was the offensive line. The Titans have three new starters on the interior with left guard
Andy Levitre
, center
Rob Turner
and right guard
Chance Warmack
. Turner has been shaky, however, and Warmack is a rookie who is going to take some lumps when he's across from someone like
J.J. Watt
. The group hasn't jelled yet, but the run-blocking has been pretty good.
We've seen the good
Philip Rivers
and the bad Philip Rivers over the years. With the new regime in place, what is your feeling on who he will be now?
Williamson:
I might be the wrong person to ask, Paul. I've always been high on Rivers. Yes, his play sank the past two seasons and he committed 47 turnovers during that span. But it wasn't all on him. The previous regime in San Diego let go of a lot of skill-position talent, and the offensive line was decimated by injuries. Rivers didn't have much help. He was pressing as a result. So far under head coach Mike McCoy, offensive coordinator Ken Whisenhunt and quarterback coach Frank Reich, Rivers has looked re-energized. He has looked relaxed and confident over the first two weeks. He has shown that he is still a high-level player. Stopping him is the main challenge for the Titans.
How's
Jake Locker
coming along?
Kuharsky:
He made a bad throw on a crucial third-and-1 late in regulation in the loss to the Texans. The Titans have hardly turned him loose so far. But since the start of camp, he's shown steady progress. I'm not a complete believer by any means, but I think he has a chance and I didn't always feel that way. We still haven't seen some aspects of the offense that should be featured for him. Maybe this week he'll run around more and we'll see more boots and rollouts.
I'm curious about one of the guys who will be chasing Locker. The Titans have seen a great deal of
Dwight Freeney
over the years. How has he fit in the defensive scheme there?
Williamson:
An old foe, indeed. Freeney is in a tough spot. He was signed (and paid well) to be the Chargers' primary edge pass-rusher after 2012 first-round pick
Melvin Ingram
blew out his knee in May. But at 33, Freeney is best suited as a rotational player. He has half a sack this season. He has been active and will give his best effort, but he needs help. It would be a stretch to think he can still be a premier player. But he knows the Titans, and I'm sure he will be motivated to perform well Sunday.
What can Rivers and the Chargers' offensive line expect from the Titans' pass rush?
Kuharsky:
The best guys so far haven't been the ends.
Derrick Morgan
,
Akeem Ayers
and
Kamerion Wimbley
should key the rush. Ayers moves from stongside linebacker to end on rush downs but has been limited by a bad ankle. Tackle
Jurrell Casey
and weakside linebacker
Zach Brown
have been the best rushers so far. The fronts are less predictable and the blitzes more frequent. That's the influence of defensive assistant Gregg Williams. This defense is far better than I expected.
April, 24, 2013
4/24/13
9:50
PM ET
The real thing is almost here. In the meantime, ESPN draft analyst Mel Kiper offers his final first-round mock draft in an Insider piece.
Here are his AFC West thoughts:

1. Kansas City: Luke Joeckel, OT, Texas A&M
My take:
Joeckel has long been considered the safe pick. There has been some late media chatter that Central Michigan left tackle
Eric Fisher
will be the choice, but Kiper sticks with Joeckel.
3. Oakland: Sharrif Floyd, DT, Florida
My take:
The Raiders want to deal this pick and they could get some takers. If they stay in the top 10, they might be able to get Floyd and some badly needed picks.
11. San Diego: D.J. Fluker, G, Alabama
My take:
This would be a surprise. Kiper has Fluker going before Alabama teammate
Chance Warmack
, widely considered the better prospect.
28. Denver: Tank Carradine, DE, Florida State
My take:
This would be a great long-term deal. Carradine is explosive but is recovering from a major knee injury. He is reportedly coming along well, however.
April, 11, 2013
4/11/13
11:30
AM ET
By
ESPN.com staff
| ESPN.com
Denver Broncos
Chris Clark, who has played a valuable role as the Broncos' No. 3 offensive tackle/special teams contributor the past three seasons,
signed his $1.32 million restricted free-agent tender
, writes Mike Klis of the Denver Post.
Quarterback Peyton Manning
is at Duke University this week
throwing to Broncos receivers Demaryius Thomas, Eric Decker and Wes Welker. Duke is where Manning did much of his rehab throwing work last year as he attempted to come back from four neck surgeries. Duke coach David Cutcliffe was Manning's offensive coordinator at Tennessee.
Manning
pulled a prank
on Decker.
The Broncos are
keeping tabs on Oregon safety John Boyett
, a potential late-round pick, writes Klis.
Kansas City Chiefs
The Chiefs have a hole at inside linebacker,
but could they land Manti Te'o
, the draft's top-rated player at that position? Randy Covitz of the Kansas City Star explores the possibility.
Reid Ferrin of the team's website
profiles Alabama guard Chance Warmack
as a draft prospect.
Oakland Raiders
The Raiders
appear close to adding
running back Rashad Jennings and safety Reggie Smith. Jennings would back up starter Darren McFadden. Jerry McDonald of the Contra Costa Times has more.
New England has signed
former Raiders defensive lineman Tommy Kelly
. He started all 80 games for the Raiders the past five seasons, but was released on March 27.
According to a
tweet by Jason La Canfora
of CBSSports.com, journeyman quarterback Seneca Wallace will soon be a Raider. Paul Gutierrez of csnbayarea.com
has more
.
San Diego Chargers
The Chargers are
talking to free-agent left tackle Bryant McKinnie
, who started for the Ravens in the Super Bowl, writes Michael Gehlken of the San Diego Union-Tribune.
April, 6, 2013
4/06/13
1:00
PM ET
Let's take a look at some possible targets of the
San Diego Chargers
, who have the No. 11 pick in the April 25-27 draft:
Austin
TAVON AUSTIN, RECEIVER, WEST VIRGINIA
Why is he a top prospect?
He is ultra-fast and a big-time playmaker. Great film and great workouts.
How would he help?
He could give some much-needed life to San Diego's offense -- a nice fit for a group that needs a smallish-type receiver.
What are the risks?
He is tiny at 5-foot-8, 173 pounds. Teams always worry whether little guys can make the transition to the rigorous NFL.
How he could be the choice:
I think he'd be a backup plan. But Austin would fill a need, and San Diego could be tempted to add an explosive piece.
Cooper
JONATHAN COOPER, GUARD, NORTH CAROLINA
Why is he a top prospect?
A player with few holes. Alabama guard
Chance Warmack
is one of the highest-rated guards to come into the NFL in years. Some scouts think Cooper is just as good.
How would he help?
The Chargers have big needs on the offensive line. Cooper would be an instant starter.
What are the risks?
Do you want to take a guard that high? Top guards are typically available later in the draft.
How he could be the choice:
If the Chargers think he is better than Warmack or if Warmack is taken in the top 10, Cooper could be the pick if the left-tackle options are gone.
Edelman
TYLER EIFERT, TIGHT END, NOTRE DAME
Why is he a top prospect?
Huge target who has everything you look for in a tight end -- speed, hands and the ability to block.
How would he help?
Antonio Gates
is getting older and has long dealt with health issues. Eifert could help as an immediate weapon and as a long-term answer.
What are the risks?
Taking a tight end at No. 11 might be a bit high.
How he could be the choice:
Another backup option. Could be a target if the Chargers trade down.

Fluker
D.J. FLUKER, TACKLE, ALABAMA
Why is he a top prospect?
He is a massive man at 6-4, 335 pounds. You need to buy a passport to complete the trip around him.
How would he help?
He projects as a right tackle in the NFL. He'd start right away.
What are the risks?
The Chargers need a left tackle and a guard more than a right tackle. Fluker might be too clunky for a unit that wants to get sleeker.
How he could be the choice:
If the Chargers love him more than some other linemen, he could be the selection.

Johnson
LANE JOHNSON, LEFT TACKLE, OKLAHOMA
Why is he a top prospect?
The former quarterback is super athletic, strong and fast. A sky-is-the-limit type.
How would he help?
He would step in and be the Chargers' left tackle.
What are the risks?
There is real concern the Cardinals could take him at No. 7.
Luke Joeckel
and
Eric Fisher
are expected to be taken among the top five picks.
How he could be the choice:
If Johnson is there, he very likely will be the choice.
Lotulelei
STAR LOTULELEI, DEFENSIVE TACKLE, UTAH
Why is he a top prospect?
Stellar anchor to a defensive line. He is versatile and productive.
How would he help?
He would be a great nose tackle on what would be a great, young front three with ends
Corey Liuget
and
Kendall Reyes
. A potentially awesome trio.
What are the risks?
There were major health concerns when tests at the NFL combine in February showed Lotulelei had heart issues. He has been cleared; still, there would be worries in the back of some teams' minds.
How he could be the choice:
If Johnson is gone, I think the Chargers would have a hard time passing on this Star if he is on the board at No. 11.
Milliner
DEE MILLINER, CORNERBACK, ALABAMA
Why is he a top prospect?
Fast, polished, NFL-ready cover cornerback who has succeeded at the highest level.
How would he help?
Milliner could step in and start along free-agent pickup
Derek Cox
, giving the Chargers a nice cornerback tandem.
What are the risks?
He very well could be taken in the first six picks -- perhaps as high as No. 3 to Oakland.
How he could be the choice:
If he is available, I think the Chargers will think long and hard about Milliner.
Ogletree
ALEC OGLETREE, LINEBACKER, GEORGIA
Why is he a top prospect?
He is a freakish athlete who makes big plays. Top middle linebacker in the draft.
How would he help?
He would be an inside linebacker in the 3-4 and be yet another excellent young front-seven player in San Diego.
What are the risks?
He has a recent drunken driving arrest and other off-field concerns.
How he could be the choice:
A backup plan. He could be intriguing if the Chargers drop back a few spots.
Vaccaro
KENNY VACCARO, SAFETY, TEXAS
Why is he a top prospect?
He can hit, run and cover.
How would he help?
An
Eric Weddle
-Vaccaro safety tandem would be strong. It would give a nice identity to San Diego's defense.
What are the risks?
The 11th pick might be too high for a safety this year, considering it is a deep class.
How he could be the choice:
Again, he might be an option if the Chargers slide back a few picks.
Warmack
CHANCE WARMACK, GUARD, ALABAMA
Why is he a top prospect?
A classic guard who has a chance to be dominant.
How would he help?
He'd be the Chargers' best offensive lineman.
What are the risks?
He might be off the board.
How he could be the choice:
I think the Chargers will go into draft day envisioning Warmack as a real possibility to wear a lightning bolt on his helmet.
April, 4, 2013
4/04/13
5:20
PM ET
ESPN draft analyst Todd McShay has offered another mock draft

in an Insider piece. Let's take a look at his choices for the AFC West teams:
1. Kansas City:
Luke Joeckel
, OT, Texas A&M.
My take:
At this point, it would be a surprise if this pick is not Joeckel.
3. Oakland:
Dee Milliner
, CB, Alabama
My take:
I still think Florida defensive tackle
Sharrif Floyd
may be the leading candidate, but an argument over Milliner could easily be made.
11. San Diego:
Chance Warmack
, OG, Alabama
My take:
With all the top left tackles taken, I'd have no problem seeing the Chargers add Warmack. He'd fill a hole for 12 years.
28. Denver:
Jamar Taylor
, CB, Boise State
My take
: He can play and he will help long-term, but I think a pass-rusher could add more of an immediate impact.
February, 27, 2013
2/27/13
8:00
AM ET
Mid-week mail call:
Jeff Harris from Wichita wants to know
if Kansas City would have an interest in tight end
Jermichael Finley
if he is cut by Green Bay.
Bill Williamson:
If Finley is cut, I could see Kansas City having interest. The Chiefs just cut tight end
Kevin Boss
and could use Finley in a pairing with
Tony Moeaki
. New Kansas City general manager John Dorsey came from Green Bay. I think this is a fit that could make sense if Finley becomes available.
---
Derek L. from Sacramento wants to know
if the Raiders could take Alabama guard Chance Warmack with the No. 3 pick.
BW:
I get the sense the Raiders like Warmack. But they have great defensive needs and I think that is where they will lean with this pick. However, if Oakland absolutely falls in love with Warmack, I wouldn't be stunned if he was the choice. He'd be a great anchor to the offensive line.
---
Jim Blaney from Bolingbrook, Ill., wants to know
if Denver returner
Trindon Holliday
may be integrated into the offensive scheme.
BW:
The problem with Holliday is that he is tiny and he doesn't have great hands. I could see Denver designing a play or two for Holliday to take advantage of his speed, but I don't see him becoming a big part of the offense. He is too valuable as a return man. He needs to stay healthy for that role.
February, 21, 2013
2/21/13
10:00
AM ET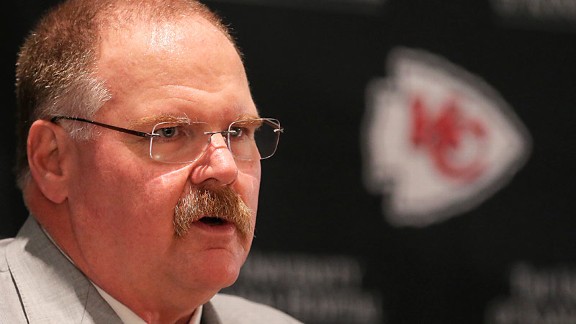 AP Photo/Charlie RiedelAndy Reid and the Chiefs need a quarterback, but will they take one with the No. 1 pick?
INDIANAPOLIS -- The NFL scouting combine starts Thursday. Let's look at some key storylines that affect the AFC West:
It starts with the Chiefs:
The Chiefs have the No. 1 pick in the draft for the first time in the modern era. It's been well documented that this is not an ideal year for the Chiefs to have the top pick. Even though a quarterback has been selected with the top pick in 12 of the past 15 years, there are no quarterbacks who currently have a chance to be the top choice. Yes, quarterback is the Chiefs' greatest need. The Chiefs would probably like to trade out of the first pick. But because the lack of a top quarterback and the fact that most of the top prospects are fairly equally rated, the trade market may not be robust. The Chiefs will likely test the trade waters this week at the combine, but don't be surprised if they leave Indianapolis resigned to the fact that they will keep the pick.
The Raiders are not far behind:
Welcome to the AFC West, where third place equals the No. 3 overall draft pick. Unlike the Chiefs, the Raiders are in a great spot because this is a defense-heavy draft. Oakland needs all kinds of defensive help. It will spend the week scouting the best defensive talent and then go from there.
Will Floyd rise all the way to Oakland?
That leads us to this question: Could Florida defensive tackle
Sharrif Floyd
get on Oakland's radar at No. 3? Floyd is considered a fast riser. He started as a late first-round prospect. However, there's talk he could move all the way up to the Raiders' pick and bypass Utah's
Star Lotulelei
as the top interior defensive lineman. This is a big week for Floyd, and Oakland will be watching closely.
New philosophies abound:
Don't look now, but
John Elway
is the most senior decision-maker in the AFC West. It's just the third year in this role for the legendary former quarterback, but he is the dean of AFC West executives. We have new general managers in San Diego's Tom Telesco and Kansas City's John Dorsey. Both men are first-time general managers. Both Telseco and Dorsey are highly regarded. It will be interesting to see them operate this week at the combine.
[+] Enlarge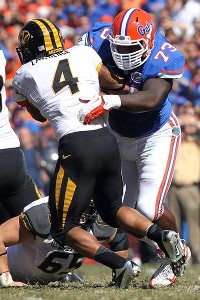 Kim Klement/US PresswireThe Raiders could be looking at Shariff Floyd for the No. 3 pick.
Will Denver trade down again?
Last year, the Broncos traded out of the first round. Could they do it again? Elway has shown he values picks and tries to pick a player where there is value. The Broncos have a lot of options at No. 28, but this week starts the process for Elway to see whether he will be flexible to move down.
Second-round QB options for the Chiefs:
Unless West Virginia quarterback
Geno Smith
steals the combine, the Chiefs will likely consider taking a quarterback in the second round. If I had to guess, three quarterbacks to watch in the second round may be USC's
Matt Barkley
, Syracuse's
Ryan Nassib
and Arkansas'
Tyler Wilson
. Barkley could be a great fit for Andy Reid's West Coast offense. Barkley's shoulder is still not healed enough for him to throw, but I'm sure the Chiefs will quiz him this week.
Chargers have options:
San Diego may be in a position of strength at No. 11. We may not see the Chargers' draft plan unfold after they do their free-agent shopping. Left tackle is San Diego's top need. The free-agent class is solid. If the Chargers answer their left tackle needs before the draft, they could operate from a position of strength in the first round. They could let the draft board play out and see if guards
Chance Warmack
of Alabama or
Jonathan Cooper
of North Carolina fall to them. Both are considered top prospects, but the truth is, guards often drop. So, either player could be a steal at No. 11. I think the same could be said for Alabama cornerback
Dee Milliner
. But it starts with the Chargers looking at this class of left tackles and deciding if free agency is the way to go.
Will Patterson be one of them?
A dark horse for the No. 11 spot is Tennessee receiver
Cordarrelle Patterson
. This is not a strong class for receivers, but Patterson is supremely talented. If he blows the doors off at the combine, he could intrigue the Chargers. They badly need a playmaker for
Philip Rivers
as he enters a critical time in his career. The Chargers will surely poke around Patterson.
Will Oakland get more picks?
The Raiders, who didn't pick until the end of the third round last year, have more picks this season, but they are missing second- and fifth-round picks because of failed trades for veterans. Oakland has one of the thinnest rosters in the NFL. It needs talent everywhere. The Raiders would like to trade down from No. 3 to acquire more picks. But similar to Kansas City with the No. 1 pick, trading down from No. 3 will not be easy. But I'm sure Oakland will put feelers out this week.
Great year to need linemen:
Many folks around the league do not think this is a great overall draft. But it seems strong for offensive and defensive linemen. Several could be taken in the top 40 picks. Each team in the division could use help in both areas. It will be interesting to see if the feeling about these positions remains strong after the combine.
Will Lane Johnson continue to rise?
If the Chargers do take their chances at left tackle in the draft, an answer may be Oklahoma's Lane Johnson. He had a great Senior Bowl, and the former quarterback could be an option for the Chargers if he comes through with a strong combine.
Will the Honey Badger migrate west?
One of the more talked about prospects this week will be former LSU cornerback
Tyrann Mathieu
. He will be at the combine after missing last season because of reported drug issues. Known as the "Honey Badger" for his dynamic playmaking and return ability, Mathieu is a fan favorite. But the truth is, scouts had questions about him before he missed the 2012 season. He is considered an average cover man, but he has ball skills. If he has a good combine he could be taken in rounds 3 or 4. All of the AFC West teams could use a cornerback (with Oakland and San Diego having the greatest needs), so he will be watched by this division.
Injured stars will get looks:
South Carolina running back
Marcus Lattimore
and Florida State's pass-rusher
Tank Carradine
would likely be top prospects if they weren't coming off major knee injuries. Still, both will likely land in the middle rounds and could be steals if they regain their health. I could see Denver closely monitoring Lattimore, and Carradine is a type of player who could help any team. So, the focus at the combine will be on more than just the players on the workout field.
February, 9, 2013
2/09/13
9:00
AM ET
Weekend mail call:
Craig Gullett from Joplin, Mo. wants to know
if Green Bay free-agent receiver
Greg Jennings
could replace
Dwayne Bowe
in Kansas City,
Bill Williamson:
I think Jennings could be a possibility if Bowe isn't brought back, yes. There are some good receivers out there, but Jennings would fit Andy Reid's offense. New Kansas City general manager John Dorsey came from Green Bay, so there is a connection. So, yes, I'd put Jennings on the Chiefs' list of possibilities.
---
Bret from La Mesa, Calif., wants to know
if I think the Chargers could take Alabama guard Chance Warmack with the No. 11 pick in the draft.
BW:
I think Warmack will be on the Chargers' short list if he is available. He is expected to be an instant-impact player. The Chargers' top need is at left tackle. If left tackles such as Eric Fisher of Central Michigan and perhaps Lane Johnson of Oklahoma are gone, I think the Chargers could turn to Warmack.
---
Jon from Iowa wants to know
if New Kansas City coach Andy Reid could pursue Eagles' quarterback
Nick Foles
.
BW:
If the Eagles move away from Foles, I think Reid might be interested. He drafted Foles last season and he played him. If Reid really likes Foles and if Reid thinks Foles has a high ceiling, I can easily see him being a target in Kansas City. Why not? I don't think he'd cost too much.
December, 12, 2012
12/12/12
2:55
PM ET
The draft is going to be a big deal in the AFC West with three teams on pace to pick in the top 10.
Yes, it is very early, but I do think
Todd McShay's mock first-round draft

is definitely worth looking at. Yes, the drafting order is very far from being determined and the players are far from being solidified as first-round prospects, but this is a good taste of how things may look as the draft talk develops:
1. Kansas City: Star Lotulelei, DT, Utah
My take:
We all know the Chiefs need a quarterback badly and we all know there are no great quarterback choices available at the top of the draft. So, this pick works. He would be another fine player on a potentially good defense. Perhaps the Chiefs could find a bridge veteran quarterback and take someone like North Carolina State's
Mike Glennon
in the second round.
3. Oakland: Bjoern Werner, DE, Florida State
My take:
The Raiders can't go wrong here. They need defensive help badly. It will come down to who the Raiders think is the best defensive player available. There are a lot of fine choices and Werner is one of them.
9. San Diego: Taylor Lewan, OT, Michigan
My take:
The offensive line is the Chargers' greatest need area, so it could come down to the best tackle available. But if the board falls as McShay has it, San Diego could look for value and take Alabama guard
Chance Warmack
or Notre Dame linebacker Manti Te'o here.
28. Denver: Kawann Short, DT, Purdue
My take:
This is a good starting point. But the Broncos believe in taking the best player available, so I could see them taking a receiver, tight end or even an offensive lineman if they think they are getting a bargain.