April, 23, 2012
4/23/12
3:15
PM ET
These were not the results I was expecting in our Blogger Mock Draft Live held Monday.
However, I feel pretty good about the players we pegged to come to the AFC West. Each divisional blogger was in charge of picking for each team in their division in the first round. I based my decisions on value of the picks and what I thought the decision makers on each team would do in that situation.
Let's review the film:
Kansas City: I was tempted to try to move up to No. 7 to take Texas A&M quarterback Ryan Tannehill. I could see the Chiefs doing it, but I'm just not sure they want to spend what it takes to get him, so I stayed at No. 11. I would have taken Boston College middle linebacker Luke Kuechly, but he went two spots earlier. In the end, I chose Stanford guard David DeCastro. I think he was the best value player at the spot and he would be an instant impact player on the offense. Many scouts believe DeCastro will be a perennial Pro Bowl player. It's time to make that Kansas City O-line special again.
San Diego: I think San Diego general manager A.J. Smith will be willing to do anything. When South Carolina pass-rusher Melvin Ingram dropped, I started to work on a trade up. I was talking to NFC West blogger Mike Sando about a deal for Ingram at No. 12 with Seattle in case he fell. But in an intra-division deal, James Walker had the Jets give a load to Buffalo to take Ingram at No. 10. Then, when North Carolina pass-rusher Quinton Coples fell, I hit the phones again. I was close to a deal with AFC South blogger Paul Kuharsky at No. 15, but he wanted more and he wanted to make a decision, so talks stalled. When the No. 18 pick came around, I went with Alabama linebacker Dont'a Hightower over pass-rushers such as Syracuse's Chandler Jones or Illinois' Whitney Mercilus. I picked Hightower because Smith values talent regardless of need and Hightower was the best player on the board. Todd McShay has him ranked as the No. 13 available player. He is an impact player and he'd be the Chargers' best inside linebacker. Plus, he is a solid pass-rusher from the inside. It all came down to value.
Denver: In our previous blogger mock draft, LSU defensive tackle Michael Brockers fell to Denver at No. 25. He was taken at No. 14 by Dallas this time. There was a chance Memphis defensive tackle Dontari Poe was going to be there, but, predictably, Pittsburgh took him at No. 24. I then considered trading the pick or taking Georgia Tech receiver Stephen Hill. In the end, I went for need and value and took Michigan State defensive tackle Jerel Worthy. He is a good player who will start right away and McShay has him ranked as the No. 22 player available. If this is the way the draft falls on Thursday, I can see the Broncos trading down a few spots and still getting Worthy.
Oakland does not have its pick (No. 17). It was sent to Cincinnati in a package for quarterback Carson Palmer.
April, 20, 2012
4/20/12
12:00
PM ET
With the NFL draft starting in six days, there are many interesting storylines involving the AFC West. Let's take a look:
Will the Chiefs make a big move up?
The
Kansas City Chiefs
could become the story of the division with a move up for Texas A&M quarterback
Ryan Tannehill
. There has been recent buzz that the Chiefs may be one of the teams interested in moving up for Tannehill. If he is available at No. 7 (Miami may take Tannehill at No. 8), I could see the Chiefs jumping in the mix. Jacksonville, which has the No. 7 pick, probably would be willing to part with the pick or the Chiefs could take a risk and hope he falls to No. 11. Tannehill is the only attainable quarterback who could immediately press
Matt Cassel
.
Will a second-day quarterback be on the way?
I think a Friday storyline could be the addition of a second-tier quarterback in the division. If the Chiefs don't take Tannehill, they could take a quarterback in the second or third round, and Denver could take one on the second day as well. The quarterbacks available on the second day probably will be Oklahoma State's
Brandon Weeden
, Michigan State's
Kirk Cousins
, Arizona State's
Brock Osweiler
and Arizona's
Nick Foles
. Kansas City could look at any of the four and Denver is probably in the mix for all but Weeden. He will soon turn 29, and with
Peyton Manning
in Denver, I don't think the Broncos will take an older quarterback.
[+] Enlarge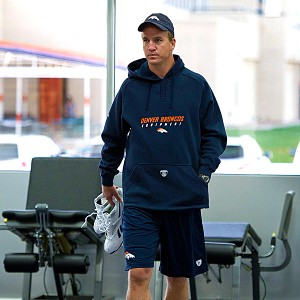 AP Photo/Eric BakkeWill AFC West teams draft differently now that Peyton Manning is in the division?
Will there be a Manning factor?
The Chiefs and Chargers could both opt to use their first-round picks on defensive players. With Manning entering the division, focusing on defense may be the right call in Kansas City and San Diego.
Will there be a changing of the guard?
Stanford's
David DeCastro
is considered one of the best guard prospects in the past several years and he is considered a sure thing. Both the Chiefs and Chargers are considered teams that could land DeCastro.
Will the Raiders make a move up?
The Raiders don't pick until No. 95, the final pick of the third round. Oakland could move up to get a better prospect, but I wouldn't think Oakland would move too far up the draft. Sooner or later, the team must stop mortgaging future picks, and I think new Oakland general manager Reggie McKenzie gets that. I'd expect him to suck it up and deal with what he has this year for the most part.
Will the Chiefs add a running back?
There was early talk Kansas City could make a play for Alabama's
Trent Richardson
, which could require a move up to No. 5. That may not be a likely scenario. However, the Chiefs could still take a running back in the early rounds.
Jamaal Charles
is coming off a torn ACL and
Peyton Hillis
signed a one-year deal. The Chiefs have been visiting with running backs, so I could see them taking one at some point.
Will the Chargers and Broncos take a running back early?
There have been projections that both Denver and San Diego could take a running back as early as the second round. I'd think Denver is the more likely of the two teams to take a running back early. Boise State's
Doug Martin
, Virginia Tech's
David Wilson
, Miami's
Lamar Miller
and Oregon's
LaMichael James
are all possibilities.
Will A.J. Smith make a splash?
The Chargers probably will have to make the playoffs for San Diego general manager A.J. Smith and coach Norv Turner to keep their jobs. The Chargers have been aggressive in free agency and they have always been aggressive in the draft. I could see the Chargers taking a chance and moving up for the right impact player.
Will Denver take a defensive tackle?
The Broncos haven't taken a defensive tackle since 1997 when they took
Trevor Pryce
. It is the team's greatest need. However, if players such as LSU's
Michael Brockers
and Mississippi State's
Fletcher Cox
are gone by No. 25, Denver may opt for another position or trade down rather than reach for another defensive tackle prospect.
Will the Raiders be a draft factor?
The Raiders only have five picks, but I think they can still get a couple of developmental players. It may be too much to ask for the Raiders to find instant impact players, but I think McKenzie will salvage this class.
Will the Chargers reach for their top need?
The Chargers badly need an impact pass-rusher, but it isn't a deep class. By the time the No. 18 picks rolls around, the top pass-rushing prospects -- South Carolina's
Melvin Ingram
, North Carolina's
Quinton Coples
and Alabama's
Courtney Upshaw
-- all may be gone. The next level of players include Syracuse's
Chandler Jones
, USC's
Nick Perry
and Illinois'
Whitney Mercilus
. Many scouts think taking those players at No. 18 may be too high. So, the Chargers could be on the move down if that scenario develops.
Will the Chiefs be swayed by Poe's beauty?
Memphis defensive tackle
Dontari Poe
is a high-risk, high-reward player. He has all the measurables and he has big potential. But he has unimpressive game tape against second-level competition. Many teams are leery of taking him. The Chiefs could use him, but with a recent history of taking under-achieving defensive linemen, can Kansas City general manager Scott Pioli take the risk?
Another Georgia Tech receiver in Denver?
If the Broncos bypass a defensive tackle at No. 25, they could look to give Manning another weapon. A name to keep an eye on is Georgia Tech's
Stephen Hill
. The Broncos have been scouting him and they wouldn't mind adding another former Georgia Tech receiver. Denver took
Demaryius Thomas
out of the school with the No. 22 pick in 2010.
Will Golden Domers head to the beach?
Two players Smith likes a lot are Notre Dame receiver
Michael Floyd
and safety
Harrison Smith
. Floyd could require a trade up and Smith could be a candidate via a trade down. Don't be surprised if one of the two ends up a Charger.
Is Josh Chapman AFC West bound?
One of the underrated players on a strong Alabama defense is versatile defensive tackle Josh Chapman, a fit for both 4-3 and 3-4 defenses. He has visited both the Raiders and the Chiefs and could be a target of any team in the division in the third round.
April, 18, 2012
4/18/12
2:05
PM ET
Mel Kiper Jr. takes a difficult tact on his
latest mock draft

. He assigns players for each round based on the fits he thinks best works and not his usual formula of assigning picks.
Let's take a look at his choices for the AFC West:
Denver
Rd 1 (25) DT
Derek Wolfe
Rd 2 (57) RB LaMichael James
Rd 3 (87) WR T.Y. Hilton
My take:
The Wolfe choice is interesting. The Cincinnati product is one of Kiper's favorite sleepers. He is a productive player. Still, I think Denver could trade down some slots and get him. The James and Hilton choices would add explosion to Peyton Manning's offense.
Kansas City
Rd 1 (11) DT
Dontari Poe
Rd 2 (44) G
Amini Silatolu
Rd 3 (74) NT
Alameda Ta'amu
My take:
Kiper has some beef going to Kansas City. Poe and Ta'amu would be great pieces for Romeo Crennel to play with and Silatolu would bring more youth to the offensive line. It's an interesting group.
Oakland
Rd 3 (95) OLB
Bruce Irvin
My take:
The Raiders are in a tough spot. They are challenged to find a player who can make an early impact from the No. 95 spot. The pass-rushing Irvin is probably as safe as any pick this deep in the draft.
San Diego
Rd 1 (18) OLB
Chandler Jones
Rd 2 (49) S
Brandon Taylor
Rd 3 (78) RB
Isaiah Pead
My take:
This is probably my favorite grouping of this exercise. I think all three players would address needs and help immediately. This trio would offer big value.
April, 4, 2012
4/04/12
4:30
PM ET
ESPN draft analyst Mel Kiper has offered another mock draft.

This time, Kiper is going two rounds deep. Let's take a look at his choices for the AFC West teams:
First round
11. Kansas City:
Luke Kuechly
, ILB, Boston College
My take:
I have no problem with this pick at all the way this board fell. I think Kuechly would be a tremendous addition to a strong defense.
18. San Diego:
Chandler Jones
, LB, Syracuse
My take:
I know Jones is considered a riser, but I think this may be too high. I'd stick with Illinois' pass-rusher
Whitney Mercilus
.
25. Denver:
Michael Brockers
, DT, LSU
My take:
I think this is the right call the way this board falls. He fills a need position.
Second round
44. Kansas City:
Devon Still
, DT, Penn State
My take:
Still would be a strong value pick here and a nice pairing with Kuechly.
49. San Diego:
Doug Martin
, Boise State
My take
: It would be an interesting pick. He would fill a need.
57. Denver:
LaMichael James, RB, Oregon
My take:
Another interesting pick. I think the Broncos could get better value with this pick and maybe wait to see if James is available in the third round.
Note:
Oakland traded its pick in both the first and second rounds.
April, 4, 2012
4/04/12
11:00
AM ET
Let take a look at some players who could be available in the second round and beyond and might interest teams in the AFC West:
QUARTERBACKS
Brandon Weeden, Oklahoma State
Round range: 2
Possible interested teams: Kansas City
Kirk Cousins, Michigan State
Round range: 2
Possible interested teams: Kansas City
Brock Osweiler, Arizona State
Round range: 2-3
Possible interested teams: Kansas City, Denver
Nick Foles, Arizona
Round range: 3-4
Possible interested teams: Denver
RUNNING BACK
Lamar Miller, Miami
Round range: 2
Possible interested teams: Denver
Doug Martin, Boise State
Round range: 2-3
Possible interested teams: Denver
David Wilson, Virginia Tech
Round range: 2
Possible interested teams: Denver
LaMichael James, Oregon
Round range: 3
Possible interested teams: San Diego
Chris Polk, Washington
Round range: 3-4
Possible interested teams: Denver
Robert Turbin, Utah State
Round range: 4-6
Possible interested teams: Oakland
Dan Herron, Ohio State
Round range: 5-6
Possible interested teams: Oakland
WIDE RECEIVER
A.J. Jenkins, Illinois
Round range: 3-5
Possible interested teams: Kansas City
Juron Criner, Arizona
Round range: 3-4
Possible interested teams: Kansas City
Danny Coale, Virginia Tech
Round range: 4-5
Possible interested teams: Denver, Kansas City
Devin Goda, Slippery Rock
Round range: 6-7
Possible interested teams: Oakland
TIGHT ENDS
Michael Egnew, Missouri
Round range: 4-5
Possible interested teams: Oakland, San Diego
Deangelo Peterson, LSU
Round range : 4-5
Possible interested teams: Oakland, San Diego
OFFENSIVE LINE
Kevin Zeitler, Wisconsin
Round range: 2
Possible interested teams: Kansas City
Mitchell Schwartz, California
Round range: 3-4
Possible interested teams: Kansas City
Senio Kelemete, Washington
Round range: 3-4
Possible interested teams: San Diego
Steven Baker, East Carolina
Round range: 4-6
Possible interested teams: Oakland
DEFENSIVE LINE
Alameda Ta'amu, Washington
Round range: 2
Possible interested teams: Kansas City, San Diego
Brandon Thompson, Clemson
Round range: 2
Possible interested teams : Denver
Josh Chapman, Alabama
Round range: 3
Possible interested teams: Kansas City, Oakland
Billy Winn, Boise State
Round range: 3-4
Possible interested teams: Oakland, Denver, Kansas City, San Diego
Mike Martin, Michigan
Round range: 3-4
Possible interested teams: Kansas City, San Diego
Drew Nowak, Western Michigan
Round range: 5-7
Possible interested teams: Kansas City
Ronnie Cameron, Old Dominion
Round range: 5-7
Possible interested teams: San Diego
Donavan Robinson, Jackson State
Round range: 5-7
Possible interested teams: San Diego
LINEBACKER
Chandler Jones, Syracuse
Round range: 2-3
Possible interested teams: San Diego
Ronnell Lewis, Oklahoma
Round range: 2-3
Possible interested teams: San Diego
Bruce Irvin, West Virginia
Round range: 3-5
Possible interested teams: Kansas City
Nigel Bradham, Florida State
Round range: 3-4
Possible interested teams: Oakland
Vontaze Burfict, Arizona State
Round range: 3-5
Possible interested teams: Denver, Kansas City, Oakland
Jonathan Massaquoi, Troy
Round range: 3-4
Possible interested teams: Oakland, San Diego
Sean Spence, Miami
Round range: 3-4
Possible interested teams: Oakland, San Diego
Sammy Brown, Houston
Round range: 5-7
Possible interested teams: Oakland
Alex Hoffman-Ellis, Washington State
Round range: 5-7
Possible interested teams: Oakland
DEFENSIVE BACKS
Harrison Smith, Notre Dame
Round range: 2
Possible interested teams: San Diego, Kansas City
Trumaine Johnson, Montana
Round range: 2-3
Possible interested teams: Kansas City
Josh Norman, Coastal Carolina
Round range: 3-4
Possible interested teams: Denver, Oakland
George Iloka, Boise State
Round range: 4-5
Possible interested teams: Denver, Kansas City
Asa Jackson, Cal Poly-SLO
Round range: 4-5
Possible interested teams: Oakland
Brandon Taylor, LSU
Round range: 4-5
Possible interested teams: Kansas City
D.J. Campbell, California
Round range: 5-7
Possible interested teams: San Diego
Tavon Wilson, Illinois
Round range: 5-7
Possible interested teams: San Diego