AFC West:

Charles Barkley
July, 24, 2014
Jul 24
2:40
PM ET
Impressionist Frank Caliendo stopped by ESPN.com's NFL Nation TV Thursday and offered hilarious takes in different voices on the current state of the NFL, joining host Paul Gutierrez (
Oakland Raiders
reporter), co-host Coley Harvey (
Cincinnati Bengals
reporter) and Kevin Seifert (NFL national reporter).
Caliendo broke out many of his impressions, including his staple of staples, John Madden, and advised life-of-the-party rookie
Johnny Manziel
to keep on partying, in Madden's voice, like Madden's Raiders of the 1970s did as one of the league's dominant teams of the era, both on and off the field.
Earlier in the day on ESPN Radio's "Mike and Mike" show,
Caliendo read LeBron James' letter to the fans
, his reason for returning to Cleveland, in the voice of Morgan Freeman. Caliendo shared some of it on the Spreecast as well.
Other NFL personalities Caliendo did impressions of included what is now his newest staple, Jon Gruden, while briefly taking the show into a Gruden family reunion and reminiscing on Harry Potter's school of Hogwarts. He also did Will Ferrell doing Harry Caray.
Caliendo, who has had his own television show in the past, said he stopped counting how many voices he has in his repertoire, though it's been reported he has at least 120 impressions, from former president George W. Bush to Mike Ditka, which he said is all about chewing gum and putting his index finger above his lip as a mustache. He wants to add a
Peyton Manning
impression, saying there's some "Elvis" in the five-time NFL MVP's voice.
And yes, Caliendo did some Charles Barkley while discussing how he comes up with ideas for impressions. Caliendo was on the show for 20 minutes.
Other topics discussed by Gutierrez, Harvey and Seifert included
Ray Rice
getting a reported two-game suspension, Tony Dungy's recent assertion that he would not draft the openly gay
Michael Sam
because he would be too big a distraction, and a new home for the Raiders.
The show can be watched here:
January, 10, 2012
1/10/12
11:50
PM ET
Count Denver offensive coordinator
Mike McCoy
out of the mix for the Jacksonville Jaguars' head-coaching job.
The Jaguars hired Atlanta offensive coordinator Mike Mularkey on Tuesday night. McCoy was supposed to have an upcoming interview with the Jaguars. Denver is not out of the woods as far as losing coordinators, though — defensive coordinator Dennis Allen is expected to interview with the St. Louis Rams on Thursday.
In other AFC West news:
Freshly fired
Raiders coach Hue Jackson gave his side of the story, saying it was Oakland owner Mark Davis who wanted to make him out and not new general manager Reggie McKenzie. That's fine, but McKenzie was likely on board or he wouldn't have taken the job.
The San Diego Union Tribune reports
that longtime San Diego offensive assistant Clarence Shelmon is leaving coaching. Look for the Chargers to add another offensive coach to replace Shelmon.
In explaining his desire for a new stadium,
Davis said Los Angeles is on the table as is "somewhere." Davis made it clear he would move back to Los Angeles if the Raiders can't get a stadium built in Oakland. My take? It was simply a public warning shot to Oakland officials. I'm sure they are already aware of the situation.
Former Denver quarterback Jake Plummer
wasn't overly impressed with
Tim Tebow
's effort against the Steelers. Prior to Sunday's victory, Plummer was the last Denver quarterback to win a playoff game.
In a radio interview
, Charles Barkley calls Tebow's advancement in the playoffs a "national nightmare."
December, 11, 2011
12/11/11
11:30
PM ET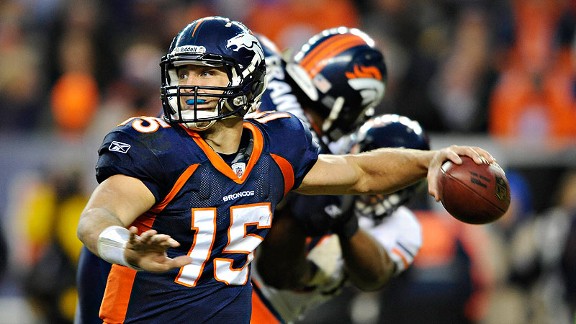 Ron Chenoy/US PRESSWIRETim Tebow guided the Denver Broncos to another dramatic victory.
DENVER -- Sorry Charles Barkley, but this
Tim Tebow
thing isn't going anywhere.
For those of you who are like Barkley and
are burned out by Tebowmania,
we send our deepest regrets. It has reached a new level. Yeah, we know Tebowmania trends upward weekly. That's why it's rivaling the 13-0
Green Bay Packers
as the story of the NFL season.
And I'm getting the feeling Tebowmania may stick around for the next, oh, 10 to 12 years. After watching Tebow and the
Denver Broncos
score 13 points after being shut out for the first 57 minutes, 45 seconds of the game Sunday to beat the
Chicago Bears
13-10 in overtime, how can anyone honestly say Tebow is nothing more than a temporary fix?
Hours after
ESPN's Chris Mortensen reported
that Denver will likely decide to move forward with Tebow as its quarterback in 2012 if he leads it into the playoffs, the Tebow train kept on moving. If we are ranking Tebow's victories, Sunday's may have been the most stunning. But that's like picking your favorite Rolling Stones song. There are so many classics to choose from.
The victory -- combined with a 46-16 Oakland loss at Green Bay -- gave Denver sole possession of first place in the AFC West at 8-5. The Broncos lead Oakland by one game with three games to go. Denver also owns the current tiebreaker over the Raiders. At this point, it looks like Denver may be headed to the postseason for the first time in six years either as a division winner or wild-card entry. If Denver beats Kansas City at home in Week 17, the Raiders will have to finish with a better record than the Broncos to win the division because of tiebreaker reasons.
Denver is 7-1 with Tebow as its starter and has won six straight games. It is 3-0 in overtime with Tebow as its quarterback and it has won five games late with Tebow playing. Denver has trailed in the fourth quarter in all of its past four games.
Sunday, though, was incredible.
The Bears led 10-0 until Denver scored 10 points in two frenzied drives in the final 2:15 of regulation and then won it with 8:40 remaining in overtime on a 51-yard field goal by
Matt Prater
.
Denver punted eight times before it scored. Tebow, who was the victim of six dropped passes in the first three quarters, completed three passes (all in the first quarter) before the fourth quarter. He had 18 of his 21 completions in the fourth quarter and overtime. He was 7-of-7 on pass attempts on the Broncos' touchdown drive in the fourth quarter. According to ESPN Stats & Information, Tebow was 4-for-4 with a touchdown pass when he threw outside of the pocket in the fourth quarter and overtime Sunday. He was 3-of-7 with an interception prior to the fourth quarter.
"His eyes light up when the pressure is on," Denver receiver
Eric Decker
said of Tebow.
Still, several members of the Chicago defense were not overly impressed by Tebow, who completed 21 of 40 passes for 236 yards. He had 49 yards rushing on 12 attempts.
"He's a good running back," said Chicago linebacker
Brian Urlacher
when asked his thoughts on Tebow after the game. Typically, Tebow was not bothered by the shot. "Coming from a really good player, that means a lot," the unflappable Tebow said.
Added Chicago defensive end
Julius Peppers
: "It wasn't anything special that he did."
Despite those less-than-stellar assessments of Tebow, there is no doubt Denver is buying into Tebow.
"He's huge," Broncos coach John Fox said of his young quarterback.
Mortensen's report makes complete sense. There is little chance Denver can dump what it has going with Tebow. First of all, if Denver makes the playoffs and tries to make a switch, fans will erupt.
As long as the Broncos continue to see Tebow making strides as a passer, they will be more than comfortable moving forward with him. The fact that he threw the ball 40 times Sunday is a sign the coaching staff is getting comfortable with him.
John Elway
recently told Fox Sports that he plans to work with Tebow in the offseason, particularly focusing on his footwork. Remember, Tebow missed an offseason because of the lockout. This is a player who is improving quickly. An offseason of working with his coaches and Elway will help immensely.
At the present, though, the focus is on the final three games, beginning next week when Bill Belichick gets his crack at putting Tebowmania in its place. Still, Tebow and his teammates -- Denver continued to play strong defense Sunday -- have a good thing going with no signs of it slowing down.
"I think we're rewriting the book on 'keep fighting,'" Fox said. "Our guys never blink."
Nor does Tebowmania.
December, 9, 2011
12/09/11
3:20
PM ET
The
Denver Broncos
listed running back
Willis McGahee
as questionable to play Sunday against Chicago. He was limited in practice Friday after not practicing earlier in the week. He has said all week that he will play.
Denver rookie linebacker
Von Miller
is listed as probable with a thumb injury that kept him out against Minnesota last week. He practiced fully on Friday for the first time since suffering the injury against San Diego 12 days ago. Receiver
Eddie Royal
hasn't practiced all week with a concussion and he is questionable. I doubt he plays. Tackle
Ryan Clady
practiced fully on Friday for the first time this week and he is listed as probable with a knee injury.
Meanwhile,
the Oakland Tribune is reporting
that receivers
Jacoby Ford
and
Denarius Moore
were running and doing drills Friday. Both have been out with injuries. Yes, it is a good sign that they are running, but I'd be surprised if the team will be comfortable enough with them playing Sunday at Green Bay. However, they appear on target to play next week against Detroit. As expected, running back
Darren McFadden
did not practice Friday and he is expected to miss his sixth consecutive game due to a foot injury.
In other AFC West nuggets:
It will forever be Tebow Time for one Broncos fan. And he tells
ESPN.com's Page 2
the reason why. It's worth reading for a chuckle. Page 2 also came up with
this Tebow ditty
. Meanwhile, Charles Barkley, yes, Charles Barkley is
begging the Bears
to beat the Broncos and end the Tebow madness. Hey, Chuck, even if the Bears do win, I have a feeling that won't stop TebowMania.