December, 2, 2012
12/02/12
12:38
PM ET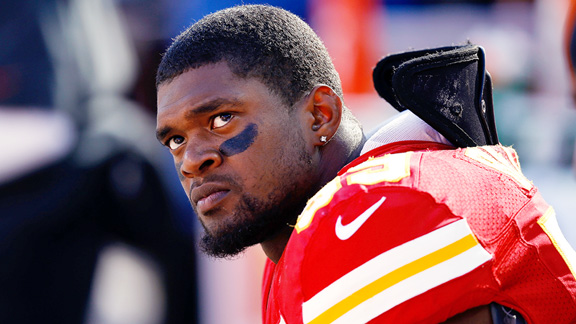 Jamie Squire/Getty ImagesChiefs linebacker Jovan Belcher fatally shot his girlfriend early Saturday, then drove to Arrowhead Stadium and committed suicide in front of his coach and general manager, according to police.
The terrible tragedy of
Jovan Belcher
's murder-suicide is a moment in time that causes a step back. Sometimes we tend to treat players as commodities -- height, weight, speed, 40 time, salary-cap number, etc. -- rather than people. But players are not just numbers on a roster or spreadsheet. And some, like Belcher, carry demons that can manifest in the most horrific way.
I certainly dealt with players losing family members on the eve of games, most notably that memorable night in Oakland in 2003 when Brett Favre's father died. Those experiences, while difficult, were nothing like what the Chiefs are experiencing now.
A
tragedy such as this
, as most, causes us to focus on what, if anything, could have prevented it. Let's examine:
Security
In my experience, teams have secure parking lots and entrances to team facilities, requiring punching in passcodes for entry. Of course, these security measures are designed to protect players and coaches from external, not internal, threats.
As with many new initiatives, the Belcher case may force further implementation of team security. A player possessing and using a gun on himself within the team parking lot and/or facility is uncharted territory but will cause discussion on precautions not only for player entry into secure areas but also perhaps player screening at different checkpoints.
Mental counseling
NFL teams spare no expense on physical training: three full-time trainers, two team doctors and outsourced specialists. The disastrous Belcher event focuses efforts on the mental side.
All teams have player engagement directors -- many of them former players -- to guide players in acclimating and succeeding outside of playing. They start with incoming rookies as "chaperones" at the rookie symposium, trying to earn the trust of incoming players. I know many of these directors and recommend some highly.
They are not qualified in areas of mental health counseling, however, and players do view some as "spies" for management. When I
tweeted about them Sunday morning
, LeCharles Bentley, a former player with the Browns,
said of them
: "Too busy trying to get dirt on players to run back and tell GM or Coach... A few good ones but way more bad ones." Beyond these directors, teams have mental counseling available, usually directed to specialists when asked. After this tragedy, my sense is there will be refocusing in this area.
As to NFL resources, the league instituted this hotline in July --
NFL Life Line
-- with "trained counselors who can help individuals work through any personal or emotional crisis." Although some have inferred that the hotline's timing was in response to the death of Junior Seau, whatever the reason, it is important to have it available.
Of course, all the mental counseling resources imaginable -- whether through the team or the league -- are inconsequential if the affected person does not reach out for help. We may never know whether Belcher showed signs of needing help or even if he sought it out. For the sake of his deceased girlfriend and orphaned baby daughter, we all wish he had.
Playing the game
Once the decision on whether to play Sunday's game was posed to Chiefs players, I expected the game to proceed as scheduled. Players want to play; it's what they know, it's what they do.
Putting aside the logistical concerns of not playing -- won-loss records, contractual clauses, broadcast and sponsorship issues, gate receipts, etc. -- this was a decision that had to be made once the players were consulted. The Chiefs will use motivation of Zoe -- the little girl now left without parents -- to fuel them.
It often takes a tragedy to focus on elements previously unseen and dormant. Let's hope the Belcher tragedy can effect some positive change in the mental health and screening for NFL players.
December, 1, 2012
12/01/12
9:23
PM ET
This has been on my mind all day.
Still, after traveling 1,000 miles, I have yet to reach any comprehension. I have nothing profound to say about the horrible tragedy this morning in Kansas City that has galvanized the NFL world, other than to say I have the same feeling you probably have -- utter sadness.
I awoke this morning to a text saying a
Kansas City Chiefs
player had killed his girlfriend and then shot himself at the team's facility. The text said the player involved was linebacker
Jovan Belcher
.
Like so many at ESPN, I immediately worked the phones in search of more details of this mind-numbing event. As I traveled to Denver, I thought about what I was going to write in this story.
What could I say about this event that no one else is feeling or saying?
[+] Enlarge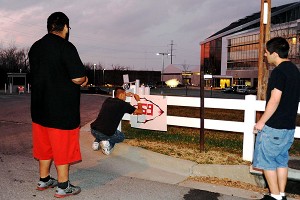 John Rieger/US PresswireChiefs fans place a sign outside the team's practice facility, site of Jovan Belcher's suicide.
Thus, I want to join the masses, and express my thoughts and grief for the family of Belcher's victim, Kasandra M. Perkins, who died at 22, and the couple's infant daughter. Lives were ended; others were ruined. So terrible.
I also feel bad for Scott Pioli and Romeo Crennel. The Chiefs' general manager and coach were talking to Belcher, according to police, just before the player walked away and shot himself.
What a terrible and emotional event to witness. This day will be with these men for the rest of their lives; they will never be able to shake it. Pioli and Crennel went to work Saturday morning to put the finishing touches on another game week in a miserable season. Then they were thrust into the middle of a crisis involving a young man they had grown to care for.
I know Pioli and Crennel are not popular figures in Kansas City these days because of the team's 1-10 season. There is a strong chance Chiefs ownership will make wholesale changes in a month.
What happens professionally will take its course.
I expect Kansas City fans to loudly support their hurting team Sunday when the Chiefs host Carolina at Arrowhead Stadium. It should go without saying that I hope there are no airplane flyovers imploring that people be fired, no fan "blackouts" at the game. The voice of the understandably angry Chiefs fan has been heard, and it has been noted.
Sunday will be about beginning the healing process and honoring those left behind from this senseless crime. Be a Chiefs fan Sunday. At the core, that's what you are.
I know some people don't understand why or how the game can be played. But the Chiefs' coaches and team captains reportedly played a major role in the decision to go ahead with it. If the Chiefs want to play, I think we all can support that choice.
I've been asked a lot Saturday about what Belcher was like. I didn't know him. I never met him or interviewed him. I knew he was an overachieving player who ended up starting 44 career games after going undrafted.
I know his agent, Joe Linta, very well. He has a well-deserved reputation for representing solid-citizen types. He had always spoken highly of Belcher to me. Linta expressed disbelief Saturday.
Disbelief. That's all you can feel when something so unspeakable happens.
December, 1, 2012
12/01/12
1:28
PM ET
By
ESPN.com staff
| ESPN.com
KANSAS CITY, Mo. --
Kansas City Chiefs
linebacker
Jovan Belcher
fatally shot his girlfriend early Saturday, then drove to Arrowhead Stadium and committed suicide in front of his coach and general manager, police said.
Police said the 25-year-old killed his girlfriend and then went to the team practice facility, where he shot himself. Police did not identify the victim.
Members of the Chiefs organization told ESPN NFL Insider Adam Schefter that some players noticed Belcher was troubled in his car, and went in the facility and told someone, before coach Romeo Crennel and general manager Scott Pioli called police and went outside to talk to him. Belcher then killed himself in front of them.
Before turning the gun on himself, the Belcher thanked Pioli and Crennel for all they had done for him, police spokesman Darin Snapp said.
Click here
for the rest of this story.