August, 1, 2014
8/01/14
3:50
PM ET
NAPA, Calif. -- It's only been three years since
Chimdi Chekwa
came into the NFL as a fourth-round pick of the
Oakland Raiders
. Yet he's already had so many ups and downs as a player you could not blame him if the frustration became too much to bear.
Consider: After recovering from a wrist injury in his final season at Ohio State that had him wondering if he'd ever play football again, Chekwa dislocated a shoulder in his first padded NFL practice ... hitting a pad. Then he was flip-flopped from cornerback to safety and back again before being cut at the end of his second training camp and then being stashed on the Raiders' practice squad.
Last year, he appeared in a career-high 15 games, mostly on special teams, as he bulked up. Now, he is one of just nine Al Davis draft picks remaining on the Raiders' 90-man training camp roster, along with free safety
Charles Woodson
, kicker
Sebastian Janikowski
, offensive lineman
Kevin Boothe
, running back
Darren McFadden
, strong safety
Tyvon Branch
, center
Stefen Wisniewski
, cornerback
Taiwan Jones
and receiver
Denarius Moore
(long-snapper
Jon Condo
and fullback
Marcel Reece
were both free agents).
But perhaps most impressive, Chekwa is in line to start at cornerback, in place of the injured
DJ Hayden
as the No. 12 overall pick of the 2013 draft recovers from surgery to repair a stress fracture in his right foot.
"I'm very comfortable," Chekwa said following practice Thursday. "It was a difficult road but that's what builds character in the individual. When you're out there and you're having a difficult time out there, that's what helps you dig deep and be able to finish plays. It's all part of my road to doing what I want to do out here, so I'm comfortable."
And he's been raising eyebrows along the way as a pleasant surprise.
"He did some things in the spring that we were impressed with," coach Dennis Allen said. "Since I've gotten here, he's continued to get better and better every day.
"He's very, very valuable to us on special teams, so if he continues to improve, I think Chimdi's a guy that can help us this year."
Thursday, Chekwa nearly picked off
Matt Schaub
on a pass to receiver
James Jones
. Instead, he batted the ball away. With every rep, you can see Chekwa's body language growing with confidence.
He's at peace with his station in life -- the 25-year-old was married this past summer -- and with the way his skill set fits into Allen's vision for the Raiders secondary.
"We play some zone where you can see [the ball] and break," Chekwa said. "We play some man where you can get up there and press. I like to mix it up. That's what I did in college.
"To be honest, I think I can do it all. But I think one of my strengths is breaking on the ball, attacking the receiver, attacking the ball."
Yes, he has been taking advantage of the in-house tutoring afforded by the bump-and-run master himself, Willie Brown. And taking the lessons onto the field as well.
"If I didn't get better today, then I didn't accomplish anything," Chekwa said.
"I want to be here, so I'm going to do everything I can to stay here."
December, 12, 2012
12/12/12
8:00
AM ET
Falling
Brady Quinn, Kansas City, quarterback:
In Week 13, Quinn was the AFC offensive player of the week for engineering a win over Carolina. There were faint hopes that Quinn could be in the starting mix next season, but he took a step back in a big loss at Cleveland on Sunday. Quinn is an option just for the next three games.
Cornerbacks in Oakland:
Chimdi Chekwa
is the only cornerback on the Raiders roster that was with the team in camp (
Michael Huff
was there as a safety and was moved to cornerback in an emergency). Chekwa was just promoted from the practice squad. This is a weak spot on a roster full of thin areas. Major upgrades will be needed in the offseason.
Chances of a great draft pick in San Diego:
This is the dilemma of rooting for a losing team in December. Do you still want your team to win when it can weaken its draft position? Going into Sunday's win at Pittsburgh, the Chargers were on pace for the No. 6 pick. Now, they are on pace for the No. 9 pick. Victories are always great, but ...
RISING
Eric Decker, Denver, receiver:
After catching a combined eight passes in the past three games, Decker caught eight passes against Oakland. He is an important part of the Denver offense and he will need to keep up his production down the stretch.
Second-option receivers in San Diego:
Danario Alexander
and
Micheal Spurlock
each had seven catches at Pittsburgh. These two weren't exactly players the team was depending on, but they are helping. San Diego thinks Alexander has a real future with the team.
Denver's-post Willis McGahee running game:
Knowshon Moreno
had 119 yards rushing and added 48 yards receiving at Oakland. With McGahee out until the AFC title game (if Denver makes it) the Broncos will need the threat of a running game. A former first-round pick, Moreno is finally showing he can help his team.
September, 26, 2012
9/26/12
5:35
PM ET
It's official. Reggie McKenzie has cleaned out another coveted Al Davis draft pick.
The Contra Costa Times reported
that offensive lineman
Joe Barksdale
was cut Wednesday. There were conflicting reports earlier in the day. Barksdale was a third-round pick in 2011. The late Al Davis traded his second-round pick in 2012 for a package in which Barksdale was the focal point.
To replace Barksdale, Oakland signed pass-rusher
Andre Carter
. I will have some thoughts on that signing shortly.
McKenzie, who replaced Davis as Oakland's top decision maker, has cut higher-round 2011 picks this year. Barksdale joins join fellow 2011 draft picks
DeMarcus Van Dyke
(cornerback, third round) and Chimdi Chewka (cornerback, fourth round) off the roster, Chewka is on the Oakland practice squad.
There was a thought Barksdale would compete for the starting right tackle job this year, but he has been inactive all three games. With
Khalif Barnes
out with an injury, newly claimed
Willie Smith
has taken over instead of Barksdale.
Like former Davis draft choice
Bruce Campbell
(who was traded to Carolina by McKenzie), I don't think the Raiders thought Barksdale fit the zone-blocking scheme.
I'd expect Barksdale to get a chance elsewhere. He can be claimed by Thursday. However, because it is late in the work week, I'm not sure a team would be willing to make a roster move at this point. So perhaps Barksdale will clear waivers.
Meanwhile,
the San Francisco Chronicle reports
Oakland receiver
Darrius Heyward-Bey
is at the team's facility and is undergoing concussion tests. The paper indicated Heyward-Bey will likely return Oct. 14 at Atlanta. The Raiders play at Denver this week and then have a bye.
I think everyone involved would accept Heyward-Bey missing one game after the terrible hit he took Sunday against Pittsburgh. Heyward-Bey spent Sunday night in a hospital for neck and concussion injuries. The Steelers'
Ryan Mundy
was fined $21,000 for the hit.
February, 9, 2012
2/09/12
7:42
PM ET
New Oakland general manager Reggie McKenzie isn't wasting much time shaping his roster and
his first move
was to cut cornerback
Stanford Routt
, one of the team's better defensive players. It might have been necessary as McKenzie reshapes the team's salary cap.
The Raiders signed Routt to a three-year, $31.5 million deal, with $20 million in guaranteed money, last February, essentially choosing Routt over
Nnamdi Asomugha
, who is considered one of the NFL's best cornerbacks. Asomugha walked to the Eagles as a free agent.
[+] Enlarge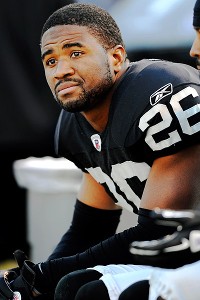 AP Photo/Greg TrottStanford Routt's big contract was among the first casualties under new Raiders GM Reggie McKenzie.
Routt's deal was later restructured to five years and $54.5 million, with the $20 million in guarantees — of which $10 million was reportedly to kick in this year.
ESPN's Adam Schefter reports that this move will cost Oakland $2.2 million in salary-cap space in 2012. The exact cap figure has yet to be figured, but the Raiders will have to make other moves.
This move might be an indication that Oakland is going to be aggressive in making cuts. It will have to go get help in several years in free agency – beginning with possibly two cornerbacks — and it has free-agent priorities in running back
Michael Bush
and safety
Tyvon Branch
. One of those two will likely be given the franchise tag.
You have to wonder what other high-dollar Raiders could be on the chopping block. Among those who have signed big recent contracts are defensive lineman
Richard Seymour
, linebacker
Kamerion Wimbley
and defensive back
Michael Huff
. Other players who could be candidates for restructuring or to be cut to save cap room include defensive tackle
John Henderson
, linebacker
Aaron Curry
and guard
Cooper Carlisle
.
Many around the NFL scoffed at Routt's big contract — and it is clear McKenzie is in that camp.
Routt is a decent player, but he is probably best suited to be a No. 2 cornerback. He was better playing alongside Asomugha than he was as the team's No. 1 corner. Routt was solid in coverage, but was penalized 17 times and gave up eight touchdowns, tied for the second-highest total in the NFL last season.
Still, the release of Routt is risky because the Raiders now don't have any reliable cornerbacks on the roster. They hope to develop young players
DeMarcus Van Dyke
and
Chimdi Chekwa
; perhaps Huff will be moved to cornerback. The Raiders have a small draft class, so most of their additions at the position will probably come through free agency.
Among the top cornerbacks available in free agency (depending on who is given the franchise tag) will be Atlanta's
Brent Grimes
, Tennessee's
Cortland Finnegan
and Kansas City's
Brandon Carr
. A name to keep an eye on is New Orleans'
Tracy Porter
, who played under new coach Dennis Allen in New Orleans.
This move doesn't hurt Routt, 28, much. He was paid an enormous amount last season and now becomes one of the better cornerbacks available. Plus he gets jump on free agency, free to sign with a team at any time.
He could help all three of the other teams in the AFC West as a No. 2 cornerback, so I wouldn't be surprised if Denver, Kansas City and San Diego all look at him.
November, 17, 2011
11/17/11
7:10
PM ET
Three key Kansas City defenders were limited in practice as they began preparing for Monday night's game at New England.
Starting cornerback
Brandon Flowers
(back) and
Brandon Carr
(ankle) and defensive end
Glenn Dorsey
(knee) were all limited. The extra day before the game will help these players, but it seems their chances of playing may be questionable.
Other AFC West nuggets:
The Chargers' injury issues continue. Guard Louis Vasquez (ankle) and left tackle Marcus McNeill (stinger) and they likely won't play. Receiver Malcom Floyd (hip), defensive tackle Antonio Garay (hip), cornerback Marcus Gilchrist (hamstring) and linebacker Shaun Phillips (foot) all didn't practice, either. Both Phillips and Floyd have been out for several weeks.
The Raiders placed fourth-round pick, cornerback Chimdi Chekwa, on the injured reserve with a hamstring injury. He suffered the injury in his only start of the season, Week 4 against New England. To take his place, Oakland signed second-year cornerback Bryan McCann. He has played 14 games the since the start of last season with Dallas and Baltimore.
Oakland standouts, running back Darren McFadden (foot), receiver Jacoby Ford (foot) and defensive lineman Richard Seymour (ankle) are not practicing Thursday for the second straight day. The Oakland Tribune believes McFadden, who was hurt in Week 7, and Ford, who was hurt last week, will not play at Minnesota on Sunday, while Seymour has a solid chance to play.
August, 30, 2011
8/30/11
10:10
PM ET
Oakland veteran cornerback
Chris Johnson
said
he will definitely be ready to play
at Denver in the season opener in 13 days. Johnson returned to practice Tuesday after having surgery for an undisclosed minor injury. Johnson's presence at Denver should help Oakland. Several young cornerbacks have struggled in the preseason.
Meanwhile, fourth-round pick
Chimdi Chekwa
could
move to safety soon
. He was drafted as a cornerback. Oakland has been working veterans
Michael Huff
and
Tyvon Branch
at cornerback as well as at their normal safety positions, but they likely won't be moved anytime soon, unless there is an emergency.
August, 5, 2011
8/05/11
10:26
AM ET
NAPA, Calif. -- Hue Jackson doesn't do anything slow.

He talks fast. He walks fast, and he coaches fast.
The Tom Cable put-your-toe-in-the-water-start-of-training-camp days are over.
There was no warm-up period to Camp Jackson. In his first camp as a head coach on any level, Jackson has not wasted any time. His team has been flying around the field and playing to the whistle on every play since the moment it stepped onto the pristine practice field in Wine Country last week.
Cable believed in getting into the groove of training camp slowly by holding glorified walk-through practices for the first few days while stressing the importance of the classroom. Jackson believes in teaching on the go.
Jackson sees a talented team in front of him, but he also sees a team that needs to block better on offense and tackle better on defense. It's all about finishing plays on both sides the ball. If you don't start, you can't finish.
"It's a fast game," Jackson said. "We have to move fast. At all times."
When they can catch their breath, Jackson's players can see the difference.
"This is totally different, totally different from last year," defensive tackle
Tommy Kelly
told reporters early in camp. "I mean, he made that plain and clear in the meetings when he was talking about what we had to do. … [Cable] wanted us to learn the stuff. But Hue ain't worrying about that. He just wants to go hard as you can. If you fall out, we'll put somebody else in there."
There is urgency in Oakland. The Raiders teased their fans with an 8-8 record in 2010 -- highlighted by an AFC West 6-0 sweep -- ending an NFL record of seven straight seasons of 11 losses of more. This young team has a chance to continue to improve. Jackson isn't going to sit around and wait for it to happen.
"We got to go now," Jackson said. "I talk to them every night about that."
[+] Enlarge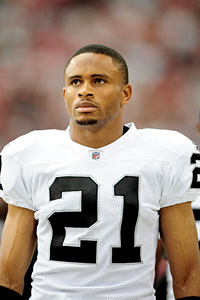 Mark J. Rebilas/US PresswireThe Raiders will look to Chris Johnson and a host of young players to replace Nnamdi Asomugha.
THREE HOT ISSUES
1. How to replace Asomugha and Miller?
The Raiders have to spend training camp trying to figure out how to replace two of their best players. Not many teams are dealing with that this summer. But the departures of star cornerback
Nnamdi Asomugha
to Philadelphia and tight end
Zach Miller
to Seattle create holes for the Raiders.
The Raiders gave
Stanford Routt
, formerly a part-time starter, No. 1 cornerback money in the offseason and expect him to take over for Asomugha. Oakland has reportedly toyed with signing another cornerback. But for now, veteran
Chris Johnson
and a host of young players, including draft picks
DeMarcus Van Dyke
and
Chimdi Chekwa
(who is currently injured), will be in charge of replacing Asomugha, who is arguably the best cornerback in the NFL. Safety
Michael Huff
, who just re-signed with the team, could also play cornerback in some situations.
The Raiders probably need to bring in a veteran receiver or a tight end. Right now, their starting tight end is
Brandon Myers
, who has 16 career catches. Miller was quarterback
Jason Campbell
's favorite target, and he led the Raiders in receiving in 2010. He made the passing game go. A replacement must be established in camp. (
Update:
The Raiders
added former Giants tight end Kevin Boss
Friday.)
2. Is the offensive line ready?
This has long been Oakland's weakest spot, and Jackson vowed earlier this year to improve it. Finding a suitable unit will be a top goal in training camp. The team drafted
Stefen Wisniewski
in the second round, and he will start at center.
Joe Barksdale
was drafted in the third round, and he could battle
Khalif Barnes
at right tackle if he has a good camp. If second-year guy
Bruce Campbell
gets healthy quickly, he could make a push at guard, where the Raiders lost longtime starter
Robert Gallery
in free agency. The team wanted to sign left tackle
Jared Gaither
, but he is still dealing with back issues. This unit remains a work in progress.
3. Is Campbell ready to be consistent?
This is Jason Campbell's second season in Jackson's system, and he is expected to make strides. He must show consistency in camp, and he must continue to grasp Jackson's offense. He started slowly last season and was replaced. But he finished strong. Jackson is a believer in Campbell. Campbell needs to continue to build chemistry with his receivers and entrench himself as the leader of this offense.
CLEAN UP THE MESS
The Raiders have long been one of the most penalized teams in the NFL. It goes back to their golden era. Whether it is a cheap hit or a false start, the yellow flag is a familiar sight for the Silver and Black.
Jackson wants to end that part of Raiders lore.
The Raiders were ranked first in the NFL last season in accepted penalties with 604. It seems penalties have been overlooked in Oakland because it's long been an issue. Jackson said he thinks that is nonsense. Playing clean football is an emphasis of this camp.
[+] Enlarge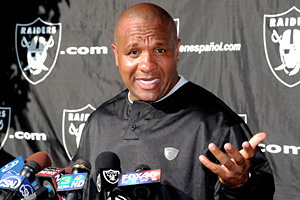 Kirby Lee/US PRESSWIREWhat does coach Hue Jackson think of the Raiders' penalty problems? "It's embarrassing. ... You can't win if you keep going backward," he says. "I've told the team it's got to stop. It's not cool at all."
"It's over," Jackson said. "It's embarrassing. ... You can't win if you keep going backward. I've told the team it's got to stop. It's not cool at all."
DEFENSE STARTS UP FRONT
While the offensive line is still in flux, the Raiders are set on the defensive line. This camp is about establishing dominance for the group. If the Oakland defense improves despite Asomugha's departure, the front four will be responsible.
There are several excellent pieces on the unit. It all starts with defensive tackle
Richard Seymour
. A likely future member of the Hall of Fame, Seymour is the best player on the team and the leader of his unit. Add Kelly, polished second-year player
Lamarr Houston
and run-stuffer
John Henderson
, and the Raiders are primed to dominate teams up front. Pass-rushers
Matt Shaughnessy
and
Trevor Scott
(if healthy) give this unit an important dimension.
OBSERVATION DECK
Jackson has often lauded second-year linebacker Rolando McClain during camp. He said he thinks McClain has developed in the offseason, and McClain is expected to be a stalwart.

Running back Darren McFadden was spectacular during camp before he suffered a broken orbital bone. He is expected to miss two weeks. The Raiders expect him to make a serious Pro Bowl push. He and restricted free agent Michael Bush should be a good tandem again.

Second-year linebacker Travis Goethel could potentially push Quentin Groves at weakside, or Oakland could look for an upgrade elsewhere.

The team is excited about fifth-round receiver Denarius Moore. He is polished and very fast and has a chance to contribute. It will be interesting to see him in the preseason.

Seventh-round pick David Ausberry looks good as he makes the transition from receiver. He's a project, but he has excellent size and speed.

Fourth-year receiver Chaz Schilens is finally healthy, and the Raiders think he can live up to his potential. But his health is the key.

Kelly looks tremendous. He is in great shape and looks primed to build upon his strong season.

Trent Edwards will be given every opportunity to beat out Kyle Boller as Jason Campbell's backup.

Jackson said he thinks the Raiders fourth-round pick, speedster running back Taiwan Jones, could make his mark this season. It will be fun to watch him in the preseason.
July, 29, 2011
7/29/11
11:00
PM ET
Its
Stanford Routt
's time to show those glossy numbers from last season were no fluke.
Routt is about to be tested.
Unless the Raiders snare a veteran like
Antonio Cromartie
or
Nate Clements
, Routt is expected to the Raiders' No. 1 cornerback now that
Nnamdi Asomugha
has flown off to the Eagles.
The Raiders clearly anticipated that. They gave him a three-year, $30 million deal to keep him from entering free agency. That's starter money, folks.
One of the reasons why the Raiders paid to keep Routt was his outstanding statistics.
His "burn rate' was one of the lowest in the NFL
in 2010. Now, that he will be a full-time starter and now that he'll likely play against the opponent's best receivers all the time, Routt must step up.
He is not alone. The Raider's young cornerbacks and veteran
Chris Johnson
will need to elevate their game if the Raiders don't add a starter.
Youngsters
Walter McFadden
,
Jeremy Ware
and draft picks
Chimdi Chekwa
and
DeMarcus Van Dyke
will all be expected to contribute in Asomugha's absence.
July, 4, 2011
7/04/11
10:00
AM ET
This is the eighth in our series of position-by-position rankings. It is a little different this season because we're ranking the players before free agency starts and before rosters are set. We will adjust accordingly as we go along. On to a stacked group of defensive backs:
1. Nnamdi Asomugha, Oakland:
This may change. Many league observers expect Asomugha to leave the Raiders when free agency starts. That would be a major hit to this list.
2. Champ Bailey, Denver:
Bailey is aging, but he is still an elite-level player.
3. Eric Berry, Kansas City:
Berry could be atop this list next year. The second-year safety appears to be a special player.
4. Quentin Jammer, San Diego:
The veteran cornerback is underrated. He is a stalwart.
5. Brandon Flowers, Kansas City:
He is a favorite of NFL scouts. He is becoming one of the better young cornerbacks in the league.
6. Eric Weddle, San Diego:
He is a top safety and a playmaker.
7. Stanford Routt, Oakland:
This is a big year for Routt, who just signed a big contract with the Raiders. He'll be challenged if Asomugha leaves.
8. Antoine Cason, San Diego:
Cason is an up-and-coming player. He was very solid is his first season as a starter last year.
9. Brandon Carr, Kansas City:
Carr is a strong right cornerback. He and Flowers make a nice tandem.
10. Bob Sanders, San Diego:
The new Charger has to show he can stay healthy. If so, he'll be a great pickup.
11. Tyvon Branch, Oakland:
Branch is a good, strong player, but he still has to improve.
12. Michael Huff, Oakland:
Huff is decent, not great. He could leave in free agency.
13. Andre Goodman, Denver:
He is nearing the end of his career, but he'll probably start in 2011.
14. Brian Dawkins, Denver:
This could be his final season.
15. Steve Gregory, San Diego
: He is a solid role player.
16. Kendrick Lewis, Kansas City:
Lewis and Berry could be a pair for years.
17. Chris Johnson, Oakland:
He could start if Asomugha leaves and the youngsters aren't ready.
18. Javier Arenas, Kansas City:
He could be a good nickel for the long term.
19. Mike Mitchell, Oakland:
It's time for this 2009 second-round pick to make a move.
20. Rahim Moore, Denver:
I have a feeling this second-round pick will be ranked much higher next year.
21. Quinton Carter, Denver:
The same may be said for Carter.
22. Marcus Gilchrist, San Diego:
The second-round pick will get a chance to contribute early.
23. DeMarcus Van Dyke, Oakland:
The third-round pick is a speedster.
24. Chimdi Chekwa, Oakland:
The fourth-round pick got great experience at Ohio State.
May, 14, 2011
5/14/11
12:00
PM ET
Mid-week mail call:
Robert from Springfield, Mo., wants to know
if Kansas City could sign Denver free-agent right tackle
Ryan Harris
.
Bill Williamson:
I'm not sure he's a perfect fit for the Chiefs even though Denver is planning to go with second-round pick
Orlando Franklin
at right tackle. I think Harris, if he hits the open market, will be best suited for a zone-blocking team. I could see Washington and former Denver coach Mike Shanahan showing interest in Harris.
Mikey from Oakland wants to know
if I think Oakland fourth-round pick
Chimdi Chekwa
could make a difference at cornerback as a rookie.
BW:
If
Nnamdi Asomugha
leaves as a free agent, Chekwa will get a chance to be a rotational player at the very least. If he has a good training camp and preseason, he could vie to be a starter. Third-round pick
DeMarcus Van Dyke
will also get a chance to play. However, Chewka, an Ohio State product, could have the edge for immediate playing time because he got great experience in the Big Ten.
Derek from La Jolla wants to know
what I think of San Diego sixth-round pick
Jordan Todman
.
BW:
He's a sixth-round pick, so it would be unrealistic to think Todman will become an instant star for the Chargers. But they are excited about him, and a lot of scouts I've talked to were surprised he fell to the sixth round. Some thought he was a mid-round prospect because of his production at Connecticut and his strong performance at the combine. He has a chance to be a solid change-of-pace runner who can also help as a returner. If
Darren Sproles
leaves as a free agent, Todman could get a chance to play right away. He's definitely a player to keep an eye on.
May, 4, 2011
5/04/11
9:45
PM ET
Excited for free agency?
Check out his list of possible free agents.
No, there's not a lot to get excited about. It's just another reason to believe Oakland cornerback
Nnamdi Asomugha
is going to break the bank. He's the best player available on this list and it's not even close.
In an Insider piece, Mel Kiper thinks Oakland cornerback Chimdi Chekwa of Ohio State is one of the third-day draft picks who can make an immediate impact. Chekwa could step in and play because of Asomugha's likely departure.
New Denver coach John Fox brought his boss, John Elway, with him back to his former stomping grounds in Carolina for a golf tournament. It's early and the stress of the season hasn't started, but you have to be impressed by the chemistry Fox and Elway are enjoying thus far.
April, 30, 2011
4/30/11
1:30
PM ET
The
Oakland Raiders
are clearly preparing for star cornerback
Nnamdi Asomugha
to leave.

With the first of their two picks in the fourth round, Oakland took Ohio State cornerback
Chimdi Chekwa
. In the third round, Oakland took Miami cornerback DeMarcus Van Dyke. He was among the fastest players at the combine, which is a Raider trademark.
Van Dyke and Chekwa are insurance if Asomugha leaves as a free agent, which is expected around the league. He will be the best free agent on the market. The Raiders clearly feel the same way.
Think about it, if Asomugha does come back, what will the Raiders do with all of their young cornerbacks? It's clear these two players were taken because the Raiders are preparing to move on without Asomugha.
Like Van Dyke, Chekwa can run. He runs a 4.38 40-yard dash. He got great experience while playing at Ohio State. Like Van Dyke, Chekwa is a project and might not be ready to play right away. But they both might have to play soon.
Oakland just took Eastern Washington running back
Taiwan Jones
, who is burner. I'll be back with some thoughts on that choice.
April, 6, 2011
4/06/11
2:55
PM ET
The latest mock drafts of ESPN draft gurus
Mel Kiper
and
Todd McShay
have been released in Insider pieces. Both Kiper and McShay go three rounds deep.
Let's review the choices:
Denver, No. 2
Kiper's pick:
Marcell Dareus
, DT, Alabama
McShay's Pick:
Dareus
My thoughts:
That's what I'm thinking, too. Dareus is too special and he'd help this defense too much for Denver to bypass him.
San Diego, No. 18
Kiper's pick:
Muhammad Wilkerson
, DL, Temple
My thoughts:
Pass-rushers seem to last longer on Kiper's board longer than they do on McShay's board. San Diego would be very satisfied to get a player of Wilkerson's ability at No. 18.
McShay's Pick:
Aldon Smith
, DE, Missouri
My thoughts:
Smith would also be a solid pick and he may be even of a better fit than Wilkerson in San Diego.
Kansas City, No. 21
Kiper's pick:
Akeem Ayers
, LB, UCLA
My thoughts:
McShay has Ayers going in the second round, long after the top pass-rushers. I think he will go in the first round. Perhaps Kansas City could trade down a few spots and grab him.
McShay's Pick:
Gabe Carimi
, OT, Wisconsin
My thoughts:
I think the Chiefs would rather get a top pass-rusher, but they would be pleased to get a tackle of Carimi's ability. But I think it would be a Plan-B scenario.
Oakland does not have a first-round pick. It traded its pick (No. 17) to New England for defensive tackle
Richard Seymour
in September 2009.
Second round
Kiper:
36. Denver
Rahim Moore
S UCLA
46. Denver (from Miami)
Kyle Rudolph
TE Notre Dame
48. Oakland
Clint Boling
OL Georgia
50. San Diego
Randall Cobb
WR Kentucky
55. Kansas City
Orlando Franklin
OL Miami (Fla)
61. San Diego (from NY Jets)
Ras-I Dowling
CB Virginia
My thoughts:
This would be a solid round for each team. Denver's defense would continue to get better with the best safety in the draft. The Chiefs would add yet another offensive lineman. The Raiders would address their top need and the Chargers would add two interesting skill players. Dowling could be a star.
McShay:
36. Denver
Rudolph
46. Denver (from Miami)
Moore
48. Oakland
Jimmy Smith
CB Colorado
50. San Diego
Allen Bailey
DE Miami (FL)
55. Kansas City
Kelvin Sheppard
ILB LSU
61. San Diego (from NY Jets)
Jonathan Baldwin
WR Pittsburgh
My thoughts:
It's interesting that McShay and Kiper have the same two players going to Denver in the round at different spots. What sticks out in this group, though, is Colorado cornerback Jimmy Smith going to Oakland. That would be a major score. Yes, Smith has big character questions, but he'd be worth the risk at No. 48 and be good insurance if
Nnamdi Asomugha
leaves in free agency. Kiper has Smith going much earlier than McShay. I like the choice of Bailey for San Diego, but Baldwin may be risky.
Third round
Kiper:
67. Denver
Christian Ballard
DL Iowa
81. Oakland
Chimdi Chekwa
CB Ohio St.
82. San Diego
Marcus Cannon
OT TCU
86. Kansas City
Greg Salas WR Hawaii
89. San Diego (from Seattle)
Akeem Dent
LB Georgia
My thoughts:
San Diego's two picks here stick out. Cannon is massive and would be a good project. Dent could soon be a solid contributor.
McShay:
67. Denver
Quan Sturdivant
LB North Carolina
81. Oakland
Virgil Green
TE Nevada
82. San Diego
Lee Ziemba
OT Auburn
86. Kansas City
Tandon Doss
WR Indiana
89. San Diego (from Seattle)
Colin McCarthy
LB Miami (FL)
My thoughts:
Green is a great talent, but if
Zach Miller
stays, he won't be needed. I also like Ziemba and Doss.
What's your thoughts on all these projected picks? Fill up the comment section below with your thoughts.