August, 15, 2013
8/15/13
12:00
PM ET
ST. JOSEPH, Mo. -- The
Kansas City Chiefs
and Andy Reid needed each other.

A year ago, as the Chiefs were toiling through their summer preparations, this pairing seemed more than unlikely. It appeared implausible.
The Chiefs were embarking on the Romeo Crennel era. The franchise was focused on salvaging the Scott Pioli leadership by having one of his former New England colleagues take over the coach's headset on a full-time basis after he had guided the team following Todd Haley's dismissal in December 2011. There were no thoughts of Crennel being a temporary caretaker for one of the biggest coaching names in the game. Reid was entering his 14th season in Philadelphia.
But 2012 ended up being an awful year for the Chiefs and for Reid. Change was necessary for both.
When Reid was let go by the Eagles, Kansas City owner Clark Hunt acted swiftly, turning from Pioli and Crennel to Reid. It was a bold move from the Heartland, where the Chiefs usually stay out of the national spotlight.
Hiring Reid was bold. And while technically neither Reid nor his new team has accomplished anything just yet, the fit seems right. Reid is resplendent in red. The Chiefs' players are energized by the top-notch coaching and energy Reid has brought.
"I don't look to the past and we can't look to the future yet; all we got is right now," Reid said. "And the 'right now' is pretty good. … I really like where we are and what these guys are doing."
While it is just August, the Chiefs look nothing like the 2-14 team they were in 2012. Most teams that earn the No. 1 overall draft pick look like it the following training camp. Instead, the Chiefs look like a complete team with few holes, one that is ready to make a big move.
"We don't even talk about 2-14 anymore," said safety
Eric Berry
, one of six Pro Bowl players from what was, despite the record, a talented 2012 outfit. "We are all focused on getting better and getting coached by Coach Reid and his staff. … We can't wait to get out here every day to see how we can get better. Everybody feels that way. We're all so happy right now."
THREE HOT TOPICS
[+] Enlarge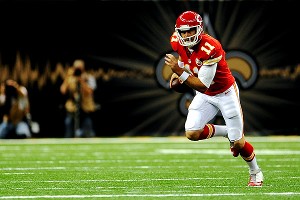 Stacy Revere/Getty ImagesAlex Smith's smooth transition at quarterback is just one reason behind the Chiefs' bright outlook.
1. The quarterback:
Thus far, the transition to
Alex Smith
has been a success in Kansas City. Of course, we won't find out anything tangible until we see if he can make a difference in the regular season. But so far, Smith has taken to Reid's coaching and shown he is the leader of this team. He has been good in training camp, and he was excellent in the first preseason game. If Smith can be the smart, mistake-free player he was in his best San Francisco days, the Chiefs can be a real contender. This team has been screaming for solid quarterback play, and it may be about to get it.
"He's a smart guy," Reid said of his quarterback. "He gets it. He makes it easy. He doesn't run out of gigabytes."
2. Finding a No. 2 receiver:
There aren't a lot of issues with this roster, but finding a solid No. 2 receiver behind star
Dwayne Bowe
is a focal point of this camp. Free-agent pickup
Donnie Avery
will likely be the guy, and he has shown he can be a capable NFL player. He can get open. The team would like to see 2011 first-round pick
Jon Baldwin
finally develop. He has big ability but has failed to show the consistency to be a top-of-the rotation player. The Chiefs have a varied offense, so this will not be a huge problem, but it would be beneficial if Bowe had some legitimate help opposite of him.
3. Dontari Poe:
If training camp is any indication, Poe has a chance to be among the breakout players in the NFL this season. The No. 11 overall pick of the 2012 draft has been terrific. He has taken to the new coaching. The light has come on. The super-athletic Poe is getting the playbook and has been dominant at times. Nose tackle sets the tone for the defense, and it seems Poe is up to the task. To his credit, Poe made strides late in his rookie season and seems to have carried it over to his second training camp.
REASON FOR OPTIMISM
The Chiefs' roster is loaded. There are not a lot of holes. Sure, the Chiefs could use a deeper group of receivers, a deeper defensive line and a few odds and ends here and there. But in today's NFL, that is not a deep list of concerns. Add a top coach like Reid, a capable quarterback like Smith and several fine free-agent additions to a roster that featured six Pro Bowl players, and there is a lot to like about this team. This is not your average club trying to rebound from 2-14.
REASON FOR PESSIMISM
There isn't much not to like here. The worst thing Kansas City has going for it is simply rebuilding from a 2-14 season. Just how many wins can a 2-14 team expect in the first year of a new regime? The Chiefs will be much better. But what does that mean? A 7-9 season in Kansas City would signify great progress. But if the Chiefs want to make a run at the playoffs, they likely will have to go 9-7 or better. A seven-win improvement is never an easy task in the NFL.
OBSERVATION DECK
[+] Enlarge

AP Photo/Gerald HerbertJamaal Charles' role in the offense does not figure to be diminished considering he touched the ball eight times and scored a TD on the Chiefs' first drive of the preseason.

The Chiefs like their offensive line. They think they have a lot of depth. Jeff Allen, Geoff Schwartz and Donald Stephenson give the team a lot of options.

The Chiefs have no remorse over using the No. 1 overall pick in this year's draft on right tackle Eric Fisher. He is a natural talent who works hard and fits in with his teammates. He is a hard-hat player who just happened to be the top pick in the draft.

The coaching staff is pleased with the way star running back Jamaal Charles has adapted to the offense. He has embraced the chance to catch more balls out of the backfield. For anyone who thought Charles' role would be diminished because of Reid's arrival, just look at the New Orleans game last week. Charles touched the ball on eight of the 14 plays the Chiefs' first-team offense was on the field.

Players love the scheme of new defensive coordinator Bob Sutton. It is aggressive and player-friendly.

One of the strengths of this team going into camp was the defensive backfield. It continues to be. This is a deep, talented unit.

One young player to keep an eye is undrafted rookie receiver Rico Richardson. He is catching everything that comes his way. He's a long shot, but there could be room for him.

Reid is pleased with the addition of spread game analyst Brad Childress and consultant Chris Ault. They are focusing on the pistol offense and working with both the offense and defense in installing it.

The Chiefs' special teams look good. The return game was fantastic against New Orleans.

Berry came on strong at the end of last season after missing virtually all of the 2011 season with a torn ACL, and he looks to be in top form this camp. Expect a brilliant season from this young star.

The team likes the work of fullback Anthony Sherman, who was acquired in a deal with Arizona for cornerback Javier Arenas. Sherman will be a part of the offense.

Fourth-round pick Nico Johnson continues to push Akeem Jordan at inside linebacker. The instinctive, bright Johnson has been a camp standout.
July, 25, 2013
7/25/13
12:00
PM ET
A look at the Kansas City Chiefs as they begin the Andy Reid era:
Biggest change to expect:
This will be a professional, well-prepared squad. Andy Reid's tenure in Philadelphia may have ended poorly, but there is no denying Reid is a top-level coach. His 14-year era in Philadelphia was mostly successful: He is known as a strong leader and as a coach who knows how to run a program. Expect Reid to stick with what worked for him in Philadelphia. He will run his version of the West Coast offense. He likes to throw more than run, but he will not waste star running back
Jamaal Charles
. Charles will get his carries, but expect Reid to find a happy medium and use Charles as a receiving weapon out of the backfield. Defensively, Reid is showing flexibility and keeping the Chiefs in their 3-4 defense. Reid has a good staff and he has added Brad Childress and Chris Ault as consultants. Preparation is paramount in Reid's approach.
[+] Enlarge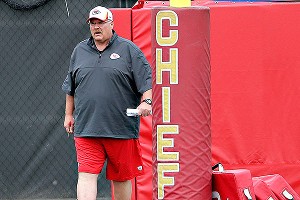 AP Photo/Charlie RiedelExpect the biggest changes for the Chiefs under Andy Reid to come on offense.
What success would look like:
If the Chiefs make a big improvement in 2013 under Reid, it will be because of the offense. The Chiefs' offense has been lacking in recent years (particularly in the passing game). Reid is an offensive specialist and has had a lot of NFL success. The key is new quarterback
Alex Smith
. Reid has always liked Smith, who was the best quarterback available in the offseason. Smith is a smart, controlled quarterback who should fit in well in Reid's offense. Smith will not be asked to do too much and will be given the opportunity to do what he does best. The Chiefs failed in the past because quarterback
Matt Cassel
was a turnover machine. If Reid can direct Smith to play clean football, this offense has a chance to score a lot of points, and in turn, win a lot of games.
Burned out or re-energized?
Reid will be watched closely in his first season in Kansas City. Many league observers thought Reid should have taken a year off after his long Eagles tenure ended. His son died last summer and it was an emotional last few years in Philadelphia. Yet, Reid said many times he felt the need to start fresh immediately. Friends say he is refreshed and energized. Time will tell.
More or fewer wins?
The bar is not set high at all. Romeo Crennel's team went 2-14 last season. Reid's team should easily surpass that total. If all goes right, the Chiefs could contend for a wild-card spot.
June, 1, 2013
6/01/13
1:00
PM ET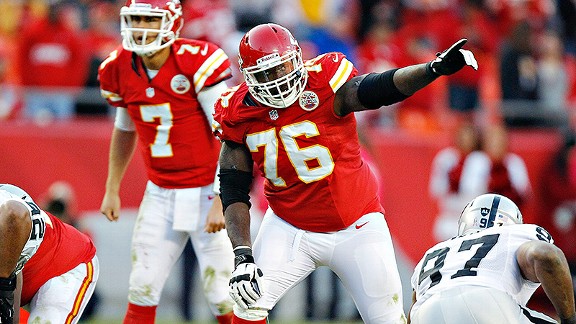 AP Photo/Ed ZurgaKansas City is keeping Branden Albert at left tackle and moving Eric Fisher to right.
When he was considering how to use the No. 1 overall pick in April's NFL draft, new
Kansas City Chiefs
general manager John Dorsey was not worried about age-old conventions.
He was looking for the best player available, NFL principles be damned. After the Chiefs took Central Michigan left tackle
Eric Fisher
and did not trade left tackle
Branden Albert
to Miami during draft week, they quickly announced that Fisher would play right tackle. There was some scoffing. Using the top pick on a right tackle?
"I wasn't going to be pigeonholed by the way things used to be or are expected to be," Dorsey said. "My goal is to put the five best linemen on the field that we can. Having Eric Fisher and Branden Albert on the field together helps us achieve that. We want big, fast guys who can help keep our quarterback upright and move well in the running game. That's what we want in our right tackle, and we think Eric gives us that."
Traditionally, teams have used premium picks on left tackles because of their athleticism and their blindside protection of quarterbacks. Right tackles were considered less important and less athletic. Those road-grading days may be over. Teams are burying the old thinking about right tackles and adjusting as the game becomes faster and more athletic.
"The line between left and right tackle is more blurry than it ever has been," ESPN analyst Matt Williamson said. "You don't have to have a big, fat masher on the right side anymore. The league is changing. … So I totally understand the pick of Fisher and the plan to keep Albert and put Fisher on the right side. The league is going that way."
The Chiefs weren't alone in using a top pick on a player who will start his career at right tackle. Jacksonville took Texas A&M's
Luke Joeckel
at No. 2, and Philadelphia took Oklahoma's
Lane Johnson
at No. 4. They, too, are expected to start their NFL careers on the right side. The idea of three of the first four picks' being taken to play right tackle would have knocked old-school general managers off their chairs 10 years ago.
"The game is changing. It has changed in the past 10 years, last five years, and in the past two years," Dorsey said. "You have to roll with it and make a decision that best fits your team."
[+] Enlarge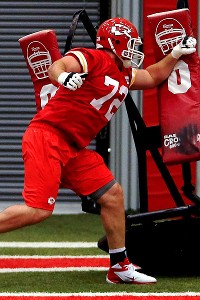 Jamie Squire/Getty Images"I'm just trying to play offensive line," No. 1 overall draft pick Eric Fisher said. "I really love everything that comes along with it."
Gary Horton of Scouts Inc. didn't blink when the Chiefs took Fisher to make him a right tackle, at least for the time being. Teams are using more spread offenses and are moving toward a faster-paced passing game -- hence the need for more athletic players on the offensive line. The Chiefs recently hired Chris Ault, the Pistol offense innovator, as a consultant. The team plans to use some Pistol with quarterback
Alex Smith
, who is known for his mobility. Thus, Fisher -- who soared up draft boards because of his great athleticism -- is a good fit for Andy Reid's offense.
"These days with the way offense is going, you see more and more offenses wanting two athletic, bookend tackles that can push outside and block on the run," Horton said. "You don't see too many 270-pound tight ends helping the right tackle in pass protection much anymore. And in the running game, teams are looking to go outside the tackle so often. So I see the change at right tackle. I was really impressed by what the Chiefs did. I really like the Albert-Fisher combination."
So do the Chiefs. They considered trading Albert to Miami during the draft, but now want to strike a long-term deal with him. Albert is interested in staying in Kansas City, too. If they can agree, Fisher will probably stay at right tackle. If not, and Albert leaves as a free agent, Fisher will probably move over to left tackle.
For now, Fisher is on the right side -- he did play some right tackle early in his college career -- and said he feels good about it.
"I'm just trying to play offensive line," Fisher told reporters in Kansas City recently. "I really love everything that comes along with it -- it's a different territory in there. I'm really liking it. It's a very similar system to what I ran in college, so like I said, I'm picking it up pretty well."
The man Fisher is blocking for isn't worried about his adjusting to the right side. Smith, acquired in a trade with San Francisco this year, is just happy the team used the No. 1 pick for more protection, regardless of where Fisher plays.
"I think a lot gets made up about the one tackle -- left tackle -- these days," Smith recently told reporters in Kansas City. "You have to have all the spots. You have to have both guys. … For a quarterback, those guys are your best friends."
Luckily for Smith, the Chiefs believe he needs two best friends.
May, 29, 2013
5/29/13
9:10
PM ET
Second-year Kansas City offensive lineman
Jeff Allen
is showing his versatility.

The Kansas City Star reported that Allen worked with the first unit at center for a few plays during Wednesday's organized team activities (OTAs). Allen worked with the first unit at tackle earlier this offseason when
Branden Albert
was away.
Allen, a second-round pick in 2012, started the final 13 games last season at left guard. He is expected to compete with free-agent addition
Geoff Schwartz
there this season. Allen has a bright future, and the more versatility he can show, the more valuable he can be to the team.
In other Chiefs OTA notes:
Undrafted free-agent quarterback
Tyler Bray
continued to get most of the third-string snaps over third-year quarterback
Ricky Stanzi
. Bray was expected to be a mid-to-late-round pick in April's draft. He has big ability but needs to refine his game. Unless he completely falls apart in training camp, it would be a surprise if Kansas City keeps Stanzi over Bray.
Pistol offense consultant Chris Ault is working with the team this week. He will be with the Chiefs periodically to help both the offense and the defense adjust to the scheme.
May, 29, 2013
5/29/13
11:00
AM ET
Mid-week mail call:
Murray from Edmonton, Alberta,
wants to know how I think Chris Ault's experience with the Pistol offense will affect the Chiefs.
Bill Williamson:
Ault is simply a consultant. He will not be around the team full-time. The Pistol will not be the focal point for the Chiefs' offense, though there will be some packages built for quarterback
Alex Smith
. Ault is also helping the Kansas City defense prepare to face the offense, which is gaining popularity in the NFL.
---
Terry from Ohio wants to know
if I think free-agent signing
Rashad Jennings
can help Oakland at running back.
BW:
Honestly, I'm not that high on Jennings. He is what he is -- a backup. If
Darren McFadden
, who has had injury issues, is out for an extended time, I don't think Jennings will give Oakland anything special. In fact, I wouldn't be surprised if he is bypassed by sixth-round pick
Latavius Murray
at some point.
---
Derek from San Diego wants to know
if I think pass-rusher
Shaun Phillips
will play a big role in Denver.
BW:
I think he will be a secondary pass-rusher for the Broncos -- he has some burst left and will be given the chance to play. He will not be
Elvis Dumervil
, but he doesn't have to be. As long as he gives Denver a solid pass-rushing threat when needed, he'll fill his role.
May, 14, 2013
5/14/13
4:30
PM ET
The
Kansas City Chiefs
will not become a full-time Pistol offense now even though the team has hired former Nevada coach and Pistol innovator Chris Ault as a consultant.
The Chiefs want Ault to help both the offense and the defense prepare. The team will use it as a wrinkle.
When the Chiefs use it, ESPN's Matt Williamson thinks the offense will fit new quarterback
Alex Smith
. He played in a form of it at Utah. The 49ers, however, used
Colin Kaepernick
(who played for Ault in college) in the system rather than Smith.
While Smith doesn't have the blazing speed of Kaepernick, he is a mobile quarterback who can make plays with his feet. That's why Williamson thinks Smith can have success in the Pistol when the Chiefs use it.
"Smith has a quick mind and he is a very smart quarterback, which will be very beneficial (in the Pistol), which requires quick, precise decisions," Williamson said. "Smith isn't a top arm talent, drawing the linebackers up with play action can lead to easier quick throws over the middle as well."
Williamson said the Pistol can also help create more big-play opportunities for explosive running back
Jamaal Charles
.
May, 13, 2013
5/13/13
5:45
PM ET
Kansas City Chiefs
head coach Andy Reid is collecting quite the stash off offensive know-how.
Reid hired Pistol offensive innovator Chris Ault
as a consultant Monday. The former Nevada coach is well respected in the coaching community. He was
Colin Kaepernick
's college coach.
Now, he will work with
Alex Smith
. Kaepernick is the reason why Smith is no longer in San Francisco.
Don't get this wrong -- Ault's presence doesn't necessarily mean the Chiefs will run the Pistol all the time. After all, Smith is not a great fit for that particular scheme.
It just means Reid, known as one of the best offensive-minded coaches in the NFL, wants to get his team up to speed on the Pistol offense. Several teams are using it with success. I think Ault is being brought in to get the defense up to speed on stopping the Pistol as much as he is to help out the offense.
Earlier in the offseason, Reid hired former Vikings head coach Brad Childress and gave him the title of Spread Game Analyst/Special Projects. Childress was Reid's offensive coordinator in Philadelphia.
These are smart moves from Reid. He is getting his team caught up in today's NFL, including getting his teams prepared for everything on both sides of the ball. That's good leadership.
In other AFC West notes:
As expected, the Chargers are moving
Marcus Gilchrist
from
cornerback to strong safety.
He was drafted as a cornerback but strong safety is considered his natural spot. He has a chance to start if
Brandon Taylor
is not ready to return from a torn ACL he suffered in Week 17.
Shareece Wright
has the inside track of starting opposite
Derek Cox
at cornerback.
The Chargers are planning to protect Manti Te'o as the
polarizing rookie transitions to the NFL.