September, 7, 2012
9/07/12
7:45
PM ET
Oakland receiver
Denarius Moore
(hamstring) practiced well Friday and he is expected to play Monday night against San Diego unless there is a setback. Oakland receiver
Jacoby Ford
(foot) is still not practicing and he very likely will not play Monday.
Meanwhile, San Diego running back
Ryan Mathews
remained limited. He is not expected to play Monday with a broken clavicle.
In other AFC West news:
Kansas City general manager Scott Pioli and Atlanta general manager Thomas Dimitroff talk about their long relationship
in a radio interview.
Their teams play each other Sunday.
San Diego tight end
Antonio Gates
talks about the sense of urgency for the team
in a radio interview.
The Redskins
are meeting
with tight end
Chris Cooley
next week. There has been some talk the Raiders (who could use a veteran tight end) could look into Cooley. But, clearly, he is going to wait and see what happens with the Redskins before even thinking about another team if there is, indeed, interest.
Pittsburgh star linebacker
James Harrison
is listed as questionable to play Sunday night at Denver because of a lingering knee injury. There is a report that says he won't play. Denver coach John Fox is taking a wait-and-see approach on Harrison's availability.
"We'll kind of wait and see when the thing comes out officially and we'll make that judgment then," Fox said Friday. "We're prepared for whoever they line up at outside backer to his side and we'll go from there."
ESPNW has a look
at the off-field passion of Oakland fullback
Marcel Reece
.
September, 6, 2012
9/06/12
8:00
PM ET
Here are some highlights from our AFC West chat, which was held earlier Thursday:
DENVER
Darren from Winnipeg, Canada:
I'm flying down for the opener...is this Knowshon Moreno's last shot at the NFL this season? Last shot with Broncos?
Bill Williamson:
Everybody, me included, was saying that about the preseason. Now that he made the team, let's give him a shot.
KANSAS CITY
Peter from NYC:
Bill, I am really concerned about the KC game this weekend. Please give me some reason not to be?|
BW:
I think you should be worried. The defensive problems are big. But perhaps Charles and Hillis can control the clock.
OAKLAND
George from Tallahassee:
Hey Bill, with the lack of depth at the TE position for the Raiders, would the Raiders consider going after Cooley or Winslow JR and if so, who do you think would be a better fit?
BW:
They haven't done it yet, so they must feel good. If the tight ends don't do well perhaps they will look next week. Neither are world beaters anymore, but I'd take Cooley. Winslow reportedly didn't pass his physical in New England.
SAN DIEGO
Gary from San Diego:
How healthy is Gates?
BW:
As healthy as he has been in four years. He's a great player who deserves better health. It will be fun to see what kind of impact he can make.
September, 1, 2012
9/01/12
7:25
PM ET
Three in and three out for the
Oakland Raiders
.

The Raiders claimed three players and cut three players, including cornerback
Chimdi Chekwa
, who was a fourth-round pick last year and who was expected to be in the playing mix this year. I expect Chekwa to get interest elsewhere.
Oakland claimed defensive back
Phillip Adams
from Seattle, linebacker
Keenan Clayton
(a fourth-round pick of the Eagles in 2010) and former Washington tackle
Willie Smith
. Going with Chekwa out the door in Oakland are cornerback
Bryan McCann
and the team waived injured defensive tackle
Jamie Cumbie
. He will likely be put on inured reserve if he clears waivers.
McCann was a candidate to return punts for the Raiders.
In other AFC West news:
ESPN's Adam Schefter reported Seattle has cut tight end
Kellen Winslow
. The Raiders could use a tight end. Still, there is baggage that comes with Winslow. I'm not sure the Raiders would bite. I think they could take a chance on oft-injured
Chris Cooley
, recently cut by the Redskins, before Winslow, but that's just a guess.
Kansas City coach Romeo Crennel told reporters Saturday linebacker
Derrick Johnson
(ankle) should be ready to play and he is hopeful cornerback
Brandon Flowers
(foot) can possibly play in Week 1 against Atlanta. However, safety
Kendrick Lewis
(shoulder) is likely not going to be able to play.
The Denver Post reports former Denver quarterback
Adam Weber
will join the Tampa Bay practice squad. The Broncos cut Weber on Friday. The Denver staff liked Weber, but there wasn't much room for him.
Also, Denver safety
Rafael Bush
was claimed by New Orleans and released tackle
Ryan Harris
signed with Houston.
If the Chiefs are looking for a temporary pass-rushing burst with
Tamba Hali
out for Week 1 with an NFL suspension, they could turn to former Chief
Wallace Gilberry
. He was cut by Tampa Bay.
September, 1, 2012
9/01/12
12:05
AM ET
Click
here
for the complete list of
Oakland Raiders
' roster moves.

Most significant move:
Putting starting linebacker
Aaron Curry
on the reserve/physically unable to perform list. He has been out all camp with knee problems. This is good news, because there was a thought he could end up on the injured reserve. Now Curry can come back to practice Oct. 16. He will likely be replaced in the starting lineup by fourth-round pick
Miles Burris
. I think Oakland will look for some linebackers in the coming days as well. As expected, young tight end
David Ausberry
made the team and he will continue to develop. They are high on sixth-round pick, defensive tackle
Christo Bilukidi
. He is raw, but he has big potential and he can learn without urgency because he is on a top-notch line. Cornerback
Bryan McCann
made the team and he could be the starting punt returner. As expected, punt returner
Roscoe Parrish
, who was cut by the Chargers on Monday and quickly signed by the Raiders, was cut after he fumbled two punts Thursday at Seattle.
Onward and upward:
Defensive lineman
Dominique Hamilton
was caught in a numbers game. He was impressive in the preseason but he is likely headed to the practice squad. Rookie free-agent receiver
Derek Carrier
is probably not headed to the practice squad at this point. The team was very high on him after the draft, but he fell behind other rookie receivers such as fifth-round pick
Juron Criner
and fellow undrafted rookie
Rod Streater
. Both those players made the team and should be part of the rotation. However, rookie receiver
Brandon Carswell
could be practice-squad bound. Rookie linebacker
Chad Kilgore
could also be headed to the practice squad. He looked good in the preseason. Linebacker
Nathan Stupar
, a seventh-round draft pick, was a surprise cut after he had a strong preseason. I could see him being claimed elsewhere. If not, I'm sure Oakland will try to put him on the practice squad.
What's next:
I expect the Raiders to be very busy in the next few days. Depth is a big problem because of a salary-cap issue and a lack of draft picks the past two years. The Raiders' lack of depth was a serious problem in the preseason. I think the Raiders could use help at running back, tight end, the offensive line, and linebacker and in the secondary. Yes, they could be busy. Among the players Oakland could look at include
Rock Cartwright
,
Tim Hightower
,
Joselio Hanson
,
Justin Miller
and
Chris Cooley
. Oakland could also be on the lookout for a pass-rusher. It worked out
Andre Carter
recently, but he reportedly isn't healthy enough to sign anywhere.
August, 28, 2012
8/28/12
3:15
PM ET
The
Oakland Raiders
might consider signing a tight end in the coming days.
There will likely not be bigger name become available than
Chris Cooley
. He is now available to the Raiders and everyone else.
Cooley announced he will be released
by the Redskins. However, there is no guarantee he will continue playing. Cooley said he'd take time to consider what he wants to do and he is unsure he wants to play for another team.
Cooley, 30, has suffered significant injuries in two of the past three seasons, but he did have a strong season in 2010.
The Raiders are inexperienced at tight end. They have
Brandon Myers
,
Richard Gordon
and
David Ausberry
. Oakland coach Dennis Allen has expressed pleasure with the group, but there is no doubt a healthy Cooley could help this group.
But the questions are when will Cooley be ready to play and he can he still play at a high level? If the answers to both those questions are yes, then it would be very much in Oakland's interest to pursue him.
September, 1, 2011
9/01/11
1:30
PM ET
Here is Oakland's preview page
.

1. McFadden's health is key:
Running back
Darren McFadden
is Oakland's best offensive player. The No. 4 overall pick in 2008 had a spectacular third NFL season. He developed into an inside threat as well as an outside threat. He will be a main reason Oakland has a chance to win a lot of games this season. But he has to stay healthy. The Raiders have a strong backup tailback in
Michael Bush
, but McFadden gives Oakland's offense a special dimension when he's on the field. If there is a ding on McFadden it is his durability. He has missed 10 games in three NFL seasons. He missed a large chunk of training camp this year with a broken orbital bone.
2. Boss will get his chances:
Kevin Boss
is not the player that former Oakland tight end
Zach Miller
is. Miller signed with Seattle this offseason. But Boss is a solid player who will get his chances to be featured in Oakland's offense.
Jason Campbell
loved throwing to tight end
Chris Cooley
in Washington and Miller was, by far, his favorite target last season. Expect Boss, who has 119 career catches in four NFL seasons, to get a chance to grab 45 to 50 catches this season.
3. Need to start fast:
The bad news for Oakland is that its first two games are on the road. The good news is the roadies are at Denver (on ESPN's "Monday Night Football" on Sept. 12) and at Buffalo. The Raiders have a chance to start 2-0. They will need to. Their next two games are at home, but they are against the
New York Jets
and New England. If the Raiders stumble at Denver or Buffalo, they will put themselves in a tough spot.
4. Watch out for the D-line:
The Raiders' defensive front has a chance to be among the best in the NFL. The group of
Richard Seymour
,
Tommy Kelly
,
Matt Shaughnessy
and
Lamarr Houston
can be special. Seymour is still playing at an elite level. Kelly is a run-stuffer who had a great season in 2010, and Houston and Shaughnessy are potential future Pro Bowl players. This is a mean, nasty group that should set the tone for a lot of victories for Oakland.
5. Don't forget about Ford:
Jacoby Ford
may have missed much of the preseason with a broken hand, but don't think he won't be ready to contribute this season. The 2010 fourth-round sensation should be ready to play Denver. Expect him to be a lightning rod for this offense. Ford will be a slot receiver, at the very least, and he could start. And don't forget his return ability. He took three kickoffs to the house as a rookie.
August, 5, 2011
8/05/11
12:20
PM ET
Kudos to Oakland for quickly filling its hole at tight end.
Don't kid yourself, Oakland is not in the same position it was at tight end before
Zach Miller
stung the team by signing with Seattle.
Kevin Boss
is not in Miller's class. But he is a professional tight end and the Raiders no longer have a major deficiency at the position.
Boss is a workman's player. He is solid as a receiver, runner and as a blocker. Again, he is not a Pro Bowl player like Miller, but he won't embarrass the Raiders, either. Give the Raiders credit for giving Boss a four-year, $16 million deal, three days after Miller got $34 million over five years from Seattle.
Boss, who is from the West Coast, has 119 catches in four seasons and he has 18 touchdown catches, proving he is a red-zone weapon. He earned the trust from New York quarterback
Eli Manning
and he will have a chance to flourish with
Jason Campbell
as his quarterback.
Campbell had a great working relationship with tight end
Chris Cooley
in Washington and he had a special on-field relationship with Miller. Combine the fact that Oakland's receiver are young and Campbell loves throwing to the tight end, and it's clear Boss will have an opportunity to make an impact in Oakland.
Thus, this is a good move by both the Raiders and by Boss.
UPDATE:
Here is the take of Matt Williamson of Scouts Inc. on the Boss signing:"He's nowhere close to the dynamic receiving threat that Miller is, but the best word to describe Boss is solid. He is solid in every area. His blocking should help the Oakland's tackles quite a bit too on edge runs and pass protection. He's a solid receiver."
March, 29, 2011
3/29/11
1:00
PM ET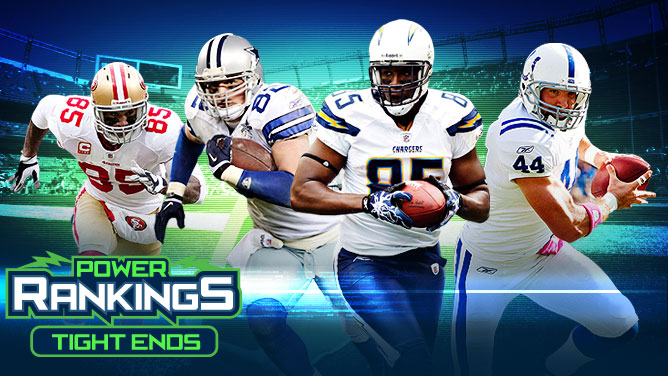 ESPN.com IllustrationDallas' Jason Witten earned the top spot in our voting over San Diego's Antonio Gates.
ESPN.com's NFL writers rank the top 10 tight ends in the league today. Next week: Top 10 coaches.
Antonio Gates
has received the
Adrian Peterson
treatment.
This guy didn't do it this time.
Up from the NFC South rises Pat Yasinskas into the ESPN.com Power Rankings' hot seat. Embrace the heat, my friend. In another airtight positional Power Rankings battle, Dallas'
Jason Witten
edged out Gates by one vote to be crowned the almighty ruler of all NFL tight ends.
How in the name of Kellen Winslow did it happen, San Diego? Talk to Yasinskas.
Yasinskas ranked Atlanta's
Tony Gonzalez
No. 2. He had Witten No. 1 and Gates No. 3. Witten finished with 76 voting points. Gates had 75. No other voter placed Gonzalez higher than fifth. He finished sixth.
Send your cards and letters to Yasinskas, Dallas
. If you must let him know your thoughts, stay classy, San Diego.
Yasinskas reasoned that he sandwiched Gonzalez between Witten and Gates because of Gonzalez's incredible career. Gonzalez, 35, owns every major receiving record by a tight end.
"Yes, he's nearing the end of his career, but this is the best tight end in history," Yasinskas said. "I think that counts for something. Gonzalez still is playing at a high level. He has great chemistry with quarterback
Matt Ryan
and the desire for a Super Bowl ring is keeping Gonzalez going strong."
Here is the rest of the top 10 after Witten and Gates: Indianapolis'
Dallas Clark
(53 points), San Francisco's
Vernon Davis
(50), Washington's
Chris Cooley
(36), Gonzalez (33), Tampa Bay's
Kellen Winslow Jr.
(26), Jacksonville's
Marcedes Lewis
(21), Detroit's
Brandon Pettigrew
(18) and Green Bay's
Jermichael Finley
(15).
Witten and Gates clearly stand out as the game's elite tight ends. Witten was ranked first on four ballots and second on the other four. Gates received the other four first-place votes. He received three second-place votes and Yasinskas' third-place vote.
The only thing that separated Witten and Gates in 2010 was health. Witten, 28, had 94 catches for 1,002 yards and nine touchdowns last season. Gates, 30, was on his way to a brilliant season when it was derailed by nagging ankle and foot injuries. Gates ended up on injured reserve and missed six games. He finished with 50 catches, 782 yards and 10 touchdowns.
Matt Williamson of Scouts Inc. said both Witten and Gates are game-changers.
"Witten to me is the class of the two-way tight ends," Williamson said. "Receiving needs to trump blocking because that is what the league is right now. If someone put Witten first on the list, I can buy that. In terms of doing it all, I think he is the best. … I think he is the best of the two-way guys if you put an equal amount of faith in both receiving and blocking. He is the all-around tight end prototype. If you put more weight on receiving, which I would, you have to give the nod to Gates. He was awesome last year. He was hurt and that was the only negative other than blocking. He played hurt a lot and was great."
Let's dig deeper into the rankings:
Not easy pickings:
Several of our voters were surprised by the difficulty of this process. This is our fourth position in the series. We previously looked at receivers, running backs and pass-rushers. The pass-rushers process was very difficult. This vote was not a cool breeze, either.
This is a very strong league for tight ends these days.
"After a hellish pass-rusher ballot, I thought tight ends would be far easier," AFC South blogger Paul Kuharsky said. "They were just as difficult. There is a great deal of young talent too. I steered clear of first-year guys, but in another season or two, this could be even more brutal to sort through."
Blame injuries:
In addition to the glut of talent, a primary reason this vote was so difficult was the fact that there were major injuries at this position in 2010. In addition to Gates, Clark, Finley and Houston's
Owen Daniels
were injured. That changed the voting landscape.
"I thought it was tough because there are a lot of guys with mitigating circumstances," NFC North blogger Kevin Seifert said.
Clark's injury prompted Yasinskas to rank him 10th. No other voter placed him lower than fourth.
"There's no doubt this guy has had a great career," Yasinskas said. "But I ranked him a little lower than most and that's almost entirely because he missed 10 games last season. Clark is 31 and I'm not sure he'll be the same player going forward."
[+] Enlarge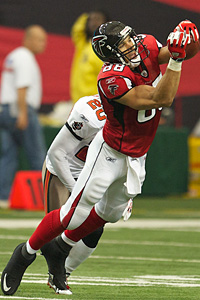 Dale Zanine/US PresswireWill star Falcons tight end Tony Gonzalez finally notch his first playoff win on Sunday?
Not everyone loves Tony G.:
Clearly, Yasinskas believes in Gonzalez. He gets to see him play regularly and thinks he's still an impact player. That's why he ranked him second. But not everyone agrees that the future Hall of Famer is still an elite player. Kuharksy left Gonzalez off his ballot altogether.
"Gonzalez is still an excellent player," Kuharsky said. "But as I struggled to find room for the 10 I felt needed to make the cut, he fell off. In 2010 his numbers suggest he was more quantity than quality. I'm not looking for giant plays from my tight end, but Dallas Clark replacement
Jacob Tamme
matched Gonzo's 9.4 yards a catch, and while Gonzalez's first-down percentage was good (55.7), it was way lower than that of the three top rookies and smaller than that of guys like
Heath Miller
,
Ben Watson
and
Todd Heap
, whom I hardly considered. One final note: As I've got access to Frank Wycheck during three shared radio appearances a week, I asked him for a ballot. I'm sure he admires Gonzalez's body of work. But right now Gonzalez wasn't in Wycheck's top 10 either."
The Davis flip-flop:
The 49ers' immensely talented tight end received a wide range of support. Four voters had him third. Yet, I had him ranked ninth and Yasinskas had him eighth. I like Davis, but I'm not convinced we always see his best effort.
NFC West blogger Mike Sando was among those who voted Davis third. Sando argued that Davis has made an impact despite playing with subpar quarterbacks.
"It's easy to forget about Vernon Davis because he plays for a low-profile team that has struggled," Sando said. "If you've seen the 49ers much, you know Davis makes the huge play better than any tight end in the league. He'll catch touchdown passes for 60 or 70 yards, outrunning even cornerbacks. He remains unrefined and can still improve his all-around game quite a bit, but his 20 touchdown receptions over the past two seasons rank first among tight ends."
This position is in it for the long haul:
I remember a conversation I had with Gates prior to the 2009 season. He was glowing over all the young talent at the position in the NFL. Gates rattled off several young tight ends he expected to have bright careers.
There's no doubt, this is a special time for tight end play. As Gonzalez puts the cap on the most brilliant career by anyone at the position in the history of the game, the position is well stocked for the future.
Five players on the list -- Davis, Winslow, Lewis, Pettigrew and Finley -- are 27 or younger. The only players who are 30 or older on the list are Gonzalez, Clark and Gates.
Oakland's
Zach Miller
and the Jets'
Dustin Keller
, who finished 11th and 12th, respectively, are also young players. Miller is 25 and Keller is 26.