December, 25, 2009
12/25/09
3:30
PM ET
»
NFC Final Word
:
East
|
West
|
North
|
South
»
AFC
:
East
|
West
|
North
|
South
Five nuggets of knowledge about Week 16's games: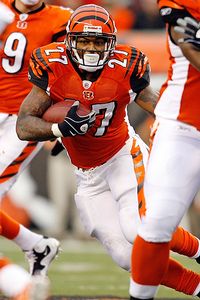 Andy Lyons/Getty ImagesBengals running back Larry Johnson plays the Chiefs for the first time Sunday since being cut earlier in the season.
Chiefs will meet LJ:
While Denver safety
Brian Dawkins
' return to Philadelphia is the big reunion story in the NFL this week, do not forget the meeting between the Chiefs and running back
Larry Johnson
. Of course, it would be a bigger deal if Johnson and the Bengals were visiting Kansas City. When Johnson was cut by the Chiefs in November after several off-field issues, he was vilified in Kansas City. But his teammates didn't have a huge problem. So, while it will be interesting to see this matchup, there probably won't be any revenge on the minds of the Chiefs when facing Johnson, who is a backup in Cincinnati.
Merriman meets the Titans:
There is bad blood between the Chargers, particularly linebacker
Shawne Merriman
, and Tennessee. Don't expect much Christmas night cheer in Nashville. Merriman maintains the Titans were guilty of a cheap shot on his knees. He said it was the beginning of his knee woes that kept him out of all but one game last season. The Chargers and Merriman haven't forgotten. This week, Titans coach Jeff Fisher said the Chargers
are not a beloved team
around the league. Expect some holiday feistiness. This could be fun.
Can McDaniels keep his streak going?
During training camp, Denver coach Josh McDaniels boasted he has never been .500 or under in any season in any sport during his life as a player or coach -- dating back to his fourth-grade basketball team. In his first season as an NFL head coach, McDaniels' Broncos are 8-6. They can ensure themselves of a winning record with a victory at Philadelphia. It won't be easy, but McDaniels has a shot. But he is making himself sweat. The Broncos could have locked up a winning record the past two weeks but lost to the Colts and Raiders.
Can Oakland get over the five-win hump?
Oakland has a chance to improve to 6-9 Sunday at Cleveland. No, that is not a good record, but it would be a significant plateau for the Raiders. Oakland has set an NFL record by losing at least 11 games in each of the past six seasons. That horrible streak can end if the Raiders win at Cleveland or against the Ravens at home next week. With Baltimore in the playoff hunt, this is Oakland's best chance to end the madness.
Chiefs will be facing emotions:
For the second straight week, an AFC West team will have to face the grieving Bengals. Last week, San Diego beat Cincinnati three days after receiver
Chris Henry
died. This week, the Chiefs will be facing the Bengals in their first home game since Henry's death and five days after the team went to Henry's funeral in Louisiana. Expect emotions to be just as high this week as last week.
December, 20, 2009
12/20/09
10:45
PM ET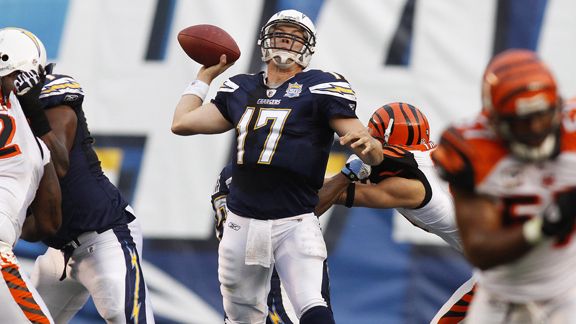 AP Photo/Denis PoroyPhilip Rivers and the Chargers clinched their fourth straight AFC West title.
SAN DIEGO -- It was early in the third quarter of a hotly contested game with huge AFC playoff ramifications. Yet, Chargers safety
Eric Weddle
and Bengals wide receiver
Chad Ochocinco
appeared a million miles away.
During an injury timeout, Weddle approached Ochocinco -- the two men did not know each other -- and just started talking. Weddle was trying to be supportive of Ochocinco, but Weddle admitted talk also was cathartic for himself in the aftermath of the death of Bengals receiver Chris Henry.
The
Cincinnati Bengals
were not alone in their sorrow Sunday.
Even though they naturally assumed the role of the bad guys Sunday, the Chargers were hurting for the Bengals, who had to travel across country and play a pivotal game three days after Henry died. Henry, 26, died Thursday from head injuries he sustained Wednesday when he fell from the back of a pickup truck during a domestic dispute.
Even though the Chargers were elated to win
a thrilling 27-24 game
that gave them their fourth straight AFC West division title and put them on the doorstep of a first-round bye in the playoffs, they took time to reflect on Henry.
"It was tough out there," Weddle said. "I just felt like I had to say something to Chad."
Weddle is deeply religious and said he spoke from the heart to Ochocinco. The two opponents stood alone in the middle of the field for several moments.
"I just told him that we were hurting too and that we're a football family," Weddle said. "I told Chad that as a leader, this is his time to take charge and help his teammates and Chris' family. ... It was just something I felt I needed to do. Look, it was a huge game out there, but you can't help but feel for the situation and realize the bigger picture."
The Chargers didn't exactly feel guilty about beating the Bengals. But they knew a nation was rooting against them. The Bengals were
the
story in the NFL on Sunday.
Trailing 24-13, the Bengals, who were listless in the third quarter, roared back with 11 points in the fourth quarter to tie the score with 54 seconds to go. However, San Diego drove down the field to set up a 52-yard field goal by
Nate Kaeding
with three seconds to go.
The Bengals slumped off the field in obvious despair.
"They really played hard," Weddle said. "Emotions were high all game long on both sides."
Other key developments from the game:
The Chargers are in great shape:
While it certainly wasn't easy, the Chargers' mastery continued. The 11-3 Chargers have won nine straight games. They have won an NFL-record 17 consecutive December games dating to 2006.
Moments after Kaeding's game-winning kick sent the crowd -- which was the loudest it has been in some time -- into hysterics, the Chargers got another holiday treat.
With the game playing on the jumbo screens, some Chargers players and many fans watched Oakland stun Denver. The Raiders' big road upset dropped the Broncos to 8-6, clinching the Chargers' fourth division title in a row.
The fact that San Diego clinched the division in Week 15 is particularly remarkable considering Denver led the Chargers by 3.5 games after Week 6. Much has changed in nine weeks.
Most notably, the Chargers have been unstoppable. While they didn't dominate Cincinnati in the fourth quarter, the Chargers once again made enough plays to win.
Just as important as winning the division title, San Diego closed in on the No. 2 seed in the AFC playoffs and a first-round bye. If the Chargers win one more game or if New England (9-5) loses one, the Chargers will get the No. 2 seed, which would be paramount in its chase for the Super Bowl.
San Diego plays at Tennessee on Friday and then closes out the season at home against Washington. The Patriots play host to Jacksonville next week and then close out the season at Houston.
[+] Enlarge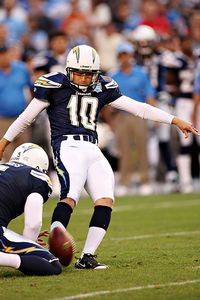 Stephen Dunn/Getty ImagesNate Kaeding kicked a 52-yard field goal to lift the Chargers over the Bengals, 27-24.
And the kick was good:
Kaeding may be one of the most underrated kickers in the NFL. He shouldn't be after Sunday.
After quarterback
Philip Rivers
drove the Chargers 46 yards in six plays to the Cincinnati 34, Kaeding came in and blasted the 52-yarder to win the game. Kaeding, the most accurate kicker in NFL history with a career percentage of more than 86 percent, cleared the cross bar easily.
"When I hit it I knew it was good," Kaeding said. "There was a lot of adrenaline in that situation coming down to the wire, trying to hit it for the win and since it came off my foot I knew it was good. Mayhem ensued from there."
Defense needs to tighten:
The Chargers' defense has had some moments of vulnerability this season. The issues crept back Sunday, especially in the fourth quarter. Cincinnati, which has had trouble scoring at points this season, dominated in the fourth quarter. Cincinnati had 314 yards passing and 114 yards rushing.
With a game against the dangerous Titans and superstar running back
Chris Johnson
approaching on a short week -- San Diego travels to Nashville on Wednesday for the Friday night game -- the Chargers need to iron out the kinks.
Despite the late defensive lapse, the Chargers did what it took to win another December game.
"It was hard-fought," San Diego cornerback
Antonio Cromartie
said. "But we went out and finished it. That's what counts most."
December, 20, 2009
12/20/09
7:29
PM ET


SAN DIEGO --- The
San Diego Chargers
are playing clutch football.
And they may be doing it late into January and perhaps beyond. The Chargers
just won
an incredibly emotional game against the grieving
Cincinnati Bengals
. Cincinnati receiver
Chris Henry
died Thursday.
San Diego won the game on a 52-yard field goal by the underrated
Nate Kaeding
with three seconds to go.
San Diego is now 11-3 and is on the doorstep of getting the No. 2 seed in the AFC playoffs and a first-round bye.
San Diego has won nine straight games. It has won an NFL record 17 straight games in December dating back to 2006. It clinched the AFC West with its win and Denver's loss to Oakland.
This game had a playoff feel to it and the Chargers made the big plays when they had to.
Once again, San Diego showed that no one wants to play this team come the playoffs.
December, 20, 2009
12/20/09
6:20
PM ET
SAN DIEGO ---
Vincent Jackson
just takes over.
The San Diego receiver caught a 34-yard touchdown pass from
Philip Rivers
to give the Chargers a 21-13 lead. For some reason, Cincinnati was single covering the dynamic Jackson. It was his second touchdown catch of the day. Rivers has three touchdown passes.
The Chargers struck quickly. The touchdown came two plays after San Diego cornerback
Quentin Jammer
had an interception at the Cincinnati 40.
The Bengals look flat after they played with a lot of emotion early in the first game after the death of receiver
Chris Henry
. But now, the Bengals look tired. Plus, the San Diego crowd is going nuts.
It may be tough for the Bengals to rebound.
December, 20, 2009
12/20/09
4:56
PM ET
SAN DIEGO ---
Chad Ochocinco
just scored on a 49-yard touchdown pass from
Carson Palmer
to give the Bengals a 10-7 lead over the Chargers in the second quarter.
Ochocinco did not wildly celebrate the big play, as he usually does. He simply dropped to his knees and pointed to the sky.
It was an obvious emotional tribute to former Bengals receiver
Chris Henry
,
who died Thursday
-- a day after suffering major head injuries when he fell out of the back of a pickup truck following a domestic dispute in Charlotte, N.C.
This is an emotional day for the Bengals and Ochocinco's tribute surely inspired his teammates.
December, 20, 2009
12/20/09
3:25
PM ET
SAN DIEGO --
Chad Ochocinco
is on the field and he is wearing his No. 85 jersey.
He was considering wearing No. 15 to honor teammate
Chris Henry
. Henry died Thursday after he suffered major head injuries when he fell out of a truck Wednesday following a domestic dispute. Ochocinco was subject to an NFL suspension had he worn Henry's jersey.
December, 17, 2009
12/17/09
8:20
PM ET
Here's more chatter
connecting Mike Shanahan to the
Washington Redskins
. This talk has been going on for months.
The San Diego Chargers will observe a moment of silence in remembrance of Cincinnati Bengals receiver Chris Henry with players from both teams on the field Sunday prior to the critical game. Henry, 26, died Thursday after suffering major head injuries in an auto accident Wednesday in Charlotte, North Carolina.
Oakland tight Zach Miller did not practice Thursday for the second straight day because of a concussion. There is a strong chance he won't play Sunday at Denver. Receiver Darrius Heyward-Bey also didn't practice Thursday with a foot injury. He likely won't play Sunday, either.
Denver linebacker Elvis Dumervil (toe) and running back Knowshon Moreno (ankle) both practiced fully Thursday. Dumervil didn't practice Wednesday and Moreno was limited. Denver running back Correll Buckhalter didn't practice because of an ankle injury. He likely won't play Sunday.
San Diego linebacker Shawne Merriman didn't practice Thursday for the second day in a row with a foot injury. He will probably play Sunday. San Diego safety Eric Weddle practiced fully for the second straight day after missing the past two games with a knee injury.
Kansas City defensive lineman Glenn Dorsey was limited for the second straight day with a knee injury.
December, 17, 2009
12/17/09
1:50
PM ET
The
San Diego Chargers
have become part of the biggest story in the NFL right now.
The Chargers will host the heartbroken
Cincinnati Bengals
on Sunday. The Bengals are
mourning the loss
of receiver
Chris Henry
. He died Thursday at the age of 26 after suffering major head injuries in an auto accident in Charlotte, N.C., on Wednesday.
Sunday's game has been anticipated because of its major playoff ramifications. The winner will have the inside track on the No. 2 seed and a first-round bye in the AFC playoffs.
Now, it will be watched to see how the Bengals rebound emotionally. Henry will obviously be on the team's mind during the game. The team has announced that coaches will wear pins to remember Henry and players will wear helmet stickers in Henry's memory.
This is the second time this season the Bengals have had to play days after enduring a tragedy. Earlier this season, the wife of defensive coordinator Mike Zimmer died suddenly. The Bengals went out and won an emotionally-charged game at Baltimore three days later.
Now, the Bengals have to try to do it again in San Diego.