April, 15, 2011
4/15/11
12:00
PM ET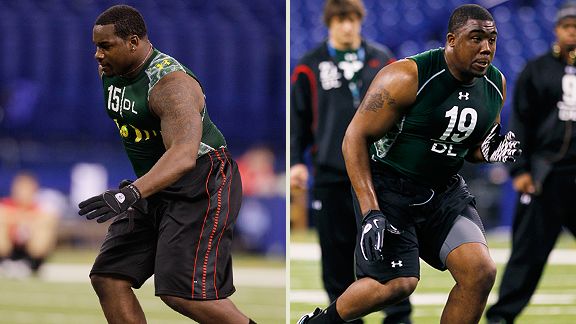 AP Photos, Getty ImagesMarcell Dareus (left) and Nick Fairley are two of the top-ranked defensive tackles in the draft.
There are high expectations for this defensive line draft class.
San Diego Chargers
general manager A.J. Smith says this is the strongest group available in the draft. ESPN draft analyst Todd McShay said that he hasn't seen such an impressive defensive line group at the combine and in workouts.
That's why defensive tackles
Marcell Dareus
of Alabama and
Nick Fairley
of Auburn both could be top-five picks. Defensive ends
Da'Quan Bowers
of Clemson and
Robert Quinn
of North Carolina may not be far behind Dareus and Fairley. The
Denver Broncos
are studying defensive linemen closely and may take Dareus at No. 2.
Even though the talent is high at this position, Denver -- and every other team picking in the top five -- must beware. Taking a defensive lineman with a top-five pick is a major gamble.
Over the past 20 years, 24 defensive linemen have been taken with top-five picks -- with extremely mixed results. For every
Julius Peppers
(drafted No. 2 in 2002) and
Ndamukong Suh
(drafted No. 2 in 2010), there are busts like
Dewayne Robertson
(No. 4, 2003),
Courtney Brown
(No. 1, 2000) and
Steve Emtman
(No. 1, 1992).
Even though he likes this group of defensive linemen, McShay acknowledged earlier in the offseason that the bust rate for defensive linemen is "shockingly high." Matt Williamson of Scouts Inc. said he thinks defensive line and wide receiver are "neck-and-neck" as the riskiest positions in the first round behind quarterback, which is in a different league when it comes to draft uncertainty.
Williamson thinks one of the reasons many top defensive linemen fail is a sense of entitlement. He said top defensive linemen are rare because of their combination of size, speed and ability. They are pampered from an early age and may not work as hard as other, less-coveted players.
"I think it comes down to them just being very special people/athletes," Williamson said. "If you notice, a high percentage of the stud DT talent comes from huge colleges. For example: When I was at Pitt, we just couldn't get great DT recruits. There are just so few people in the world with their size that can move like stud DTs need to. They are very coveted and go to massive programs. Even at the college level, they are freakish enough that they often don't have to work extremely hard to be great. When they get to the NFL, that all changes ... and they often don't adapt in terms of professionalism and work ethic."
Williamson said he believes Dareus will buck the trend and have a strong NFL career and be worthy of a top-five pick. However, he said he has concerns about Bowers and Fairley because they were "one-year wonders [who] would disappear at times."
Studying the history of failure at the position and trying to figure out if this year's prospects can succeed in the NFL has been one of the Broncos' toughest tasks. Vice president of football operations John Elway has acknowledged the risk involved in studying defensive linemen.
"It's so hard to be able to find guys with that size that have athletic ability," Elway said. "Whether they're raw coming out of college or they're polished coming out of college, people see that athletic ability with the size and the speed. You just can't find that, it's very difficult to find those type of athletes that are that big later in the draft. That's why I think you see so many of those guys with the speed and the size do not go very deep in the draft."
Perhaps last year signaled a change in the trend. Detroit took Suh at No. 2 and Tampa Bay took
Gerald McCoy
at No. 3. Suh was brilliant and McCoy was impressive before he was injured. Denver would love to get a player of Suh's or McCoy's caliber in the form of Dareus.
The decade before 2010 didn't produce anyone great other than Peppers, although
Mario Williams
, who was taken No. 1 in 2006, has become a good player.
The Chiefs took defensive tackle
Glenn Dorsey
at No. 5 in 2008 and defensive end
Tyson Jackson
No. 3 in 2009. Dorsey came on strong last season and was a big part of an improved defense after a slow first two seasons. Jackson has shown some flashes, but he has yet to show he was worthy of a top-five pick. Like Dorsey, St. Louis defensive end
Chris Long
, taken at No. 2 in 2008, began to make strides in 2010.
Denver can't afford to wait on production if it takes a defensive lineman with the No. 2 pick. The Broncos were last in the NFL in total defense and points allowed in 2010. Elway has said numerous times that the Broncos have to get this pick right. In a perfect world, the Broncos would take a defensive lineman and begin their resurrection. History, though, shows it's not that simple.
April, 7, 2011
4/07/11
12:00
PM ET
»
NFC Draft Watch
:
East
|
West
|
North
|
South
»
AFC
:
East
|
West
|
North
|
South
Each Thursday leading up to the NFL draft (April 28-30), the ESPN.com NFL blog network will take a division-by-division look at key aspects of the draft. Today's topic: history in that spot.
Denver Broncos

The Broncos' top pick is No. 2 overall. Here are the previous seven players taken in that spot, with their NFL team in parentheses:
2010:
DT
Ndamukong Suh
(Lions)
2009:
T
Jason Smith
(Rams)
2008:
DE
Chris Long
(Rams)
2007:
WR
Calvin Johnson
(Lions)
2006:
RB
Reggie Bush
(Saints)
2005:
RB
Ronnie Brown
(Dolphins)
2004:
OL
Robert Gallery
(Raiders)
ANALYSIS:
This is the Broncos' first top-five pick since 1991, when they took linebacker
Mike Croel
at No. 4. The Broncos would love to have the success Detroit had last year with the pick. Suh looks like a unit changer, and Denver needs a similarly dominant defender. Detroit is the only team to have great success at No. 2 in the past seven years. Along with Suh, Johnson is a fabulous player. There are some good players on this list, though, with no flat-out duds. The Rams hope to see progress in Smith and Long, who made strides in 2010.
San Diego Chargers

The Chargers' top pick is No. 18 overall. Here are the previous seven players taken in that spot, with their NFL team in parentheses:
2010:
C
Maurkice Pouncey
(Steelers)
2009:
LB
Robert Ayers
(Broncos)
2008:
QB
Joe Flacco
(Ravens)
2007:
CB
Leon Hall
(Bengals)
2006:
LB
Bobby Carpenter
(Cowboys)
2005:
LB
Erasmus James
(Vikings)
2004:
DE
Will Smith
(Saints)
ANALYSIS:
This is an interesting group. It shows that teams can find franchise players at No. 18 but also that they can make a major mistake with the pick. Flacco was a tremendous value for Baltimore in 2008. Pouncey looks as if he'll be at center in Pittsburgh for the next decade. Smith has also had a terrific career and was a solid pick at No. 18. James was a terrible pick; Carpenter wasn't worth it; and the jury is still out on Ayers. The Chargers know they have to pick smart. They took linebacker
Larry English
at No. 16 in 2009 and are waiting for a payoff. It's interesting that there are four defensive ends/linebackers on this list. That's exactly the position the Chargers will be looking for with the No. 18 pick.
Kansas City Chiefs

The Chiefs' top pick is No. 21 overall. Here are the previous seven players taken in that spot, with their NFL team in parentheses:
2010
: TE
Jermaine Gresham
(Bengals)
2009:
C
Alex Mack
(Browns)
2008
: T
Sam Baker
(Falcons)
2007:
S
Reggie Nelson
(Jaguars)
2006
: RB
Laurence Maroney
(Patriots)
2005
: WR
Matt Jones
(Jaguars)
2004:
DT
Vince Wilfork
(Patriots)
ANALYSIS:
The Chiefs are not used to drafting this low. Kansas City has picked in the top five the past three years. However, Kansas City general manager Scott Pioli is plenty familiar with having the No. 21 pick. He was with New England when it had the choice in 2004 and 2006. Pioli has seen teams score with this pick and seen teams whiff with it. Wilfork was a tremendous choice, but taking Maroney was a blunder. However, the pick has paid solid dividends in recent years. This doesn't appear to be a bad spot to be in.
Oakland Raiders

The Raiders' top pick is No. 48 overall. Here are the previous seven players taken in that spot, with their NFL team in parentheses:
2010:
QB
Jimmy Clausen
(Panthers)
2009:
S
Darcel McBath
(Broncos)
2008:
TE
Fred Davis
(Redskins)
2007
: LB
Justin Durant
(Jagaurs)
2006:
DB
Cedric Griffin
(Vikings)
2005:
LB
Odell Thurman
(Bengals)
2004:
LB
Dontarrious Thomas
(Vikings)
ANALYSIS:
It's interesting that a quarterback was taken at this spot in 2010. Clausen was the third quarterback taken last year. If a quarterback such as Washington's
Jake Locker
or Arkansas'
Ryan Mallett
takes a similar tumble, we could see a quarterback taken at No. 48 again. This pick has been hit-or-miss, so it could be worth taking a gamble. Oakland picked at No. 47 two years ago and is still waiting for safety
Mike Mitchell
to develop. Last year, Oakland took defensive lineman
Lamarr Houston
at No. 44, and he had a terrific rookie season. In 2007, Oakland took standout tight end
Zach Miller
at No. 38. The Raiders know they can find talent in the second round.
September, 17, 2010
9/17/10
4:30
PM ET
Son of Howie is headed to the Raider Nation.
Leading the St. Louis Rams' defensive line into Oakland on Sunday will be none other than
Chris Long
. He, of course, is the offspring of Raiders' Hall of Fame defensive lineman
Howie Long
, whose is one of the most popular Raiders of all-time.
Long was the No. 2 overall pick of the 2008 draft. When the Rams took him, it took a tough decision away from Oakland owner Al Davis. It would have been interesting to see if Davis -- who lets the franchise's legacy influence his decisions more than any owner in sports -- would have drafted Long or whether he would have still selected running back
Darren McFadden
with the team's No. 4 pick.
In his first two seasons, McFadden was hampered by injuries and ineffectiveness. However, he was a bright spot in Oakland's 25-point loss at Tennessee in Week 1. He had 95 yards rushing and added 55 yards in the receiving game.
Long, too, has been a work in progress. He hasn't been a disappointment, but he hasn't lived up to being the No. 2 pick, either. He has nine sacks in his career.
Oakland's offensive line has been a weak link, so watch for Long to try to be a disruptive force in his first game against his father's former team.