AFC West:

Christo Bilukidi
October, 25, 2013
10/25/13
8:00
AM ET
ALAMEDA, Calif. -- The line between being stung by being cut and feeling wanted by someone else is a fine one indeed.
It's also one about to be walked by new Raiders linebacker
Martez Wilson
, who was claimed off waivers from the
New Orleans Saints
on Wednesday and practiced Thursday with Oakland.
"A new beginning, that's the best way to do it," Wilson said. "You don't forget your past but you let it fuel you, to where a new beginning is about to start. Just take over and dominate."
[+] Enlarge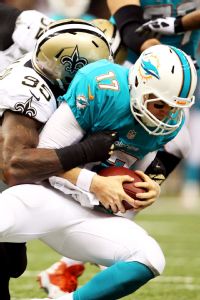 Crystal LoGiudice/USA TODAY SportsMartez Wilson had four tackles, including this sack of Ryan Tannehill, in four games with the Saints this season.
That path, though, won't be traversed this week. Raiders coach Dennis Allen said Wilson will not have had enough practice time to suit up against the
Pittsburgh Steelers
on Sunday.
But there is a reason the Raiders essentially chose Wilson, a third-round draft pick out of Illinois in 2011, over defensive tackle
Christo Bilukidi
, who was a member of Allen and general manager Reggie McKenzie's first draft class as a sixth-rounder out of Georgia State in 2012.
"There are some athletic things that (Wilson) does pretty well," said Raiders defensive coordinator Jason Tarver. "He's shown the ability to rush the passer. It's a new team for him, so all we know is what he does from this point forward.
"In the future we'd like to see what he's going to do in practice. Then we'll teach him the scheme and see what he can do."
In New Orleans, Wilson played on the outside in the Saints' 3-4 scheme. With the Raiders, who play a 4-3, he will play as a strongside linebacker.
"I can play every linebacker position there is: on the line of scrimmage, off the line of scrimmage, I can blitz, I can rush," Wilson said. "So I feel like the more I'm capable of showing ... the coaching staff that I can play and I'm very versatile with my ability, the sky's the limit."
In two-plus seasons with the Saints, Wilson had five sacks and 30 tackles, two passes defensed, a forced fumble and a fumble recovery.
Raiders cornerback
Tracy Porter
played with Wilson in New Orleans in 2011.
"I definitely seen flashes of his athletic ability and the potential that he had, to provide sacks for us and cause fumbles and rushes on the quarterback," Porter said. "So I know the potential that he has and I'm excited that he's here."
As is, the 6-foot-4, 252-pound Wilson.
"It's been great so far," he said. "The coaches seem very excited. The players have been very warm welcoming.
"Man, I'm just excited and ready to ball out."
October, 24, 2013
10/24/13
8:30
PM ET
ALAMEDA, Calif. -- Bittersweet, or simply the nature of the business?
I asked Raiders coach Dennis Allen this in the wake of Oakland cutting a member of the first draft class in the Allen/Reggie McKenzie Era: defensive tackle
Christo Bilukidi
. The move was made to to make room for linebacker
Martez Wilson
.
Bilukidi
"Really," Allen said, "it's the nature of the business. This is a production business and we're going to continue to try to do everything we can to upgrade our roster to help our football team. We felt like being able to take a look at Martez was a good chance for us to upgrade the roster."
No doubt Bilukidi was a project when the Raiders used a 2012 sixth-round draft pick on the Georgia State product, the fifth player ever taken by McKenzie and Allen.
And while Bilukidi appeared in 13 games as a rookie and five more this season, getting a sack of Jacksonville's
Chad Henne
in the Raiders' home opener, it was not enough.
"No," Allen said, when asked if he had, indeed, seen enough to warrant keeping Bilukidi and his sack.
In fact, small sample size and health issues be damned, you could say the same about that entire first draft class, which was already stretched thin due to trades under the previous regime that left the Raiders without a pick until the end of the third round.
In fact, two undrafted rookie free agents from 2012 start for Oakland now: receiver
Rod Streater
and left guard
Lucas Nix
.
"I think part of the draft process is picking up some players, and if you have numbers and volumes of players, your percentages of hitting on those guys are pretty good," Allen said.
"I think we'll see some good things, not only out of the 2012 guys, but some of these guys we drafted this past season. I think that as we keep moving down the road, I think those guys will help us."
Just not right away.
July, 25, 2013
7/25/13
9:35
PM ET
A look at some highlights of our
AFC West chat
, which was held earlier Thursday:
Denver
Ben from Boston:
I've heard a lot of positive buzz about
Julius Thomas
and
David Bruton
. What do you think the odds are that those guys see serious playing time this year?
Bill Williamson
: They both have a shot. They will be given the chance to show what they can do. I think Bruton will play a lot. Health is the key for Thomas.
Kansas City
Bob A from Denver:
Do you think teams will be overlooking KC early in the season due to last year's record? I think that would be a big mistake
BW:
I think Denver respects that coaching staff and the roster. The league knows the Chiefs have ability.
Oakland
Steve from NY:
Any reason to expect Raiders defensive linemen
Christo Bilukidi
or
Jack Crawford
to stand out in Year 2?
BW:
These are exactly the type of players Oakland wants to see develop in a building year like this. They both have some promise. I kind of like Bilukidi. Don't be surprised if he develops quickly.
San Diego
Rick from San Diego:
Will
Johnnie Troutman
be able to help SD out on o-line this year? Any great UFA's we should know about on the Chargers that could make the team too?
BW:
If he can stay healthy, he has a chance to get into the rotation. He has a chance to be a good player.
June, 17, 2013
6/17/13
8:00
AM ET
Our AFC West positional rankings series continues with a look at a young group of defensive linemen:
1.
Corey Liuget
, San Diego: This player has a chance to be a superstar.
2.
Lamarr Houston
, Oakland: A lot will be expected of this talented player on a line in transition.
3.
Derek Wolfe
, Denver: The Broncos are expecting huge things from this second-year player.
4.
Kendall Reyes
, San Diego: The same thing goes for Reyes in San Diego. He has great potential.
5.
Terrance Knighton
, Denver: Jack Del Rio is reunited with this run stuffer. Terrific free-agent addition.
6.
Dontari Poe
, Kansas City: I wouldn't be shocked if this player makes a huge jump in Year 2.
7.
Sylvester Williams
, Denver: The first-round pick has huge potential. He is a good fit for this defense.
8.
Tyson Jackson
, Kansas City: Former No. 3 overall pick will never be great, but he has value.
9.
Mike DeVito
, Kansas City: The Chiefs are thrilled about his free-agent pickup. He can play.
10.
Vance Walker
, Oakland: Free-agent addition was a good rotational player in Atlanta. Gets chance for a bigger role.
11.
Pat Sims
, Oakland: This could be a very good addition if he can stay healthy.
12.
Kevin Vickerson
, Denver: Nothing fancy, but Vickerson is a solid part of a good defense.
13.
Robert Ayers
, Denver: The Broncos need this former first-round pick to contribute with
Elvis Dumervil
gone.
14.
Cam Thomas
, San Diego: The Chargers expect a lot from this promising player.
15.
Christo Bilukidi
, Oakland: I have a feeling he is going to develop quickly.
16.
Andre Carter
, Oakland: Greatest value may be as a leader, which this young team needs.
17.
Jason Hunter
, Oakland: Try-hard player could get a lot of playing time.
18.
Jack Crawford
, Oakland: Second-year player will have a chance to show his value.
June, 3, 2013
6/03/13
8:25
PM ET
ALAMEDA, Calif. -- Some thoughts from the Raiders' OTA session Monday:
I found it interesting that Oakland coach Dennis Allen is putting a huge premium on finding leaders on both sides of the ball. Allen said identifying leaders is "huge" in the big picture.

Oakland is a young team that is going under a major rebuilding movement. The team lost several veteran players and Allen is looking for some players to emerge as leaders to guide the roster, Allen calls it "peer pressure."
Allen sees free-agent pickup linebacker
Nick Roach
and veteran fullback
Marcel Reece
as potential leaders. I agree with Allen. The importance of leadership cannot be discounted. If this inexperienced roster is going to make some noise, it's going to need strong on-field leadership.
Allen said cornerback D.J. Hayden, the team's first-round pick, is still on target to return for the start of training camp in late July. Hayden, who watched practice Monday, had surgery last week to remove scar tissue in his stomach, stemming from a life-threatening heart surgery last November. Allen called the situation "unchartered waters," but he said the team remains confident Hayden should be fine once camp starts.
Receiver Jacoby Ford (hamstring) and defensive tackle Christo Bilukidi (ankle) did not practice Monday.
Cornerback Tracy Porter was noncommittal on whether or not he is going to give up No. 24 to Charles Woodson. Woodson wore the number in his previous Oakland stint. He is wearing No. 2 in practices, but the NFL doesn't allow defensive back to wear single digits. Porter said say the number exchange is up for discussion. Translation: Woodson will have to pay up if he wants No. 24.
Allen was asked about punter Chris Kluwe not being able to attend a Washington D.C. event for gay rights. The event is being held next week during the team's mandatory minicamp. Allen said Kluwe knows his focus has to be on making the roster. It was an expected answer from a coach and frankly, it's the right answer. Players need to focus on the team during the season. Kluwe is a pro. He knows that.
As for Kluwe's competition, Marquette King, Allen said consistency is the key for the strong-legged youngster. Kluwe is the favorite to win the job because of his experience.
Allen said the overall production of this week's media-open session was much better than last week's open session.
Allen expects free-agent picks ups Vance Walker and Pat Sims to improve the team's run defense.
Allen said he wants to further the importance of special teams this year as he moves into his second season as the team's head coach. Allen praised the experience and ability of new special teams coach, longtime NFL assistant Bobby April. Allen thinks improved depth at linebacker and in the secondary can help on special teams.
Allen categorized the tight end position as being "wide open" with every tight end on the roster having a legitimate chance at significant playing time. Allen said if an interesting veteran becomes available at some point, Oakland could show interest. On paper, it is one of the team's weakest positions.
Allen expressed excitement about improvements in both the secondary and at linebacker. As he has all offseason, Allen praised this team for "loving football." He really likes this group of players.
Tony Bergstrom, a third-round pick in 2011, was back working ahead of 2011 undrafted free agent Lucas Nix at left guard. Nix was working ahead of Bergstrom last week. The battle should continue all summer.
Undrafted free-agent receiver Conner Vernon continues to look good. He might have a shot to stick with the 53-man roster.
In other AFC West notes:
New San Diego pass-rusher Dwight Freeney isn't with the team in OTAs yet. Coach Mike McCoy said he expects Freeney in soon. The team is having a mandatory minicamp next week.
Denver running back Knowshon Moreno did some light work as he returned from a knee injury he suffered in the playoff loss to Baltimore.
May, 28, 2013
5/28/13
7:27
PM ET
Reggie McKenzie's first draft pick in Oakland is facing some spring competition.

The Bay Area News Group reported that
Lucas Nix
was working ahead of
Tony Bergstrom
at left guard Tuesday at the Raiders' organized team activities (OTAs). Of course, it is early, and I'd expect both to compete through the summer at the spot previously occupied by
Cooper Carlisle
, who has since been released.
That said, it has to be a bit disappointing that Bergstrom, a third-round pick in 2012, is not taking the early lead. Nix was an undrafted free agent signing last year out of Pittsburgh.
The Raiders drafted Bergstrom as a fit for the zone-blocking scheme Oakland used on offense last season -- an unsuccessful approach the team has since scrapped in favor of a more traditional power-blocking scheme. In February, I asked McKenzie, who took over as general manager in 2012, if he was confident Bergstrom could be part of the future. He was firm in his belief that Bergstrom could indeed fit in the new scheme.
Bergstrom failed to make to a push for major playing time as a rookie. Now it appears he will have to fight Nix moving forward.
In another interesting Oakland OTA note, second-year player
Christo Bilukidi
and free-agent pickup
Vance Walker
were working with the first unit at defensive tackle. Bilukidi showed flashes as a rookie late in the season. Walker was a productive situational player in Atlanta.
As at many positions in Oakland, the Raiders want to see some players take the next step and grab a lead role at defensive tackle. While it is early, Bilukidi and Walker are getting the chance to show they deserve to start.
In other AFC West notes:
Peyton Manning
is
enjoying this offseason much more
than last, when he was recovering from four neck surgeries and adjusting to life in Denver.
Former No. 3 overall pick
Tyson Jackson
is impressing the
new Kansas City brass at defensive end
.
Some bookkeeping reminders: Oakland gets $8 million in salary-cap relief for the
Michael Huff
cut and San Diego gets $4.5 million relief after cutting
Jared Gaither
on Saturday. Both teams will primarily use the money to sign draft picks.
March, 15, 2013
3/15/13
6:15
PM ET
The
Oakland Raiders
have done a nice job by filling their starting linebacking crew in free agency. Now they must work on their defensive line, among other areas.

Oakland, which has six holes in the defensive starting lineup, has three openings on the defensive line for players to join holdover
Lamarr Houston
.
Matt Shaughnessy
, a former mid-round pick, signed a one-year deal with Arizona.
Shaughnessy had potential and played well for Oakland, but he did not play well last season and was replaced by journeyman
Andre Carter
late in the season. Still, the Raiders have holes on the defensive line.
Richard Seymour
is a free agent and
Tommy Kelly
expects to be cut.
Second-year players
Christo Bilukidi
and
Jack Crawford
might get a chance. Oakland might draft Flordia's
Sharriff Floyd
with the No. 3 pick. The Raiders signed Cincinnati's
Pat Sims
at defensive tackle, but Sims has started just one game in the past two years.
Thus, defensive line is a priority for Oakland.
In other AFC West notes:
The Chargers re-signed running back
Ronnie Brown
and signed
Danny Woodhead
on Friday. Both are different types of backs who will back up
Ryan Mathews
. I can still see the Chargers bringing in a running back (probably a bigger one) in free agency or in the draft.
Arizona signed former San Diego starting cornerback
Antoine Cason
to a one-year deal. The Chargers didn't have much interest in bringing him back.
San Diego pass-rusher
Antwan Barnes
left his visit with the Jets without a deal.
February, 4, 2013
2/04/13
11:00
AM ET
For the second straight year, as the new brass tries to rebuild, the
Oakland Raiders
will likely undergo major change this offseason.

A place where serious change could occur is on the defensive line as the team tries to get younger and cheaper all the while trying to get better. A couple of years ago, the Raiders had one of the most physical, fiercest defensive lines in the NFL. But in 2012, the unit got old, and it its overall production waned.
Thus, change is in store.
Defensive tackle
Richard Seymour
is a free agent and very likely will not return. Defensive tackle
Tommy Kelly's
production fell as well in 2012, and he is a top candidate to be cut, because Oakland is currently over the salary cap for 2013. Kelly, 32,
reportedly has a salary cap number of more than 11 million in 2013.
He has two years remaining on his contract. The Raiders reportedly could save more than $7 million if they cut Kelly.
So, at this point, it would be surprised if he is kept.
The change on the line doesn't just affect the inside players. Defensive end
Matt Shaughnessy
is a free agent. He was once considered a potential standout, but his play slipped in 2012 and he lost playing time to fellow free-agent
Andre Carter
, who was signed during the season.
Desmond Bryant
is also a free agent. At times, he was one of Oakland's best defensive linemen last season. Bryant could get interest on the open market.
Thus, Oakland might have to find a way to replenish a lot of positions on the line. Its anchor is
Lamarr Houston
, who, at times, looks like an upper-echelon lineman. Houston is versatile and can play across the line.
The Raiders will give 2012 draft choices
Christo Bilukidi
(defensive tackle) and
Jack Crawford
(defensive end) a chance to develop in 2013. They showed nice promise as rookies.
There is a strong chance Oakland will use the No. 3 overall pick on a defensive lineman. The top candidates are ends
Damontre Moore
(Texas A&M),
Barkevious Mingo
(LSU) and
Bjoern Werner
(Florida State), and defensive tackle
Star Lotulelei
(Utah).
Change is a theme in Oakland again, and it might start on the defensive line.
September, 1, 2012
9/01/12
12:05
AM ET
Click
here
for the complete list of
Oakland Raiders
' roster moves.

Most significant move:
Putting starting linebacker
Aaron Curry
on the reserve/physically unable to perform list. He has been out all camp with knee problems. This is good news, because there was a thought he could end up on the injured reserve. Now Curry can come back to practice Oct. 16. He will likely be replaced in the starting lineup by fourth-round pick
Miles Burris
. I think Oakland will look for some linebackers in the coming days as well. As expected, young tight end
David Ausberry
made the team and he will continue to develop. They are high on sixth-round pick, defensive tackle
Christo Bilukidi
. He is raw, but he has big potential and he can learn without urgency because he is on a top-notch line. Cornerback
Bryan McCann
made the team and he could be the starting punt returner. As expected, punt returner
Roscoe Parrish
, who was cut by the Chargers on Monday and quickly signed by the Raiders, was cut after he fumbled two punts Thursday at Seattle.
Onward and upward:
Defensive lineman
Dominique Hamilton
was caught in a numbers game. He was impressive in the preseason but he is likely headed to the practice squad. Rookie free-agent receiver
Derek Carrier
is probably not headed to the practice squad at this point. The team was very high on him after the draft, but he fell behind other rookie receivers such as fifth-round pick
Juron Criner
and fellow undrafted rookie
Rod Streater
. Both those players made the team and should be part of the rotation. However, rookie receiver
Brandon Carswell
could be practice-squad bound. Rookie linebacker
Chad Kilgore
could also be headed to the practice squad. He looked good in the preseason. Linebacker
Nathan Stupar
, a seventh-round draft pick, was a surprise cut after he had a strong preseason. I could see him being claimed elsewhere. If not, I'm sure Oakland will try to put him on the practice squad.
What's next:
I expect the Raiders to be very busy in the next few days. Depth is a big problem because of a salary-cap issue and a lack of draft picks the past two years. The Raiders' lack of depth was a serious problem in the preseason. I think the Raiders could use help at running back, tight end, the offensive line, and linebacker and in the secondary. Yes, they could be busy. Among the players Oakland could look at include
Rock Cartwright
,
Tim Hightower
,
Joselio Hanson
,
Justin Miller
and
Chris Cooley
. Oakland could also be on the lookout for a pass-rusher. It worked out
Andre Carter
recently, but he reportedly isn't healthy enough to sign anywhere.
August, 25, 2012
8/25/12
11:10
PM ET
A look at the Raiders'
31-20 home victory
Saturday night:
Oakland's first preseason win came courtesy of some late-game offensive explosions.


Terrelle Pryor
can run and he's exciting. There's no doubt. He lit up the stadium with a 59-yard run and a 17-yard touchdown jaunt, totaling 90 yards rushing on five carries. But most importantly, he made some nice passes and hit rookie
Juron Criner
for two touchdowns (39 and 76 yards) in the fourth quarter. Pryor finished 3 of 5 passing for 137 yards. If he can throw the ball consistently, he could have a future. Saturday was a promising day for Pryor, who has struggled this summer.
As for Criner, it was a nice show for the home fans after impressing his teammates in camp all summer.
Oakland quarterback
Carson Palmer
's uneven preseason continued. He had his moments, but he also threw two interceptions. Palmer has thrown four interceptions in the preseason; he threw 16 picks in 10 games last season. Again, that is Palmer's biggest area of concern.
Palmer did engineer a long scoring drive in the first half -- a promising sign.
Oakland kicker
Sebastian Janikowski
suffered a groin injury and left the game after trying to make a tackle on a 79-yard kick return. It is not known how long Janikowski -- the best kicking weapon in the NFL -- will be out. His replacement, rookie
Eddy Carmona
, drilled a 56-yard field goal, and perhaps he'd kick if Janikowski's injury lingers into the regular season. Still, Oakland needs Janikowski to have a quick recovery.
Oakland's special teams need some work. They are usually stellar, but have been a little sloppy this preseason. The Raiders have had key injuries on special teams and I don't think it is an issue yet.
Oakland's defense played solidly again. Detroit quarterback
Matthew Stafford
went down with a hand injury in the second quarter; he had been pretty successful before getting hurt. His backup,
Shaun Hill
, took over and had some success.
Undrafted rookie receiver
Rod Streater
had five catches, giving him 18 for the preseason. He started Saturday because of injuries, which is a major accomplishment for an undrafted rookie. It looks like he will get a chance to contribute when the regular season starts.
The Raiders had some early penalty problems after being pretty clean in the first two games. They had four pre-snap penalties and were penalized a total of nine times for 59 yards. Cutting down on penalties has to be a priority for Oakland, which set NFL records for penalties and penalty yardage in 2011.
Oakland reserve running back
Taiwan Jones
had a nice game with 50 yards on 10 carries. He will be a key factor behind starter
Darren McFadden
.
Fellow Raiders back
Mike Goodson
had 18 yards on seven carries. But he didn't fumble after fumbling twice last week.
Oakland allowed just one sack all game.
Young defensive linemen
Jamie Cumbie
,
Jack Crawford
and
Christo Bilukidi
all looked good and all have promise.
June, 7, 2012
6/07/12
3:20
PM ET
The
Oakland Raiders
have gotten in the draft-pick-signing game.
The team announced it has signed three of its six 2012 draft picks. The Raiders signed fifth-round pick, defensive lineman
Jack Crawford
, and sixth-round picks, defensive lineman
Christo Bilukidi
and linebacker
Nathan Stupar
.
Third-round guard
Tony Bergstrom
, fourth-round linebacker
Miles Burris
and fifth-round receiver
Juron Criner
remain unsigned.
There are six unsigned rookies in the AFC West. The Chargers have signed their entire class.