AFC West:

Chuck Breshnahan
January, 1, 2012
1/01/12
8:31
PM ET
A look at a blown opportunity by the
Oakland Raiders
as they lost
38-26
against the
San Diego Chargers
.


What it means:
The Raiders will never forget this day. All Oakland had to do was beat the eliminated Chargers at home and they would have won the AFC West title because the
Denver Broncos
already lost at home to the
Kansas City Chiefs
. Yet, the Raiders were thumped by the Chargers, a team that the Raiders had completely handled the past three times they met. San Diego was the better team as the Raiders ended the season losing four of their final five games to finish 8-8. The Raiders haven't been to the playoffs in nine years and are tied for the second longest drought in the NFL.
Support for Turner:
It was probably too late, but give credit to the Chargers for playing hard for coach Norv Turner. He will likely be fired because the Chargers failed to make the playoffs for the second straight year. Still, if this was the end, it was impressive.
Jackson's prediction doesn't come true:
Oakland rookie head coach Hue Jackson predicted earlier in the season the Raiders would win the AFC West. He and his troops had their chances, but they couldn't get it done. Next season, Jackson needs to just coach and not prognosticate.
Palmer isn't a difference maker:
The Raiders traded two premium picks (including their first-round pick in April) to Cincinnati for
Carson Palmer
.Palmer did throw for 417 yards, but he wasn't the difference. Now, the Raiders have to move forward with the 32-year-old and hope he doesn't continue to decline as he had for the past three years. The Raiders went all in for 2011 with the Palmer trade and all they got was a second straight 8-8 season and no playoff berth.
Penalty kings:
To add injury to insult, the Raiders set the NFL season record for penalties and penalty yardage Sunday. Oakland was penalized 163 times for 1,358 yards, surpassing the totals of 158 penalties for 1,304 yards set by the 1998 Chiefs.
Another bad defensive day for Oakland:
San Diego was awesome on offense. It had 463 yards and never punted. Expect the calls for Oakland defensive coordinator Chuck Breshnahan to be fired to get very loud.
October, 2, 2011
10/02/11
10:34
PM ET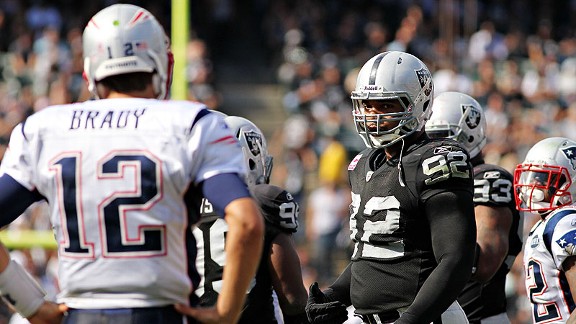 Cary Edmondson/US PresswireOakland defensive end Richard Seymour racked up three penalties in a loss to the Patriots.
OAKLAND – The Oakland Raiders' loss to the
New England Patriots
isn't devastating in the grand scope of the season.
Oakland is now 2-2 and trails San Diego by one game in the AFC West. Not being ready to hang with
Tom Brady
and friends is not the end of the world for a program that is growing early in the season. The Raiders still can be good in 2011.
But what the
31-19 loss
to the Patriots did show the Raiders is they are not yet ready to be considered a top AFC team. They can get there and now know exactly what they have to do to take the next step.
They must play better defense, they most stop the self-destructive penalties and quarterback
Jason Campbell
has to play mistake-free.
All three areas were major issues for Oakland in a game where it simply couldn't keep up with a better team.
"We just didn't play well," Oakland coach Hue Jackson said. "That's the way it is."
New England's offense moved the ball at will. Brady, who was more efficient than electric Sunday, threw for 226 yards and the Patriots ran for 183 yards. New England spark-plug receiver
Wes Welker
picked on a young, hurt secondary as he caught nine passes for 158 yards. The Raiders have now allowed 113 points in the first quarter of the season.
Oakland helped the Patriots by committing nine penalties for 85 yards. The Raiders, who have been the most penalized team in the league in recent years, have committed at least seven penalties in each game this season.
Campbell endured his first poor game of the season even though he passed for 344 yards. Campbell, who has been efficient, threw two terrible interceptions. An interception in the second quarter in the end zone by New England safety
Patrick Chung
was the turning point of the game. Campbell threw the ball right at Chung.
"I don't make those kind of mistakes," Campbell said. "As soon as a I threw it, I said, 'Oh shoot, I hope he drops it.'"
It wasn't dropped. However, Oakland did drop an opportunity to show the Patriots and the rest of the conference it is ready to make a serious run at the playoffs for the first time in nine years. Oakland came roaring into this game off the glow of a tremendous win over the
New York Jets
last week at home.
The Raiders were opportunistic and authoritative in that game. They dictated the game. That never happened Sunday.
Oakland knows it has shoring up to do.
The mood in the Oakland locker room after Sunday's game was as it should have been. It was quiet, but there was not an air of despair. The Raiders know they were outplayed Sunday and they know their mistakes were too plentiful. But they aren't packing in it because of a loss on October 2.
"One game doesn't change a season, but we do need to play better," said Oakland defensive end
Richard Seymour
, who was clearly fired up to play the team that traded him two years ago. Seymour committed two 15-yard penalties on the Raiders' first defensive drive. He added another 5-yard penalty later.
"They outplayed us. We couldn't make enough plays. But we can fix those things," Seymour said.
Oakland's most urgent issue to address is the defense. There are talented players on this unit, however, it continues to get gutted in both the run and passing game. If Oakland's stellar defensive line doesn't harass the quarterback, the Raiders' defense fails. Brady was sacked just once and he was hit just four times Sunday.
[+] Enlarge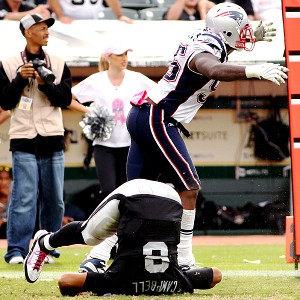 Cary Edmondson/US PresswireJason Campbell had his worst game of the season in a loss to the New England Patriots.
New England kept Oakland off balance because it passed and ran the ball so well. According to ESPN Stats & Information, the Patriots ran for 174 yards on 21 carries (an average of 8.3 yards per carry) when the Raiders played seven or fewer defenders in the box. The Raiders entered the game allowing 6.6 yards per carry in those situations, which led the league.
Oakland was no better against the pass. They had no answer for Welker. This secondary has been picked on all season. Opponents -- beginning at potent Houston next week -- will continue to peck away Oakland's secondary until the Raiders prove they can make stops defensively.
Jackson and defensive coordinator Chuck Bresnahan have a lot of work to do, or the Raiders will simply have to outscore opponents all season.
Campbell wasn't up to that task Sunday. Once the Patriots started taking control in the third quarter, it was evident the Raiders couldn't keep up. According to ESPN Stats & Information, Oakland sputtered deep in New England territory. Campbell completed just 54.5 percent of his passes inside the Patriots' 35-yard line. He completed 67.9 percent of those passes outside New England's 35.
"We'll learn from this game," Campbell said. "That's the good thing."
This game will provide plenty of coaching points for Jackson and his staff this week. These Raiders now know what they can't get away with against the NFL's elite teams.
March, 17, 2011
3/17/11
4:00
PM ET
Overall, the hiring of Chuck Bresnahan as the Oakland Raiders' defensive coordinator didn't get rave reviews by our readers.
Our sound-off question this week was whether or not fans were pleased with the hiring of Bresnahan to be Hue Jackson's first defensive coordinator. Bresnahan was promoted to defensive coordinator last week, more than a month after being hired for an unspecified defensive coaching role. He was the Raiders' defensive coordinator early last decade when the team had success. He worked with Jackson in Cincinnati.
The Raiders were linked to other coaches around the league before Bresnahan was promoted but nothing materialized. It seems many readers found the hire to be uninspired and many readers were hoping the team would pursue a young defensive coordinator.
Still, there is a faction of fans that likes the Bresnahan hiring. I don't have a huge problem with it. Bresnahan knows what Oakland owner Al Davis wants and he'll run his unit accordingly. He is known as an energizer and as a vocal teacher.
Below are some of your responses. Thanks to everyone who participated:
Corair214 from Las Vegas:
Chuck Bresnahan again! Really?! Why?! His defenses were always middle of the road, ok against the pass and ok against the run. But, what about his favorite defense? The one he calls every single game? The defense that has cost Oakland more games than Jamuckup Russell? That's right! The PREVENT DEFENSE is back! Prepare to sit in agony as this defense prevents Oakland from winning the close and semi-close games again. Prevents us winning the AFC championship again.I hope ths is just a money saving promotion until after the lock out and the Raiders hire a real DC.
Dan from Syracuse:
I'm an NOT in any way a supporter of the Bresnahan hire. People relate him to the team that went to the Super Bowl and the late 90s/early 2000's Raiders, but people forget that Willie Shaw put that defensive together. Bresnahan inherited a talented group, just like Callahan did the year Oakland went to the Super Bowl. Bresnahan's defense continually got beat and the only reason the Raiders kept winning was because the offense was so good...so NO. I wish they went elsewhere for the hire. I would've liked to see
Winston Moss
get a chance.
K-Dog from Oakland:
The move makes sense. Oakland rattled a couple of trees to see what young aspiring coach would be interested. In the end, no one stepped up that was a good fit, so they went with Chuck Bresnahan as their quality fall back guy.
Brian from Clovis:
I like us going with Chuck Bresnahan. I don't know much about him but our defense was one of the best in the league when he was d-coordinator. Greg beikert and Rod woodson played for him and now they are his assitants..by the way I think if Rod wants to be he could be a great d-coordinator then great head coach..DBs do well as coaches, Tony Dungy, Jeff fisher, Dick Lebeau.
Adrian Lopez from Kansas City:
I'm a Little disappointed for a couple of reasons, one being that to my understanding we didnt even look at other candidates or interview the ones who were "hot" commodities. I think by promoting Bres your sending the message that we had to settle for a guy because no one else would come. With that said tho i still think the core of our defense will not be impacted by it much at all.. WE have veterans who will give it their all and have a coach with previous experience.- I justhope Asomugha decides to stay with the Force and bully that we are building.
Kim Deal from California.:
It was exciting to hear that the Raiders were linked to young and up & coming coaches during their search for DC. Al Davis has always had success when looking for coaches out of those ranks, only rivaled, perhaps, with his ability to find talent in the 4th round and on in the draft. He has not had the same success, though, when he has revisited old coaching situations. Still, Bresnahan has at least continued his success after leaving the Raiders. It sounds as though he continues to be well respected as a defensive mind and coach. The thing that inspires the most hope is that this feels like it?s a move Hue Jackson will embrace if this was, like in most cases, a pure Davis hire. Bresnahan may be afforded ample opportunity in respect to time at the job, freedom to run his own scheme, and currently roster talent. Continuity and freedom to perform has been, in my estimation, the most lacking in the Raiders organization?ok, maybe talent evaluation (1st-3rd round). Though the hiring of Bresnahan is not awe inspiring, it is a solid move that will give the Raiders something they?ve lacked for some time now.
Mike from San Diego:
I am not a big fan of the Bresnahan hire. I wish some of the rumors of Oakland wanting some of the Green Bay defensive assistant coaches would have materialized. However, I will say this. The last time the Raiders were able to somewhat stop the run was with the combination of Waufle and Bresnahan, so maybe there is a silver lining to this hire
Kyle Mayberry from Los Angeles:
As a Raider fan, I'm disappointed that they were unable to hire one of the position coaches from the Packers. I thought either Moss or Perry would have a better chance to implement some more modern defensive schemes. Al tends to listen to younger, creative guys (at least initiall), where as Bresnahan is surely going to run the same man to man Cover 1 that can't stop the run and gives up the deep ball.
O2Raider from Vegas:
Hey Bill, writing in response to the What do
Oakland Raiders
fans think of the team promoting Chuck Bresnahan to defensive coordinator? Personally I am worried about this move. Sure the Raiders had good defensive stats back when he was here. But I think that had more to do with how awesome the Raiders offense was. When you have
Rich Gannon
,
Tim Brown
,
Jerry Rice
,
Jerry Porter
,
Charlie Garner
, etc playing on offense and keeping the defense off of the field it helps to pad the defensive stats. (Example the Colts). Just my thoughts.
Buzzy from Oklahoma:
I love the decsion to promoted Chuck Bresnahan to Defensive Coordinator. He did a great job last time he was with the Raiders. Our defenses during that time if i remember right was really good. I'm pumped about the way this year's coaching changes are going, if only we could change owners. One more thing too WE NEED TO SIGN NNAMDI AND MILLER ASAP!
Kevin from Lebanon, Ore.:
It sure feels like Bresnahan is the Tom Cable of D-coaches. Just a guy, I am really surprised that Big Al didn't get Winston Moss out of Green Bay. I thought he would have made the most sense. Mr. Davis loves to have a couple potential HC's on staff, just in case of a mid-season scapegoat scenario. I know this, Chuck looks a lot better at the end of the season if Nnamdi comes back.
Jason from Anaheim:
I think it's a good promotion. Both Chuck and Al know what to expect from each other. Chuck's defence did well when he was here before. We all know that Al (Coach) Davis has certain things he requires in his defence. Better to have some one who can work with that and get results than some one who will be fighting it all season.