June, 17, 2014
6/17/14
7:30
AM ET
ENGLEWOOD, Colo. -- When John Fox was forced to miss a month of the
Denver Broncos
' 2013 season following surgery to replace a valve in his heart, people in all levels of the organization spoke of missing the energy Fox brings to work every day.
The team's head coach consistently makes it a point to touch base with everyone in the organization -- in the hallway, the cafeteria or even just a stroll across the parking lot. Fox has often said he believes a successful team "has a lot of people who have a part in that and feel like they have a part in that. We need everybody to get where we want to go, and that's everybody."
Fox has said that plenty of his approach in his current job was learned from the man who hired him for his first job in the NFL -- Chuck Noll.
[+] Enlarge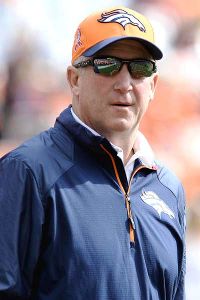 Ron Chenoy/USA TODAY SportsJohn Fox got his first coaching job in the NFL with the Pittsburgh Steelers under coach Chuck Noll.
Noll, a Hall of Famer with four Super Bowl wins as coach of the
Pittsburgh Steelers
, died at his Pittsburgh-area home Friday night. He was 82.
In 1989, Noll hired an up-and-coming University of Pittsburgh defensive coordinator to be the Steelers' secondary coach -- a guy named John Fox. Fox has been in the NFL since, having led two teams into a Super Bowl -- the 2003
Carolina Panthers
and the Broncos this past season.
"I had to get directions to Three Rivers Stadium," Fox said Monday after the Broncos' practice. " . . . I've got to admit I was nervous."
"I know what he meant to the city of Pittsburgh and I know what he meant to the Pittsburgh Steelers organization and what he meant to the Fox family as well," Fox added. "That was my first opportunity in pro football and can't think of a better guy to start my career with. The guy was constantly trying to acquire knowledge no matter what realm it was. He was a tremendous teacher and ... he'd coach anybody at any time."
Fox often recalls Noll's approach with people. If Noll met a person and asked about their job, he would learn all he could about that job on the chance he would meet the person again.
"Didn't matter what the job was," Fox said. "If it was a welder, a wine collector or accountant, he was always trying to find out more."
Beyond all of the details of football, Fox said, he also learned from Noll the value of being the calm within the storm, the necessity to teach, and the desire to continue to work the basics no matter how accomplished the players on the field might be.
In Fox's first season with the Steelers, the team lost its opener, at home, 51-0 to the
Cleveland Browns
, followed by a 41-10 loss at Cincinnati in Week 2. The Steelers fumbled six times in the loss to the Browns, losing five of them; the Bengals rolled up 520 yards of offense.
Fox said he often thinks about how Noll conducted himself in those two weeks with the team -- uncompromising in his expectations, but without panic or misplaced emotional distress. The Steelers went on to finish 9-7 and advanced to the playoffs, where they earned an opening-round win at Houston over the Oilers.
Fox applied that lesson when the Broncos opened the 2011 season -- his first with the team -- 1-4 before they put Tim Tebow in at quarterback. They re-tooled the offense in the bye week and dropped the read-option into the NFL's lap. They finished 8-8 and got an overtime win over the Steelers in the playoffs.
"That first year in the league we got whipped 50-something to nothing twice in a row and ended up fighting back and getting into the playoffs," Fox said. "His even-keeled approach, his technique orientation and his teaching ability ... Those are the kinds of things you always use and you always will."
January, 27, 2014
1/27/14
7:00
PM ET
JERSEY CITY, N.J. -- John Fox's introduction to NFL coaching was a bit rude, but it has also provided some of the best teaching points from a mentor he believes was simply a great teacher.
Fox joined Hall of Famer Chuck Noll's staff in Pittsburgh in 1989 after Fox's three-year stint at the University of Pittsburgh. And as a 34-year-old defensive backs coach in his first two NFL games, Fox saw the Steelers lose 51-0 to Cleveland in Week 1 and 41-10 to Cincinnati in Week 2.
With that he also learned some things from Noll that Fox says he still applies now as he closes in on the finish of his 12th season as a head coach.
"I was very blessed to be with Chuck Noll as head coach," Fox said. "We kind of had a bizarre season. We started the first two games -- I think we got beat 51-0 at home by Cleveland ... then, we went to Cincinnati, which was a very good football team, and we lost. It wasn't a very tremendous start. Everybody was down. And of course, fans as they are, were a little bit honest. He stayed even keel. That is the most valuable lesson: to be the same guy and don't go through the highs and lows because it is very easy to do, especially with outside influences."
Fox talks about that season often. The Steelers finished 9-7, winning their final three games of the regular season and Fox has consistently said Noll handled it all with grace and focus.
This season, the Broncos' bumpy ride included the offseason arrests of two front-office executives in separate DUIs,
Von Miller
's six-game suspension, a pile of injuries and Fox's own health scare when he had open-heart surgery in early December. Fox said the team, from the front-office, to the coaches, to the players, simply kept working through all the issues.
"(Noll) was a tremendous technician in the individual fundamentals of football, which was something very important to him. I still believe it comes down to blocking and tackling, even at this level," Fox said. "Sometimes, we lose sight of that with the schemes and stuff. I really think it is staying even keel, not experiencing the highs and lows that a football season can bring to you. And really, the technique, and not more of the 'want to' but the 'how to' play football."
May, 25, 2013
5/25/13
2:00
PM ET
Former
San Diego Chargers
coach Sid Gillman is No. 18 on ESPN's list of all-time NFL coaches.

He coached the Chargers from 1960-71. The Chargers won five division titles and one league championship in the first six years of the American Football League, which merged with the NFL in 1970.
Gillman was considered the godfather of the passing game.
"Sid Gillman is still the father of the modern-day passing game at all levels of football: the National Football League, collegiate football, high school football, and even down to Pop Warner," said longtime NFL quarterback and ESPN analyst Ron Jaworski, whom Gillman tutored for three seasons. "The concepts that he developed are still being used at every level of football."
Gillman influenced several major NFL figures including Al Davis, Chuck Noll and future San Diego coach Don Coryell, who took Gillman's principles and made the "Air Coryell" Chargers famous.