July, 31, 2011
7/31/11
5:21
PM ET
May, 20, 2011
5/20/11
12:00
PM ET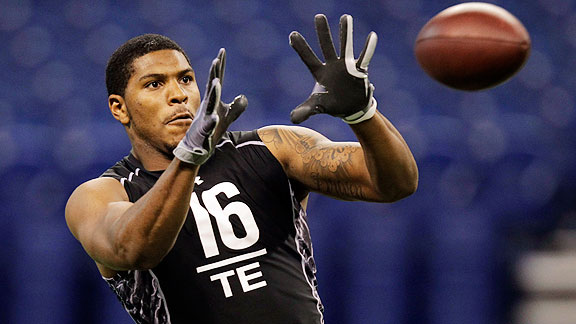 AP Photo/Michael ConroyThe Broncos are hoping former basketball player Julius Thomas can be the next Antonio Gates.
Just because
Antonio Gates
made the transition from basketball to the NFL, it doesn't mean everyone can do it.
Yet, in the past several years, Clancy Barone has seen a trend at the college basketball level.
"Antonio Gates made it look easy, but it's not," said Barone, who coached Gates earlier in his career and is now Denver's tight ends coach.
"It seemed like every college basketball player who wasn't going to the NBA, that they would be the next Antonio Gates. It's not the case … It's not for everybody. There's just a select few that can make it work."
Last season, New Orleans rookie
Jimmy Graham
excelled after playing one season of college football at Miami following a four-year basketball career at the school. Barone and the
Denver Broncos
hope
Julius Thomas
is the next player to make it work.
Denver took Thomas in the fourth round of last month's draft despite the fact he played just one year of college football at Portland State. Thomas was a star on the team's basketball team and walked on to the football team after his hoops eligibility ran out. Prior to that he played just one year of high school football in Stockton, Calif.
Denver sees something in Thomas, though, and the Broncos think he can join Gates and Graham as the rare players who can transition from being a college basketball player to being an NFL tight end. I don't count Atlanta's
Tony Gonzalez
–- the greatest tight end of all time –- among that group because he was a college football star who also played basketball at California. Make no mistake, Gonzalez, a first-round pick, was a football player first.
[+] Enlarge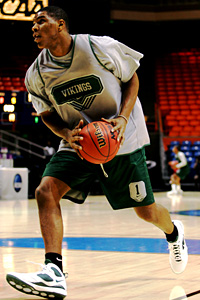 Brian Losness/US PresswireJulius Thomas averaged 10.8 points and 5.9 rebounds per game during his final season of basketball at Portland State in 2009-10.
Thus, it was Gates who started this trend. A high school football star in Detroit, he was a standout on the Kent State basketball team that made an Elite Eight run in 2002. The Chargers signed him as an undrafted free agent project in 2003 and he quickly developed into a prime offensive weapon.
Barone soon heard of other college basketball players who wanted to try out the NFL tight end gig. Denver gave a cup of coffee to former Mercer hoopster
Wesley Duke
. Former George Mason star Jai Lewis had an unsuccessful whirl at the NFL. Cleveland drafted former BYU basketball player
Jordan Cameron
, who eventually transferred to USC to play football, in the fourth round last month.
"It's not for everybody," Barone said. "Gates is a future Hall of Famer and now, all of sudden, everybody wants to do it. You look at guys because of the athleticism and the body build. But they must have toughness to be a football player and the willingness to learn football. Antonio Gates is a student of the game. That's part of the reason why it worked for him."
Still, Barone admits the success of Gates made him more willing to take a look at Thomas, who wowed NFL scouts with his athleticism at the NFL combine. Thomas, who played well for Portland State last season, is 6-5, 245 pounds and has 4.6 speed in the 40-yard dash.
Barone said one of the first things he told Thomas when he worked him out -- Thomas said he had his best pre-draft experience with Barone -- was that he would be inundated with Gates comparisons because of their similar journey. He told him not to buy in to that talk, that Thomas will have to pave his own way to NFL success.
With that said, Barone admits there are some comparisons beyond the college basketball connection.
"When I sat down with Julius, I saw some things that were very similar to Antonio," Barone said. "He gets the game. He understands it very well and he had great body control like Antonio."
Thomas said he will study Gates' game not only because he, too, was a college basketball player making the transition to tight end, but also simply because Gates sets the gold standard for tight end play.
"He is a guy that you can study and really start to model some of the things you do after," Thomas said. "I take it as an honor to be included in the same sentence as a lot of guys who have played basketball and transitioned to football and done well. That's a standard that I want to hold for myself, being successful in making that transition. Being compared to Antonio Gates is a great start for me. I'm going to go ahead and work as hard as I can to make that comparison as similar as possible."
Matt Williamson of Scouts Inc. thinks Denver made a worthwhile risk in taking Thomas. Williamson realizes the Gates' comparison is lofty, but the fact that Thomas played basketball is not exactly a negative.
"It's a worthwhile risk for sure," Williamson said. "When I was in recruiting at Pitt, we very much liked seeing high school kids with a basketball background. It was different at that level of course. They had size, were in shape, had good hand/eye coordination and knew how to use their body to shield defenders from the ball. Of course, that transition is much harder going from college to the NFL … I do think it is very worth the risk and I am quite curious to see how (Thomas) does in the NFL."
Not as curious as Barone.
"We've seen it work before," Barone said. "We'd like to see it work again."
April, 30, 2011
4/30/11
10:30
PM ET
ENGLEWOOD, Colo. -- Denver plans to bring back veteran safety
Brian Dawkins
at this point. He may need to take a pay cut. New Denver coach John Fox loves veterans and Dawkins' presence should help rookie safeties
Rahim Moore
and
Quinton Carter
.
Denver never took a defensive tackle, despite it being its greatest need. It's no surprise Denver didn't take a defensive tackle on Saturday. Once the second round passed, there weren't many quality prospects available.
The rumor mill in Denver is already spinning a Kyle Orton-Albert Haynesworth trade. Washington needs a quarterback and Denver needs defensive tackle. Makes senses, would Denver want to pay Haynesworth?
Expect Denver's starting linebacker crew to look this way: Von Miller at strongside linebacker, third-round pick Nate Irving in the middle and veteran D.J. Williams on the weakside.
Denver second-year quarterback Tim Tebow said he was pleased to hear Denver leader John Elway is behind him. Elway said Saturday that Denver will look at the top quarterbacks in every draft. Denver looked at the top eight quarterbacks this year without taking one. Fox, once again, said Orton is the starter as of now. Still, I expect Tebow to get the chance to play in 2011.
The Raiders took two receivers who played for former Oakland coach Lane Kiffin. They took Tennessee receiver Denarius Moore in the fifth round and USC receiver David Ausberry in the seventh round. Moore is fast, but he has issues with his hands. Ausberry is very big and he is an interesting prospect. Oakland has a lot of young receivers so these two players will have to work to make the team.
In his first draft, Elway took a player from Cal -- linebacker Mike Mohamed -- without taking a player from his alma mater. Mohamed, a candidate to play right away on special teams, said Elway noted that fact in a phone conversation Saturday.
Denver entered the draft wanting four immediate starters. It may have gotten five in Miller, Moore, Carter, Irving and right tackle Orlando Franklin.
Fox noted that Denver tight ends coach Clancy Barone was part of Antonio Gates' development in San Diego. Barone is in charge of making fourth-round pick Julius Thomas an NFL player. He played one year of college football after playing college basketball. Gates played college basketball but not college football.
The Chiefs made an intriguing pick in the sixth round in defensive tackle Jerrell Powe of Mississippi. He fills a need for the Chiefs. He is the massive run plugger that the team has been seeking. He was considered a first-round possibility a year ago. He has stamina issues, but he could help in a limited role as a rookie.
Denver took Oklahoma defensive end Jeremy Beal, who was productive in college even though he didn't test well at the combine. He had 28.5 sacks and 53.5 tackles for losses in college. That's a steal in the final round.
March, 16, 2011
3/16/11
10:00
AM ET
Thanks to ESPN Stats and Information's Russell S. Baxter, here is a look at the complete coaching staffs of each AFC West team:

Denver:
John Fox
Dennis Allen, defensive coordinator
Mike McCoy
, offensive coordinator
Jeff Rodgers, special teams coordinator
Clancy Barone, tight ends
Keith Burns
, assistant special teams
Brian Callahan, quality control/offense
Adam Gase, quarterbacks
Sam Garnes
, assistant secondary
Justin Lovett, strength and conditioning assistant
Dave Magazu, offensive line
Ron Milus, secondary
Wayne Nunnely, defensive line
Jay Rodgers, quality control/defense
Greg Saporta, strength and conditioning assistant
Richard Smith, linebackers
Eric Studesville, running backs
Tyke Tolbert, wide receivers
Rich Tuten, strength and conditioning

Kansas City:
Todd Haley
Romeo Crennel, defensive coordinator
Bill Muir, offensive coordinator/offensive line
Maurice Carthon, assistant head coach
Richie Anderson, wide receivers
Mike Clark, strength and conditioning
Gary Gibbs, linebackers
Steve Hoffman, special teams
Bernie Parmalee
, tight ends
Pat Perles, assistant offensiveBe Line
Anthony Pleasant
, defensive Line
Brent Salazar, assistant strength and conditioning
Nick Sirianni, offensive quality control
Otis Smith
, defensive quality control
Emmitt Thomas, defensive backs
Adam Zimmer, defensive assistant/assistant linebackers
Jim Zorn, quarterbacks

Oakland:
Hue Jackson
Al Saunders, offensive coordinator
Chuck Bresnahan, defensive coordinator
John Fassel, special teams coordinator
Greg Biekert
, linebackers
Chuck Bresnahan, defensive coach
Willie Brown, squad development
Adam Henry, tight ends
Sanjay Lal, wide receivers
Brad Roll, strength and conditioning
Kevin Ross
, assistant coach, safeties
Kelly Skipper, running backs
Mike Waufle, defensive line
Steve Wisniewski
, assistant offensive line
Rod Woodson
, assistant coach, cornerbacks
Bob Wylie, offensive line

San Diego:
Norv Turner
Clarence Shelmon, offensive coordinator
Greg Manusky
, defensive coordinator
Rich Bisaccia, special teams
Cris Dishman
, assistant secondary
Steve Gera, coaches assistant
Hal Hunter, offensive line
Jeff Hurd, strength and conditioning
Don Johnson, defensive line
Charlie Joiner, wide receivers
Jason Michael, tight ends
John Pagano, linebackers
John Ramsdell, quarterbacks
Vernon Stephens, assistant strength and conditioning
Mike Sullivan
, offensive line
Steve Wilks, assistant head coach-secondary
Greg Williams, assistant linebackers
Ollie Wilson, running backs
January, 17, 2011
1/17/11
4:50
PM ET
New
Denver Broncos
coach John Fox announced a portion of his coaching staff.
As previously reported, the additions included offensive coordinator Mike McCoy and running backs coach Eric Studesville, two holdovers from Josh McDaniels' staff. Studesville finished the season as Denver's interim head coach. Other holdovers from McDaniels' staff include tight ends coach Clancy Barone, defensive line coach Wayne Nunnely, defensive quality control coach Jay Rogers and offensive quality control coach Brian Callahan.
Fox also hired two of his former Carolina assistants Dave Magazu (offensive line) and Tyke Tolbert (receivers).
The biggest remaining open job on Fox's staff is defensive coordinator. McDaniels' defensive coordinator, Don Martindale, is not expected back. Denver was ranked last in the NFL in total defense and points allowed in 2010. Among the candidates for the top defensive post is former
Atlanta Falcons
and
Seattle Seahawks
head coach Jim L. Mora and recently fired
Philadelphia Eagles
defensive coordinator Sean McDermott.
From the look at the early additions to the staff, it seems like Fox -- a defensive specialist -- will bring in a mostly new defensive staff. That is not surprising and considering Denver's issues this season, a coaching overhaul on defense is probably necessary.
UPDATE:
ESPN's Chris Mortensen is reporting
that McDermott has become the defensive coordinator in Carolina.
January, 26, 2009
1/26/09
9:53
PM ET
Posted by ESPN.com's Bill Williamson
Welcome to the AFC West where the rest of the league is wondering where all the head coaches are:
• San Diego is bringing back Rob Chudzinski. He will be the tight ends coach and assistant head coach. He was San Diego's tight ends coach in 2005 and '06 before he was hired as Cleveland's offensive coordinator.
He comes back to San Diego with more responsibility as coach Norv Turner's assistant head coach. Chudzinski is highly respected in San Diego and is expected to be a valued assistant to Turner. He replaces the fired Clancy Barone who takes over as tight ends coach in Denver.
• Former Kansas City quarterback coach Dick Curl was hired as quarterbacks coach in St. Louis. He is the fourth assistant on Herm Edwards' fired staff to get a job elsewhere.
• Traditionally, Denver would raise their ticket prices for the next season during the Super Bowl week. That is not going to happen. The Rocky Mountain News is reporting that the team will not raise ticket prices for 2009. Point to a sagging national economy plus the fact that Denver hasn't earned a ticket hike with its play on the field the past three seasons as reasons why the team will not increase its prices.
Denver hasn't been to the playoffs since 2005 and has a combined 24-24 record in the past three seasons. Who'd jump to pay more money for that type of performance?
January, 13, 2009
1/13/09
9:10
PM ET
Posted by ESPN.com's Bill Williamson
The Chargers' strong finish didn't save some assistant coaches.
Two days after the team was dispatched in the AFC divisional playoffs by Pittsburgh, coach Norv Turner made some changes.
Secondary coach Bill Bradley and tight ends coach Clancy Barone were released from their contracts, according to the team in a statement. It was also announced the contracts for offensive line coach Jack Henry and assistant defensive secondary coach Kevin Ross will not be extended.
"We appreciate the contributions and hard work of these four men and wish them only the best in their future endeavors," Turner said.
The Chargers fired defensive coordinator Ted Cottrell at the midway mark of the 2008 season. The team will be looking for another defensive coordinator if Cottrell's replacement, Ron Rivera, gets a head coaching job this offseason. He is interviewing in Detroit on Wednesday.