August, 21, 2012
8/21/12
5:55
PM ET
The
Washington Redskins
will celebrate
Clinton Portis
this week.
Bailey
That occasion should allow
Denver Broncos
' fans a chance to pat the franchise on the back for allowing the Portis experience to happen in the nation's capital. If Portis (the running back who hasn't played since 2010, and who will retire as a Redskin on Thursday) is going to get a day in the spotlight,
Champ Bailey
should get his own year in Denver.
In early 2004, Denver traded Portis, who starred for the Broncos in his first two NFL seasons, to the Redskins for Bailey, an elite cornerback. The Redskins also threw in a 2004 second-round pick, which turned out to be running back
Tatum Bell
, who had minimal NFL success.
Portis had a good career in Washington. He's the second-leading rusher in team history and he had 26 100-yard games during his seven seasons in Washington.
Bailey, though, has been a great Bronco. He became the face of the franchise and when he goes in the Pro Football Hall of Fame, he will be remembered as a Bronco. A class act off the field, Bailey will go down as one of the city of Denver's all-time sports icons.
At the age of 34, he is still going strong for Denver and has three more years on his contract. Bailey told me this summer he has no timetable for his career, and because he is still improving in some aspects of the game (mostly mentally he said) he can see himself playing for several more years.
As Portis gets his day in Washington, Broncos fans should reflect what a special player they got in return for Portis.
February, 29, 2012
2/29/12
12:00
PM ET
Mid-week mail call:
Jesse from San Antonio wants to know
if I think the Chargers could sign Kansas City cornerback
Brandon Carr
.
Bill Williamson
: I don't think so. I guess it's possible, but I think the Chargers have bigger in-house needs and outside needs at linebacker, the defensive line and at safety. Carr would certainly start in San Diego, but because the Chargers have other needs, they would likely be willing to spend less on Carr than other teams would. I expect Carr to be very popular on the open market and he could command between $7 million to $9 million per season. I just don't see the Chargers making that type of commitment to a cornerback this year.
Dan from Fort Collins, Co., wants to know
if the Broncos could bring back running back Clinton Portis.
BW:
No chance. He is cooked. Remember, there have been two regime changes in Denver since Portis played there. I can't believe this regime would have any interest in Portis. The Broncos will bring in a running back, but it will be a player with more to offer than Portis.
Peter from New York wants to know
what type of production the Chiefs should expect from linebacker
Brandon Siler
.
BW
: He could vie for a starting inside linebacker job if the Chiefs don't address the position early in the draft or in free agency. Siler is back with the Chiefs this upcoming season after he blew out his Achilles tendon in training camp last year after he signed from San Diego. He was a solid role player and a special teamer in San Diego. I could see him filling the same type of role with the Chiefs.
March, 1, 2011
3/01/11
4:55
PM ET
No draft prospect will get more press over the next eight weeks than Auburn quarterback
Cam Newton
.
Our NFL blog network
put together a thread on the chances of Newton landing in each NFL city. A year after 2010 draft-buzz king
Tim Tebow
landed in Denver, the odds aren't high that Newton ends up in the AFC West. There just isn't a big enough need for a quarterback in the division to make this a likely pairing.
Meanwhile, in other AFC West news on a busy Tuesday afternoon:
San Diego receiver
Vincent Jackson
stands by his 2010 contract holdout
. There will be no such holdout his season. The Chargers placed the franchise tag on Jackson and he is expected to play. He hasn't decided when to sign the franchise tag, but there is no rush.
The Raiders'
recent spending spree
won't kick in until the season starts.
In a radio interview
, Denver cornerback
Champ Bailey
talks about his meeting with new coach John Fox.
In a radio interview
, Oakland cornerback
Stanford Routt
talks about the relief he felt when he re-signed with the Raiders.
Former San Diego running back
LaDainian Tomlinson
will remain
with the Jets in 2011.
Small-school quarterback Josh Portis -- the cousin of
Clinton Portis
-- met with the Raiders and Chargers
at the NFL combine.
Denver safety
Brian Dawkins
was among the contingent of players who attended Tuesday's labor meetings. Dawkins has long been highly involved in the NFLPA.
File this name away, Oakland fans: Demarcus Van Dyke. The Miami cornerback posted the fastest 40-yard dash time at the NFL combine this year. He ran it in 4.28 seconds. Oakland has a history of eyeing the combine's speediest players, including
Jacoby Ford
last year. Oakland drafted him in the fourth round, and Routt was taken in 2005 after posting a 4.27 40-time. So, be sure Van Dyke will be considered by Oakland.
February, 28, 2011
2/28/11
9:25
PM ET
I could see teams like Denver and Kansas City considering defensive tackle
Tommie Harris
, who
was cut by Chicago.
But don't expect him to be a high priority for either team. Harris' skills have eroded some and he lost his starting job last season.
I don't see any team in the AFC West making a big run at running back Clinton Portis, who was cut by Washington. He will be 30 this year and he had just 227 rushing yards last season. The end is near.
Update:
The agent for Oakland linebacker Kamerion Wimbley
said he will sign his franchise tender.
It will pay Wimbley $11.3 million for 2011, assuming the franchise tag will be part of the new CBA.
February, 23, 2011
2/23/11
6:30
PM ET
INDIANAPOLIS -- I have landed in Indianapolis for the NFL combine and I wanted to further address the
Champ Bailey
signing after discussing his contract extension with Denver and some other folks around the league.

Bailey
Bailey signed a four-year deal that ESPN's John Clayton has reported will pay him a guaranteed $22 million and could pay him between $43 million and 47 million over the course of the four years. But it is clear the deal will be reevaluated after the first two years. Bailey -- who is still considered one of the best cornerbacks in the NFL -- will turn 33 in June.
There is some surprise from around the league that Bailey didn't wait until he could see what he could get on the open market. Many people say it is a direct indication of Bailey's loyalty to Denver and his preference to stay where he is comfortable rather than seeing what a contending team would offer.
Denver, which is going in a new direction for the second time in two years, is not close to being a legitimate contender. It was 4-12 last season and it is rebuilding. Still, Bailey decided to stay in Denver before free agency even started.
A few years ago, when I was working on a story on whether or not Bailey would be a Pro Football Hall of Fame selection, he told me his key to Canton would be to win a Super Bowl ring. He thinks that is the best way of getting into the Hall of Fame. Bailey has to know Denver is not close to being a Super Bowl team, so staying in Denver must mean that much to him.
There is a chance Bailey will end his career elsewhere. I could see him and the Broncos parting ways after the 2012 season under some circumstances. But the point is, Bailey will always be remembered as a Bronco. He is entering his eighth season in Denver after the blockbuster 2004 trade with the Washington Redskins that sent Bailey and a second-round pick (running back
Tatum Bell
) to Denver for running back
Clinton Portis
. Portis has had a nice career with the Redskins, but Bailey is a premier player.
He has long been Denver's best player and he is the face of the franchise. Bailey is truly one of the better players in team history. He will definitely go into the team's Ring of Fame along with the likes of Hall of Famers John Elway, Floyd Little, Gary Zimmerman and Shannon Sharpe.
By signing this deal, Bailey has cemented his legacy in Denver. He could have jumped ship in search of a quick-fix championship. Instead, he has committed to finishing what he started in Denver seven years ago.
March, 7, 2010
3/07/10
12:00
PM ET
Weekend mail call:
Alan Cuff from Launceston, Tasmania, wants to know
who I think got the better of the
Clinton Portis
-
Champ Bailey
trade between Washington and Denver in 2004.
Bill Williamson:
I think Denver did. Bailey is a future Hall of Fame player. Yes, Portis was productive for the Redskins, but Bailey is one of the best defensive players in the league. Bailey has been the face of Denver's franchise. Again, Portis has been far from a bust in Washington, but Bailey has been brilliant.
Crutch from Albuquerque, N.M., wants to know
if the Chargers will consider more playing time for running back
Mike Tolbert
.
BW:
I think Tolbert will get a chance to carry the ball a little more. The third-year fullback is a bowling ball, who has been effective. Tolbert, 5-foot-9, 243 pounds, averaged 5.9 yards per carry on 25 attempts last season. Still, I expect San Diego to bring in at least two new running backs. Tolbert won't be a featured back, but he has shown he can be efficient.
Tom from Kansas City wants to know
if the Chiefs may pursue Notre Dame receiver
Golden Tate
in the draft.
BW:
I think it is very possible. Tate played for new Kansas City offensive coordinator Charlie Weis in college. Weis loves Tate. Tate really helped his cause with a great performance at the combine. He could have move himself late into the first round. If he is available in the second round, I wouldn't be surprised if Kansas City nabbed Tate. Kansas City coach Todd Haley said at the combine that he team needs more receivers. I'm sure Weis would love to make Tate a new addition.
November, 13, 2009
11/13/09
4:30
PM ET
»
NFC Final Word
:
East
|
West
|
North
|
South
»
AFC
:
East
|
West
|
North
|
South
Five nuggets of knowledge about Week 10:
[+] Enlarge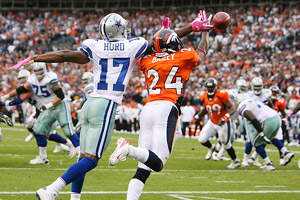 Rich Gabrielson/Icon SMIChamp Bailey will return to D.C. for the first time since he was traded prior to the 2004 season.
Mr. Bailey goes to Washington:
Denver star cornerback
Champ Bailey
will lead the staggering Broncos to the nation's capital Sunday. It will be Bailey's first trip to Washington since the Redskins traded him to Denver for running back
Clinton Portis
, who isn't expected to play because of an injury. This trade worked out for both teams, but Denver probably gets the edge because Bailey is likely headed to the Hall of Fame and he is the face of the franchise.
Chargers hope Eagles' West Coast blues continue:
The
Philadelphia Eagles
head back to California for the second time in four weeks. They don't have fond memories of their previous trip to the Golden State. Philadelphia played its worst game of the season by far in a
13-9 loss
at Oakland. The Eagles were awful in the game and had no chance of beating any team in the league that day. The Chargers need to win Sunday in the suddenly tight AFC West race. So, the Chargers hope the cross-country trip isn't kind to the Eagles again.
Raiders are jazzed about Chaz:
The Raiders are getting receiver
Chaz Schilens
back Sunday against the Chiefs. He has been out since August with a broken foot. The Raiders desperately need Schilens, who has potential to be a solid No. 1 receiver. Rookie starters
Darrius Heyward-Bey
and
Louis Murphy
have struggled and the Raiders have thrown the second fewest passes to their receivers, according to ESPN Stats & Information. With Schilens back, perhaps Oakland will allow
JaMarcus Russell
to target his receivers more.
Can Chambers beat the Raiders again?
Receiver
Chris Chambers
has a chance to go 3-0 against the Raiders this season. Chambers was with the Chargers when they beat the Raiders twice this season. Chambers played a big part in the team's second win. He made a tremendous catch over Oakland star cornerback
Nnamdi Asomugha
to continue a key drive in the fourth quarter. Many Chargers called it the play of the game. It was Chambers' final catch with San Diego. He was cut the next day and then claimed by Kansas City. In his Kansas City debut last week, Chambers had three catches, two of which went for touchdowns. He looks like he has a chance to be a standout for Kansas City. The Raiders will surely be weary of him Sunday.
Will Hall get the Royal treatment again?
Denver coach Josh McDaniels is all about exploiting matchups. Expect him to unleash receiver
Eddie Royal
at Washington cornerback
DeAngelo Hall
. In the season opener of 2008, Royal torched Hall, who was playing his first game with Oakland. Royal had nine catches for 146 yards against Hall, who lost his cool after being embarrassed by the rookie. Royal never got a chance to frustrate Hall later in the season. By the time Denver and Oakland met again, the Raiders gave up on Hall. Royal is likely itching to get another chance to exploit Hall.
November, 11, 2009
11/11/09
9:20
PM ET
Posted by ESPN.com's Bill Williamson
June, 26, 2009
6/26/09
12:00
PM ET
Posted by ESPN.com's Bill Williamson
We're wrapping up our all-decade week with our AFC West decade awards:
Offensive player of the decade: Tony Gonzalez
It takes a lot for a tight end to be the offensive player of the decade, but Gonzalez is a worthy selection. He was dominant for the entire timeframe. He owns every NFL receiving record for tight ends.
He was consistent throughout the decade and was the face of the Chiefs until he was traded to Atlanta prior to the draft. Some teams don't value the tight end position, but a player like Gonzalez shows how disruptive the tight end can be.


Defensive player of the decade: Champ Bailey
When Denver acquired Bailey from Washington for running back Clinton Portis, many league observers thought the Broncos made a big mistake.
Yes, Portis was a good player in Denver and he has been good for the Redskins. But Bailey has been brilliant. He was the best cornerback in the NFL this decade and has been one of the best players in the NFL overall.
He became the face of the Denver defense as he made it one of the better units in the NFL during the middle of the decade. Bailey is not only a shutdown cornerback, but he is superb in run support and a fine tackler. Bailey is a shoo-in Hall of Famer.


MVP of the decade: LaDainian Tomlinson
Tomlinson has been the best player in the AFC West since he was the No. 5 overall pick in 2001. He helped transform the Chargers from bottom-feeder to a perennial Super Bowl contender. Tomlinson has been the premier running back in the NFL this decade and his consistency has been stunning. He has never rushed for less than 1,100 yards in a season.
He has a record-breaking 2006 MVP season under his belt and he will be a first-ballot selection to the Hall of Fame.

Team of the decade: San Diego Chargers

The Broncos have been consistent for much of the decade, but they have fallen on tough times. The Chargers are the best team in the division now and they have been consistent in the era of general manager A.J. Smith.
In the past six years, the Chargers have won the fourth-most regular-season games in the NFL with 58. This team has won three straight AFC West titles, made the AFC Championship Game in 2007 and advanced to the AFC divisional round last season. It hasn't been a spectacular decade for teams in the AFC West, but the talented Chargers have been the best team for the longest period.

Moment of the decade: Oakland advancing to Super Bowl XXXVII
The Raiders beat Tennessee to advance to the Super Bowl in January 2003 to culminate four years of knocking on the door.

It was the first and last time an AFC West team made the Super Bowl this decade; the division's Super Bowl drought is the longest in the NFL.
Things have gone downhill for Oakland since then. The Raiders were embarrassed in the Super Bowl by former coach Jon Gruden and Tampa Bay. Oakland is 24-72 in the six seasons since, the worst six-year record by any team in NFL history. But the Raiders do have the memory of having the best moment in the division this decade.
Special teams player of the decade: Dante Hall
In his prime with Kansas City, Hall was the best returner in the NFL. He was a must-see player every Sunday. He won games for Kansas City with his impossible, turn-back-run-across-the-field touchdowns.
Seeing Hall celebrate a touchdown return with the Arrowhead Stadium crowd was one of the better sights in the league. From 2000-2006 in Kansas City, Hall returned six kicks for touchdowns and five punts for scores. He was brilliant.
Coach of the decade: Mike Shanahan
Shanahan almost made it through the decade with Denver. Before his surprise firing in January, Shanahan was the dean of the division. He coached in Denver for 14 years.
While Shanahan's magic wore off in the past few years, he was the best coach in the division along with being the most senior coach. The Broncos were consistent and always seemed primed for 10 wins a season until the wheels fell off defensively in the past two years.
Shanahan may have won his two Super Bowl trophies in the 1990s, but his impact was felt in the AFC West in this decade as well.
April, 15, 2009
4/15/09
12:00
PM ET
Posted by ESPN.com's Bill Williamson
With the 2009 NFL schedule released, here's a suggested road trip for fans of each AFC West team:
Denver
At Washington, Nov. 15
Why: Go along with the Broncos for a rare trip to the nation's capital on what could be a crisp fall weekend. Check out the Broncos and Redskins in the second meeting (the first in Washington) between the two teams since the 2004 trade that sent Champ Bailey to Denver and Clinton Portis to Washington.
Kansas City
At San Diego, Nov. 29
Why: Make it a long Thanksgiving weekend out to California. The weather should be nice, and if the Chiefs are going to be a surprise team in 2009, this will be a huge game for them. They could use the support of their red-clad fans.
Oakland
At Dallas, Nov. 26
Why: Raiders fans always travel well. During this trip, Raider Nation can barbecue turkey before a rare Thanksgiving Day game for Oakland. Two of the most storied teams in the league on Thanksgiving: It doesn't get much better.
San Diego
At Tennessee, Dec. 25
Why: I actually spent a Christmas in Nashville when Denver played the Titans on Christmas night five years ago. It's an underrated experience. This game could have major playoff ramifications. San Diego fans should give their team the gift of support.
February, 13, 2009
2/13/09
11:00
AM ET
Posted by ESPN.com's Bill Williamson
Now that every NFL team has a head coach (all of the jobs were filled when Oakland and Kansas City made hires last week), barring an unforeseen bombshell, Mike Shanahan will be taking the 2009 season off.
| | |
| --- | --- |
| | |
| | Rick Stewart/Getty Images |
| | Mike Shanahan will likely be a hot coaching candidate following the 2009 season. |
It will be Shanahan's first season away from being a head coach in the NFL since he was hired by the Denver Broncos in 1995. Denver unexpectedly fired Shanahan on Dec. 30 after 14 seasons with the team.
Shanahan said shortly after he was fired that he will definitely coach in the NFL again, and that he would require a special situation to coach in 2009. Several teams poked around Shanahan, but he opted to wait for an ideal situation.
He will now be part of an all-star cast of Super Bowl-winning coaches who could come back to the league in 2010. The others are Bill Cowher, Mike Holmgren and Jon Gruden. Shanahan will be as sought after as any of the coaches because of his pedigree, his offensive resume and his ability to lead a franchise.
Here is a look, alphabetically, at some of the potential fits for the former longtime Denver czar after the 2009 season:
Why: If the Bengals struggle again, coach Marvin Lewis will likely be in real trouble. The Bengals have a good passing game and Shanahan would have an instant centerpiece in quarterback Carson Palmer. Just like in Denver, Shanahan's biggest issue would be defense.
Stumbling block: Hiring a big-name, big-dollar coach such as Shanahan would be way out of character for the Bengals and Shanahan would likely have sexier options.
Chances: Not high.
December, 8, 2008
12/08/08
8:55
PM ET
Posted by ESPN.com's Bill Williamson

Hillis
What are the Denver Broncos going to do at running back?
It is a question the Broncos ask every few weeks. The question is necessary now that rookie Peyton Hillis has been lost for the season with a hamstring injury.
Hillis, a converted fullback, was doing a nice job for Denver. Don't get me wrong, Hillis wasn't to be confused for Adrian Peterson and he wasn't reminding the Broncos of the Clinton Portis days. But Hillis was efficient and he was working very well as part of Denver's offense. He fit the running scheme.
Now, Denver has to start over again. And this will be the greatest challenge of its running back carousal this season.
As Denver tries to clinch the AFC West, it will need a balanced offense. However, Denver may not be able to find that balance.
Hillis was Denver's fifth tailback to suffer a season-ending injury. A sixth, Selvin Young, has missed two months. While Denver was able to cobble together a decent running game through all the injuries, it may be tough now. Denver's lead back is now Tatum Bell. He was out of football a month ago.
While Bell had a 28-yard run Sunday against Kansas City, it was clear Denver coach Mike Shanahan didn't yet trust Bell with the game on the line. Denver was running end-arounds with receivers rather than giving Bell significant carries. You think Shanahan remembers the end of the 2006 season when Bell's fumbling issues led directly to Denver missing the playoffs?
Now, Shanahan is down to Bell. Young is close to coming back but he wasn't a favorite of the coaching staff at the time of his injury. The team also has P.J. Pope and Cory Boyd, who is being promoted from the practice squad. Neither of those players have any significant experience.
Denver's running game has always gotten by. Shanahan, who many in the league believe is doing one of his best coaching jobs in this injury-riddled season, will have hope his penchant for making something out of lesser tailbacks continues.
If not, the there will be even more pressure on quarterback Jay Cutler, who threw 40 passes Sunday.
The loss of Hillis could be the most untimely and debilitating because there is little left in the cupboard.
November, 11, 2008
11/11/08
6:40
PM ET
Posted by ESPN.com's Bill Williamson

In light of all of the injuries in Denver's backfield this season, I wanted to update a look at Denver's tailbacks since coach Mike Shanahan took over in 1995 that I put together this summer:
Terrell Davis: The first and the best of the bunch. The sixth-round pick from Georgia was the spark to Denver's only two Super Bowl wins. He was a Super Bowl and NFL MVP and tallied 7,607 career rushing yards and 60 touchdowns before knee injuries cut short his brilliant career.
Olandis Gary: He took over for an injured Davis in 1999 and ran for 1,159 yards. He was injured the next year and was never a factor again.
Mike Anderson: The sixth-round pick from Utah became the offensive rookie of the year after rushing for 1,487 yards in 2000. The tough Anderson dealt with injuries but came back in 2005 with another 1,000-yard season.
Clinton Portis: He was a second-round pick and more highly touted than any other Denver running back of this era. Portis ran for more than 1,500 yards in both of his seasons in Denver before he was shipped to Washington for star cornerback Champ Bailey.
Reuben Droughns: The former fullback and special-teams player emerged during the 2004 season and ran for 1,240 yards. He was traded to Cleveland the next spring.
Tatum Bell: The 2004 second-round pick ran for 1,025 yards in 2006 and then was traded to Detroit for cornerback Dre' Bly. Bell was re-signed Tuesday and he will suit up Sunday at Atlanta.
Mike Bell: The undrafted rookie from Arizona shook up the league in 2006 with eight rushing touchdowns, but he was converted to fullback and rarely played last season. He was cut before training camp started.
Travis Henry: Signed to be the answer to the revolving door, Henry's was a disaster. He led the NFL in rushing after his first month in Denver but then his Denver career was riddled with him fighting a drug suspension (which he eventually won) and injuries. He was cut this June after he stopped showing up to work. He is currently facing federal drug charges.

Selvin Young: The 2007 undrafted rookie from Texas led Denver in rushing with 729 yards and was going to camp No. 1 on the depth chart, but he didn't win the role and is a backup. Young has been dealing with a groin injury for more than month.
Michael Pittman: The veteran offseason pickup took the job away from Young. He brought toughness to the position. But he was lost for the season earlier this month with a neck injury.
Andre Hall: The speedster had a role on the offense but he broke his hand and was put on the injured reserve the same day as Pittman was.
Ryan Torain: The rookie from Arizona State drew comparisons to Davis from Shanahan but he broke his elbow early in training camp. Torain came back and became the No. 1 tailback. He looked good against Cleveland last week as he had 12 carries for 68 yards. But he blew out his knee and he is lost for the season.
Peyton Hillis: He will likely get the primary carries against Atlanta on Sunday. But Hillis was an emergency option. He is a seventh-round pick whose main position is fullback.