August, 25, 2013
8/25/13
9:40
PM ET
December, 4, 2012
12/04/12
10:23
PM ET
A report out of Chicago claims that the Raiders are "in talks" to
bring back Jon Gruden as coach
.

OK, OK, Raider Nation, quiet down. I can hear your squeals of delight from here.
But hold off a bit. I don't want to discount any report, but I am not going to get too much into this until there is more. I want to acknowledge it, but until there is more steam, I think we have to say it is a long shot. But anything can happen and it is worth keeping an eye on.
But I think, many, many things would have to happen before something so dramatic would occur. Gruden has said he is committed to ESPN's "Monday Night Football." This is not the first report about Gruden's future and it very likely won't be the last.
UPDATE:
This is Gruden's statement on open jobs:
"I don't have time to get into all that stuff. I like what I'm doing and I'm just trying to hang on to the job I have. Let's leave it at that."
In other AFC West news:
The Raiders' game against Denver on Thursday night will be televised locally.
Broncos linebacker
Wesley Woodyard
did not practice Tuesday with an ankle injury. He could be pressed to play Thursday at Oakland. He was hurt Sunday against Tampa Bay.
The Chargers placed receiver
Seyi Ajirotutu
(hand) and center
David Molk
(thumb) on injured reserve. In addition to center/guard
Colin Baxter
, San Diego signed guard/tackle
Stephen Schilling
to help its battered offensive line. Like Baxter, Schilling has played for the Chargers before.
Denver coach John Fox opened his press briefing Tuesday by expressing his condolences to Oakland coach Dennis Allen. His father, Grady Allen, died Tuesday. Allen was the Broncos' defensive coordinator last season.
December, 4, 2012
12/04/12
3:45
PM ET
The Raiders signed FB/RB Jamize Olawale from Dallas' practice squad to their 53-man roster. He will be given an audition for the future in practice and perhaps in games down the stretch. He is a rookie from North Texas.
Oakland defensive tackle
Richard Seymour
(knee/hamstring) remains out of practice Tuesday as the Raiders prepare to face Denver on Thursday night. Seymour has missed four straight games. The fact that it's a short week and he is not practicing is not a good sign that Seymour will be ready to face the Broncos.
There appears to be a strong chance the Chargers will face starting Pittsburgh quarterback
Ben Roethlisberger
on Sunday. He has been out for the past few weeks.
U-T San Diego reports the Chargers are signing interior offensive lineman
Colin Baxter
to help an injury-ravaged offensive line. He has previously been with the Chargers.
Cornerback
Stanford Routt
signed with Houston. He was cut by the Chiefs last month.
December, 5, 2011
12/05/11
10:14
PM ET
Some random halftime thoughts:
The Chargers took over late in the first half with two touchdowns.


San Diego quarterback
Philip Rivers
hit rookie
Vincent Brown
-- who has been impressive in recent weeks -- for a touchdown pass with 1:33 to go in the half to give the Chargers the lead. Then after an interception, Rivers hit
Vincent Jackson
for a 35-yard touchdown pass with 23 seconds to go. San Diego took a 10-0 lead in the first quarter before Jacksonville reeled off 14 straight points.
Rivers had a good half. He was 16-of-21 for 202 yards.
The banged-up Chargers suffered more injuries in the first half. Standout center
Nick Hardwick
is out with a neck injury. The San Diego offensive line has been decimated by injuries. They are playing without three starters.
Linebacker
Donald Butler
is also out with an injury. Jacksonville had much of its running success with Butler out.
San Diego ran the ball early with
Ryan Mathews
getting 56 yards on six carries.
November, 19, 2011
11/19/11
6:40
PM ET
The San Diego Chargers, according to
the San Diego Union Tribune
, are adding their third offensive lineman to the 53-man roster this week. The paper reports rookie Colin Baxter is being promoted in time for the Chargers' game at Chicago on Sunday.
Baxter spent camp with the Chargers and spent time on the Jets' 53-man roster before going on San Diego's practice squad. The Chargers will be without starters Kris Dielman (who is out for the year because of a concussion), left tackle Marcus McNeill (stinger) and guard Louis Vasquez (ankle) Sunday.
The San Diego Union Tribune reports
that this will be the team's starting offensive line Sunday. Tony Moll and Ike Ndukwe were signed earlier this week.
In other AFC West nuggets:
The Chiefs have ruled out linebacker Demorrio Williams for Monday night's game at New England because of a groin injury.
Former Giants' receiver Amani Toomer is the
latest pundit to chime in
on Tim Tebow. Count Toomer as among those in Tebow's corner. In fact, the ex-Giant would take the Broncos' quarterback over Jets' quarterback Mark Sanchez if he was building a franchise. Not a bad argument considering Thursday's results in which Tebow outplayed Sanchez when it counted in the Broncos' 17-13 win over the Jets.
The Oakland Tribune expects
Carson Palmer to have a big day Sunday against a depleted Minnesota secondary.
October, 26, 2011
10/26/11
10:05
PM ET
New Oakland quarterback
Carson Palmer
conducted a radio interview with
"The Drive with Tierney and Davis on 95.7 The GAME (KGMZ-FM)
in the Bay Area.
He admitted he feels a "ton" of pressure to lead the Raiders on a long run. The Raiders gave Cincinnati two premium picks for Palmer last week. Palmer also said he doesn't see former Bengals' teammate
Terrell Owens
being a fit with the Raiders because of their young talent at the position.
Here is some of what Palmer had to say:
How much pressure are you feeling to take this team deep into the playoffs?
"A ton, a ton, and I love every bit of it. I've been playing quarterback for as long as I can remember. If it wasn't that type of pressure it was pressure of being the No. 1 pick and having heavy expectations for being a franchise quarterback, and I enjoy that part of the game, and I think that's why I got put at quarterback at a young age. You either like it or you don't. It's not something that you can get better at or work on so I enjoy that part of it, I enjoy that challenge. I really look forward to the opportunity to prove to the naysayers wrong and to prove to Hue right. "
Would you be willing to play with Terrell Owens again?
"T.O. and I had a great working relationship. He had one of his most successful years over the past five or six years, a lot of production and he was a great teammate in Cincinnati. The problem is that for him to get here there's not anybody that we could let go. We have a stable of young horses that can run and guys that can just move. Very young, very inexperienced but tons of potential and it's tough to give up a young guy with a lot of potential for a guy that's got a lot of history in the league that's in his late 30's so I can't see him coming here, but I had a good time playing with him and he's an explosive player himself."
Meanwhile, here are some quick Chargers' hits:
October, 25, 2011
10/25/11
10:05
PM ET
The San Diego Union Tribune is reporting
Chargers' 2009 first-round pick
Larry English
has suffered another broken foot. He clearly will miss extensive time if could land on the injured reserve.
The paper writes that injuries could potentially derail English's San Diego career. The former No. 16 overall pick has missed nine of the past 20 games due to injury. He missed time with a foot injury last year.
English has potential, but if he can't stay healthy the Chargers will eventually lose patience.
Meanwhile, there has been a
lot of talk
that rookie
Marcus Gilchrist
could replace
Antoine Cason
at cornerback in San Diego. Cason has struggled in Greg Manusky's defense this season. Cason gave up three touchdowns to the Jets'
Plaxico Burress
in the Chargers' 27-21 loss on Sunday. Don't be surprised if Cason gets another a chance to start Monday night at Kansas City. Yet, if Cason does start, his leash likely won't be long.
The Raiders are now looking at second-year offensive lineman Bruce Campbell at tackle. He was considered a potential starter at guard. Campbell is a project, but he has immense physical ability.
There is talk rookie Colin Baxter and Jordan Todman will land on the Chargers' practice squad. Baxter was cut by the Jets on Tuesday. The Chargers cut him in September and were disappointed that the Jets signed him and blocked him from their practice squad. Todman, a sixth-round pick, was cut by the Chargers during the weekend.
Denver safety Brian Dawkins is celebrating a milestone.
The Chiefs waived receiver Jeremy Horne.
September, 23, 2011
9/23/11
1:30
PM ET
»
NFC Final Word
:
East
|
West
|
North
|
South
»
AFC
:
East
|
West
|
North
|
South
Five nuggets of knowledge about Week 3:
Tolbert not a force at the goal line:
The
San Diego Chargers
would like to see bowling-ball running back
Mike Tolbert
regain his mojo at the goal line Sunday against visiting Kansas City. According to ESPN Stats & Information, Tolbert has scored on just one of six goal-to-go situations in two games. Last year, he was 10-of-21 in those situations. Tolbert was stopped on fourth-and-inches at the goal line at New England last week. It was one of the most crucial plays of the game.
[+] Enlarge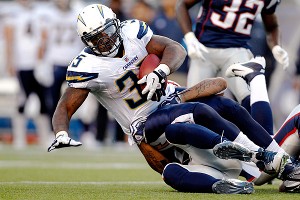 AP Photo/Charles KrupaThe Chargers need to get more production around the goal line from running back Mike Tolbert.
Raiders need to put hex on Rex:
One of the reasons
New York Jets
coach Rex Ryan has been so effective as a head coach is his confidence. He is not afraid to play anywhere. He certainly won't fret about entering the Black Hole on Sunday. Since he took over the Jets in 2009, Ryan's team is 6-0 against non-divisional AFC competition on the road. It's up to the Raiders to show Ryan the road can be a tough place.
Last trip to San Diego not good karma for Chiefs:
The last thing the
Kansas City Chiefs
need right now is bad memories. The Chiefs are floundering at 0-2. They have been outscored 89-10 in two games, they have injury issues, and coach Todd Haley is reportedly on the hot seat. A win at San Diego would solve a lot of problems, but the Chiefs will not be hitting the field in San Diego with terrific memories. The Chargers hammered the Chiefs 31-0 in Week 14 of last season -- Kansas City's last visit. The Chiefs were without quarterback
Matt Cassel
, who had an appendectomy earlier that week.
Did the Titans pick the right QB?
Before the end of the lockout, there was speculation the
Tennessee Titans
would pursue a veteran quarterback to help groom first-round pick
Jake Locker
. A lot of the speculation centered on Denver's
Kyle Orton
. However, instead of trading for Orton, the Titans signed Seattle's
Matt Hasselbeck
. In the end, Orton didn't get dealt, and now the two veterans will face each other Sunday in Nashville. So far, Hasselbeck is enjoying a fast start for the Titans, so they probably don't have any regrets going into this matchup.
Raiders defensive front could have a field day:
New York star center
Nick Mangold
is out for Sunday's game. Rookie free-agent
Colin Baxter
is expected to start in his place. Baxter was claimed off waivers from the Chargers after the Chargers cut him with the intent of stashing him on the practice squad earlier this month. Baxter has had nine practices with the Jets and will be in charge of protecting Jets quarterback
Mark Sanchez
, who has a bruised arm. The Raiders' defensive front, one of the best in the league, must take advantage of this. It has to attack the middle of the Jets' line and try to make life as difficult as possible for Baxter. If Baxter fails, the Jets are prepared to use left guard
Matt Slauson
at center. That would put the Jets' offensive line in even more upheaval.
September, 4, 2011
9/04/11
2:50
PM ET
This has to sting the
San Diego Chargers
a bit.

The San Diego Union Tribune reports
that two undrafted rookies the Chargers cut were claimed. Quarterback
Scott Tolzien
was claimed by San Francisco and center/guard
Colin Baxter
was claimed by the
New York Jets
.
It's not overly common for undrafted free agents to be claimed right after not making the 53-man roster. Tolzien and Baxter both had good summers.
The Chargers liked Tolzien a lot. The paper reported that the Chargers saw him as a potential future backup to
Philip Rivers
. Now, San Diego just has Rivers and backup
Billy Volek
in the program. That is all it needs, but it would have been nice for the team to develop Tolzien. Now that the gamble to try to stash Tolzien on the practice squad didn't work, the Chargers could look to add a young quarterback to the practice squad.
Baxter made a push to the make San Diego's 53-man roster. The Chargers liked him for his versatility.
While it hurts the Chargers to lose two prospects, this could be, in the big picture, a positive sign. The fact that the Chargers didn't find room on the 53-man roster for two talented players like this might be an indication of how deep the roster is.
Meanwhile, Carolina
reportedly claimed
defensive back
Stevie Brown
, who was cut by the Raiders. The 2010 draft pick was not eligible for the practice squad, so Oakland knew it was saying goodbye to Brown when it cut him.
UPDATE:
The Panthers have announced
the claiming of Brown and former San Diego receiver Seyi Ajirotutu. He showed promise at points last season. He reunites with Carolina head coach Ron Rivera, who was the Chargers' defensive coordinator. He was not eligible for the practice squad.