September, 6, 2013
9/06/13
12:01
PM ET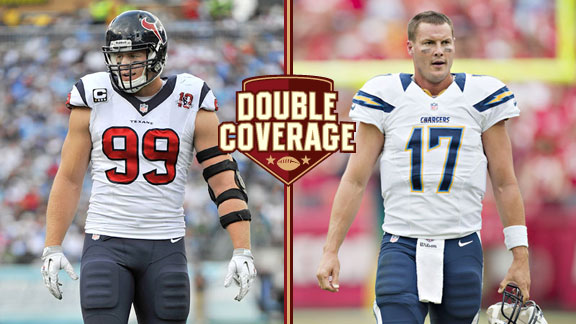 Getty ImagesJ.J. Watt and the Texans could make it hard on Philip Rivers if San Diego's offensive line does not hold up.
In the second half of the opening Monday night doubleheader, Houston is traveling to San Diego to put an end to NFL Week 1. The Chargers are in rebuild mode, while the Texans are looking to take the next step this season and become true Super Bowl contenders. While the Chargers' fan base should be revved up for this prime-time contest, getting
J.J. Watt
blocked could be a very futile effort for San Diego's offensive line. ESPN.com's Matt Williamson and Houston Texans reporter Tania Ganguli bring you their Double Coverage preview.
Tania Ganguli
: How has the atmosphere in the organization changed with GM Tom Telesco and coach Mike McCoy taking over?
Matt Williamson
: A change in San Diego was certainly needed. The environment had become stale and the once wide-open window under former coach Norv Turner and a roster stocked with great players has closed. A rebuild is needed, and a new general manager and head coach are what is needed to potentially get this team back where it once was -- or maybe beyond. Has the right side of the Texans' once-great offensive line been fixed?
Ganguli
: It's certainly on its way. The Texans are rightfully very high on right guard
Brandon Brooks
, and right tackle
Derek Newton
is healthy. They didn't mind rotation in those spots last year, but stability will definitely help.
Can McCoy turn
Philip Rivers
(back?) into an elite quarterback?
Williamson
: I feel as though we have seen the best of Rivers' impressive career, unfortunately. That being said, the scheme change, which stresses getting the ball out of Rivers' hands quicker, could be an advantageous move to boost Rivers. He does have a quick release and makes quick reads, making him a good fit for what McCoy is looking to accomplish.
What is the status of
Arian Foster
, and might
Ben Tate
have an expanded role for the season and to open the year?
Ganguli
: Tate will have an expanded role, especially early in the year. The Texans won't ride Arian Foster too much given he missed all of the preseason, training camp and most of organized team activities (OTAs). He was working, but they're intent on being smart with his return to make sure they have him at full strength late in the season.
What are the biggest problems with the Chargers' offensive line?
Williamson
: Once again, the scheme switch to a short passing game should help the protection of this line -- a line that is better-equipped to run block than protect. Still, the true problem with this line is they simply lack good players up front. They added a few free agents, but no one that is even a league-average starter, and they used their first-round pick on
D.J. Fluker
to play right tackle. However, I have my doubts that Fluker is quick or light enough on his feet for edge protection. Instead, I think Fluker could be a Pro Bowler at guard.
What impact does first-round pick
DeAndre Hopkins
have on the Texans' offense?
Ganguli
: It's difficult for rookie receivers to put up big numbers, but Hopkins will have a major impact on the Texans' offense. He'll take pressure off
Andre Johnson
, on whom the Texans were overdependent last season in their passing game. He is very skilled on contested catches and will help Houston's red zone efficiency.
What impact does
Dwight Freeney
have in San Diego?
Williamson
: Can he still be productive at 33? Of course it would be ideal to have
Melvin Ingram
in the fold as well as Freeney, who could be the perfect mentor, but Freeney has looked quite spry through the preseason and should have plenty left in the tank. The concern for me is that San Diego will be forced to play the 33-year-old too many snaps, which could lead to less effective play late in games and especially late in the season.
How big a boost to this team -- tacitly and emotionally -- is it to get
Brian Cushing
back on the field?
Ganguli
: Cushing makes a difference in both ways. He creates mismatches in the pass rush that free up the outside linebackers. His presence in the middle makes things easier on the Texans' defensive backs, too. Emotionally, Cushing provides an edge for the Texans' defense. His maniacal intensity is contagious and the Texans feed off it.
How will
Danny Woodhead
and
Ryan Mathews
impact each other?
Williamson
: While Mathews is a decent pass-catcher, Woodhead is an exceptional all-around contributor in the passing game. Their roles should be very distinctive, with Mathews -- who has looked excellent this preseason -- as the early-down workhorse (if he can hold up) and Woodhead being the specialty movement player that is equal parts running back and slot receiver.
Watt is a rare interior pass-rusher, but does Houston have enough pressure coming from their 3-4 outside linebackers?
Ganguli
: That remains to be seen. It's definitely been a focus for the Texans' outside linebacker group.
Whitney Mercilus
, now in his second year, has taken over as a starter opposite
Brooks Reed
after the departure of
Connor Barwin
. Mercilus set a franchise record for rookies with six sacks last season, but he missed most of training camp and the preseason. Reed is healthier than he was at the end of last season when he returned from a groin injury. He had an offseason surgery to repair it fully.
March, 14, 2013
3/14/13
8:20
PM ET
Wes Welker
met the Denver media Thursday, and he made it clear he wanted the Broncos as much they wanted him.
Asked what John Elway, Denver's executive vice president of football operations, pitched to him, Welker said: "I was probably the one pitching to him, trying to make this happen. Finally, we were able to kind of get together and get a deal done … That I want to win. That above everything. We'd figure out the money part and all that stuff later, but that winning was a big thing for me."
Many league observers think the addition of Welker will make Denver a winner. Welker loves the idea of playing with fellow Denver receivers
Demaryius Thomas
and
Eric Decker
. The receivers give quarterback
Peyton Manning
a tremendous group to throw to.
"I think they were another big part of me wanting to come here, just their styles and watching them on film and how good of young receivers they are," Welker said. "I think it's a good starting point for all of us. They did a great job last year, and hopefully I can just come in and try and help out."
In other AFC West notes:
The Elvis Dumervil situation, which will be resolved by Friday, is about the only thing left for the Broncos at this point. If Dumervil is cut, forget the notion of Connor Barwin joining the Broncos. He signed with the Eagles. It had been reported Denver could pursue Barwin.
San Diego cornerback Antoine Cason could end up in Arizona or Jacksonville. If the Chargers don't sign another cornerback, Shareece Wright could start opposite Derek Cox.
March, 14, 2013
3/14/13
12:36
PM ET
CBS Sports reports the
Denver Broncos
are still monitoring pass-rushers.

The report mentions
Dwight Freeney
and
Richard Seymour
, who have been previously connected to Denver. The report adds Houston's
Connor Barwin
to the mix.
The free-agent market for pass-rushers has been soft. There was a report Wednesday that Seymour wants big money.
Denver's interest in pass-rushers may hinge on the
Elvis Dumervil
situation. If he doesn't take a pay cut by Friday, he will be released. Because of the shrinking market, Dumervil could decide to settle for Denver's offer.
The busy Broncos, who have been adding several key players, also may look for a safety.
January, 19, 2009
1/19/09
2:25
PM ET
Posted by ESPN.com's Bill Williamson
The NFL draft season is officially kicking off in Mobile, Alabama as scouts gather to check out some of the best talent available for the April draft.
Here is a look at some of the Senior Bowl players each team in the AFC West should study hard as they consider players in the early rounds.
Denver
Rey Maualuga, LB, USC: He is the type of player that can reconstruct a defense and that is what Denver needs.
B.J. Raji, DT, Boston College: He could be perfect for Denver's new 3-4 look.
Louie Sakoda, K, Utah: The team wants competition for the inconsistent Matt Prater. Sakoda is a top prospect.
Kansas City
Connor Barwin, TE/DE, Cincinnati: Some teams like him at one position better but he has good pass-rushing skills and the team could use a steal at the position.
Rhett Bomar, QB, Sam Houston St.: The former Oklahoma player could also be a high value pick. He could be worth it if the Chiefs don't want to make a huge splash at quarterback.
Quan Cosby, WR, Texas: He could be a value pick for a team that needs another quality receiver.
Oakland
Peria Jerry, DL, Ole Miss: The Raiders could use a plugger in the middle and Jerry could be the answer.
Michael Oher, OL, Ole Miss: He is a player who Oakland could consider with the No. 7 overall pick.
Brian Robiskie, WR, Ohio State: This is a very smart, fluid player who could be a good value pick.
San Diego
Brian Cushing, LB, USC: This is a position San Diego could look at in the first round and Cushing could be a good fit.
Derek Pegues, DB, Mississippi St.: The Chargers could look at a safety and he is an interesting player.
B.J. Raji, DL, Boston College: Raji could be attractive to the Chargers with the No. 16 pick.