August, 27, 2010
8/27/10
12:00
PM ET
Chaz Schilens
calls it his "secret relationship" with Marquis Cooper.
It began a decade ago in suburban Phoenix. It ended during a terrible weekend in March 2009 off the rough shores of Florida.
More than 17 months after the tragic death of Cooper, Schilens, the Raiders' talented No. 1 receiver, opened up about his friendship with the 26-year-old linebacker and special-teams ace who lost his life in a boating accident.
[+] Enlarge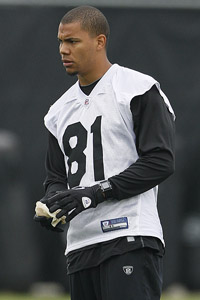 AP Photo/Eric RisbergChaz Schilens "still hurts" when remembering his friend and former teammate Marquis Cooper.
Cooper and two friends, including former Detroit defensive lineman Corey Smith, are presumed dead after Cooper's fishing boat capsized off the Gulf Coast near Clearwater, Fla. There was one survivor.
Cooper was an avid fisherman who often talked to his teammates about his love of deep-sea fishing. In the days before the accident, Cooper invited Schilens to Florida for a trip. Thrilled to join someone he long considered a mentor and idol, Schilens jumped at the idea.
"Nobody knows," said Schilens during training camp, still clearly shaken by the memory, "but I was supposed to go out there. I was going to make my [travel] plans to go there the weekend it happened … I remember my mom called me to tell me about it and it was just unbelievable. All I could think about was, 'This cannot be happening.' Each day got tougher and tougher and the search went on. It was a rough, rough time."
Schilens still caries memories of his older friend with him. He brightens up when talking about Nov. 8, 2008. It was midway through Schilens' rookie season as a promising seventh-round pick in Oakland. He was walking through the team's facility when he saw a familiar face down the hallway.
"I said to myself, 'Hey, that's Marquis Cooper,' " Schilens said. "I was so excited. It was just like high school. And then they put his locker right next to mine -- right next to it. In this entire, huge locker room, our lockers were right next to each other. And no one even knew our connection."
Cooper and Schilens both grew up in Gilbert, Ariz. Cooper was three years ahead of Schilens. Cooper didn't know much about Schilens. But the young football and baseball star (Schilens was drafted by the Detroit Tigers out of high school) knew plenty about Cooper.
Early in his career at the University of Washington, Cooper came to Arizona State to play in front of the home fans. Schilens went to the game just to watch Cooper play.
"He didn't know it was me but he threw me a glove after the game," Schilens remembered. "He had a great game and blocked a punt to help Washington win …. He was my boy. He was my idol. It was my secret relationship."
As Schilens made a name for himself in Gilbert, Cooper became aware of him and the two began a friendship. Schilens wanted to go to Washington just as Cooper did, but the Huskies never showed much interest. Still, Cooper followed Schilens as he developed at San Diego State.
When the two became teammates in Oakland, they often spent time together and Schilens would go to dinner with Cooper, his wife and young daughter. Schilens and several of his Oakland teammates still check in with the family.
In the meantime, Schilens, who is dealing with knee and foot injuries and will miss at least a few weeks after arthroscopic knee injury, wants to reach his potential on the field in part as a tribute to the player who inspired him.
"Marquis was special to me," Schilens said. "I just wish the best for his wife and child in this terrible tragedy. It still hurts."
September, 4, 2009
9/04/09
6:40
PM ET

Posted by ESPN.com's Bill Williamson
The
Kansas City Chiefs
and
Denver Broncos
got a head start on cutting down to the 53-man roster by Saturday's deadline. The Chiefs cut eight players. The Broncos cut nine players.
The biggest name on the Chiefs' list is right tackle
Damion McIntosh
, who previously was a starter. But McIntosh has not played well and he was on the bubble.
Barry Richardson
is expected to start at the spot.
The Broncos' early cuts included two draft picks from Mike Shanahan's final class -- guard
Kory Lichtensteiger
and defensive lineman
Carlton Powell
.
Here are Kansas City's cut list Friday:
No. Name Pos. Ht. Wt. Age Exp. College
46 Jed Collins FB 6-1 249 23 1 Washington State
23 Travis Daniels CB 6-1 195 26 5 LSU
34 Londen Fryar CB 5-11 192 23 R Western Michigan
73 Eric Ghiaciuc C 6-4 303 28 5 Central Michigan
77 Damion McIntosh T 6-4 320 32 10 Kansas State
66 Corey Smith LB 6-1 225 22 R Cincinnati
75 Herb Taylor T 6-3 295 24 3 TCU
65 Tavares Washington G 6-4 315 26 1 Florida
Here is Denver's list:
Player NFL Exp. College
DL Matthias Askew 3 Michigan State
G Kory Lichtensteiger 2 Bowling Green State
QB Ingle Martin 3 Furman
CB Rashod Moulton 1 Fort Valley State
T Clint Oldenburg 2 Colorado State
DL Carlton Powell 2 Virginia Tech
ILB Lee Robinson R Alcorn State
WR Nate Swift R Nebraska
RB Marcus Thomas 2 Texas-El Paso
May, 8, 2009
5/08/09
11:15
AM ET
Posted by ESPN.com's Bill Williamson

Here is a look at Kansas City's
undrafted rookie class
.

Meanwhile, coach Todd Haley confirmed that the Chiefs will be playing a variation of the 3-4 defense this season.