AFC West:

Corltand Finnegan
March, 9, 2012
3/09/12
1:20
PM ET
The San Diego Union-Tribune reports
that the Chiefs have visited with defensive lineman Luis Castillo. He was just cut by the Chargers.
The Chiefs will likely add to the defensive line in free agency and I wouldn't be shocked if they added Castillo for depth. He has been a solid starter, but has been injury prone. The Chargers would like to re-sign Castillo at a reduced price.
Meanwhile,
ESPN's Adam Schefter is reporting
the Colts would be open to trading pass-rusher Dwight Freeney. The only possible fit in the AFC West is San Diego. The Chargers badly wants a pass-rusher and Freeney could be intriguing. They were interested in his teammate, Robert Mathis, before he re-signed with the Colts this week. If Freeney is fairly reasonably priced, I could see the Chargers showing interest.
In other AFC West news:
As expected, the
Raiders announced
quarterback Carson Palmer restructured his contract to help the team with its salary-cap situation.
The San Francisco Chronicle is reporting
that the Raiders aren't expected to bring back free agents Jarvis Moss and Samson Satele. Moss is a bottom-of-the-roster type and the fact that Satele is not in the team's plans could mean Stefen Wisniewski will play center. He was supposed to play there last year, but played guard instead and excelled there.
The Broncos are looking for a safety
in free agency, but the pickings are slim.
The Chiefs have added Steven Smith as assistant offensive line coach. He was with Tennessee State last season.
Matt Williamson
looks at the top 50 free agents

available. KC Joyner
looks at the best values

in free agency and there is an AFC West flavor to it.
Gary Horton of Scouts Inc. thinks

San Diego receiver Vincent Jackson is the biggest free-agent risk available. Still, I think plenty of teams will line up to take that risk.
Yahoo Sports is reporting
Tennessee free-agent cornerback Cortland Finnegan is recruiting Jackson to go to the same team he does. The report speculates that team may be Tampa Bay. St. Louis could also be a possibility.
February, 9, 2012
2/09/12
7:42
PM ET
New Oakland general manager Reggie McKenzie isn't wasting much time shaping his roster and
his first move
was to cut cornerback
Stanford Routt
, one of the team's better defensive players. It might have been necessary as McKenzie reshapes the team's salary cap.
The Raiders signed Routt to a three-year, $31.5 million deal, with $20 million in guaranteed money, last February, essentially choosing Routt over
Nnamdi Asomugha
, who is considered one of the NFL's best cornerbacks. Asomugha walked to the Eagles as a free agent.
[+] Enlarge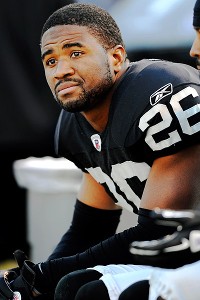 AP Photo/Greg TrottStanford Routt's big contract was among the first casualties under new Raiders GM Reggie McKenzie.
Routt's deal was later restructured to five years and $54.5 million, with the $20 million in guarantees — of which $10 million was reportedly to kick in this year.
ESPN's Adam Schefter reports that this move will cost Oakland $2.2 million in salary-cap space in 2012. The exact cap figure has yet to be figured, but the Raiders will have to make other moves.
This move might be an indication that Oakland is going to be aggressive in making cuts. It will have to go get help in several years in free agency – beginning with possibly two cornerbacks — and it has free-agent priorities in running back
Michael Bush
and safety
Tyvon Branch
. One of those two will likely be given the franchise tag.
You have to wonder what other high-dollar Raiders could be on the chopping block. Among those who have signed big recent contracts are defensive lineman
Richard Seymour
, linebacker
Kamerion Wimbley
and defensive back
Michael Huff
. Other players who could be candidates for restructuring or to be cut to save cap room include defensive tackle
John Henderson
, linebacker
Aaron Curry
and guard
Cooper Carlisle
.
Many around the NFL scoffed at Routt's big contract — and it is clear McKenzie is in that camp.
Routt is a decent player, but he is probably best suited to be a No. 2 cornerback. He was better playing alongside Asomugha than he was as the team's No. 1 corner. Routt was solid in coverage, but was penalized 17 times and gave up eight touchdowns, tied for the second-highest total in the NFL last season.
Still, the release of Routt is risky because the Raiders now don't have any reliable cornerbacks on the roster. They hope to develop young players
DeMarcus Van Dyke
and
Chimdi Chekwa
; perhaps Huff will be moved to cornerback. The Raiders have a small draft class, so most of their additions at the position will probably come through free agency.
Among the top cornerbacks available in free agency (depending on who is given the franchise tag) will be Atlanta's
Brent Grimes
, Tennessee's
Cortland Finnegan
and Kansas City's
Brandon Carr
. A name to keep an eye on is New Orleans'
Tracy Porter
, who played under new coach Dennis Allen in New Orleans.
This move doesn't hurt Routt, 28, much. He was paid an enormous amount last season and now becomes one of the better cornerbacks available. Plus he gets jump on free agency, free to sign with a team at any time.
He could help all three of the other teams in the AFC West as a No. 2 cornerback, so I wouldn't be surprised if Denver, Kansas City and San Diego all look at him.
October, 5, 2010
10/05/10
3:15
PM ET
It's always fun when one NFL coach calls out another for his team being nasty.
So, I understand the buzz that Denver coach Josh McDaniels has created when he suggested longtime Tennessee coach Jeff Fisher is behind the cheap play McDaniels believes the Titans participated in. Here is what McDaniels said during
his Monday news conference
, a day after Denver came back in the final minutes to beat the Titans, 26-20:
"I was proud of our team because we knew that was the kind of game it was going to be. "You can put any tape you want to of Tennessee and there's going to be 10 penalties. You either coach it or you allow it to happen. That's how I look at that …Our guys did a great job of keeping their poise and composure and not getting drawn into a big unsportsmanlike game because I know that's what they were trying to entice us into doing."
Juicy stuff.
There are two things that stick out the most to me about McDaniels' comments. First, he backs up his players and second, he is not afraid of other coaches.
The Broncos' complaints started after the game Sunday when Denver quarterback
Kyle Orton
verbally berated Titans cornerback
Cortland Finnegan
for punching Denver guard
Chris Kuper
after he had his helmet stripped off.
"If that's the type of player Cortland Finnegan wants to be, well then he's a cheap player, not a good player," Orton said. The quarterback then ripped the Titans as a whole.
"You always hear about how tough they are and all that stuff," Orton said. "I don't think they're tough. I think they're cheap."
Those are strong words. Clearly, McDaniels wants to show he was in lockstep with his quarterback and he felt strongly enough about it to go on the record with a similar comment.
That will surely score points for McDaniels with his players. McDaniels, a 34-year old second-year NFL coach, also showed he is not afraid to stand up against other coaches. McDaniels took on the godfather of NFL coaches. Fisher is the longest-tenured coach in the league and he is a respected member of the league's prestigious competition committee. Most coaches just don't take on people like Jeff Fisher.
But McDaniels did. It's just another example of McDaniels' complete confidence in himself and his team.