February, 22, 2014
2/22/14
8:30
AM ET
Another week, another excellent batch of
Kansas City Chiefs
questions for the mailbag. Here we go:
October, 14, 2013
10/14/13
12:30
PM ET
A review of four hot issues from the
Kansas City Chiefs
'
24-7 win
against the
Oakland Raiders
:
[+] Enlarge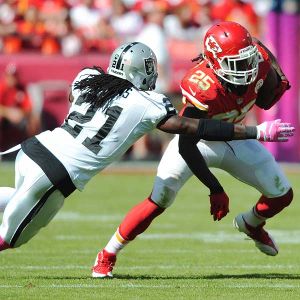 Denny Medley/USA TODAY SportsThanks to running back Jamaal Charles, the Chiefs' offense continues to hum along. But what happens if Charles isn't scoring touchdowns?
Too much Charles, Part I:
Running back
Jamaal Charles
supplied 128 of the Chiefs' 216 yards and both of their offensive touchdowns. Otherwise, the Chiefs produced next to nothing offensively, a troubling development for a team trying to identify reliable offensive threats in addition to Charles. The Chiefs had trouble handling the Oakland defensive front, the result being consistent pressure on quarterback
Alex Smith
. He completed just 14-of-31 for 128 yards, and his season completion percentage slipped to a feeble 56.5. Smith hasn't thrown a touchdown pass in the past two weeks. The Chiefs can survive with such meager offensive production as long as their defense continues to strangle opponents. If the day comes when the defense collapses, the Chiefs appear headed for trouble.
Too much Charles, Part II:
Another offensive failure has been the inability of rookie RB
Knile Davis
or RB
Cyrus Gray
to develop into players who can produce while Charles gets some rest. Davis was in for one snap against Oakland and fumbled after catching a short pass. The Chiefs are understandably fearful of using Davis; given his fumbles, lining up in the wrong place, and running the wrong play, he is completely unreliable. Gray didn't play at all on offense. He isn't as much of a threat as Charles, particularly in the running game. But Gray is a dependable receiver and solid pass protector who should get a few snaps in the hopes of preserving Charles for an entire season.
Catching Houston:
The team sack race appeared over after three games when one outside linebacker,
Justin Houston
, had 7.5 sacks while the other,
Tamba Hali
, had just 1. But Hali, after sacking Oakland quarterback
Terrelle Pryor
3.5 times on Sunday, is within range of Houston. Houston has 9.5 sacks, which is tied for the NFL lead with
Robert Mathis
of Indianapolis. Hali is fourth at 7.5. The Chiefs lead the NFL with 31 sacks.
Winning the turnover battle:
The Chiefs forced three turnovers and the Raiders one, leaving the Chiefs at plus-12 in turnover differential for the season. Don't overlook the importance of that statistic in the Chiefs' 6-0 record. The Chiefs and the sluggish offense have benefited from favorable field position several times this season, while the defense has rarely been put in bad spots. The Chiefs have won the turnover battle in every game except against the
New York Giants
, in which both teams turned the ball over three times.
October, 10, 2013
10/10/13
7:30
AM ET
KANSAS CITY, Mo. --
Jamaal Charles
is not the NFL's biggest running back. Far from it, in fact. At 200 pounds, Charles is the smallest of the three halfbacks on his own team, the
Kansas City Chiefs
.
Charles does not look like a back built to take a consistent pounding. Nobody has ever questioned his toughness or ability to rebound from a big hit, but it's natural to wonder with Charles, how much is too much?
Charles leads the league in touches. He has 92 carries and 28 catches and those 120 touches project to 384 for the full season at his current pace.
[+] Enlarge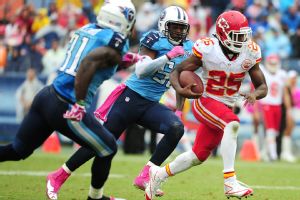 Scott Cunningham/Getty ImagesChiefs running back Jamaal Charles has 120 touches this season.
The potential for overuse of Charles was a concern to the Chiefs last season and they still gave him the ball 320 times between carries and catches. But it doesn't appear to bother coach Andy Reid this season.
"Running backs, this is kind of their deal," Reid said. "I'm not sure you ever quite feel right after the first game. You kind of go off knowing the guy and make sure you keep in good communication. He's handling it pretty good."
Charles has been troubled the past two weeks by blisters on his feet. He didn't practice on Wednesday because of them. But that's not a problem stemming from overuse.
"This is his feet," Reid said. "This is not about the joints or any of that. His feet are a mess. That's unusual but his feet are a mess. He's got blisters. We'll get that taken care of."
Reid's deeds match his words. Charles has been the only consistent threat for the Chiefs. Particularly at running back, the Chiefs have been unable to develop what they consider to be a suitable alternative.
They drafted
Knile Davis
in the third round this year specifically to ease Charles' burden. Between fumbles, lining up in the wrong places and running the wrong plays, the Chiefs don't seem to trust Davis much.
The Chiefs also have
Cyrus Gray
, one of their best special teams players. He has played some in passing situations but otherwise gets little work on offense.
Charles is showing no signs of buckling under the strain. He had his best game of the season last week against the
Tennessee Titans
with 108 rushing yards and a touchdown along with five catches.
How long that will continue is up for debate. That's why it's imperative the Chiefs develop another threat, someone who can take some of the pressure off of Charles.
September, 10, 2013
9/10/13
7:30
AM ET
Kansas City Chiefs
running back
Jamaal Charles
has a bruised quadriceps muscle after seeing his leg stepped on during Sunday's game against the
Jacksonville Jaguars
. The Chiefs appear confident he will be ready for their next game, this Sunday against the
Dallas Cowboys
at Arrowhead Stadium.
Davis
Gray
But if Charles can't go, the two candidates available to replace him couldn't be any more different.
One candidate is
Cyrus Gray
, a sixth-round draft pick last year. Gray, a strong special-teams player, is the dependable choice. He's only 206 pounds and an average runner, but catches well out of the backfield and is a good pass protector.
The other is rookie
Knile Davis
, a third-round pick. Davis is 227 pounds, fast -- and brings big-play potential. He returned one kickoff 109 yards and another 79 yards in the preseason.
Davis was a notorious fumbler in college. In training camp and the preseason, he dropped numerous passes, was spotty as a pass-blocker and occasionally lined up in the wrong place or ran the wrong play.
It would be a dilemma for the Chiefs, who would need Davis' big-play ability if Charles isn't in their lineup. But he's a risky option, and the Chiefs don't appear to have complete trust in him.
They showed their hand in Jacksonville, where Gray was first off the bench after Charles left the game for good in the second half. Davis later received some playing time.
"We mixed it up a little bit,'' coach Andy Reid said. "We were using Cyrus in some third-down situations. We're trying to use them the best we could.
"(Gray) is a veteran. He hasn't been around that long, but he's been around longer than Knile.''
Whatever the Chiefs do, they need to run the ball better than they did in Jacksonville after Charles' departure. Davis and Gray combined for 20 yards on six carries.
"(The Jaguars) loaded the box, which we thought they were going to do when they were down as much as they were down,'' Reid said. "We've got to do a better job there. I can help them there a little bit with some of the (play) calls.''
September, 1, 2013
9/01/13
1:45
PM ET
As recently as Saturday morning,
Cyrus Gray
was still sweating over whether he would make the Chiefs' regular-season roster. By this morning, he was frequently the featured back on passing downs at practice.
Gray
It's not as dramatic of a turn in fortunes as it might sound. Gray made the roster because of his skills in the passing game, as well as his ability to cover kickoffs and punts.
The Chiefs kept Gray instead of their other running back candidate,
Shaun Draughn
, because Gray is better as a pass-protector and receiver. The Chiefs don't need another back to run the ball. They have
Jamaal Charles
and rookie
Knile Davis
for that.
But they do need some help on third downs and Gray was the one mostly filling that role today. Gray, a sixth-round draft pick last season, played little as a rookie but played in a pro-style offense at Texas A&M and caught 103 passes over four years.
"A big part of it is pass protection,'' Gray said when asked why he thought he made the team. "I take pride in that part of my game. I've been doing well at it and I have to continue to do well.''
Charles will play some in obvious passing situations, too. But the Chiefs don't appear comfortable using Davis that way. He dropped a number of passes in camp and in the preseason and he's still learning to pass block.
"I wouldn't compare the two that way,'' coach Andy Reid said of playing Gray ahead of Davis, a third-round draft pick. "Knile has come a long way in that area and done a nice job with his protection and with catching the ball. I will also tell you that's one of Cyrus' strengths. He does a nice job. He had a few chances this past game to do some blitz pickup and protection there and he did a nice job with it.''
August, 28, 2013
8/28/13
7:00
AM ET
Not much intrigue left to the preseason for the
Kansas City Chiefs
. Just trying to stay healthy through Thursday night's final exhibition game against the
Green Bay Packers
at Arrowhead Stadium.

That, and the final round of roster cuts that loom afterward. The Chiefs, like all NFL teams, must trim their active roster from 75 to 53 players by Saturday evening.
Here's my prediction on how their roster will look for the Sept. 8 regular-season opener against the Jaguars in Jacksonville, Fla., at offensive positions and in the kicking game. I'll post defensive predictions later today.
Quarterback (3):
Alex Smith
,
Chase Daniel
,
Tyler Bray
. This might be the only position where there is no intrigue. They are set and in this order on the depth chart.
Running back (4):
Jamaal Charles
,
Anthony Sherman
,
Knile Davis
,
Shaun Draughn
. The only real mystery here is whether the Chiefs keep Draughn or
Cyrus Gray
as the third halfback. Draughn has been more productive than Gray. The Chiefs don't use their fullback enough to keep more than just Sherman.
Wide receiver (6):
Dwayne Bowe
,
Donnie Avery
,
Dexter McCluster
,
Junior Hemingway
,
Devon Wylie
,
A.J. Jenkins
. This position has come into focus since the Chiefs traded
Jon Baldwin
and released
Terrance Copper
. Bowe and Avery are the starters, McCluster the slot receiver. Hemingway has been steady during camp and the preseason and deserves a spot. Wiley and Jenkins are fast, and coach Andy Reid likes speed. The Chiefs might also keep undrafted rookie
Rico Richardson
, who caught the touchdown pass in overtime in Pittsburgh last week, but I'm not going to predict that.
Tight end (4):
Anthony Fasano
,
Tony Moeaki
,
Travis Kelce
,
Demetrius Harris
. The shoulder injury to Moeaki might lead the Chiefs to place him on the injured-reserve list. Either way, the Chiefs will need to keep another tight end now, and that's likely to be Harris. A former basketball player who didn't play football in college, Harris needs more time to develop, so the Chiefs might be in search of veteran help at this position.
Offensive line (8):
Branden Albert
,
Eric Fisher
,
Donald Stephenson
,
Jeff Allen
,
Jon Asamoah
,
Geoff Schwartz
,
Rodney Hudson
,
Eric Kush
. Stephenson is too good to be a backup for long. He and Schwartz will be the first reserves off the bench. Kush is a developmental player.
Specialists (3):
Ryan Succop,
Dustin Colquitt
,
Thomas Gafford
. They're the only players still on the roster at their respective positions.
April, 13, 2013
4/13/13
1:00
PM ET
With the draft less than two weeks away, here's a look at the running back situation for each team in the division:

Denver Broncos:
They could add another body here, but the Broncos' running back situation is serviceable and capable of developing into more if
Ronnie Hillman
takes a step forward in his second year. Hillman probably will never carry the full load, but he is Denver's best big-play option out of the backfield and could become a force in the passing game once
Peyton Manning
& Co. trust him with protection and route-running.
Willis McGahee
's role should remain intact for the most part, and he is effective moving the chains and churning out tough yardage.
Knowshon Moreno
looked like a draft bust, but you can't deny how well he played once given the chance last season -- very effective as both a runner and receiver. In fact, Moreno was probably the Broncos' best running back in 2012, although I still think McGahee is the superior ball carrier. Of course, every defense will fear Manning and the Denver passing game, especially now that
Wes Welker
has been added. Plus, Denver improved its offensive line by signing
Louis Vasquez
. So overall, this is a pretty sound unit.

Kansas City Chiefs:
Jamaal Charles
is a great player who could even step up his production, especially as a receiver, in Andy Reid's offense. He is a big play waiting to happen but also consistently churns out yardage even when his blocking isn't superb. Expect a huge year from Charles in 2013. That said, the Chiefs would be wise to address the No. 2 running back spot in the draft or late in free agency with a bigger back to complement Charles. Right now,
Shaun Draughn
and
Cyrus Gray
, both heading into their second full seasons, are the only backups of note. Draughn carried the ball 59 times and caught 24 passes in 2012; Gray touched the ball only nine times during his rookie season. Reid could further utilize Draughn's pass-catching skills, but he really was a liability in protection last season. The Chiefs need more from Draughn and Gray in 2013, and should find an improvement elsewhere.

Oakland Raiders:
This might be the strongest position on the Raiders' terrible roster, at least when
Darren McFadden
is actually healthy. But even when McFadden is on the shelf, which he so often is, the Raiders are not too bad off.
Marcel Reece
is just a heck of an all-around football player. A fullback in title, Reece is an outstanding receiver who caught 52 passes last season, a serviceable blocker and a solid runner. He is the type of player every team should want.
Mike Goodson
, who is talented but hard to rely on, is out. In is former Jaguar
Rashad Jennings
, who is bigger than Goodson and should fit the man blocking scheme Oakland will bring back. But Jennings also is tough to rely on due to his injury history -- and he really didn't play well last season when he was healthy. Still, Jennings has produced at this level and was a good signing considering McFadden's injury history. McFadden is only 25 years old, but he has never played more than 13 games in his five NFL seasons and appeared in only 19 over the past two seasons. And frankly, he was less than impressive when he did see the field in 2012, although next season's scheme change could really benefit him. Even with this uncertainty, the Raiders probably will address their multitude of other needs in the draft rather than taking a running back high.

San Diego Chargers:
The Chargers signed
Danny Woodhead
to go along with
Ryan Mathews
and
Ronnie Brown
as their primary running backs. Woodhead can act as a slot receiver and move all over the formation to create mismatches in the passing game as well as contribute with some carries. This is a fine addition, but Brown acted as the Chargers' third-down back last season. With the problems with San Diego's offensive line, checking down to Brown became a favorite decision for
Philip Rivers
. Few running backs have Mathews' talent, but his injury history and lack of reliability are troubling -- especially for a former first-round pick. The new coaching staff might not be as enamored with Mathews as the previous, but it is easy to overlook the fact that Mathews was rather effective running the ball last season for a team that had blocking woes. He also gives the Chargers three backs who catch the ball well, although none excels in protection. Woodhead, Brown and Mathews combined to catch a whopping 128 passes in 2012.
June, 20, 2012
6/20/12
8:00
AM ET
Mid-week mail call:
Nollskie from Oklahoma City wants to know
what we should expect from Kansas City's sixth-round pick, running back
Cyrus Gray
.
Bill Williamson
:
He is a long-term prospect. But he is a pretty highly-rated player. With
Jamaal Charles
and
Peyton Hillis
both expected to get a lot of carries, there may not be much room for Gray. But if he earns some carries, they will give him a look and he should get some special-teams playing time. I'm interested in seeing what he can do.
Gabe Spiegel from South Florida wants to know
what kind of impact Oakland fullback
Marcel Reece
will have this year.
BW:
They are going to use this guy. He is not your typical fullback. He can do so many things. I see him being a big part of this offense. He can help as a runner and as a receiver. Also, he can play tight end in some situations. Reece is an under-the-radar player who makes his team better.
Tyler from Hamilton, Ont., wants to know
what kind of impact Denver defensive tackle
Ty Warren
can have this season.
BW:
He will be part of the rotation on the defensive line. He has missed the past two seasons and he is 31. So, I think the Broncos will play it safe and be grateful for anything they can get from him at this point.
May, 11, 2012
5/11/12
12:50
PM ET
With the
San Diego Chargers
having signed all but one of their 2012 draft choices, the
Kansas City Chiefs
finally got in on the action.
The Chiefs just announced they signed four picks: fourth-round receiver
Devon Wylie
, sixth-round running back
Cyrus Gray
and two seventh-round picks -- defensive tackle
Jerome Long
and receiver
Junior Hemingway
.
All four players have a chance to make the team. Wylie has a chance to be a contributor right away.
April, 28, 2012
4/28/12
5:20
PM ET
»
NFC draft analysis
:
East
|
West
|
North
|
South
»
AFC
:
East
|
West
|
North
|
South
The biggest offseason move in the AFC West in years was the Broncos' signing of superstar quarterback
Peyton Manning
in March.
It instantly changed the landscape of the AFC West and it likely will continue to do so for the next three years or so. During the draft, Manning's impact was felt in the division when several of the premium picks by the Broncos' rivals were defensive players.
The first player taken in the division was athletic defensive tackle
Dontari Poe
. The Memphis product was taken No. 11 by the Chiefs. San Diego used its first three picks on defensive players, all of whom have a chance to make an instant impact.
Let's look at the highlights of the AFC West draft:
BEST MOVE
The first two days of the San Diego Chargers' draft.
No one in the division scored like the Chargers did. Following up a strong free-agency class, Chargers GM A.J. Smith deserves a lot of credit for this draft. The Chargers badly needed impact players on defense and they got them.
San Diego made one of the top value picks of the draft when it watched South Carolina pass-rusher
Melvin Ingram
fall to them. He was supposed to be a top-10 pick. San Diego considered moving up to take Alabama safety
Mark Barron
but he went at No. 7. Instead, the Chargers stayed at home and watched an equally talented player fall to them. Ingram fills the Chargers' biggest need and he should be an instant contributor.
The Chargers scored again by getting great value in the second and third rounds. San Diego watched Connecticut defensive lineman
Kendall Reyes
fall to them at No. 49. With LSU safety
Brandon Taylor
still on the board (San Diego considered him at No. 49), the Chargers moved up and took him at No 73. There is no way the Chargers could have scripted the first three rounds any better.
The 2012 Chargers got better in this draft.
RISKIEST MOVE
Arguably, there wasn't a riskier move in this draft than the Kansas City Chiefs' choice of Poe at No. 11.
The nose tackle from Memphis was one of the most talked about players in the draft. After his stunning performance at the NFL combine, Poe was considered a potential top-five player. However, after teams dissected his game film, they discovered Poe didn't consistently make plays against marginal competition.
By the time the draft rolled around, it seemed as though Poe could fall into the 20s. But the Chiefs took him because of his ability and the fact he fills their greatest need. Poe was the best talent at No. 11 and the fact he filled a major need makes this a logical pick.
But if Poe doesn't develop, the Chiefs will get heat for not following the general consensus. The team has failed to hit a home run with recent picks on the defensive line, so the Chiefs have to make this work. Kansas City thinks Poe will excel under coach Romeo Crennel because he will concentrate on one position as opposed to having to play several spots as he did in college. If the Chiefs are right, this will be a big score. If not, they'll be forever reminded of it.
MOST SURPRISING MOVE
[+] Enlarge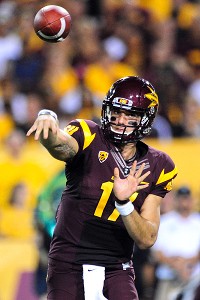 Matt Kartozian/US PresswireThe Broncos decided to waste no time in finding Peyton Manning's heir apparent, selecting Brock Osweiler in the second round.
I don't think it was shocking that the
Denver Broncos
picked a quarterback or that the quarterback ended up being Arizona State quarterback
Brock Osweiler
.
But I think it was a surprise Denver took him at No. 57. That's a high spot for a player who probably won't start until 2015, at the earliest.
The Broncos have other needs and they have Manning. Yet, Osweiler was a target. It shows how much Denver executive VP John Elway values the position and how much he liked Osweiler. He could have waited a couple of years to peg Manning's successor, but he did it before Manning has even thrown a pass in Denver.
FILE IT AWAY
This draft will be remembered as a success for all four teams in the division. I was impressed with how each team approached the draft and the patience each team showed.
I think the Chargers got as many impact players for the immediate future as any team in the league. I like Denver's creativity. It traded out of the first round and still got some quality players such as defensive linemen
Derek Wolfe
and
Malik Jackson
and running back
Ronnie Hillman
.
The Chiefs quietly had a strong draft and middle-rounders such as receiver
Devon Wylie
, defensive back
De'quan Menzie
and running back
Cyrus Gray
will add depth to this team.
New Oakland general manager Reggie McKenzie didn't have many picks to work with -- his first was No. 95. But it is easy to tell there is draft-room stability with the post-Al Davis Raiders.
McKenzie played his board well and didn't make any puzzling picks based on measurables as the late Davis was known to do. Oakland's draft will not make many headlines, but McKenzie may have tabbed future starters in tackle
Tony Bergstrom
, linebacker
Miles Burris
and receiver
Juron Criner
.
April, 28, 2012
4/28/12
4:35
PM ET
The
Kansas City Chiefs
continue to add depth on offense.
A month after signing running back
Peyton Hillis
to a one-year deal to work with
Jamaal Charles
, who is coming off a torn ACL, the Chiefs added solid value at the position late in the draft.
In the sixth round, Kansas City drafted Texas A&M running back
Cyrus Gray
. The Chiefs had been closely watching Gray.
Gray may not be ready to make an impact in the NFL, but there is a lot to like about him. He has game-breaking speed and he seems to understand the game. I think he can become a very good player and he is an excellent value.
I'm telling you, folks, this is becoming one of the deepest offenses in the NFL. The Chiefs have a lot of talent at every layer of the unit and Gray fits right in.