September, 26, 2010
9/26/10
10:50
PM ET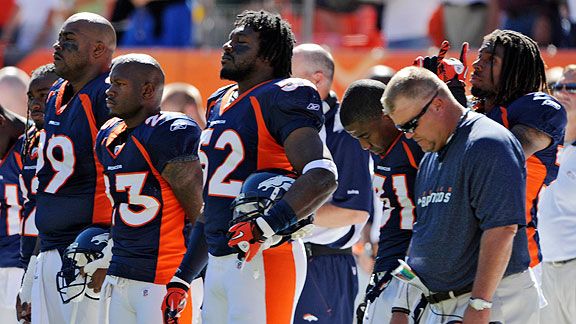 AP Photo/ Jack DempseyThe Denver Broncos observe a moment of silence for Kenny McKinley.
DENVER –- Two days after he spoke at a memorial service for the first time in his life and following a week of being a key part of the support system for the girlfriend and family of one his closest friends,
Matt Prater
had to prepare for an NFL game.
Just like the rest of the confusing, heartbreaking days since he received a phone call that
Kenny McKinley
had died Monday afternoon, Sunday wasn't easy for the Denver Broncos' kicker.
Six minutes before he had to kick off against the
Indianapolis Colts
in
a 27-13 loss
, Prater and his Broncos teammates had to stand through a moment of silence for McKinley.
"Here it is, just before the game and I'm crying," Prater said. "I had to focus on a game and that was happening. I'm sure I wasn't the only guy [crying]. ... I'm tearing up just talking about it now. It was a horrible week."
McKinley died of an apparent suicide Monday. He was 23. The second-year receiver had been on injured reserve since early August because of a knee injury.
Since learning of McKinley's death, the Broncos -- who had to deal with the deaths of 24-year-old players
Darrent Williams
and
Damien Nash
in 2007 -- have been burdened by grief and confusion over the death of a seemingly happy young man. Prater talked to McKinley on Sunday night and the two made plans to see each other Tuesday. Instead, Prater spent the day consoling McKinley's girlfriend.
The Broncos had a team meeting Tuesday morning, during which coach Josh McDaniels and grief counselors addressed the team. The team had an emotional memorial service, which was attended by McKinley's family, Friday. The team on Sunday wore McKinley's No. 11 decal on the back of their helmets, as they will for the rest of the season.
During the moment of silence, Broncos special teams captain
Wesley Woodyard
pointed both arms high into the sky. As soon as the game ended, McKinley's image graced the big screen at Invesco Field at Mile High.
Monday, a contingent of front-office members and players will attend McKinley's funeral in Georgia.
Early last week, Broncos coach Josh McDaniels admitted that it wouldn't be a normal week as the 1-1 Broncos had to prepare for
Peyton Manning
and the Colts.
And it wasn't normal at all.
"It had a big effect on this team this week," Prater said. "There was sadness. We felt it all week."
[+] Enlarge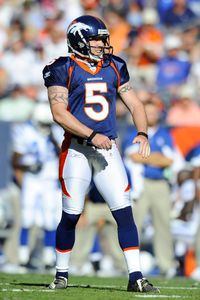 Ron Chenoy/US PresswireKicker Matt Prater, a close friend of Kenny McKinley, was able to connect for a 25-yard field goal in the first quarter.
Prater said Denver's pregame locker room was much quieter than usual, though he did hear a few teammates say the Broncos needed to "win it for Kenny."
After the game, Broncos officials privately lauded McDaniels -- who also spoke at the memorial service -- for allowing himself and his players to grieve while still keeping them focused on the game plan.
The following are some key aspects to the loss for Denver:
Too many mistakes:
The
Broncos hung with the Colts
in this game. Yet, they were doomed by critical mistakes throughout the game. The Colts didn't make big mistakes and that's why they won.
Denver lost a fumbled punt at its 10. Quarterback
Kyle Orton
, despite putting up big numbers, was intercepted in Colts territory. Denver was stopped four straight times from the Colts' 1.
With just over nine minutes to play and the Colts leading 20-13, Denver went for it on fourth down and 3 from the Colts' 12. Orton couldn't hook up with receiver
Brandon Lloyd
.
That play surely will be talk-radio fodder this week in the Rockies. McDaniels said he thought about going for a field goal, but stood by his decision.
"You kick a field goal and you're down four and you go on," McDaniels said. "You make a decision and you live with it. ... We'd probably do it again."
Orton has a big day:
Orton continued to show immense improvement. He threw for 476 yards, which was the second most passing yards in Denver history. Orton has 1,078 yards in three games.
Still, Orton, who completed 37 of 57 passes, had trouble in the red zone, completing 3 of 13. That's where Denver last the game.
"We have to get better there," Orton said.
Manning does enough to win:
At times, Colts superstar Peyton Manning looked like the second-best quarterback on the field. But Manning made enough plays when it counted.
With Denver bottling up the Colts' running game for much of the day, Manning was forced to win the game with his arm. No problem there.
After McDaniels' failed gamble, Manning led the Colts on an impressive drive, including hitting receiver
Austin Collie
on a third-and-15 play to seal the game.
"We just didn't make enough plays," said Denver cornerback
Champ Bailey
, who played despite missing most of the practice week with a foot injury. "We just didn't do enough."
September, 21, 2010
9/21/10
4:46
PM ET
Denver Broncos
coach Josh McDaniels knows this will be a difficult week for his team as it prepares to host Indianapolis on Sunday.
An emotional McDaniels addressed the media Tuesday, a day after second-year receiver
Kenny McKinley
died in an apparent suicide. McKinley, 23, was on the injured reserve. He was a fifth-round pick in 2009. McDaniels declined to discuss the circumstances or details of the death. Yet, he was very open about his feelings toward McKinley and how it will weigh on the team.
"You know, it's not going to be a normal week," McDaniels said. "We are not going to try and pretend that it's a normal week. We are going to do our work and get ready to go and like I said, I think really respect everybody's ability to go through this differently. We are not going to ask everybody to be the same, and we are not all going to be the same. I think the players will understand that the week is going to go forward and we are going to have to handle that as well as get ready for the Colts and be ready to play on Sunday. It will be different, but I think our group will continue to so what they have done, which is prepare hard and get ready to play."
McDaniels called a team meeting for Tuesday morning, which was the team's day off. McDaniels updated the players on the situation and grief counselors addressed the team as well.
The Broncos are experienced with dealing with tragedy. Hours after the 2006 season ended, popular right cornerback
Darrent Williams
was shot and killed in a drive-by shooting in downtown Denver. Fifty-five days later, reserve running back
Damien Nash
died of a heart attack after hosting a charity basketball game. Williams and Nash were both 24.
This situation is somewhat different, because Denver has to play a game in the days after the death of a teammate.
McDaniels said there will be a moment of silence prior to Sunday's game and players will wear a decal with McKinley's No. 11 on it. The team has also decided to keep McKinley's locker intact for the rest of the season. McDaniels said the team is in the progress of working on the details of a memorial service with McKinley's family.
September, 20, 2010
9/20/10
11:30
PM ET
Several
Denver Broncos
were spending the night after their first win of the season honoring the memory of a fallen teammate.
The Broncos have gotten used to dealing with death, if that is even possible. Sadly, they must face the death of a teammate for the third time in less than four years
Second-year receiver
Kenny McKinley
was found dead Monday of an apparent suicide. He was 23. McKinley was a receiver who was a fifth-round pick in 2009. He was on the injured reserve.
Once again, Denver will be saddled with heavy hearts.
Hours after the 2006 season ended, popular starting right cornerback Darrent Williams was shot and killed in a drive-by shooting after a New Year's Eve party in downtown Denver hosted by Denver Nuggets forward Kenyon Martin. Fifty-five days later, reserve running back Damien Nash died of a heart attack after hosting a charity basketball event. Williams and Nash were both 24.
Monday night, Denver star cornerback
Champ Bailey
and former safety
John Lynch
hosted an event to benefit the memorial center named in Williams' honor. Several current Denver players were scheduled to be at the event.
Nearly four years after Williams' senseless death, the event was supposed to be joyous as the team and the Denver community remembered Williams.
Now this news.
The deaths of Williams and Nash understandably affected the 2007 Broncos. There were funerals, tributes and the team wore helmet decals in memory of the two men. As time passed, it seemed Denver found a way to move on, although the team never forgot Williams and Nash.
Now, there will be more memorials and tributes to deal with.
Unlike Williams and Nash, I had never met McKinley. By all accounts, he was pleasant young man who was quick with a smile. This is a tragedy that the Broncos are all too familiar with.