April, 24, 2010
4/24/10
12:10
PM ET
The
Oakland Raiders
are trying to replicate their fourth-round magic from 2009.
It looks like they are off to a good start. Oakland, which has wheeled-and-dealed in the lower portion of this draft, has scored with two fine value picks in the fourth round.
It took Maryland tackle
Bruce Campbell
and Clemson receiver
Jacoby Ford
in the fourth round. Oakland traded a fifth-round pick and linebacker
Kirk Morrison
to Jacksonville for the chance to take Ford.
Both Campbell and Ford were combine stars. Ford was the fastest receiver at the combine. He should have a role as a situational receiver and as a returner in Oakland.
Many league observers thought Oakland would take Campbell very high because of his outstanding combine and because he filled a big need. However, because of his rawness and shaky game film, many league observers thought he was taken at the right place. Along with third-round pick Jared Veldheer, Oakland has two good tackle prospects to develop.
I really like that Oakland took Campbell and Ford. They have a chance to be solid contributors in a couple of years. Last year, Oakland scored in the fourth round with receiver
Louis Murphy
and defensive end
Matt Shaughnessy
.
The Raiders liked Northwestern quarterback Mike Kafka. However, he was taken by Philadelphia in the fourth round. Oakland could look at other quarterbacks
Jonathan Crompton
and
Dan LeFevour
.
April, 22, 2010
4/22/10
10:30
AM ET
In the second of our four-team mock draft, here is a look at the Kansas City Chiefs:
The Chiefs would do back flips if they got all these players. Cody may fall past San Diego at No. 28 to Kansas at No. 36. Asamoah is a player the Chiefs like for the long term and they will have to hope both Shipley and LeFevour are available when they pick.
April, 3, 2010
4/03/10
3:00
PM ET
Weekend mail call:
Tony from San Jose wants to know
if Alabama nose tackle
Terrence Cody
could end up in the AFC West:
Bill Williamson:
There is a good chance. Cody is a classic 3-4 nose tackle and Denver, Kansas City and San Diego use the 3-4 defense. So, there will be interest. I know all three teams are looking at Cody. I'd say San Diego had the best chance to land Cody, then Kansas City and then Denver. San Diego has the No.28 pick and Cody could be the target. The Chargers badly need a nose tackle. If he gets to the second round, Kansas City could jump on him. He'd help immediately. He may not last until Denver picks in the second round and the Broncos have the least immediate need for Cody of the three teams because they upgraded during free agency and signed former Charger
Jamal Williams
.
David from Dallas wants to know
if the Chiefs will add at the receiver position.
BW:
I wouldn't be surprised if Kansas City added a receiver with one of their two second-round picks. A real possibly has to be Notre Dame's
Golden Tate
. He played for new Kansas City offensive coordinator Charlie Weis in college. Tate would fit in with the Chiefs immediately as a reserve as in the future. If it is not Tate, expect the Chiefs to take a receive early. It needs to upgrade at the position.
Jason McConnell from Omaha wants to know
if there are any quarterbacks other than
Donovan McNabb
that would end up in Oakland.
BW:
There aren't many quality veteran quarterbacks available at this time. If Oakland doesn't acquire McNabb, it may be difficult for it to find a sure upgrade over its current crew of quarterbacks. There was a report that Oakland had preliminary talks with Minnesota about No. 3 quarterback
Sage Rosenfels
. But isn't much to get excited about. If McNabb isn't brought to Oakland, the Raiders will likely look at quarterbacks in the rounds 2-4 of the draft. Players such as
Colt McCoy
and
Dan LeFevour
are possibilities. Neither of these players (who both lack the strong arm Oakland looks for in a quarterback) would be able to help right away.
March, 25, 2010
3/25/10
1:45
PM ET
The Chiefs just announced that linebacker
Derrick Johnson
signed his restricted free-agency tender. He was given a first-round tender.
Jonson will now surely be in Kansas City this year. Johnson is an important player for Kansas City, but he has to make sure he stays out of the doghouse of coach Todd Haley. That's where Johnson started last season.
However, he finished the season strong. Johnson is not a classic fit for the 3-4 defense, but he can still help Kansas City. He's a playmaker as he showed in the season finale when he returned two interceptions for touchdowns in an upset win at Denver.
Offensive lineman
Ikechuku Ndukwe
also signed his restricted free-agent tender. Fullback
Mike Cox
signed his tender this week.
Arrowhead Addict is reporting
that Kansas City offensive coordinator Charlie Weis met with Central Michigan quarterback Dan LeFevour. These types of meetings are common this time of year. But it does show Kansas City has an interest in young quarterbacks. LeFevour is expected to be a mid-round pick.
March, 24, 2010
3/24/10
9:20
PM ET
It is being reported
that the 2012 conditional draft pick Denver will owe Cleveland as part of the
Brady Quinn
deal could be as high as a third-round pick and as low as a sixth-round pick.
The pick is based on playing time. The Broncos also sent backup running back
Peyton Hillis
and a sixth-round pick next year to the Browns.
March, 2, 2010
3/02/10
12:00
PM ET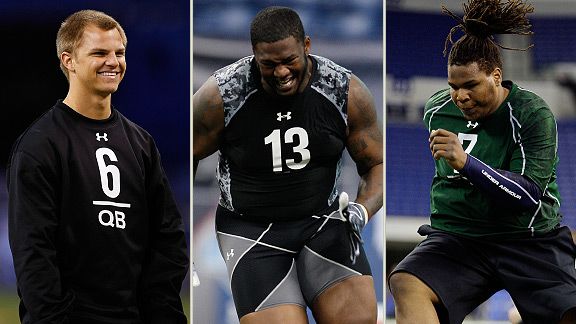 AP, Getty ImagesQuarterback Jimmy Clausen, OT Anthony Davis and DT Terrence Cody took part in the NFL scouting combine and could be attractive options for AFC West teams in April's draft.
With the NFL combine wrapping up in Indianapolis, each AFC West team is preparing for the NFL draft in full force.
Here are five players each team in the division may be studying for various reasons as the combine concludes:

Denver
Dez Bryant, receiver, Oklahoma State:
Bryant did not run at the combine due to a hamstring injury. Still, Denver is keeping a close eye on this game-breaker. If Brandon Marshall is traded, Bryant, the jewel of the receiver class, could be heading to Denver at No. 11. But there are some off-field concerns that could make Bryant
a risk.
Jimmy Clausen, quarterback, Notre Dame:
Clausen is a long shot. However, he fits coach Josh McDaniels' system. Denver has other needs, but if Clausen slips past Washington (No. 4) and Buffalo (No. 9), Denver could be tempted to answer its long-term needs at quarterback.
Terrence Cody, defensive tackle, Alabama:
The Broncos need a sturdy nose tackle as they enter the second season of using the 3-4 defense. Cody, who slimmed down 16 pounds from the Senior Bowl, has a chance to be a dominant force. If he is available in the second round, Denver could make a run at him.
Mike Iupati, guard, Idaho:
Denver is looking to get bigger on the offensive line. The 6-foot-5, 331-pound Iupati would do the trick. He is rising up draft boards. He may not be on the board in the second round, but if he is, Denver could snatch him up.
Rolando McClain, linebacker, Alabama:
This is a legitimate option at No. 11. McClain was impressive in his meetings with teams at the combine. He is a leader and would be a perfect middle linebacker in Denver.

Kansas City
Eric Berry, safety, Tennessee:
The Chiefs would love to get the chance to draft Berry with the No. 5 pick, but they will need some help. If St. Louis drafts a quarterback, Berry could fall to Kansas City, but that could be a long shot. If not, Tampa Bay may take him at No. 3.
Clausen:
This is another long-shot scenario. However, you have to think Clausen intrigues Kansas City. He played for new Kansas City offensive coordinator Charlie Weis at Notre Dame. Although Kansas City likes quarterback Matt Cassel, a Clausen-Weis pairing could be intriguing. Clausen said at the combine that he wants to prove to NFL coaches that he does not have a bad attitude. He would not have to win over Weis, whom already believes in his former player.
Russell Okung, offensive line, Oklahoma State:
Okung is a favorite to be drafted by Kansas City. He would be an instant starter at left tackle and would enable the team to move 2008 pick Branden Albert to right tackle. Okung was impressive in his interviews at the combine and he looks the part. A hamstring injury should not hurt his draft status.
Anthony Davis, tackle, Rutgers:
Davis is a player Kansas City could be eying at No. 5 if Okung is off the board. Davis may be a bit of a reach at No. 5, but Kansas City has to be paying attention to him.
Golden Tate, receiver, Notre Dame:
Tate helped his cause very much at the combine. He ran great and won over teams in his interviews. It is not out of the question that he worked his way into the bottom part of the first round. If he sticks around to the second round, Tate could be reunited with Weis.

Oakland
Bruce Campbell, tackle, Maryland:
Campbell has the look of a player Oakland will seriously consider taking. Campbell was one of the stars of the combine. He tested well, and at 6-foot-6, 314 pounds, Campbell ran a 4.85 40-yard dash. He did not always play well in college, and there are some attitude concerns. However, his combine test and his great size and speed may help him skyrocket up draft boards. Oakland loves combine stars and it really needs a tackle. This could be a pairing.
Davis:
Oakland will also look at Davis. The Raiders will study several tackles. It is the most likely position the Raiders will choose from at No. 8. Davis should still be available.
Dan LeFevour, quarterback, Central Michigan:
There was talk that Oakland could target LeFevour in the mid rounds. Oakland will be looking for a quarterback in the draft and many scouts thought LeFevour would be an excellent prospect to consider in the third through fifth rounds. However, he struggled at the combine and showed a lack of arm strength. That could turn off Oakland. Owner Al Davis likes strong-armed quarterbacks.
McClain:
If some of Oakland's top options are gone, it could make a run at McClain. He should be available at No. 8. He would help the Raiders, who could use a spark on the defensive front seven.
Okung:
The Raiders were surely reviewing Okung in Indianapolis. Drafting him may be wishful thinking. Okung is the best player at Oakland's biggest area of need. If he is available at No. 8, Oakland has to take this star.

San Diego
Jahvid Best, running back, California:
Best may have been too good at the combine for San Diego's liking. He was the fastest running back at the combine. That could move him up the draft board dramatically. He was considered a late first-round talent prior to the combine. Now, Best could move into the top 15 along with Clemson's
C.J. Spiller
. San Diego picks No. 28 and would likely love to get a shot at Best.
Cody:
Along with running back, nose tackle is San Diego's biggest need. Cody is the type of player who could help San Diego. With his improved effort at the combine, San Diego has to consider him a decent option at No. 28.
Jonathan Dwyer, running back, Georgia Tech:
Dwyer said he had a great meeting at the combine with San Diego. He said he thought the team was interested in him and said he is interested in the Chargers. However, he did not have a great performance at the combine. He ran a pedestrian 4.64 40-yard dash. He could be available in the second round. If San Diego feels comfortable with Dwyer's game film and are not swayed by his slow 40 time, perhaps it could consider taking Cody in the first round and Dwyer in the second round.
Toby Gerhart, running back, Stanford:
Although Dwyer had a less-than-stellar combine, Gerhart performed very well. He ran better than expected and showed his versatility by ranking near the top of several combine tests. Gerhart may now be a sure second-round pick. The Southern California native looks like a good fit for the Chargers' system. He did not hurt his chances in Indianapolis.
Trindon Holliday, receiver/returner, LSU:
Holliday could be a decent replacement if Darren Sproles leaves San Diego through free agency. Like Sproles, Holliday is a tiny speedster. Holliday is 5-foot-5 and is awfully quick. He ran a 4.34 40-yard dash at the combine. What better way to replace Sproles than with a Sproles clone?
February, 21, 2010
2/21/10
2:30
PM ET
San Diego coach Norv Turner hopes the fact that the
entire coaching staff
will return in 2010 will give the team a chance to start fast. It can't hurt the team's chances. Continuity is always a major factor in the NFL.
Central Michigan quarterback Dan LeFevour won't throw at the
NFL combine,
which starts later this week. LeFevour could be an intriguing mid-round prospect for both Denver and Oakland.
A Denver Post
columnist believes Brandon Marshall's disenchantment with Denver began three years ago when teammate
Darrent Williams
was shot and killed.
ESPN's rumor page
looks at the possibility of San Diego sending cornerback
Antonio Cromartie
, who is being shopped, to the Titans for running back
LenDale White
. This could be an intriguing possibility. White may not be the type of player who could be the primary back, but he could fit San Diego's backfield.